HR managers in companies have been using organizational chart software for decades to fulfil a very basic but significant function. These managers have used org charts to form the modus operandi of a company, where questions of "Who is Who?" and "Who does What?" are answered. Organizational behavioral experts are aware of the issues that arise when lines are vague when it comes to job roles and responsibilities. Org charts need to be properly used to define the function and role of every single individual in a company so that there is room for accountability.
Additionally, you may also be aware of how org charts are used in collaboration with appraisals and job descriptions. To break it down simply, an org chart is a map as to where exactly you are in an organization. The truth here is that every company has a hierarchy of sorts, even those that claim to be a meritocracy. Paying heed to the following reasons as to why HR Managers love their org charts could help you understand your job role better.
1. Delineate work responsibilities
One of the chief functions of an organogram is to clearly show the allocation of work responsibilities. As any HR Manager who is worth his salt is aware, this is one of his chief responsibilities, which if properly executed leads to the efficient functioning of the company as a whole.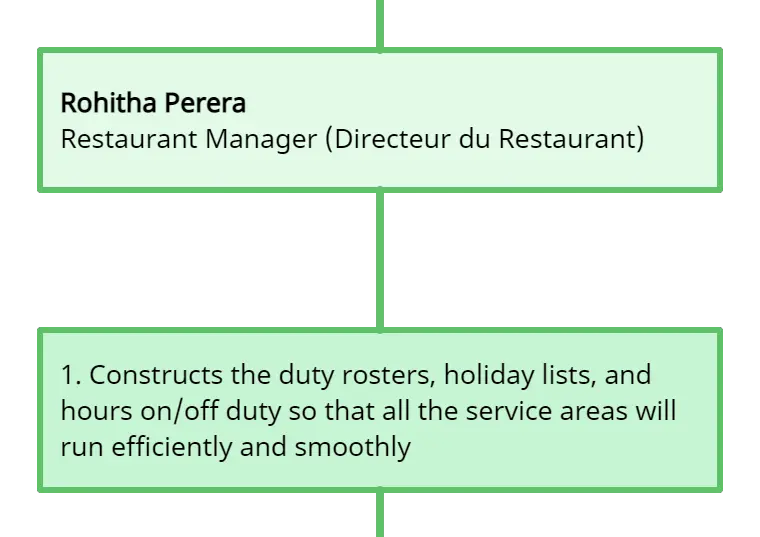 2. Establishing specific tasks
Technically this point may be interlinked with the very first point. One of the many advantages of org charts is that you can break down job responsibilities into specific tasks  as well. For instance, if one of your responsibilities is to conduct quarterly recruitment for executive positions, then one of the specific tasks would be to conduct an initial selection interview in keeping with the company guidelines.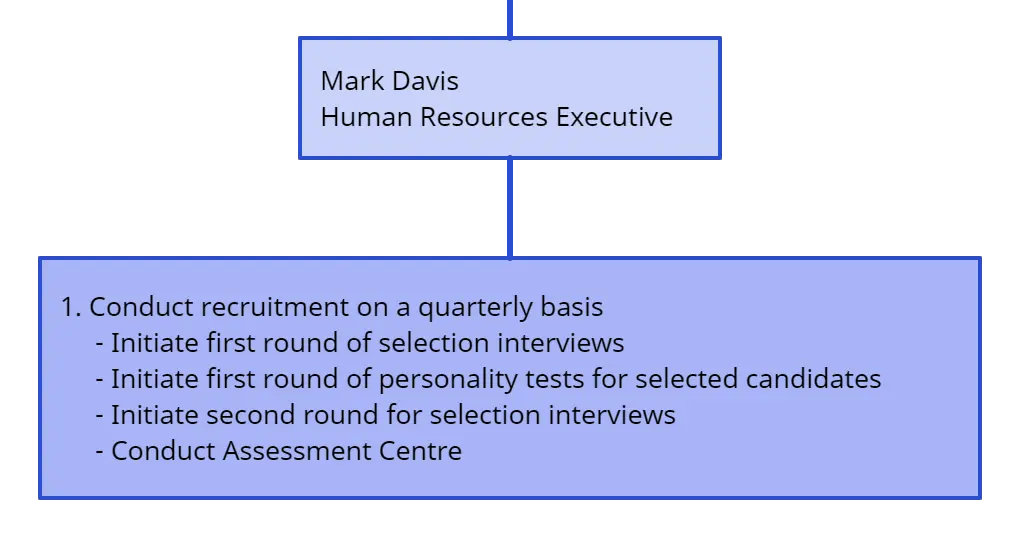 3. Clarify work relationships
Another important function of an org chart is that it helps to clarify the working relationships that exist between an Executive and a Manager. The corporate culture has evolved in varying degrees where traditional reporting lines are not adhered to anymore. For instance, you may have an HR Executive whose job responsibilities include recruitment and training, which are two separate departments. However, in this case, one executive may report to two separate managers as shown below.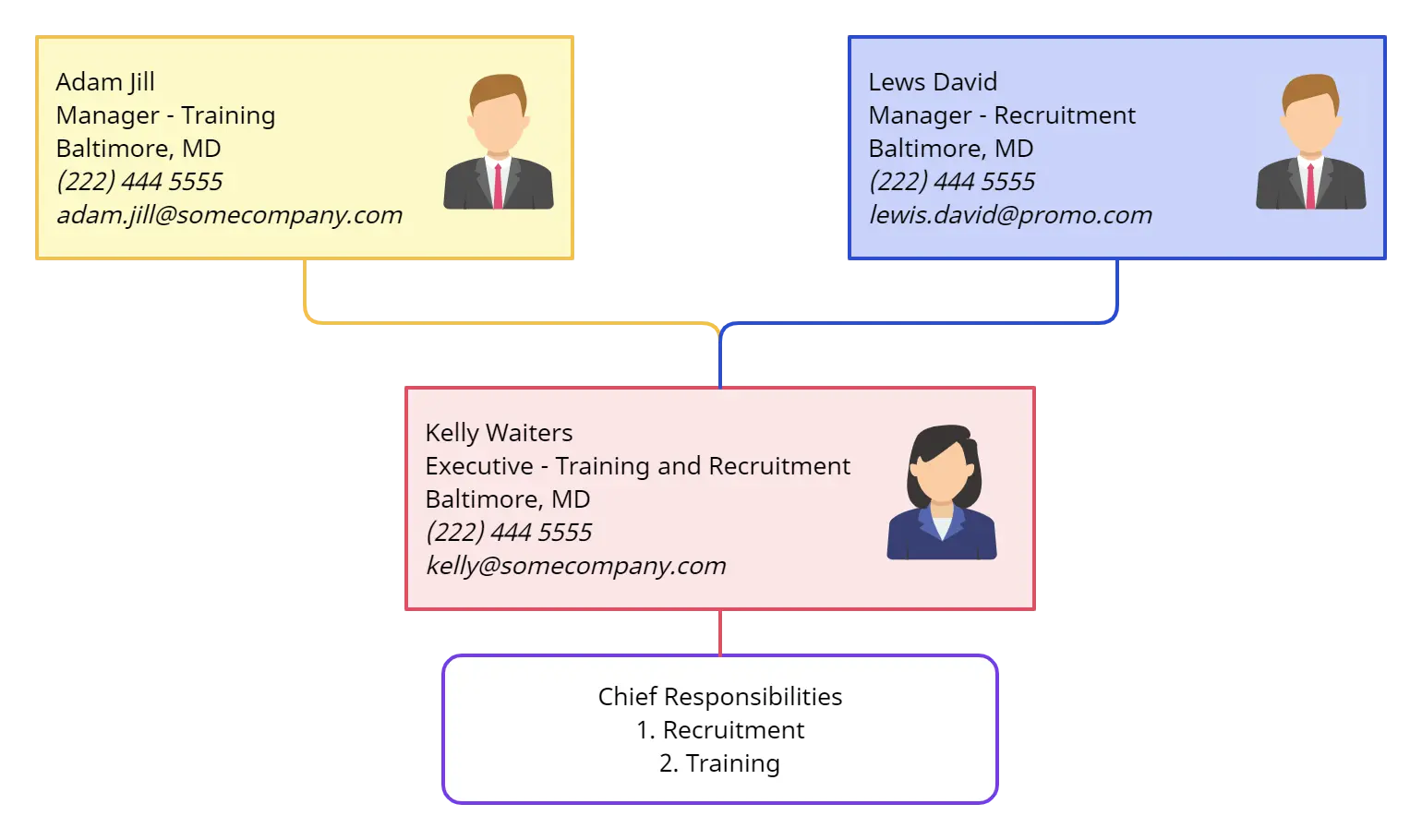 4. Establishing hierarchical structure of decision-making and power
Contrary to popular belief, org charts are not relevant to only the lower rung of management (think Executives and Staff Officers) but also to middle or higher management (think Managers, GMs, DCEOs and CEOs) as well. Not to sound melodramatic but using org charts for the sake of transparency could lead to less misunderstandings and friction when it comes to the sharing of power.

5. Provides you an information portal
Whatever your position may be in a company, you are sure to have third-party interactions. Just to highlight a very basic example, if you are a new Management Trainee, you'd probably want to know who you request stationery from, who you would call if your salary gets delayed, where administration is located etc.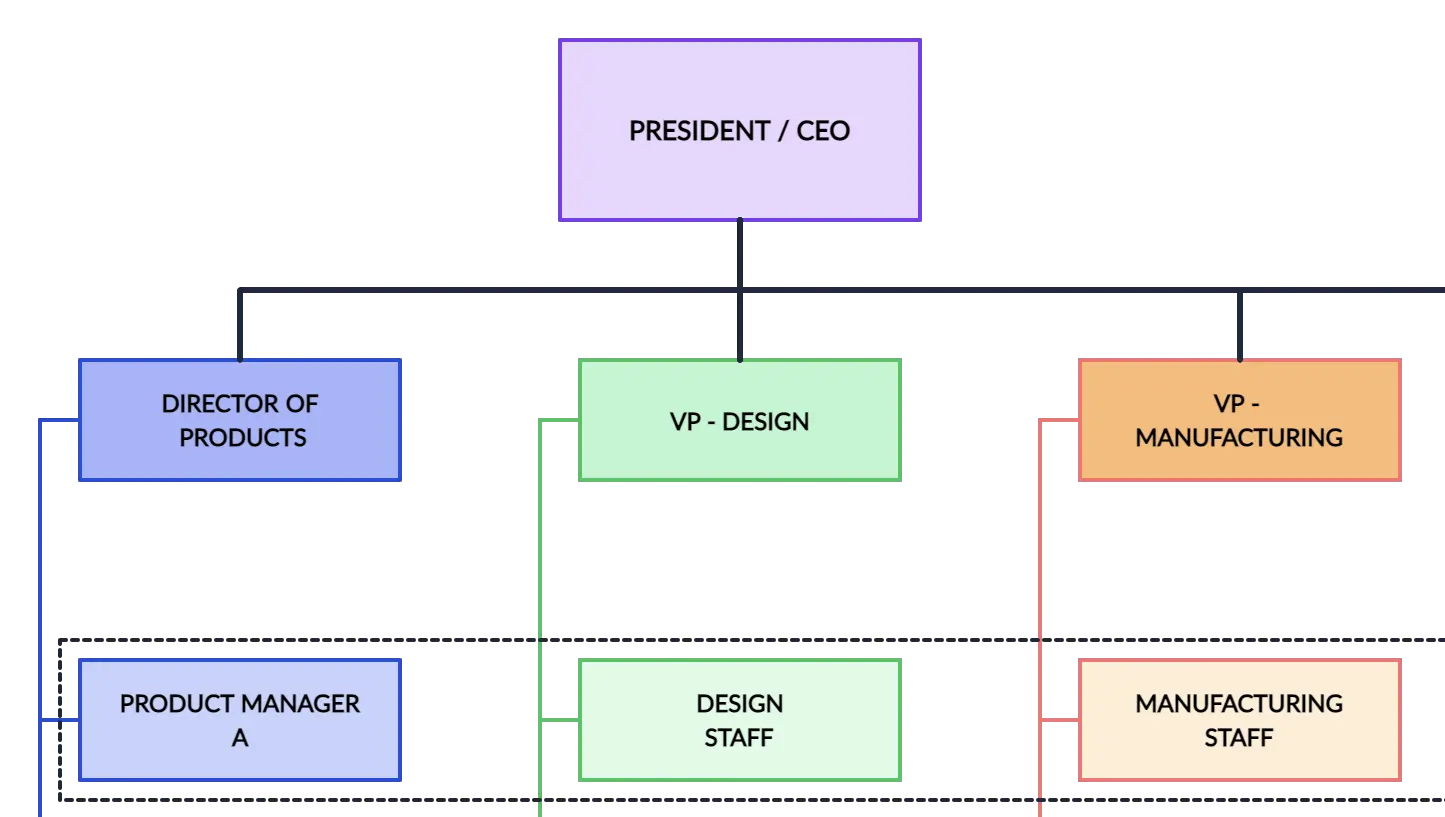 Considering all that has been highlighted thus far, you could get quite creative with org charts. There is no reason why you should give into a "cookie cutter" mentality and be orthodox in your ways. Coming up with innovative uses of org charts could very well help you as a HR Manager to create a better roadmap for the company, in terms of roles, responsibilities and staff interaction. Stay tuned for more goodness on org charts and find these organizational chart templates to get started faster. Till then – Keep those diagrams beautiful!
FAQs on Org Charts in Human Resource Management
Why are organizational charts important in human resource management?
Role clarity and accountability: It ensures employees understand their roles and responsibilities, reducing ambiguity and enabling effective performance management.
Effective communication and collaboration: It establishes clear lines of communication, enabling efficient information flow, decision-making, and teamwork.
Resource allocation and workforce planning: It helps HR managers determine resource needs, staffing requirements, and optimize human capital allocation.
Authority and decision-making: It clarifies decision-making roles and levels of authority, empowering HR managers and employees in their respective responsibilities.
Change management and adaptability: It aids in assessing the impact of organizational changes, managing resistance, and facilitating smooth transitions.
Career progression and development: It supports visualizing career paths, identifying promotional opportunities, and planning for employee growth.
How to use an org chart in succession planning?
Visualize hierarchy: Map out the current organizational structure to understand reporting relationships.
Identify critical roles: Determine key leadership positions that require a succession plan for smooth transitions.
Assess talent: Evaluate employees' performance and potential to identify high-potential individuals for future leadership roles.
Identify development needs: Identify skill gaps of potential successors and their readiness for advancement.
Create development plans: Design individualized plans with experiences, training, and mentoring to address development needs.
Track progress and adjust: Regularly review and adjust development plans based on individuals' growth and organizational needs.
Succession implementation: Refer to the org chart and succession plan to select suitable successors when vacancies occur.
Communicate and engage: Transparently communicate succession planning efforts to stakeholders and involve senior leadership, managers, and HR in the process.
How can org charts help with onboarding new employees?
Understanding structure: New employees quickly grasp the organizational hierarchy and reporting relationships.
Identifying key contacts: They can locate supervisors, team members, and stakeholders for guidance and collaboration.
Building relationships: Insights into team dynamics help initiate connections with colleagues and potential mentors.
Orientation and integration: Org charts provide an overview of departments, helping new employees understand the organization's functions.
Contextualizing roles: New employees comprehend their role's scope and alignment with organizational goals.
Facilitating communication: Org charts clarify communication channels and reporting lines for effective interaction.