Project management is a crucial step in ensuring the success of a project or process. While in the past there were only a limited number of methodologies to follow, today there are many established and verified frameworks practiced in Project Management… In this article, we will explore one such framework called Scrumban, an emerging hybrid system that combines the features of two widely used agile methodologies, Scrum and Kanban.
What Is Scrumban?
To understand Scrumban, let's first do a quick recap of Scrum and Kanban.
Scrum is an agile framework that helps teams to work more productively. Projects are planned and executed in 1-4 week iterations called Sprints. In Scrum, a rigid structure is followed to manage work. This includes scheduled meetings, specific roles and review sessions aimed at improving future iterations.

Kanban is a visual project management system that is ideal at managing tasks of a production cycle or process. Using a Kanban board, the workflow is visualized and managed continuously. No specific roles or meetings are scheduled as the team plans and review work based on demand, delivering what is required.
Kanban gained much popularity in the 21st century as an agile system. As a result, many teams that used Scrum sought to transition to Kanban, to take advantage of its flexible nature. To accommodate this need, Scrumban was designed as a transitioning step from Scrum to Kanban. However, it soon became clear that Scrumban was good enough to be a standalone project management framework and many opted to adopt it as another method to follow.

Scrumban combines the structured nature of Scrum with the flexibility and continuity of Kanban to deliver agility, efficiency, and productivity to a team. Let's take a look at how Scrum, Kanban, and Scrumban compare.
When to Use Scrumban
Scrumban is still a relatively new player in project management and as such, there is still much to learn and observe. However, its versatility and the combination of the best features of Scrum and Kanban have provided a certain edge to win and convince many practitioners. Before you decide on the best method to follow, weigh in the pros and cons, the structure of your project and team along with limitations and requirements–if Scrumban is the perfect fit, then do dive in.
Scrum vs Kanban vs Scrumban
Scrum
Kanban
Scrumban
Best for

Teams working on projects and processes taking more than 12 months.

Teams focusing on maintenance, support services and manufacturing.

Teams working on fast-paced projects and manufacturing. It is also ideal for large-scale projects that require long term planning.

Work cycles

1-4 week iterations with regular meetings, reviews and retrospectives.

No iterations
Continuous workflow.

2-week iterations complete with regular meetings, reviews and retrospectives.

Planning

Structured.
Planning takes place at the beginning of each Sprint.

Flexible.
Relies on a probabilistic approach, based on past workflow data.

Need-based or on-demand planning, integrated with the work-in-progress.
Planning trigger is initiated whenever the number of tasks in the 'work-in-progress' falls below a certain level.

Task Prioritization

Prioritization is done before each sprint.

Prioritization is done based on need and on demand.

Prioritization is done on demand.
Managers designate the order of priority.

Team Members

Recommended for a team of 3-9 members

Work In Progress Limits (WIP)

Practices limiting WIP.
Limits the number of tasks that can be pulled to the in progress column

Practices limiting WIP.
Limits the number of tasks that can be pulled to the in progress column

Tools

Product backlog.
Sprint backlog.
Product increments.

Ownership

Multiple teams can collaborate.

Multiple teams can collaborate.

Change Policy

No new items can be included in a Sprint.

New items can be added depending on the availability and capacity.

New items can be added depending on the availability and capacity.
Advantages and Disadvantages of Scrumban
Advantages
Easy to adopt as Scrumban is a visual project management process that can be easily fitted into any existing format.

Scrumban teams perform better as they are free to select their roles and tasks.

Daily standups and reporting are not mandatory, which saves time, increases efficiency, and creates a more relaxing environment.

Scrumban encourages compartmentalization with bucket planning, prioritization, and short-term iterations. All these features are ideal for large-scale projects requiring long-term planning.

Scrumban boards help to increase clarity and find bottlenecks in the workflow to resolve them quickly. Project managers can easily identify any task slowdowns to address them ahead of time.
Disadvantages
As Scrumban is new to the project management landscape, it is still largely untested. As such, there are still only a few established best practices to guide teams.

Lack of an effective setup for assigning tasks along with limited progress tracking may provide a significant challenge for project managers.
How Creately Simplifies Scrumban for Your Team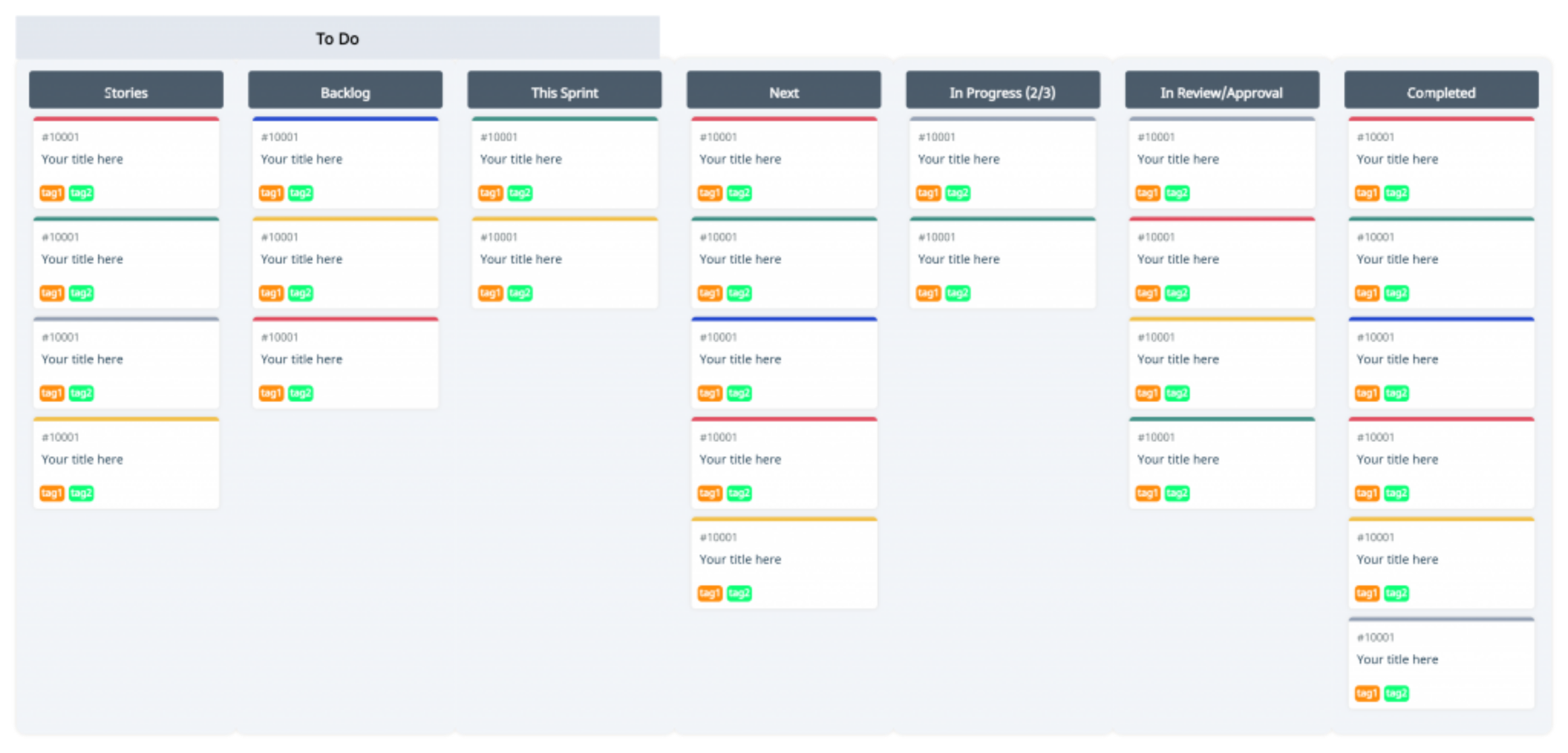 Creately is an ideal place to kickstart or continue your Scrumban journey. Each step of the project process can be visualized for easy tracking and team members can collaborate to ideate and solve issues in real-time, all in one place. Key features that will help you to start your Scrumban board and keep track of the project progress include:
The intuitive and infinite canvas to add timelines, scrumban boards, Gantt charts, and much more to visualize the project activities and progress.

Shape library complete with kanban boards, task cards, and a host of other visual tools to get a quick start in illustrating your Scrumban journey.

Easy drag and drop function with a color palette to customize the canvas according to your specific requirements.

Notes panel to include all relevant notes and details of each task/ project.

Data panel to assign roles and set due dates and estimates to better track the progress of each activity.

Task panel to keep track of your selected project tasks.

Notification panel to keep each team member updated on project-related activities.

In-built video conferencing for quick catch-ups and meetings.
Join Creately to start your Scrumban experience today!