Work breakdown structures (WBS) are frequently used by project teams to break the project into smaller, easily identifiable components. The WBS structures used in projects follow strict rules like 100% rule and the mutually exclusive rule, but in general, they can be used to break down almost any complex task. However, coming up with a WBS template from scratch can be a tedious task, which is why we have introduced work breakdown structure templates to speed up the process. All of the templates mentioned below can be reused by clicking the Use as Template button.
Work Breakdown Structure Templates
Creately has some predefined WBS templates in the Creately examples section. You can access them easily from the drawing area using the Creately community browser. Click here to start drawing your work breakdown structure (WBS).
WBS Template with Different Colors for Levels
The first WBS example has different colors for levels. You can easily change the colors of the objects and lines using one click styling button available in Creately. Click on the image to open it in a new window and use as a template.

Work Breakdown Structure Templates with Different Colors for Paths
The next WBS template has different colors for paths. This template makes it easy to understand the various sub-components of the projects and the elements belonging to a particular process.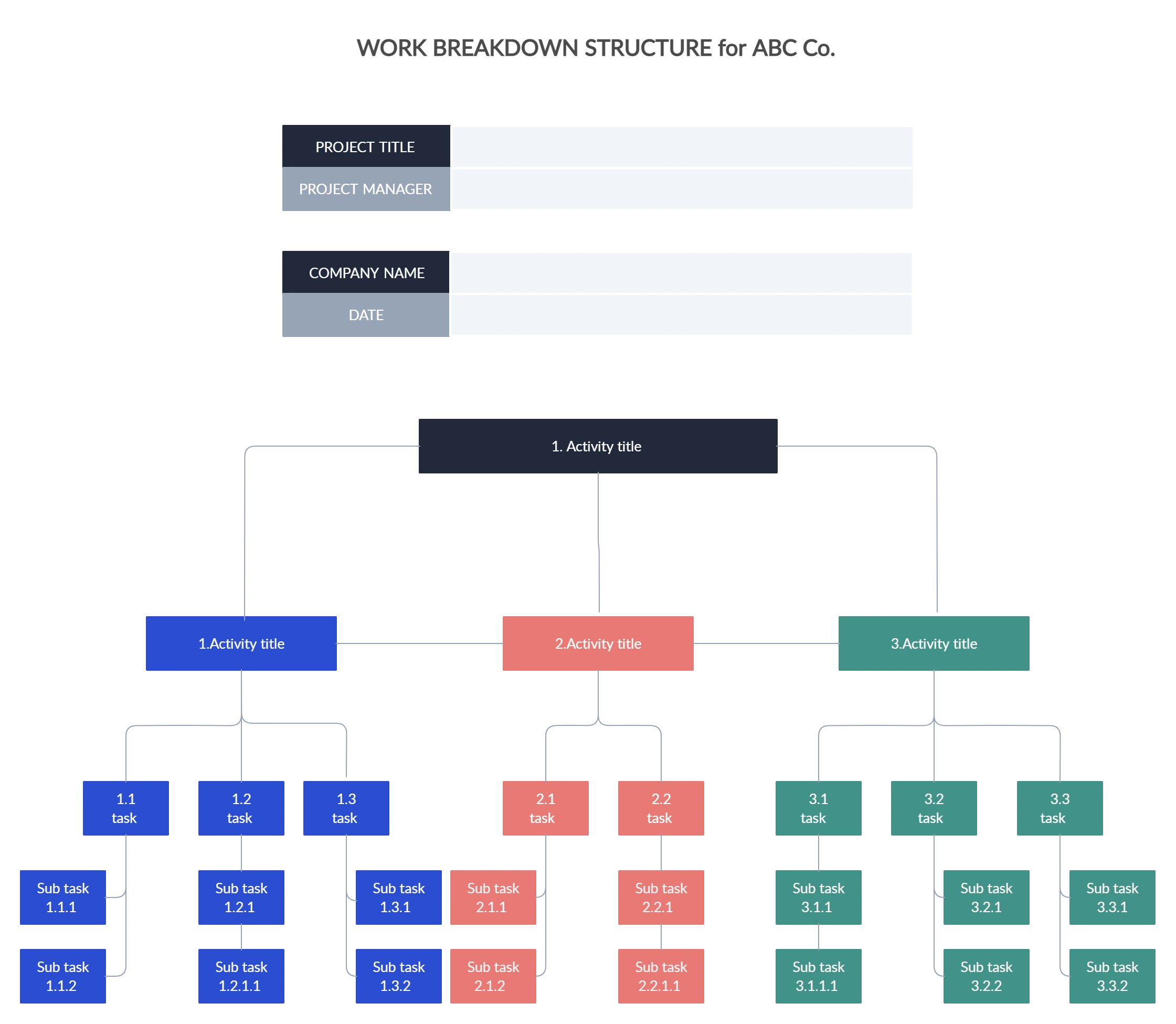 WBS Template with Curved Arrows
A WBS template doesn't necessarily have to have a top to bottom approach. If one process takes a big portion of your diagram you can move the processes around so the diagram fits much better in the screen. This diagram should give the correct picture of your task or project.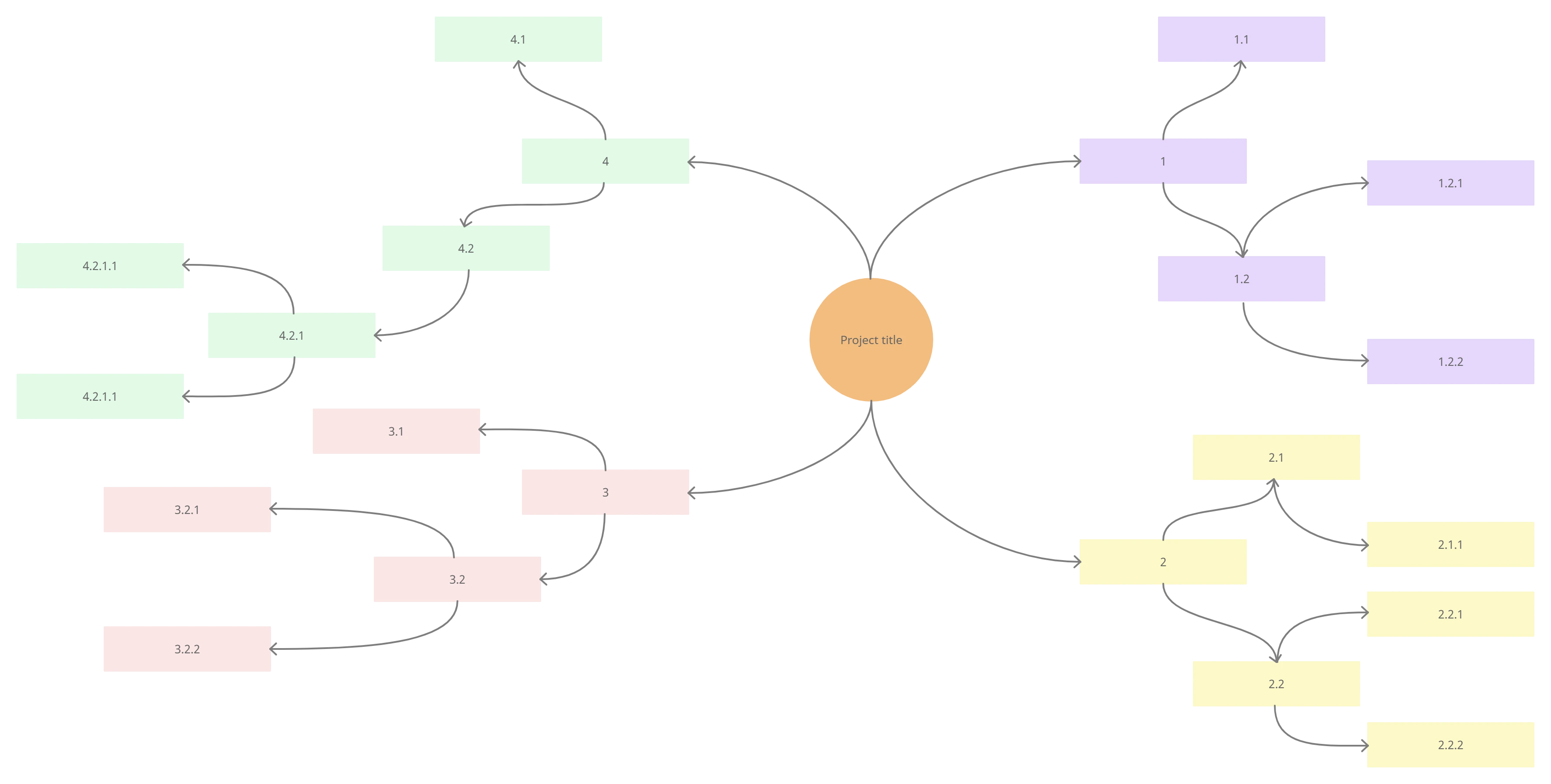 WBS Template for Multiple Projects
A WBS template is not only to illustrate one single project but as shown below in the example diagram, it can be used for multiple projects. A key benefit of this diagram is that the user can easily get a snapshot of how every project work is structured at one glance. You can use shape styles to create a color theme and apply across the whole diagram as relevant.

WBS Template for Mapping Staff
Even though the WBS templates are widely used for grouping the departmental wise functions, it also can be used for various other purposes as well. The colorful diagram shown below is an example of how WBS template is used for mapping the staff of a company. If a company has a huge number of employees, the best way to illustrate staffing is by using one diagram for each department and link them to the main WBS diagram. You can do internal linking of multiple diagrams at ease with Creately.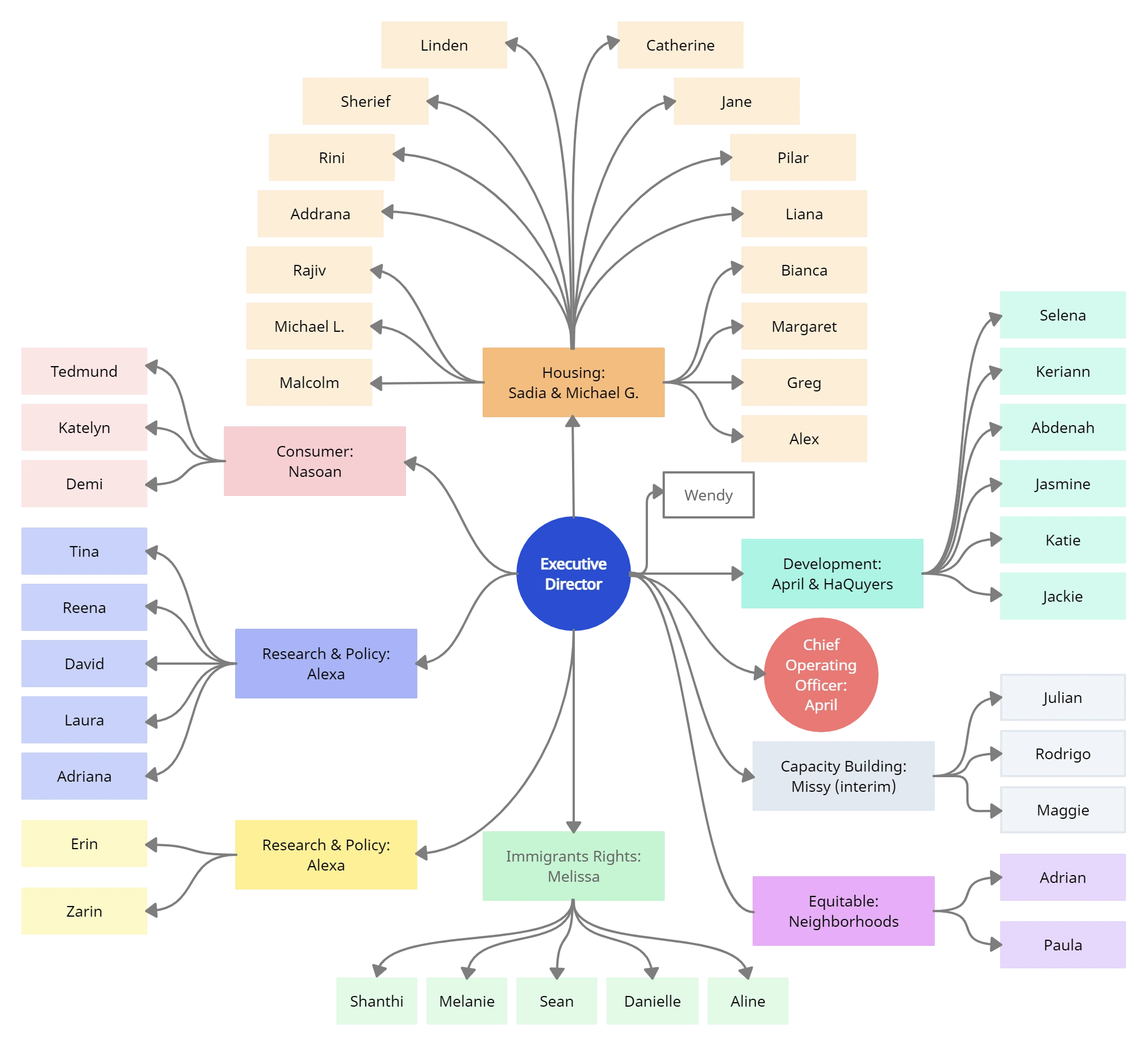 WBS Template for Infrastructure Mapping
A WBS is an ideal diagram type to map the infrastructure of a product or a project. This template is often used by  IT industry when mapping their infrastructure. Below WBS is an example for IT infrastructure. The diagram is not a colorful one as previous examples but helps you to get an idea of how key elements are structured within the IT infrastructure. You can use the template given below to draw your own infrastructure mapping process by simply clicking on the template.

WBS Template for Event Planning
WBS diagrams can be used for various purposes very effectively. The below diagram example shows how event planning can be done using a WBS diagram. Event planning is a systematic process which needs proper organizing. Using a WBS diagram, each function can be properly organized and work allocation can be done easily using the collaborating feature that Creately offers. Each one of the team members can access the same diagram and view what are their allocated functions, and also restructure the work as necessary if required.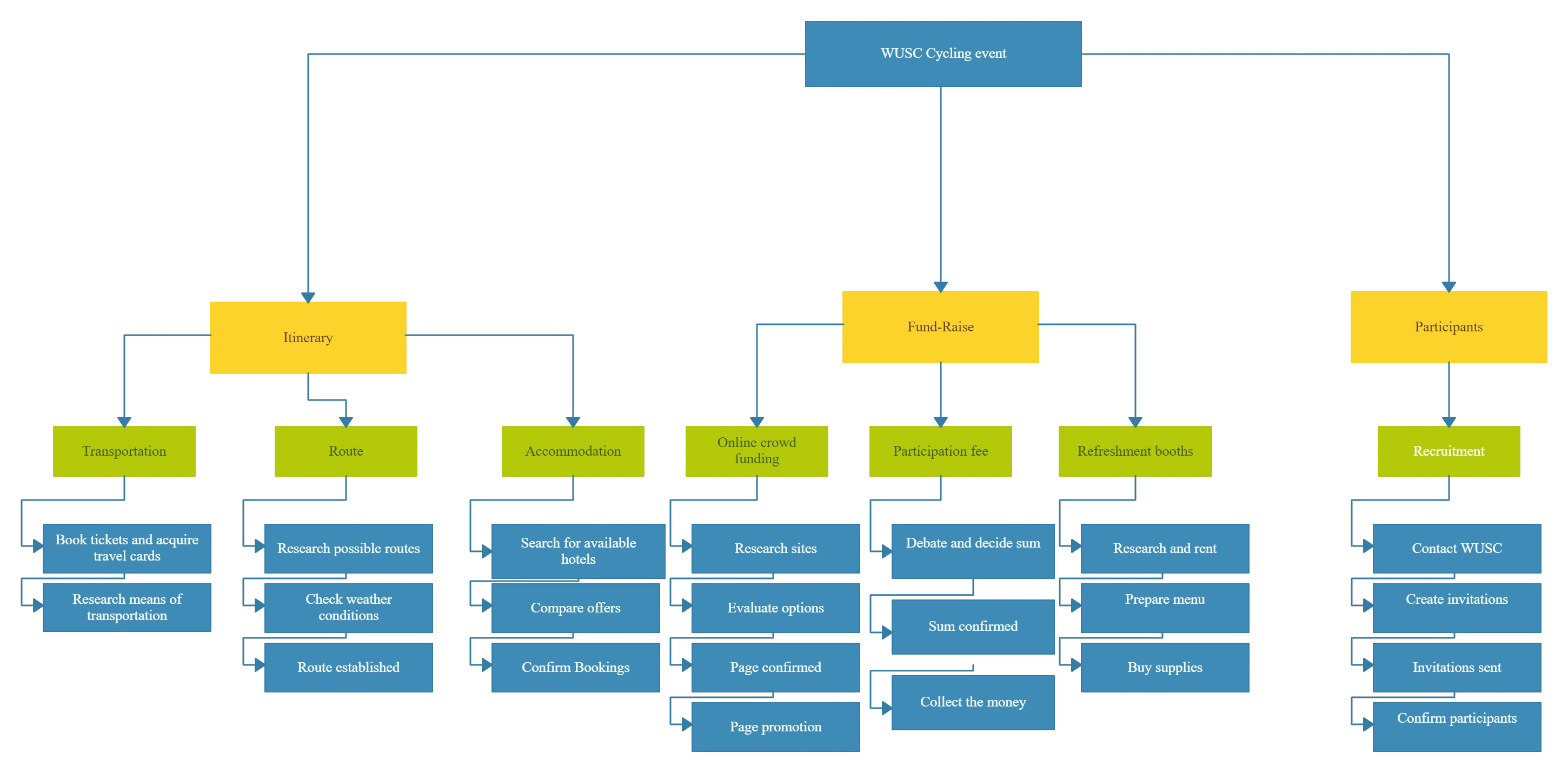 Click here to browse all Creately work breakdown structure example»
Visit the Creately Diagram Community
Want more ideas for your work breakdown structure?. If the templates shown above are not to your liking, you can visit the Creately diagramming community to browse for more diagrams. Feel free to vote up and share your favorite diagrams.
More Diagram Templates
FAQs About Work Breakdown Structures
What is a WBS, and what are the key components?
Why is a WBS important?
A work breakdown structure helps project managers to break down complex projects into more manageable and smaller components. It provides a clear and structured overview of the project deliverables, tasks, activities, and other vital details required to complete the project. This can help project managers plan, execute, monitor, and control the project deliverables effectively.
What are the benefits of creating a WBS?
Better project scope definition
Better project planning and organization
Improved resource allocation and task management/assignment
Better communication and collaboration among team members
Better cost estimation and budgeting
Improved project monitoring, risk management, and control
Greater project success and stakeholder buy-in
What are some challenges when creating a WBS, and how can you overcome them?
Lack of clarity in terms of project requirements and deliverables
Difficulty in identifying and grouping tasks and activities, especially in complex scenarios
Inadequate stakeholder involvement or communication
Limited resources for creating and managing
How can a WBS improve project planning and execution?
A WBS provides a structured framework that helps to
Define the project scope and deliverables
Identify project tasks and activities
Estimate project costs and resources
Assign responsibilities
Track project progress
All of these together ensure that the project is completed on time, within budget, and to the stakeholders' satisfaction.
How does a work breakdown structure relate to project management?
A WBS is often considered to be a key component of project management. It is essential for effective project planning, execution, and control.
What are the common mistakes to avoid when creating a WBS?
Creating too many levels in the WBS
Failing to involve team members or stakeholders in the creation process
Failing to align with the project requirements and goals
Overlooking dependencies or interrelationships between components
Failing to update or make changes as the project evolves