Kubernetes Architecture Diagram Tool
Visually Design Your K8s Architecture
Create, edit, and share Kubernetes architecture diagrams with Creately. Easily represent the deployment, scale, and management of your containerized applications.
Easy-to-use visual canvas to plan Kubernetes clusters
Extensive Kubernetes shape library
Real-time collaboration to work with teams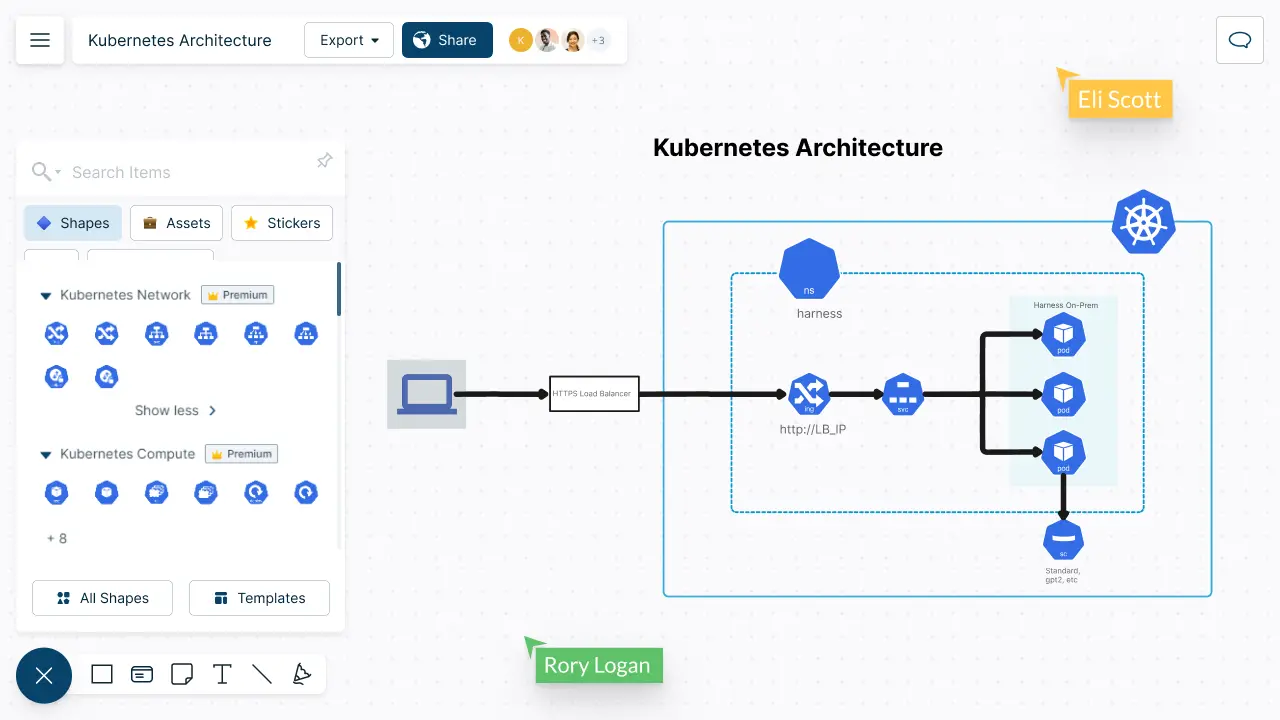 Over 10 Million people and 1000s of teams already use Creately
How to make a Kubernetes Architecture Diagram?
VISUALIZE AND IDEATE
Document Ideas & Plans at the Speed of Thought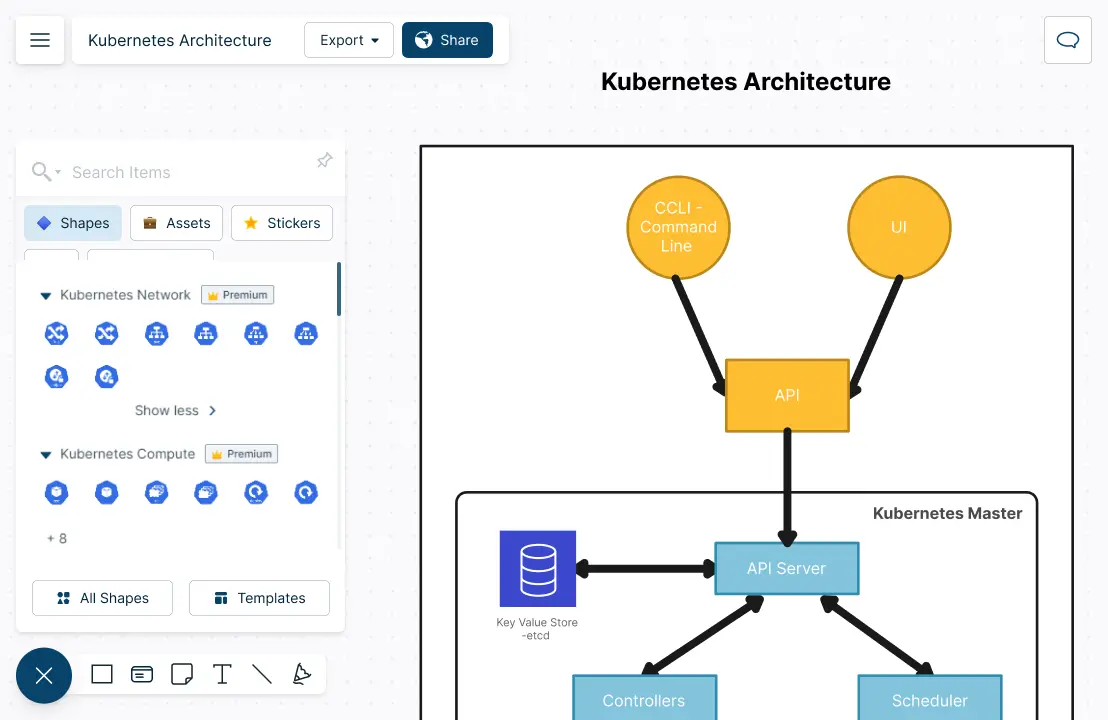 Multiple templates for infrastructure design, architecture plans, cluster placements, functional pathways, & more. 

Comprehensive AWS, GCP & Azure shape sets to define your deployment plans.

Easy drag and drop interface for smooth cluster visualization.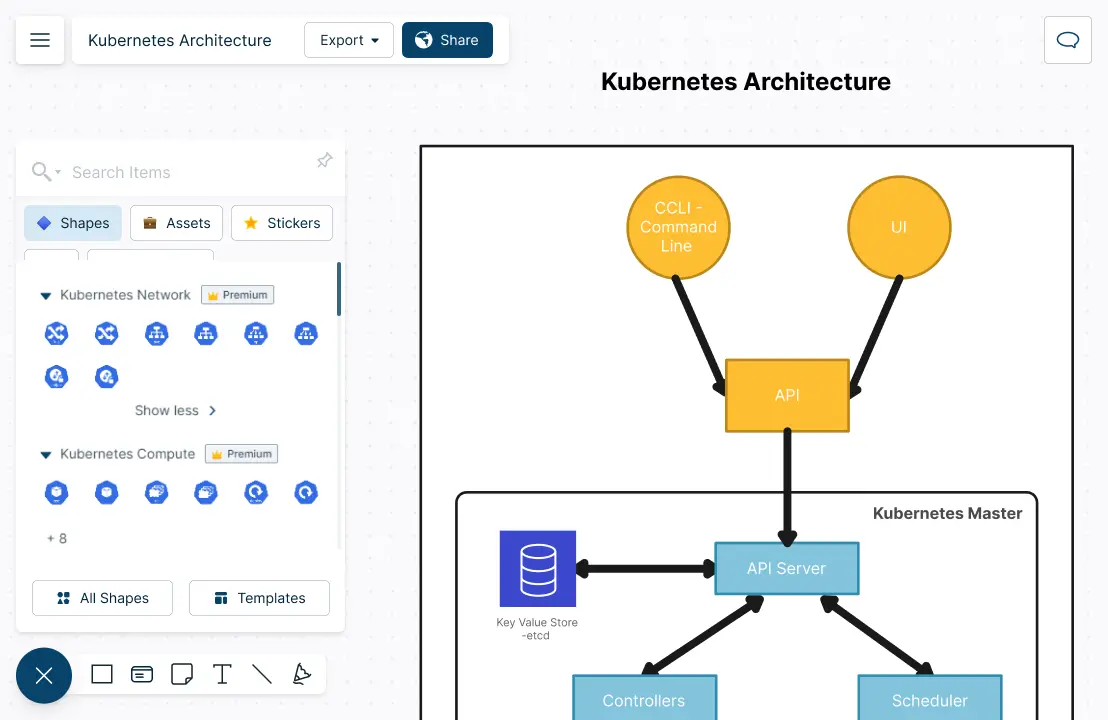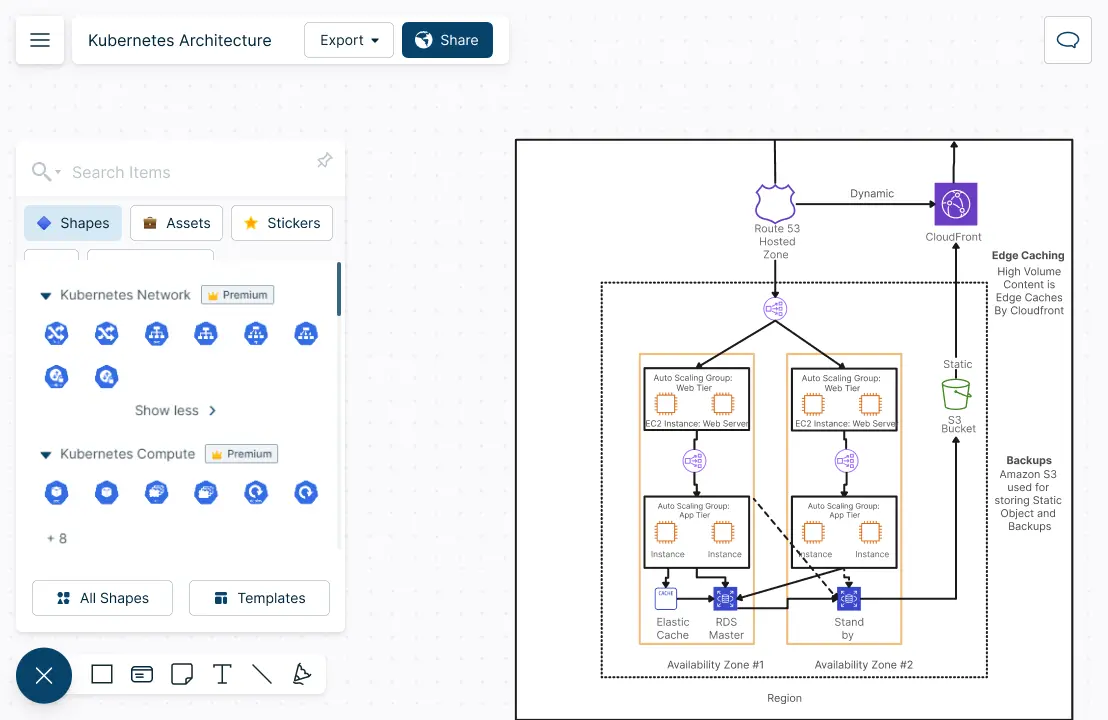 COLLABORATE
Collaborate with Teams & Developers, Anytime, Anywhere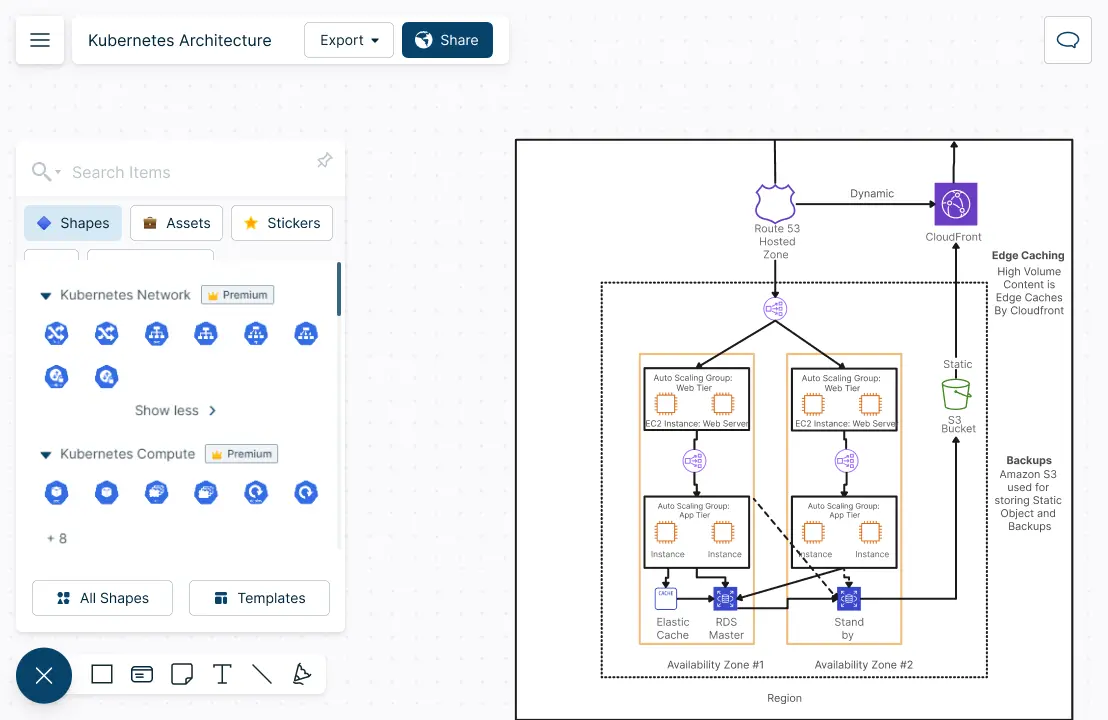 Real-time cursors to track changes made by others on a shared canvas. 

Comment with context, have discussions and follow-ups on the same canvas. Async!

Full version history to keep track of iterations and revisions. 

Multiple access levels and roles to share, edit, & review the design as required.
ORGANIZE & CONNECT
A Centralized Repository for Deployment & Management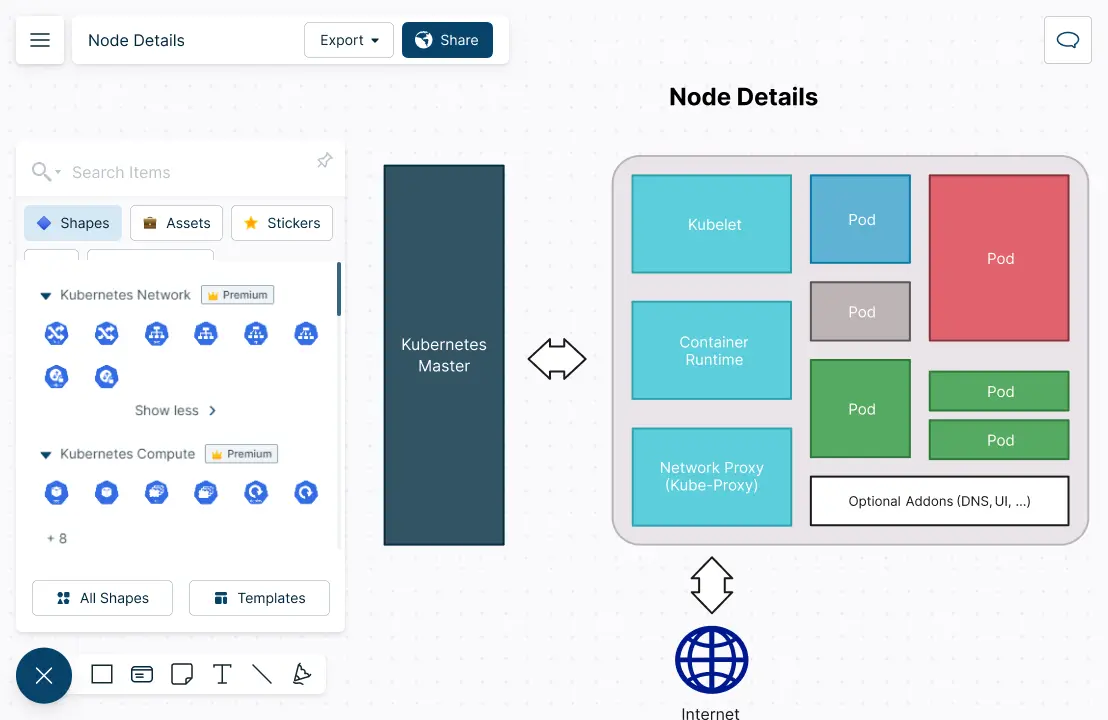 Document statuses to track design stage and approval flows.

Connect your existing tools & workflows with powerful integrations. 

Export as SVG, PNG, JPEG, or PDF to share, publish, or embed. 

Embed your diagrams securely in any site, intranet or app.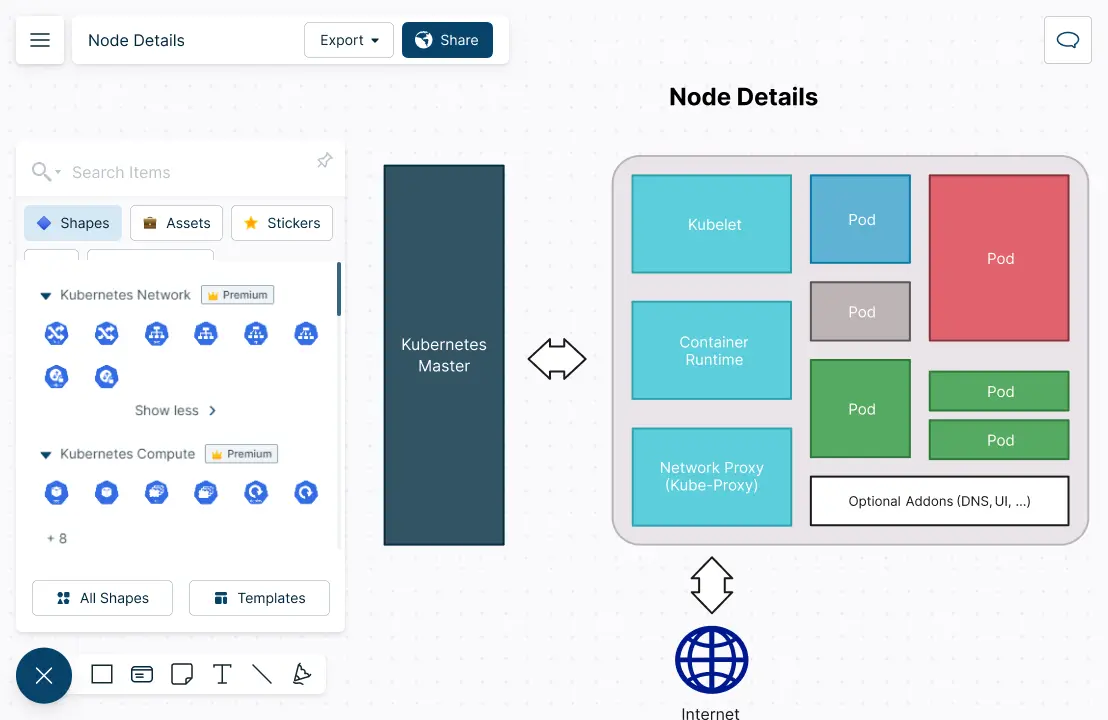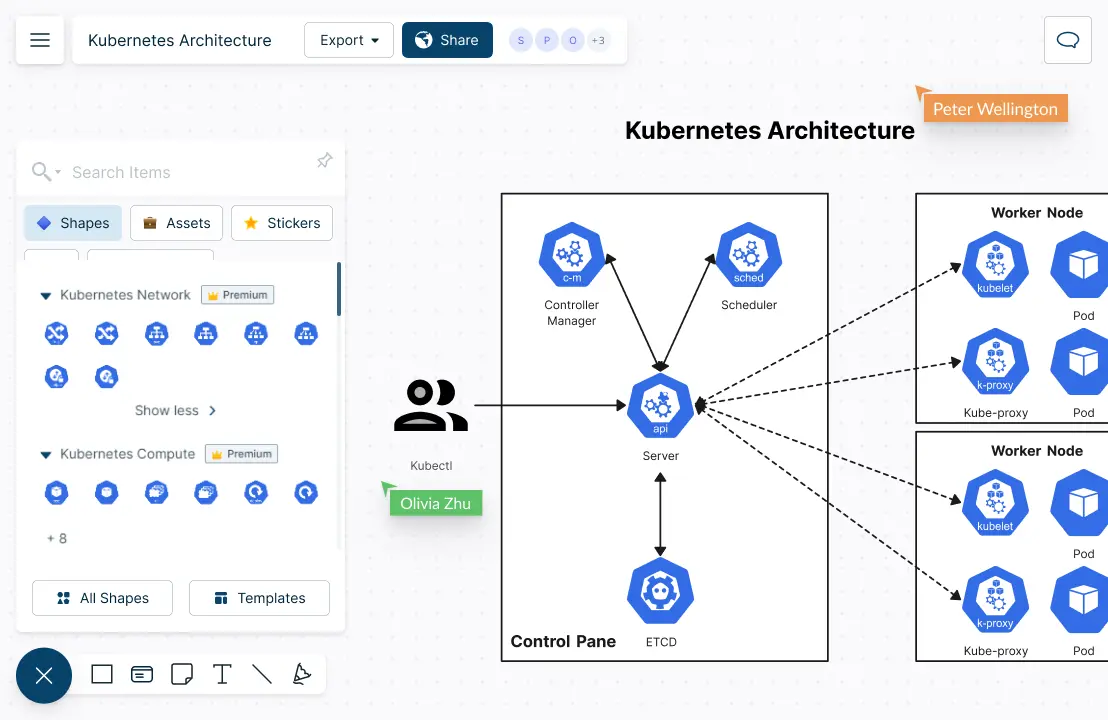 EXTEND
Advanced Features to Optimize Kubernetes Diagrams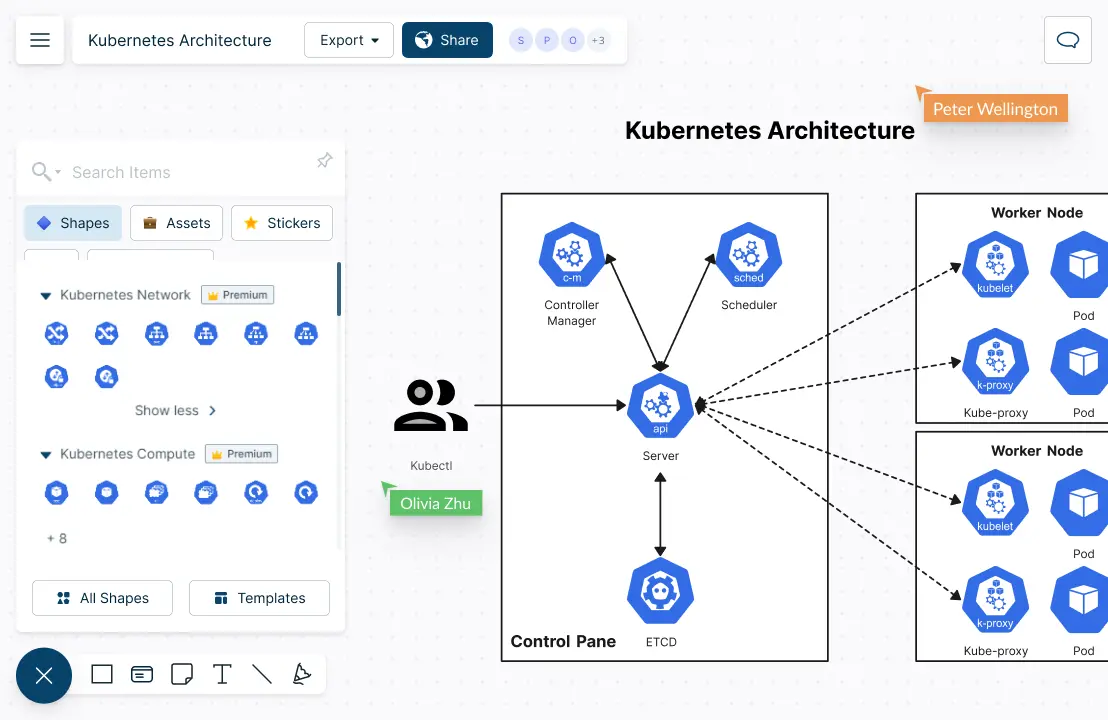 Organize your data and build a presentation flow for your k8s diagrams.

Document information on k8s clusters, successful API's & optimization plans.

Provide more context to Kubernetes diagrams with integrated notes. 

Shape data with additional data fields to add labels and annotations.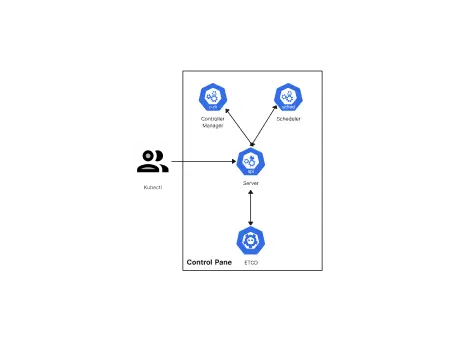 What is a Kubernetes Architecture Diagram?
A k8s architecture diagram helps visualize an automated plan for scaling, managing and the deployment of containerized applications.
How to Create Kubernetes Architecture Diagrams with Your Team in Creately?
Create a common workspace for your kubernetes architecture diagram designing and share it with others to collaborate with. 

Gather the information you need. With relevant stakeholders, brainstorm the relevant process steps from start to end with other key details that need to be visualized. 

Select a template from Creately's template library or draw from scratch using Creately's extensive shape library.

Connect the icons and clusters in a proper sequence using Creately's Plus Create feature. 

Style your k8s diagram using the shape settings and add key data for each process step using the data panel. 

Share the diagram with reviewers, editors, or viewers and work on editing the Kubernetes architecture in real-time with synced reviews.  

Find the changes that the collaborators made via the multi-cursors on the canvas in real-time or via the version history. In case you want to revert to a previous iteration, select the version to apply the changes.

Gather feedback and discuss with Creately's in-line commenting.

Once finalized, use Google/Microsoft add-ons, embed in an email, website, or export in various formats including SVG, PDF, PNG, and many more.
Easily Draw Kubernetes Architecture Diagrams Online with These Templates
FAQ about Kubernetes Diagrams
What can you do with Kubernetes?
A key advantage of using Kubernetes in your environment, especially if you are optimizing app dev for the cloud, is that it gives you the platform to schedule and run containers on clusters of physical or virtual machines.
With Kubernetes you can also; 
Control and automate application deployments and updates

Mount and add storage to run stateful apps

Make better use of hardware to maximize resources needed to run your enterprise apps

Scale containerized applications and their resources on the fly

Health-check and self-heal your apps with autoplacement, autorestart, autoreplication, and autoscaling
What are key components of Kubernetes?
Following are some of the many important concepts used in Kubernetes.
Clusters -  A cluster is a collection of host storage and networking resources that Kubernetes uses to run the various workloads involved in a system. 

Node - A node is a single host. It can be a virtual or a physical machine and its job is to run pods. 

Master - The master is the control plane of Kubernetes. It comprise of several components such as an API server, a scheduler, and a controller manager. 

Pod - A pod is a unit of work in kubernetes. A pod contains one or more containers and they are always scheduled together.
Why is it important to diagram Kubernetes architecture?
Diagrams improve documentation clarity and comprehension. Kubernete architecture diagrams helps,
Kubernetes users and stakeholders quickly grasp concepts and retain information

Develop the structure and content of your contribution

Document software architecture for troubleshooting and maintenance

Evaluate and manage system resources for efficiency

Streamline work across teams and to keep collaboration seamless when managing applications
How can I share my Kubernete architecture diagram in Creately?
With Creately's Kubernetes architecture diagram tool, you can share your diagram in multiple ways. You can use a workspace sharing link with edit or view access with collaborators or you can export your Kubernetes architecture diagram in a suitable image format to share or publish. You can also use a secure embed link to embed the Kubernete diagram in any site or intranet.
Streamline Your Workflows by Integrating with the Tools You Love
Creately integrates with the tools your teams use every day and supports your team's workflow seamlessly.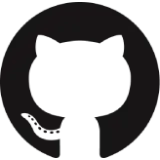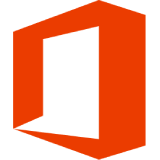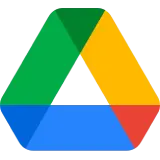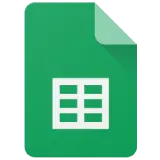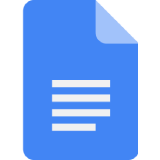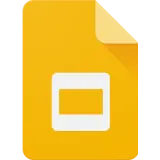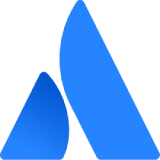 Why is Creately a Better Kubernetes Architecture Diagram Tool
Creately is the intelligent visual platform enabling visual collaboration, knowledge management and project execution.
100+ proprietary features deliver a flexible, no-code visual platform, expertly-tuned for ease of use.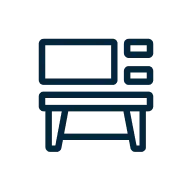 Infinite Visual Canvas
Visually create and organize any structure you imagine. Drag drop shapes or datasets, embed external content.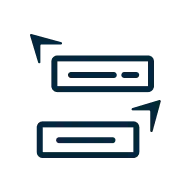 Real-time Collaboration
Work remote or hybrid with realtime cursor tracking, synced previews and proper in-context comments and tasks.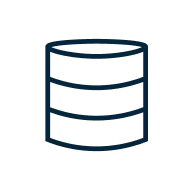 Custom Databases
Create custom databases for any kind of information from tasks, HR personnel records to matters for law firms.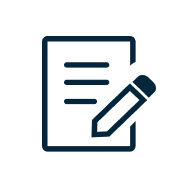 Data Driven Docs
Create docs and notes to go deeper from the high-level visual views. 2 way link to other docs, shapes or data with @mentions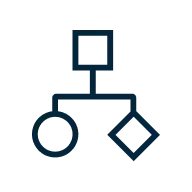 Professional Diagramming
50+ types of standard diagrams with 1000+ specially designed shapes and connectors enable blazing fast diagramming.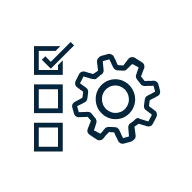 Project & Task Management
Use built-in agile project management tooling or integrate with your favourite project management tool to keep work flowing.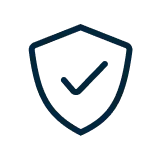 Enterprise Grade Security
ISO 27001, SOC 2 - Type 2, Data Residency & Up-time SLAs to collaborate securely with your entire organization.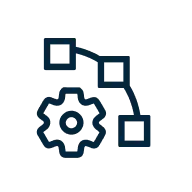 Powerful Visual Modelling
Visuals that are backed by databases, update once, reflect in multiple views type of workflows.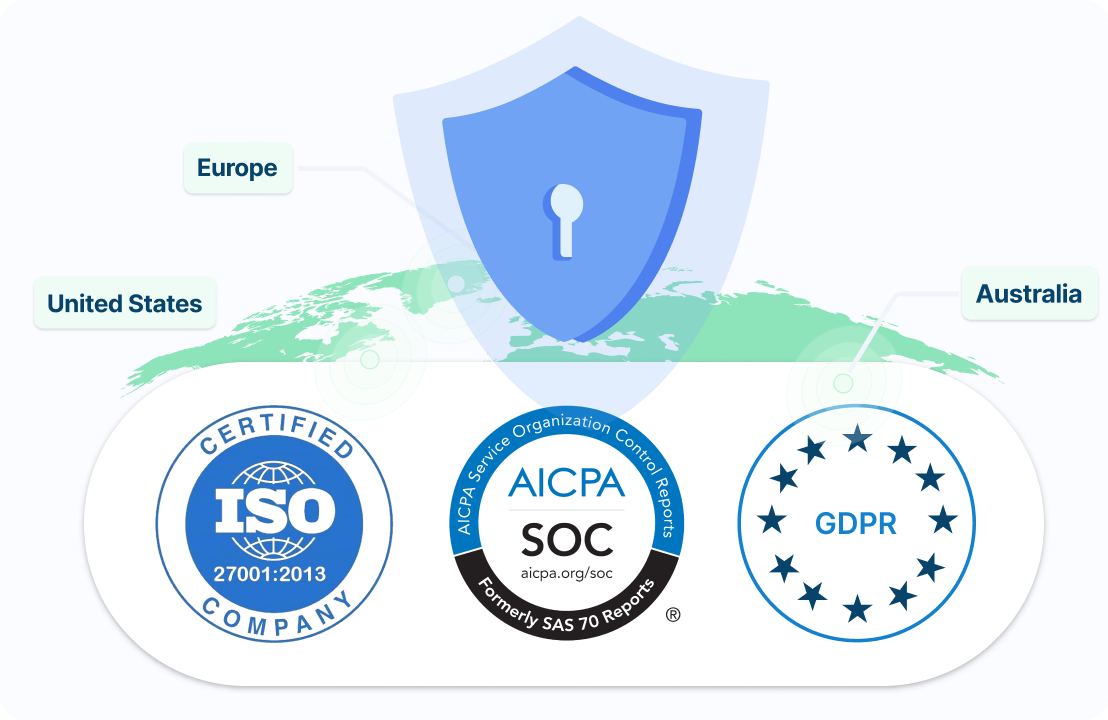 Enterprise-Grade Security and Compliance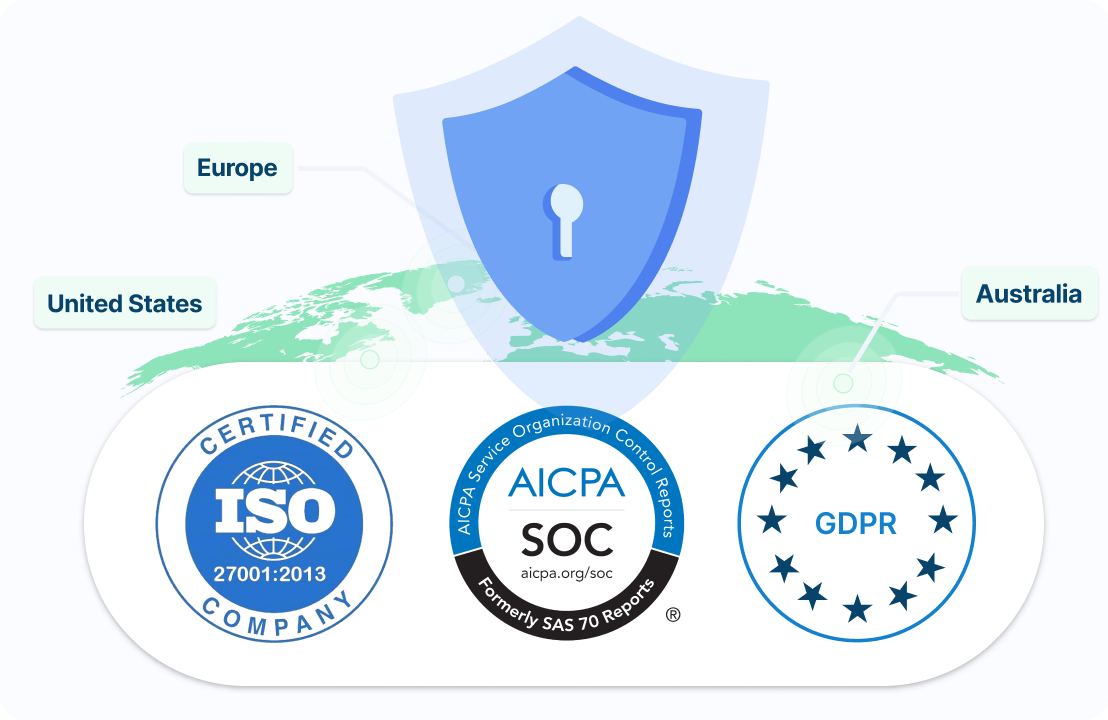 We're dedicated to keeping your data private, secure and safe. Creately is SOC2-Type 2 and ISO 27001 certified and GDPR compliant. We offer flexible data residency options in USA, EU and Australia to our enterprise customers.
Just Plug and Play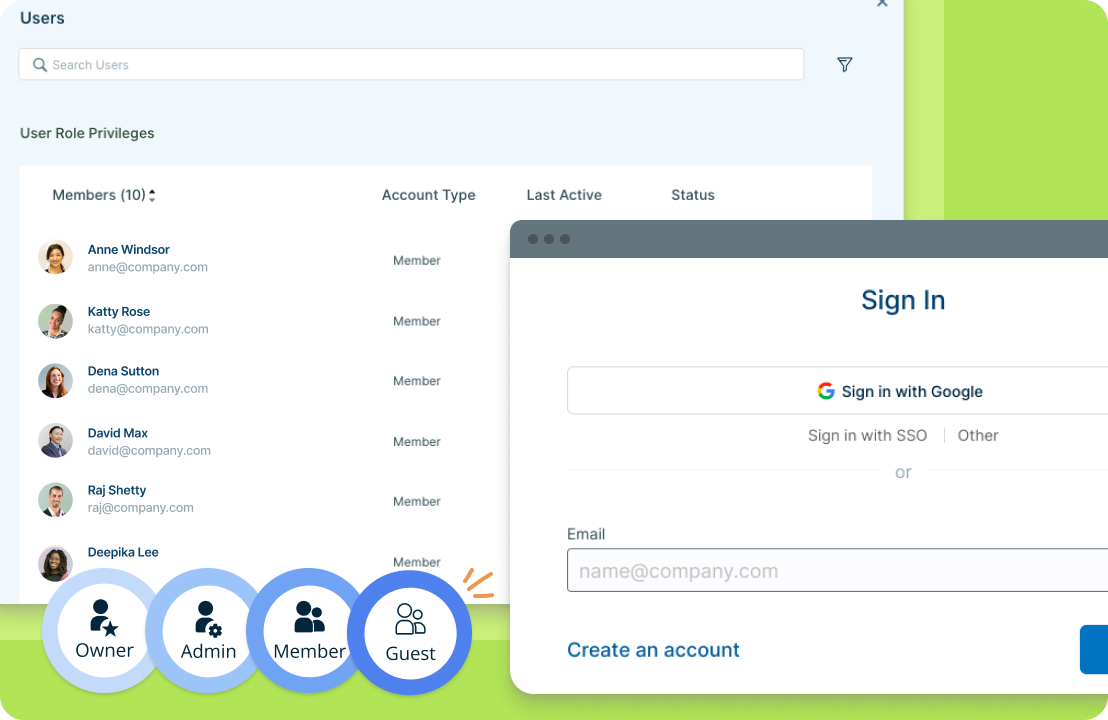 An easy-to-use interface with a minimal learning curve. Simply Sign-In using your work email to automatically add team members to the enterprise plan.
No installation required.