30-60-90 Day Plan Template
Ensure Effective Employee Onboarding
Map out an effective plan at various stages of an employee's onboarding journey.
Visual tools for HR planning
Conduct interactive sessions with new employees
Multiple frameworks to create executable plans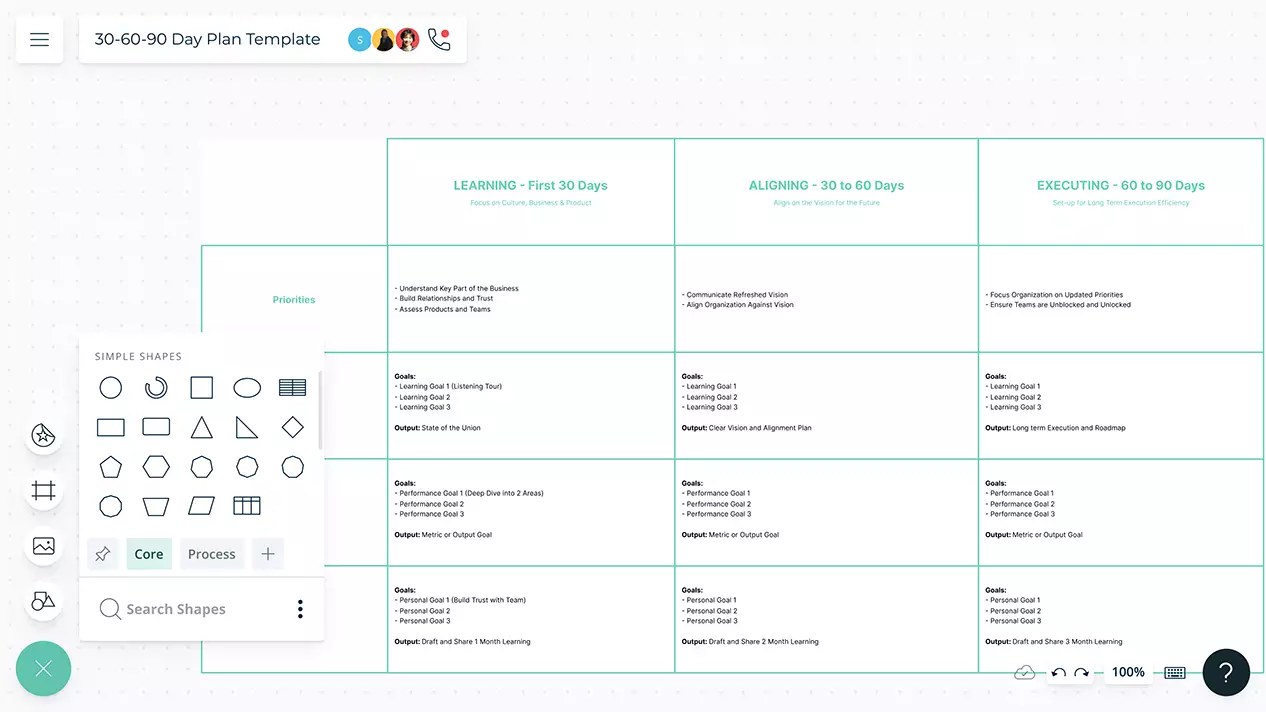 Over 10 Million people and 1000s of teams already use Creately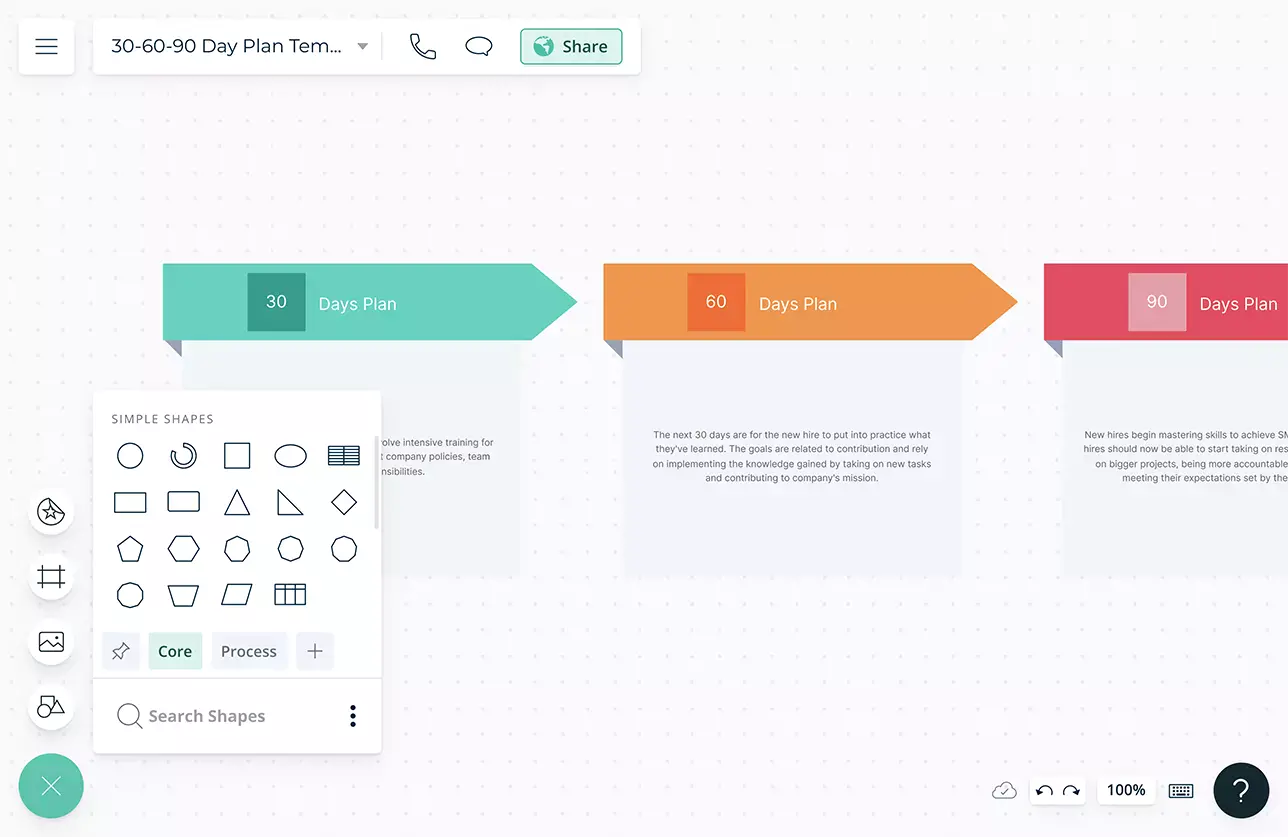 ANALYZE
Plan and Set Goals for Employee Development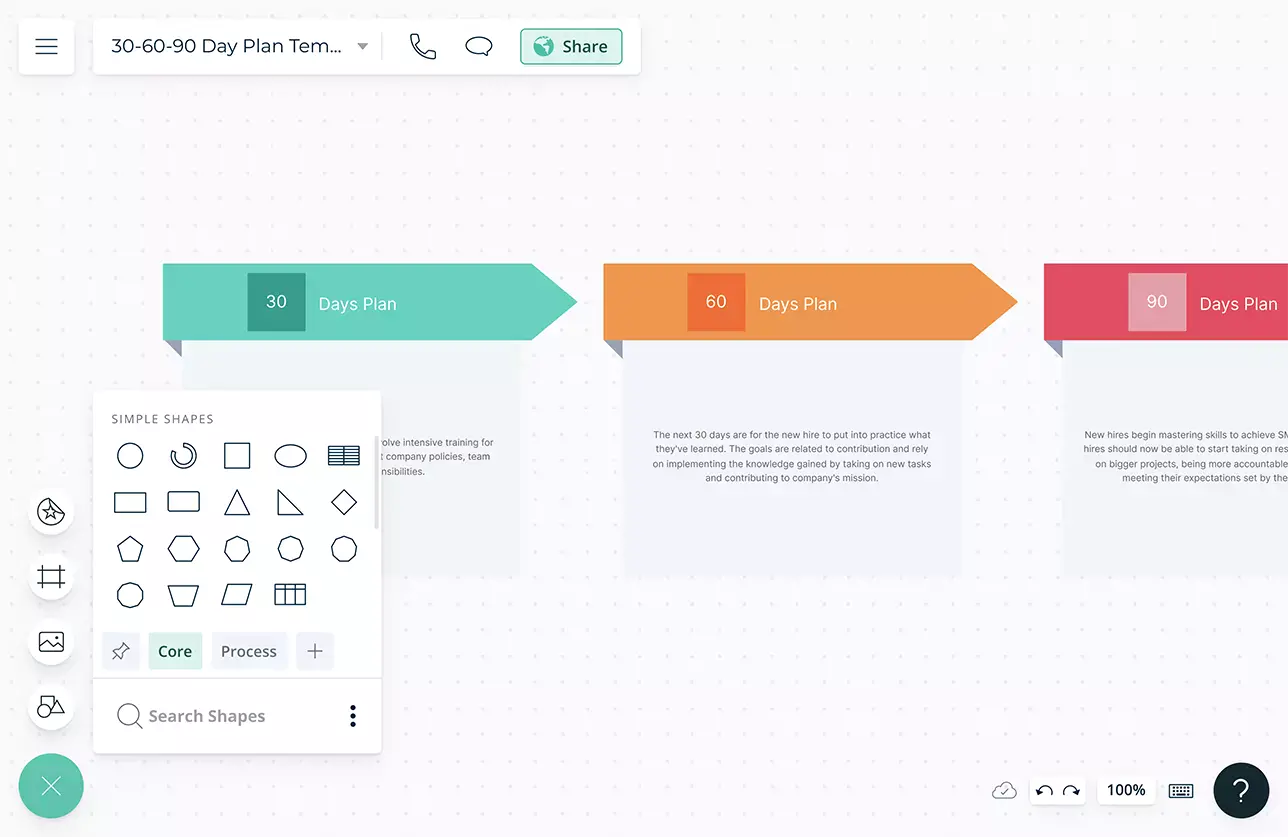 Multiple frameworks to easily list goals and strategies to achieve them.
Drag and drop interface to visually depict an employee development over 3 months.
Add data links and notes to create detailed plans and provide employees with everything they need for long-term success.
Bring data from other sources- create links to job descriptions, KRAs, OKRs and more to align onboarding plans to employee development goals.
PLAN
Create and Achieve Manageable Milestones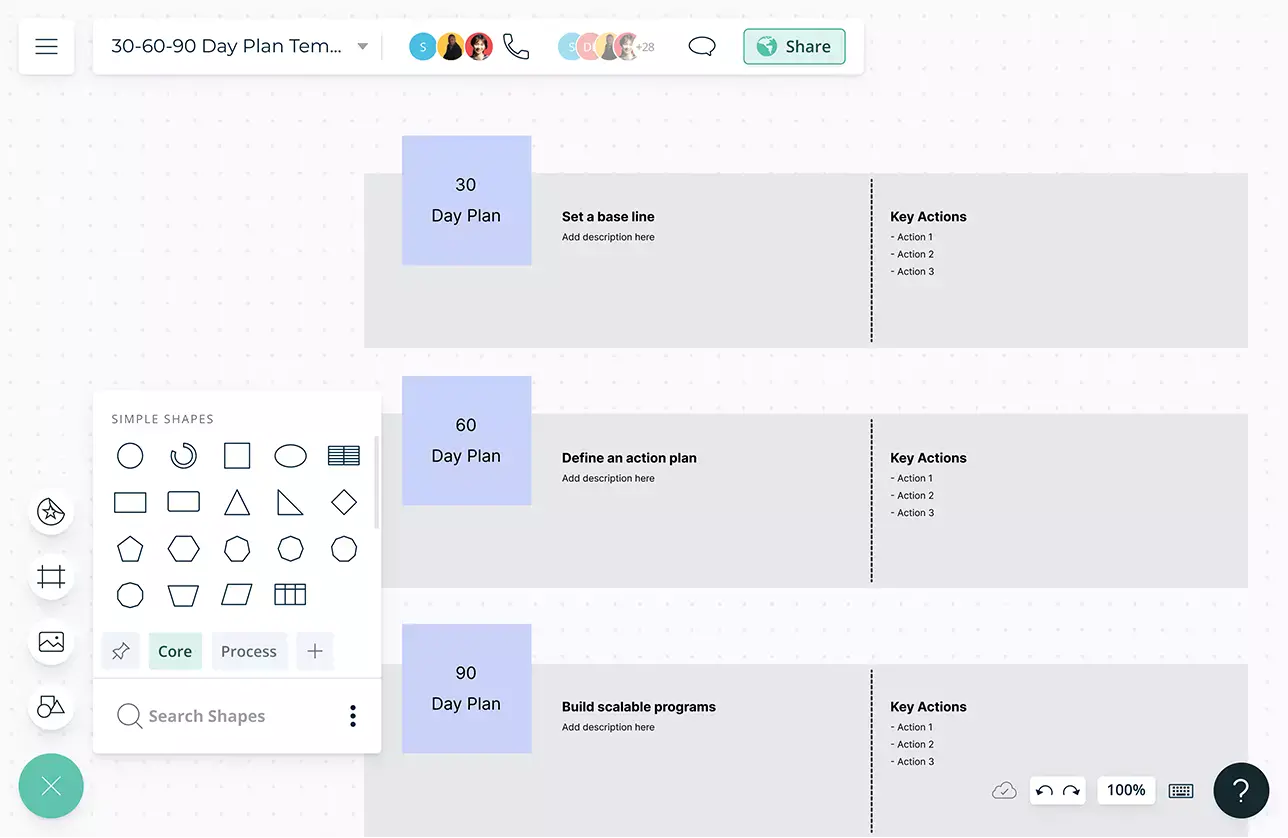 Create custom workspaces for employees and collaborate together to identify training areas.
Add detailed docs, attachments, links and more via the notes feature to workspaces to capture details of employees in a single space.
Conduct in-depth employee development sessions with SMART goals, SWOT analysis, and more on a single canvas.
Two-way sync with your spreadsheets or HRM systems to keep information up-to date at all times.
Assign tasks and roles across various departments so new employees can identify key stakeholders.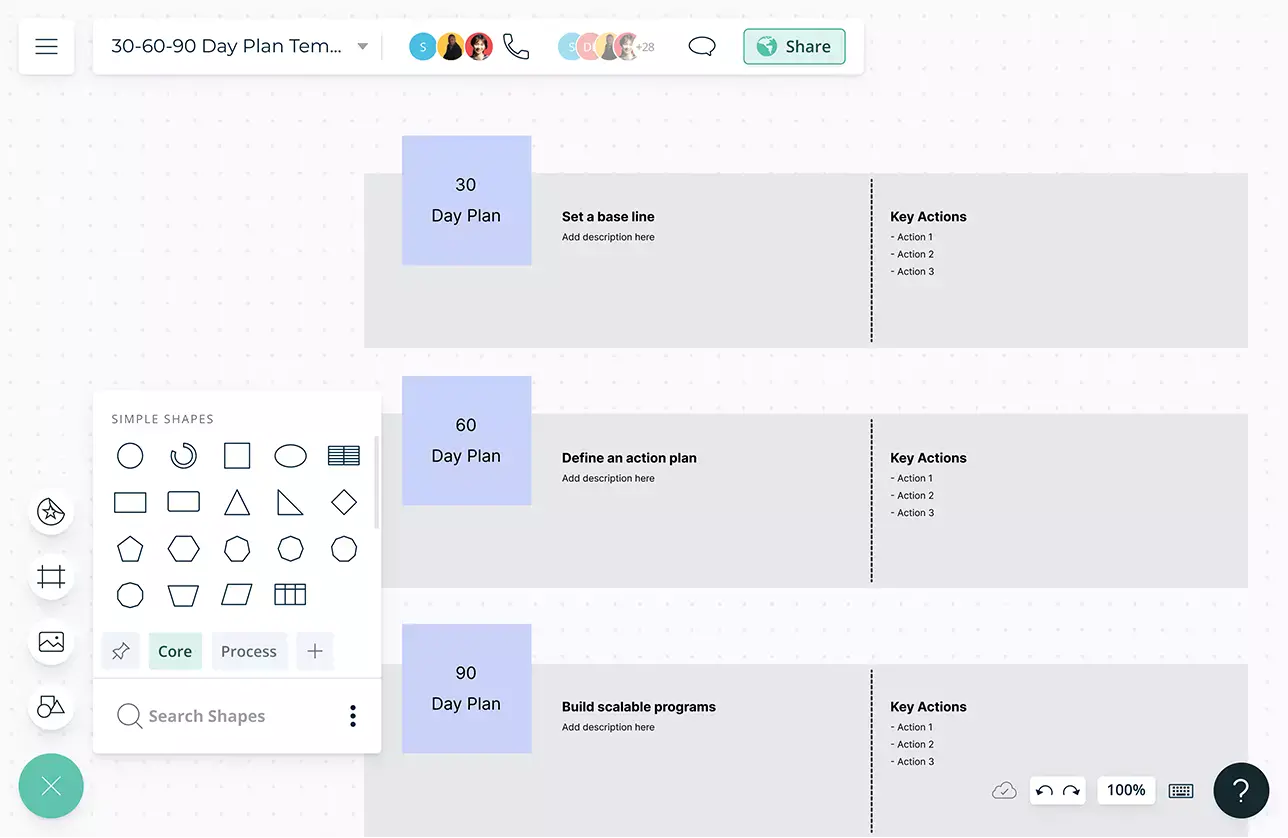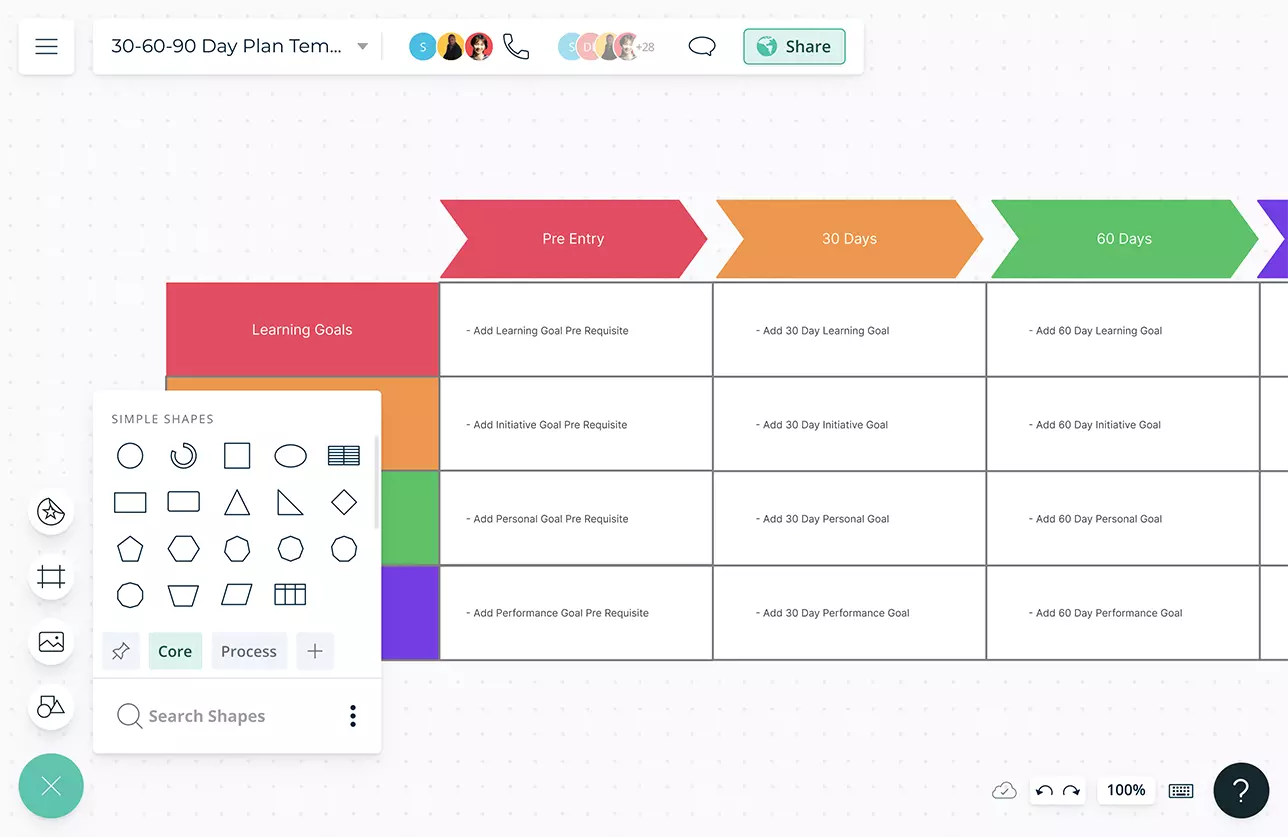 COLLABORATE
Work Together to Establish Common Goals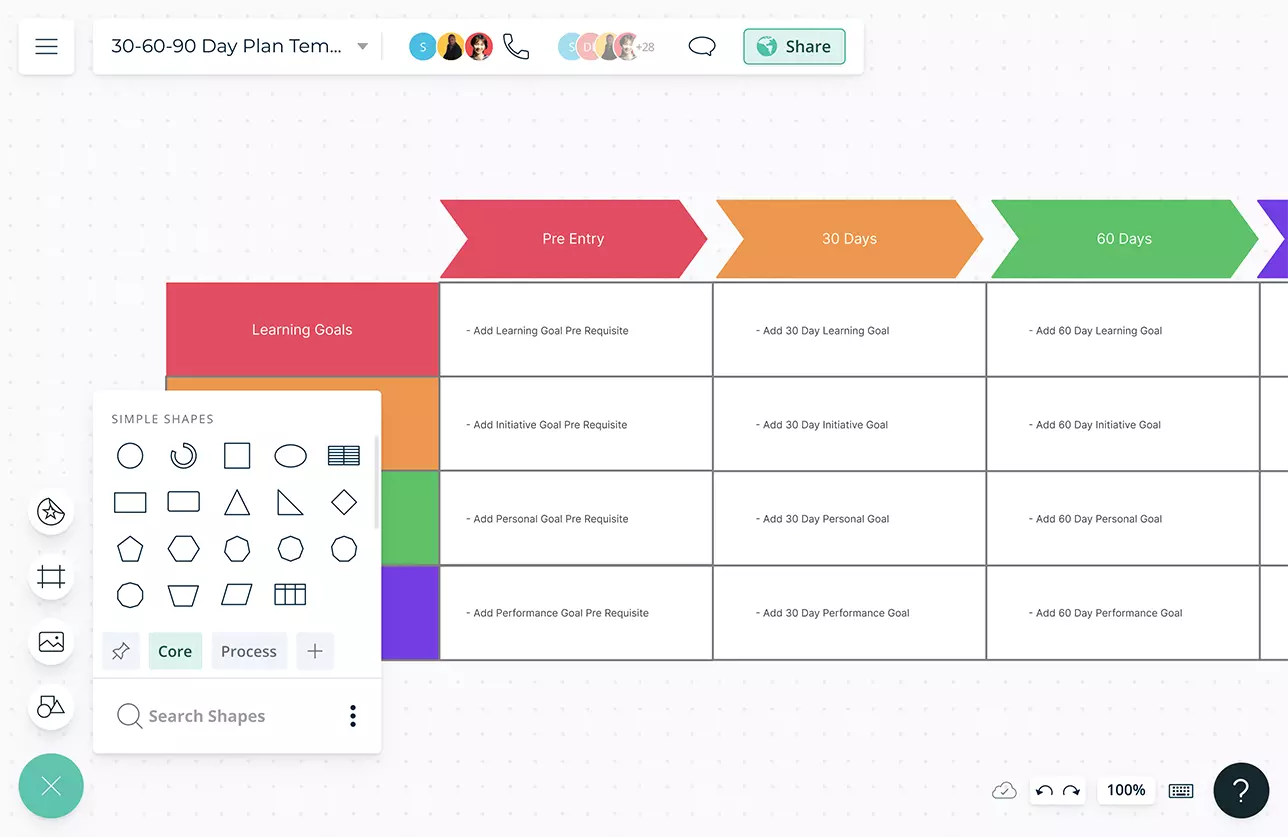 In-app video and audio calls to have discussions to evaluate the progress of the plan at multiple points.
@mention comments to identify blockers, clarify things and have discussions and follow-ups on the same canvas.
Multiple access levels and roles to streamline managing, sharing, editing, and reviewing workspaces.
Smart notifications to stay updated on progress and track the completion of the set of goals.
What is a 30-60-90 Day Plan?
A 30-60-90 day plan is a document that maps out a new employee's goals and strategies within the first 90 days of a new job. The plan consists of manageable milestones that are tied to an employee's position.
How to Create an Effective 30-60-90 Day Plan?
The first step is to define the goals for the new position. Open a Creately workspace and detail the SMART goals that are either learning goals, performance goals or personal goals. Make a general list of goals and then sort them into the appropriate category based on your requirement.
Next, identify any knowledge or learning-based goals. The first 30 days on the job should be dedicated to learning about the company and your specific role.
Then Identify goals related to contribution. These goals should rely on implementing the knowledge gained during the first 30 days. The second 30 days of work should focus on contributing to the company's mission.
Finally, identify goals related to leadership. The final 30 days should focus on using the knowledge and experience gained in the first 60 days to appropriately and effectively lead a team.
After you have your set of goals listed, create a list of action items that can be used to assess whether or not you have met your goals. These should be measurable and achievable.