Marketing Mix
Create Winning Marketing Strategies
Use Creately's visual canvas to design a well-balanced marketing mix to enhance customer satisfaction and accelerate business growth.
Visualize various aspects of your marketing efforts and uncover opportunities
Analyze the internal and external factors in the overall business environment
Real-time collaboration for brainstorming and innovation
Guide your team from strategy to execution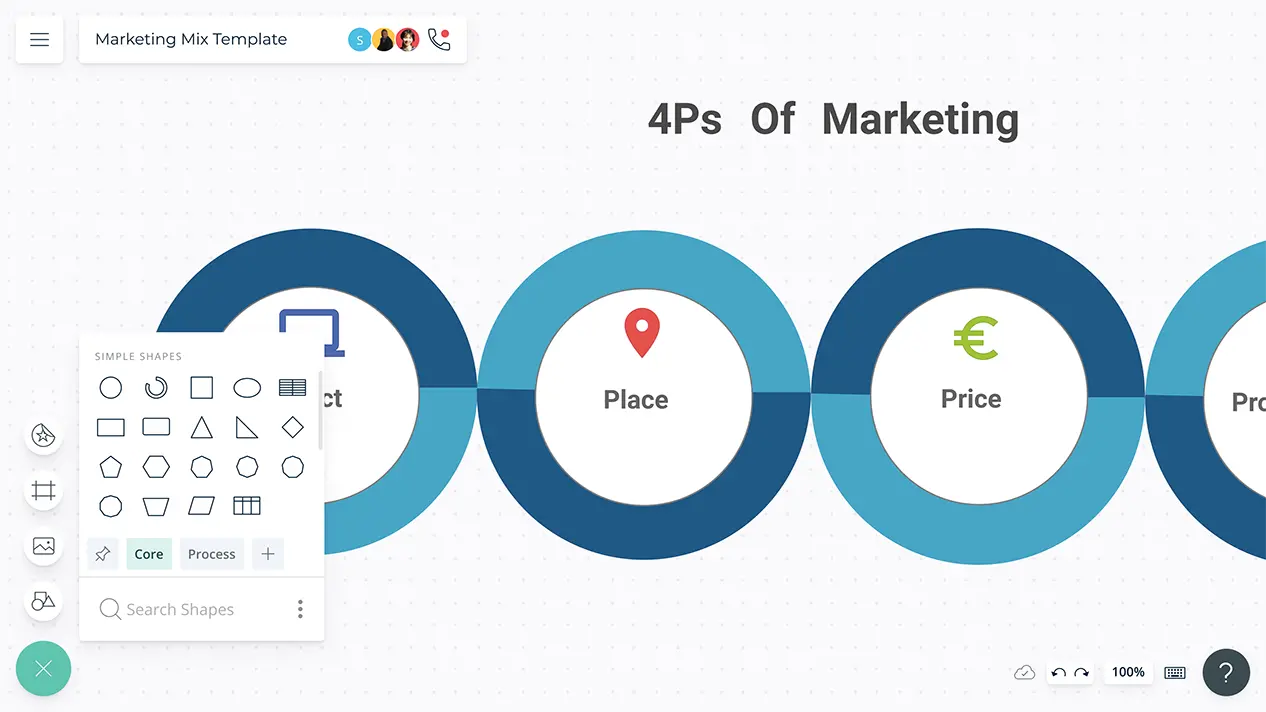 Over 10 Million people and 1000s of teams already use Creately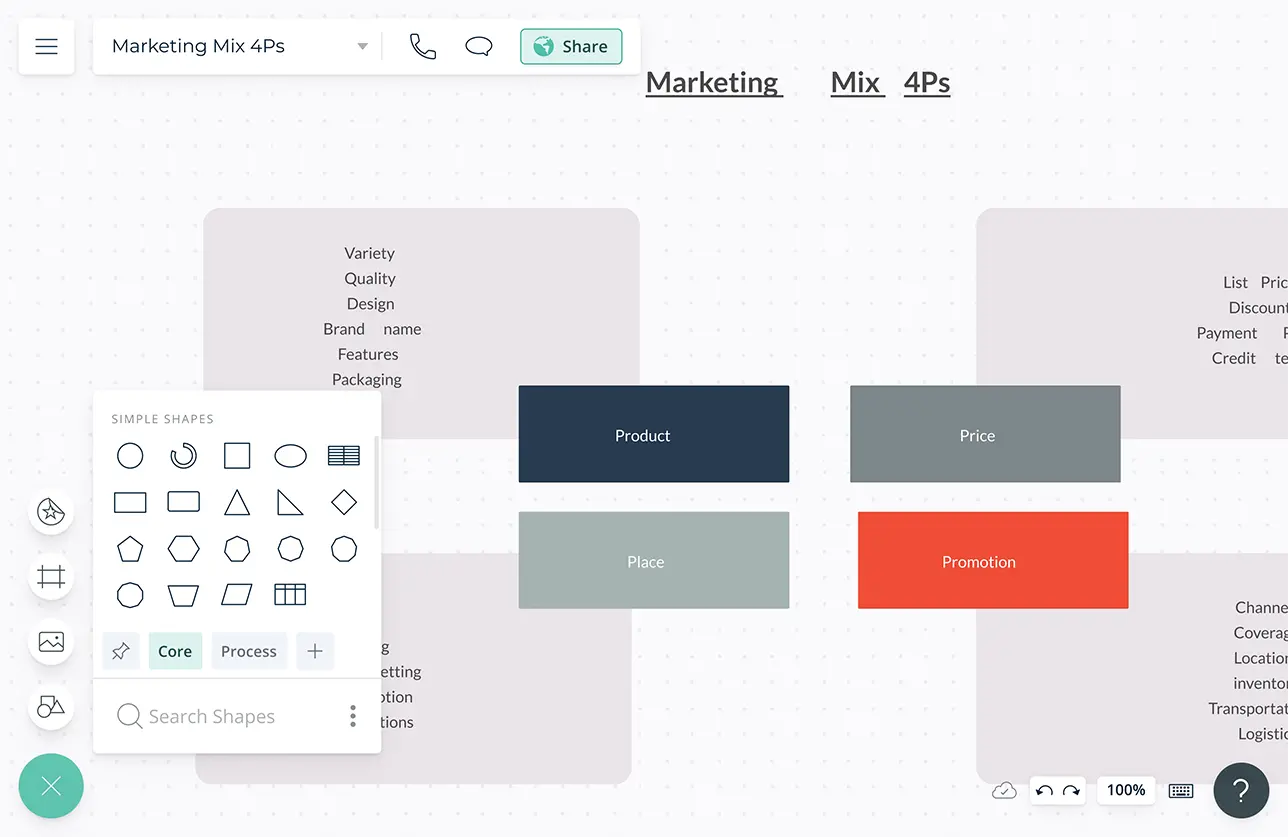 ORGANIZE & ANALYZE
Understand Market Factors and Create Better Positioned Products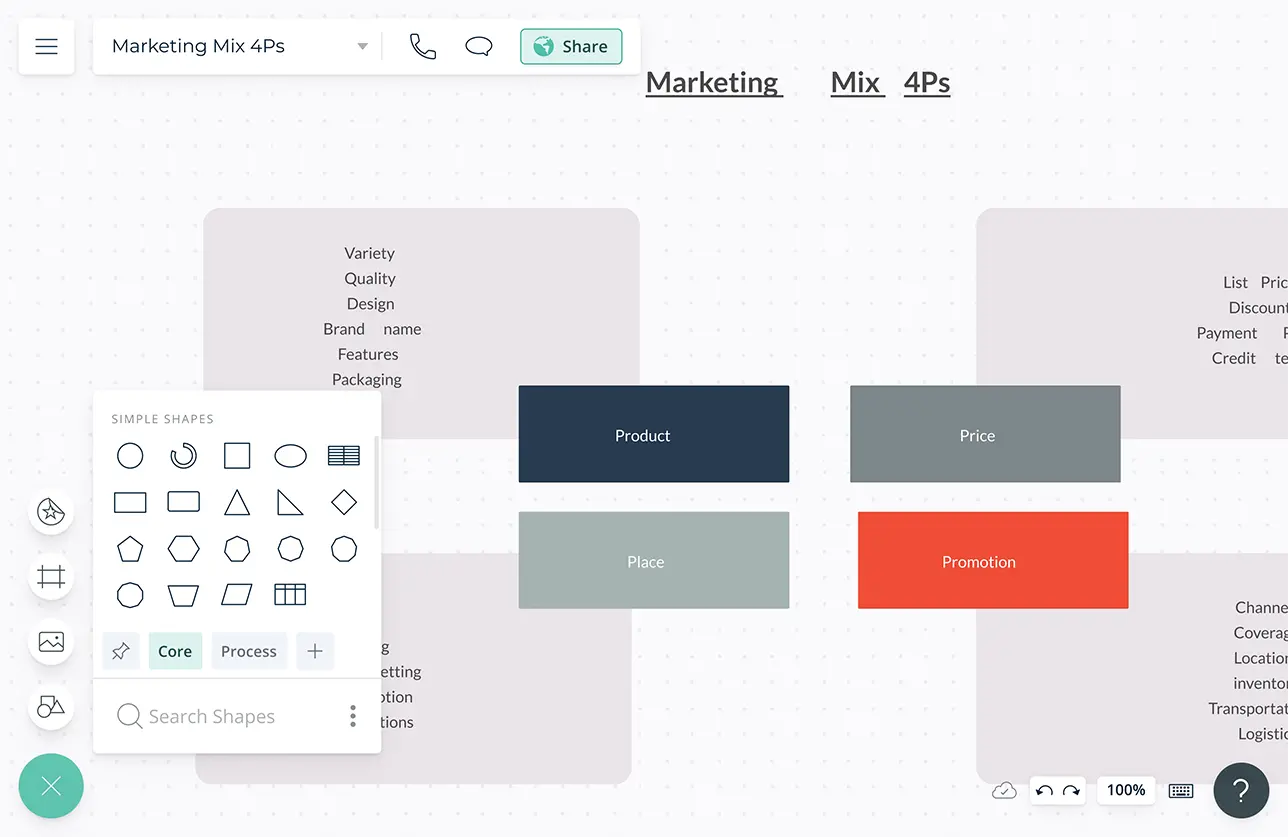 Infinite canvas to centralize and organize all marketing information around your business and make informed strategic decisions.
Multiple frameworks to visually represent various aspects of your marketing mix, create strategic plans and design the high-level marketing vision.
Add detailed notes to each element on the canvas to plan and capture decisions and to show necessary information inline.
Powerful styling options to highlight key information on the workspace.
COLLABORATE
Perfect the 4 Ps Together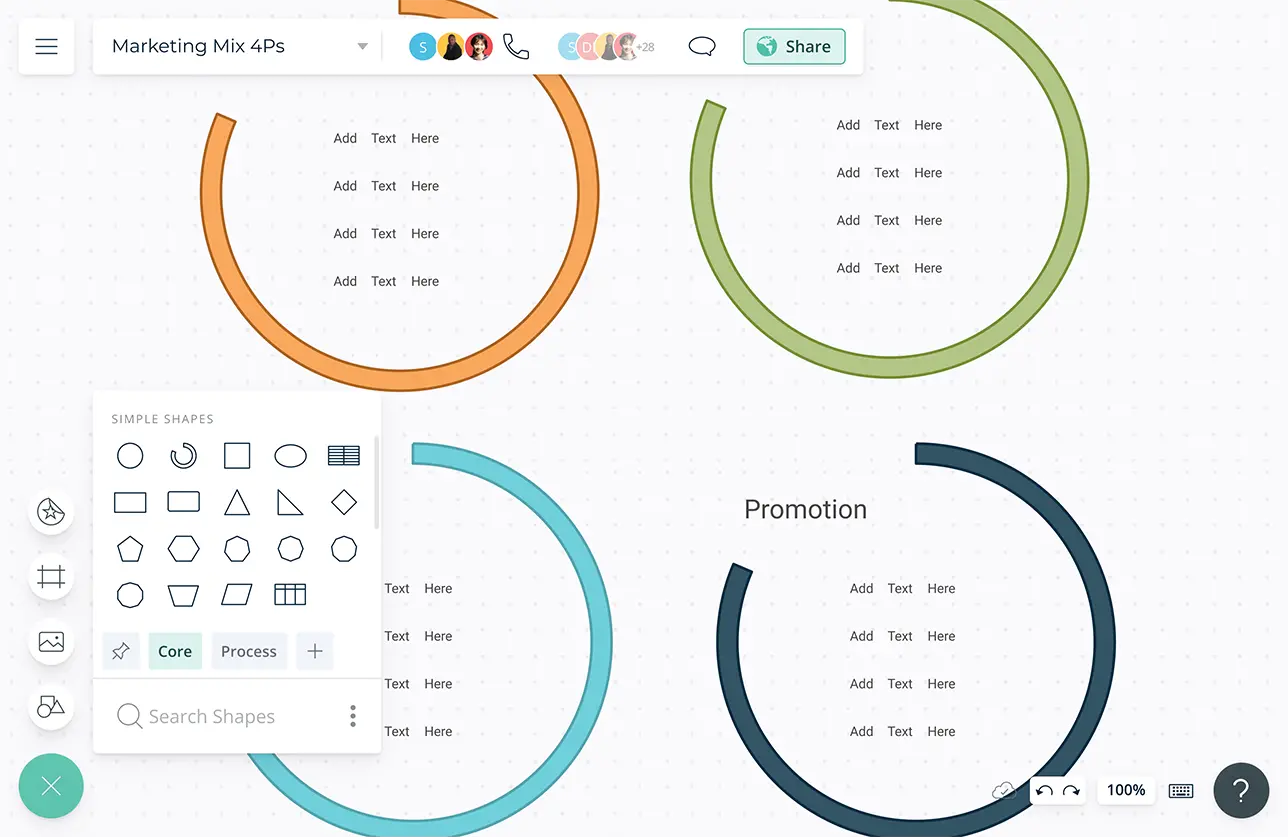 Real-time cursors for any number of participants. Collaborate with team members on a shared canvas and determine how to develop your marketing mix.
Video conferencing baked into the platform itself to get instant feedback and diverse opinions from your colleagues virtually from anywhere.
Comment with context, have discussions and follow-ups on the same canvas. Perfect for hybrid and remote teams.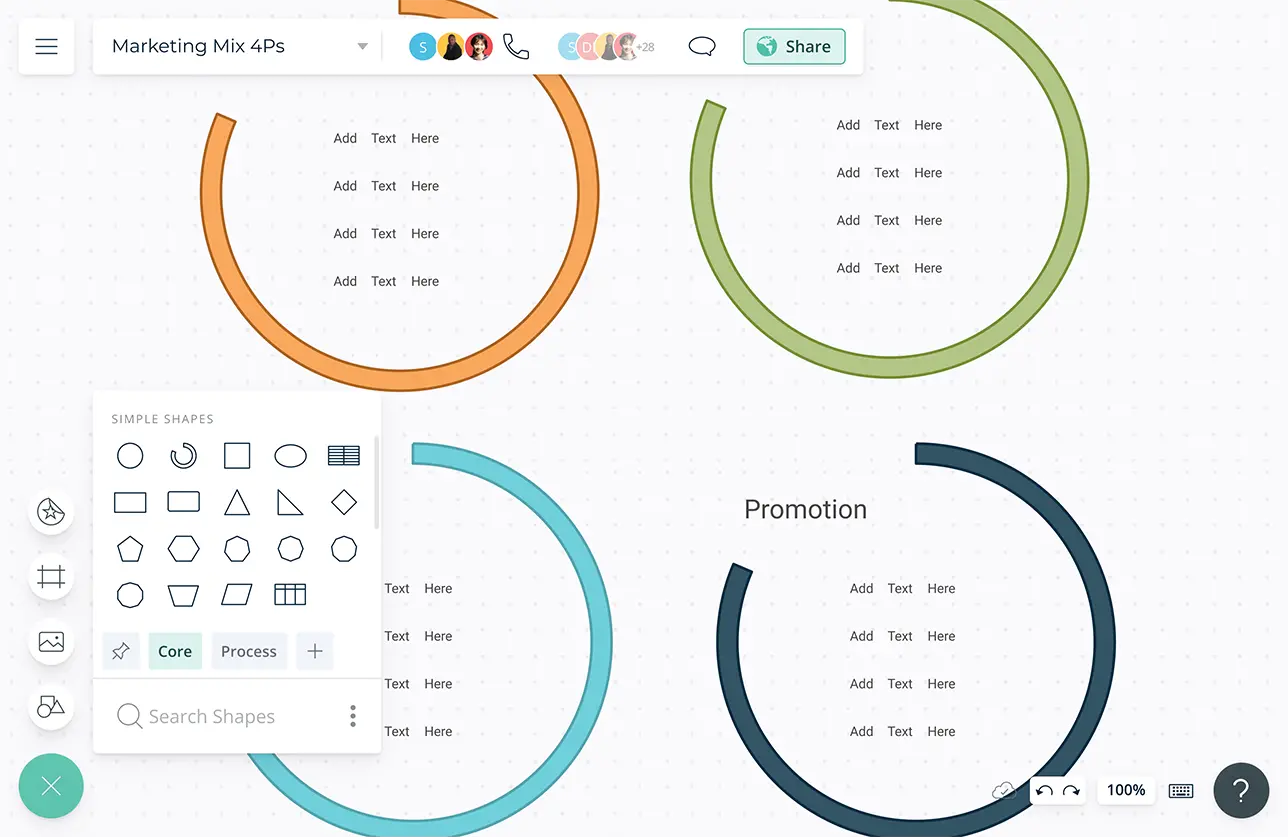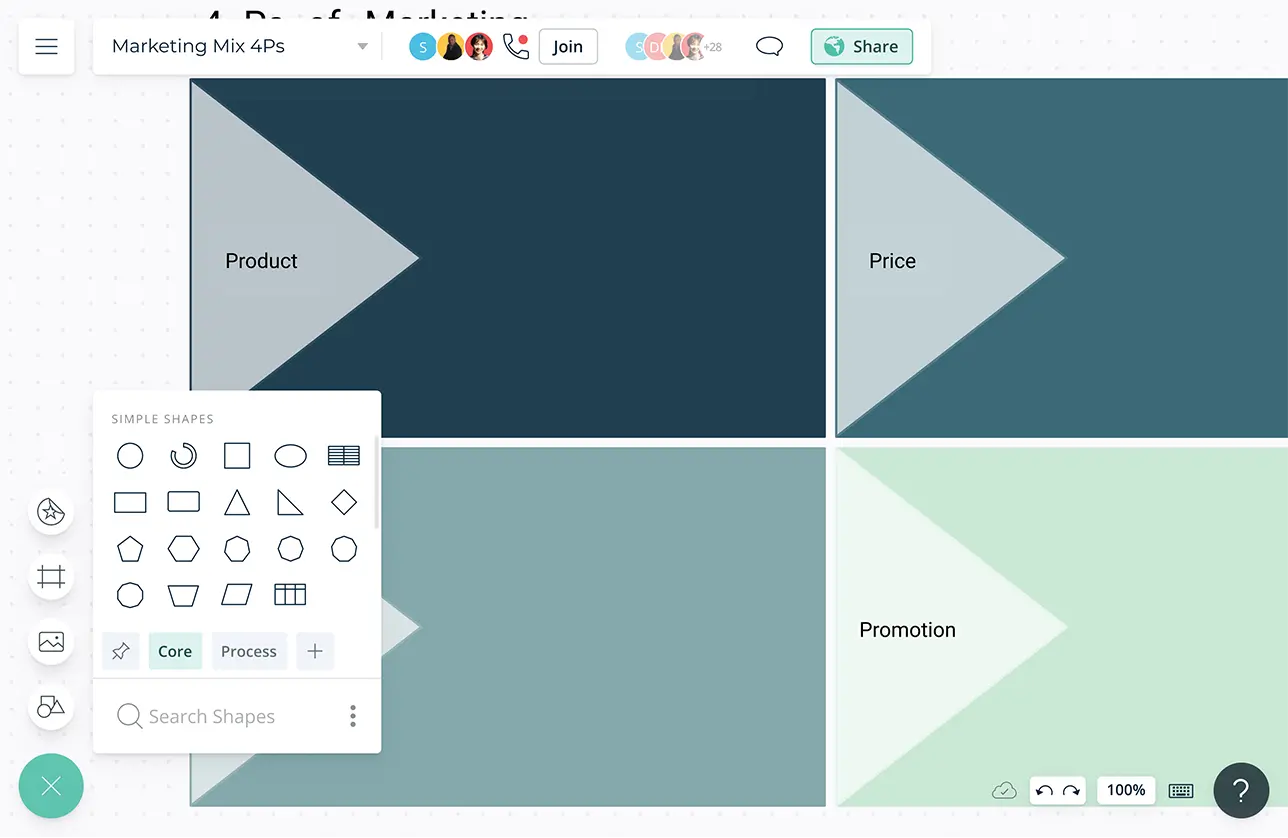 IDEATE
Create Innovative Strategies to Maximize Market Share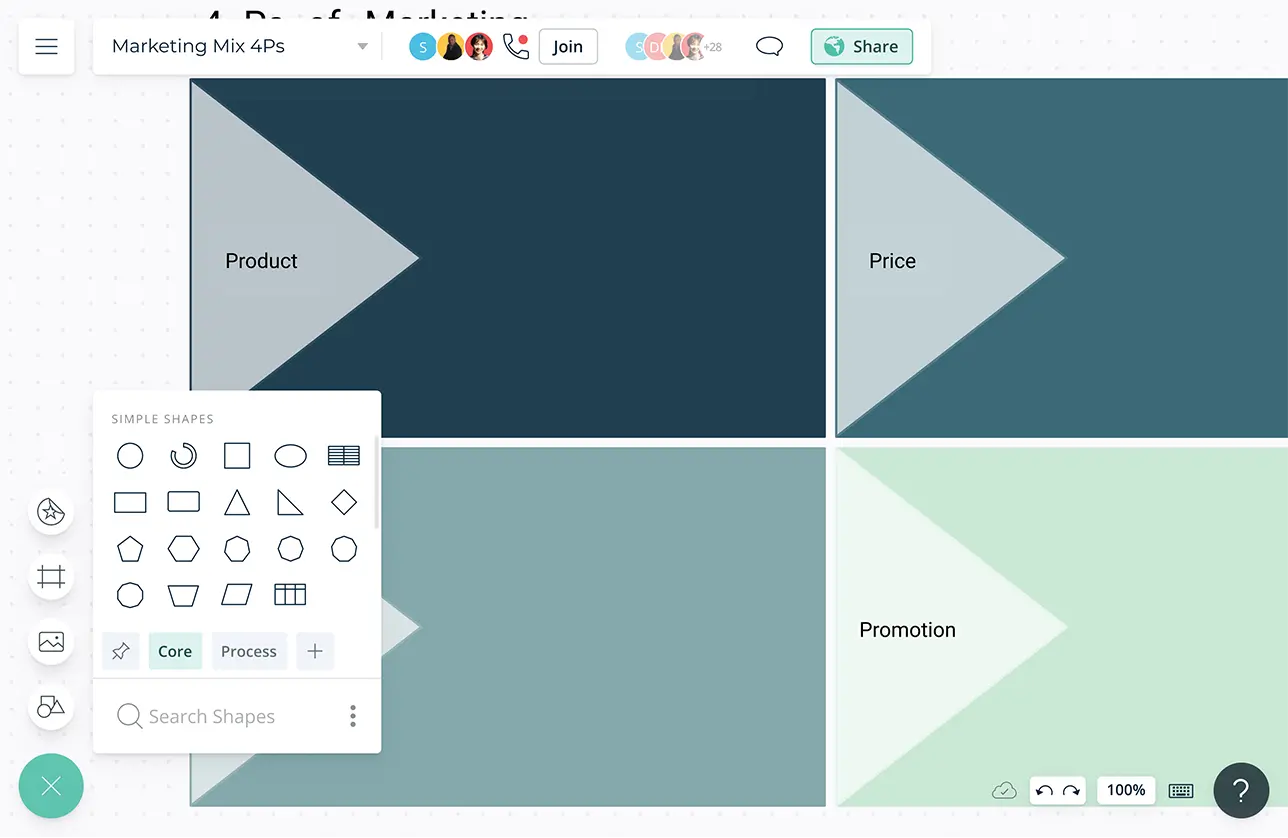 Real-time virtual whiteboard with powerful diagramming tools to conduct structured strategic planning sessions and decision making.
Freehand drawing and highlights for visualizing concepts and note taking during discussions, meetings, and brainstorming sessions.
Multiple frameworks and templates to capture your ideas and organize them coherently.
EXECUTE
Coordinate Efforts and Get Things Done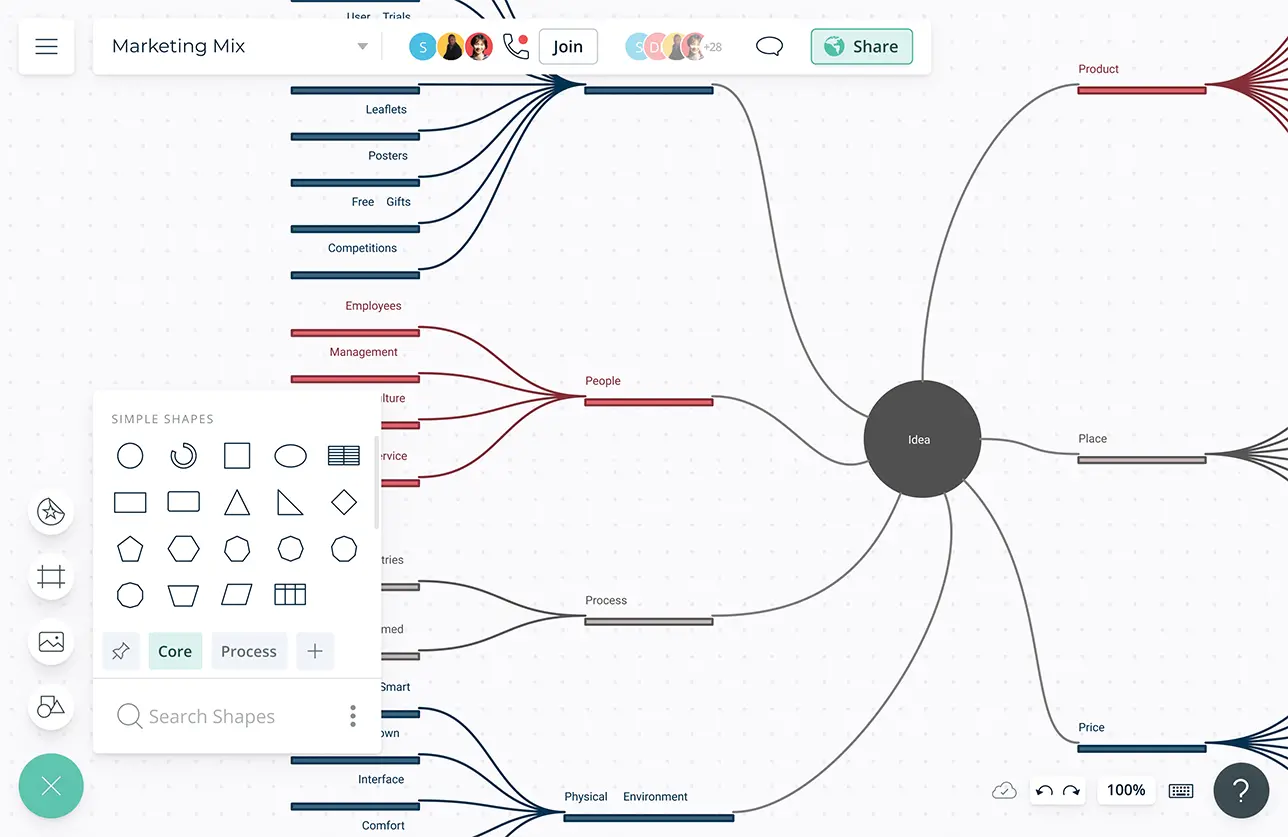 Connect to your favorite tools with Creately plugins for Slack, Google Workspace, Confluence, and more.
Export marketing diagrams as SVGs, PDFs, and PNGs to publish, present, print, or share.
Smart notifications to stay up to date with changes made on your diagrams.
Advanced collaborator controls to streamline sharing, reviewing, and editing of marketing documentation.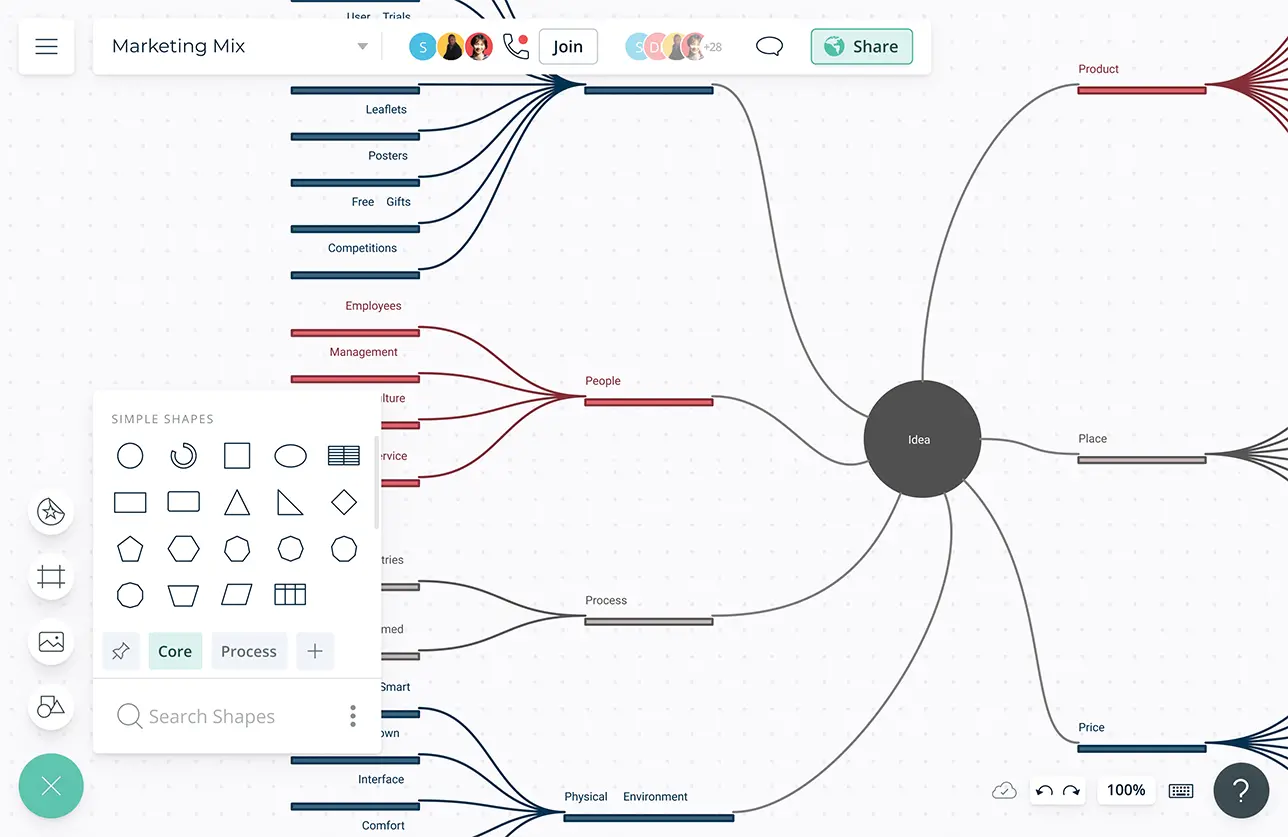 Guide and Best Practices
The marketing mix refers to the set of actions a business takes to promote its product or service in the market. Four Ps of marketing represents a typical marketing mix or the mixture of factors a company can ideally leverage to make consumers purchase the good or service. The four Ps include product (the good or service), price (what the customer pays to purchase the product), place (the location where the product is marketed), and promotion (advertising efforts taken to promote the product). This model can be used to evaluate your existing marketing strategy.
How to Use the 4 Ps of Marketing?
Once you have identified the product or service you want to bring to the market and promote, run it through each element of the 4 Ps carefully.
Gather a team of relevant people to collaborate on identifying and studying the elements of your marketing mix. The session facilitator can record all ideas gathered on a Creately marketing mix template that can later be shared with the rest of the team.
Consider the product first. Does it meet the needs of your customers? What features does it have and how will they benefit the user? How will they use it, for what and when? What does it look like? What's its size, color, weight? How does it differ from that of the competitor?
Next move on to the price, which is the amount of money the user is expected to pay for it. Here you need to identify what the value of the product is to the buyer. Also consider whether there are price points already established in the market for this product, whether you should consider offering any discounts or how increasing or reducing the price of the product will affect the customer.
Consider the place where the product will be sold or the distribution method you need to rely on. Here you need to identify where your customers are looking to buy the product (online, in a store, supermarket, etc.). Look for what tactics your competitors use and adapt them to suit your strategy.
Next, discuss how you will promote your product to your market and using what channels? Can you rely on online marketing or conventional media platforms like TV, radio or magazines? Is there an ideal time to reach your target audience? How should you form your message?
Review your marketing mix regularly. With the changes that occur in the external and internal environment, you may need to adjust your marketing mix from time to time to stay effective.