5 Whys Template
Effective Problem Solving through Root Cause Analysis
Conduct root cause analysis, derive smart insights, and make informed decisions.
Prevent the recurrence of issues by eliminating their causes
Collaborate with your team to solve problems on an infinite workspace
Derive insights through visualization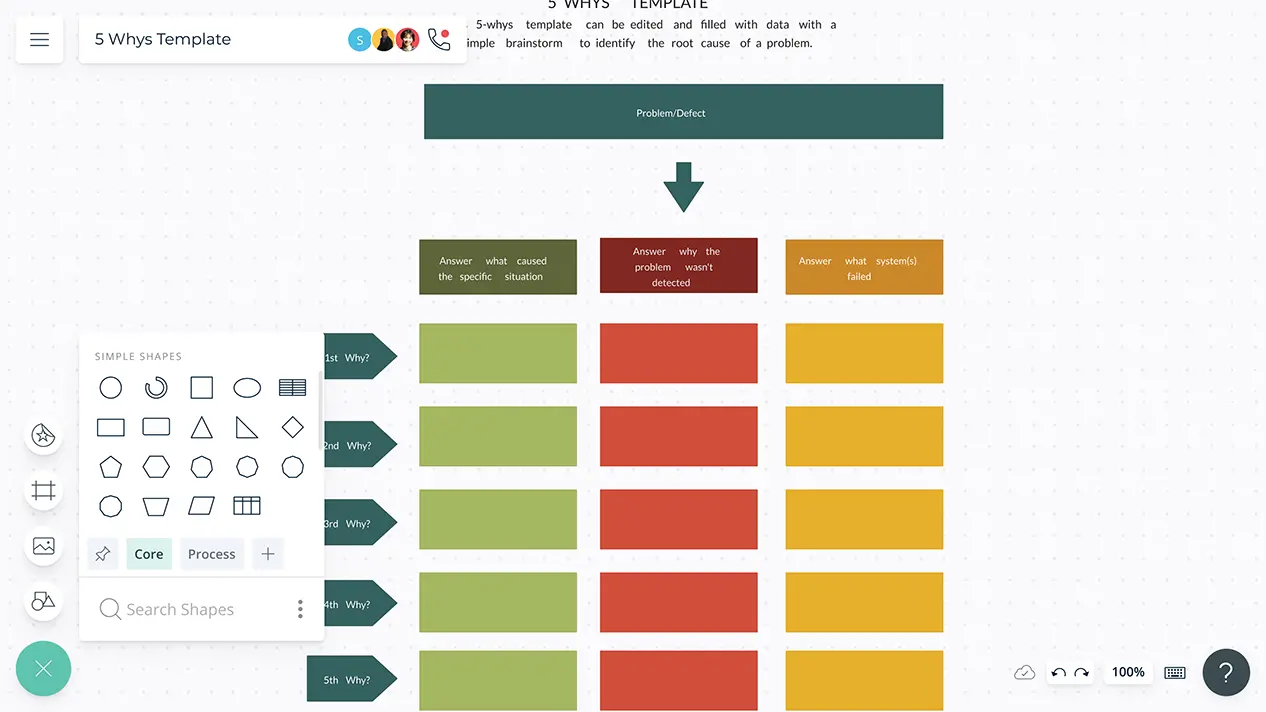 Over 10 Million people and 1000s of teams already use Creately
COLLABORATE
Form a Cross-Functional Team to Get Broader Perspectives
Team share and access controls to easily share workspaces and folders with colleagues across different departments.
Multi-cursor collaboration with asynchronous editing and automatic conflict resolution.
Assign ownership or roles to contributors to ensure everyone is acknowledged about their contributions.
Smart notifications and version history to keep you updated about the changes made.
VISUALIZE
Visual Tools to Define Problems and Determine Roadblocks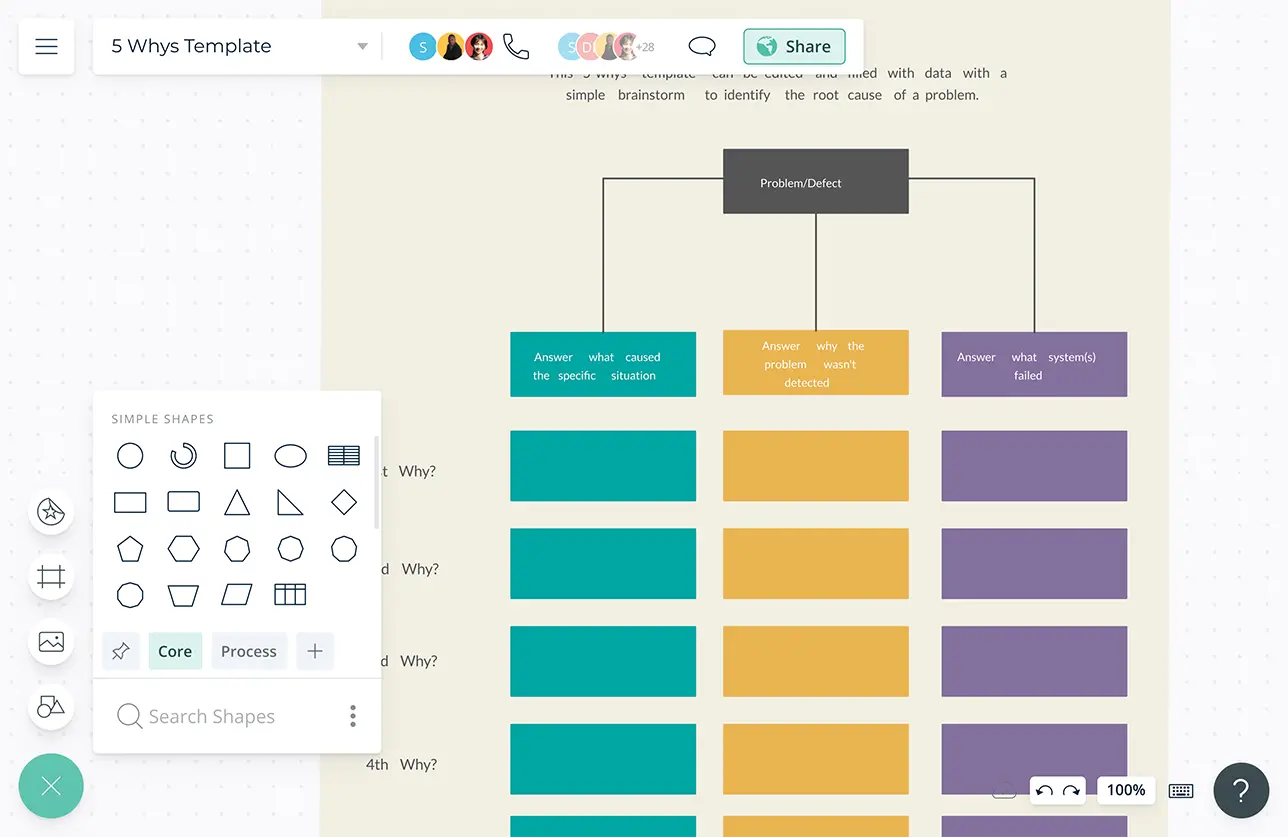 Over 50 types of diagrams to visualize data in a variety of formats for easy analysis.
An extensive template library to help you get a head start on organizing data.
Plus Create to help connect shapes with a single click and create visualizations in minutes.
Drag and drop information onto the infinite canvas for easy and seamless data collection.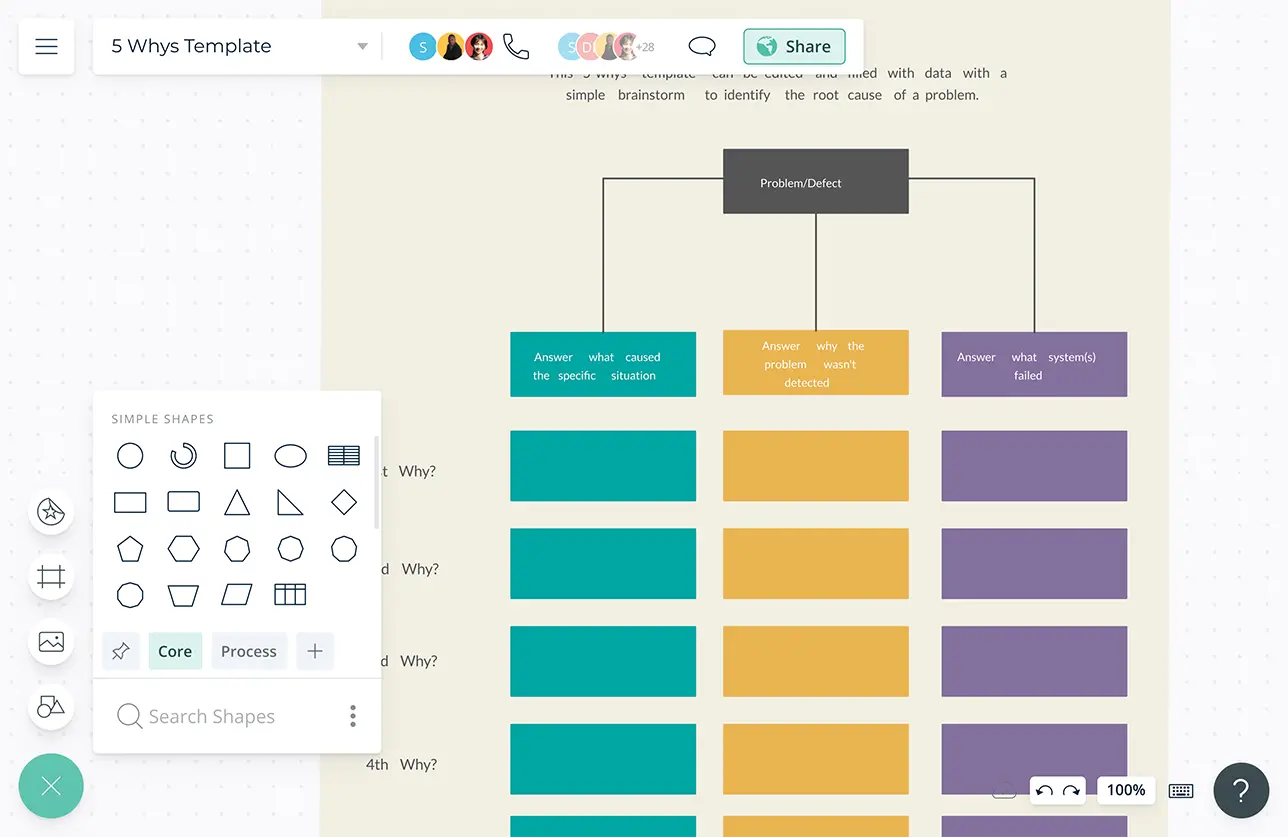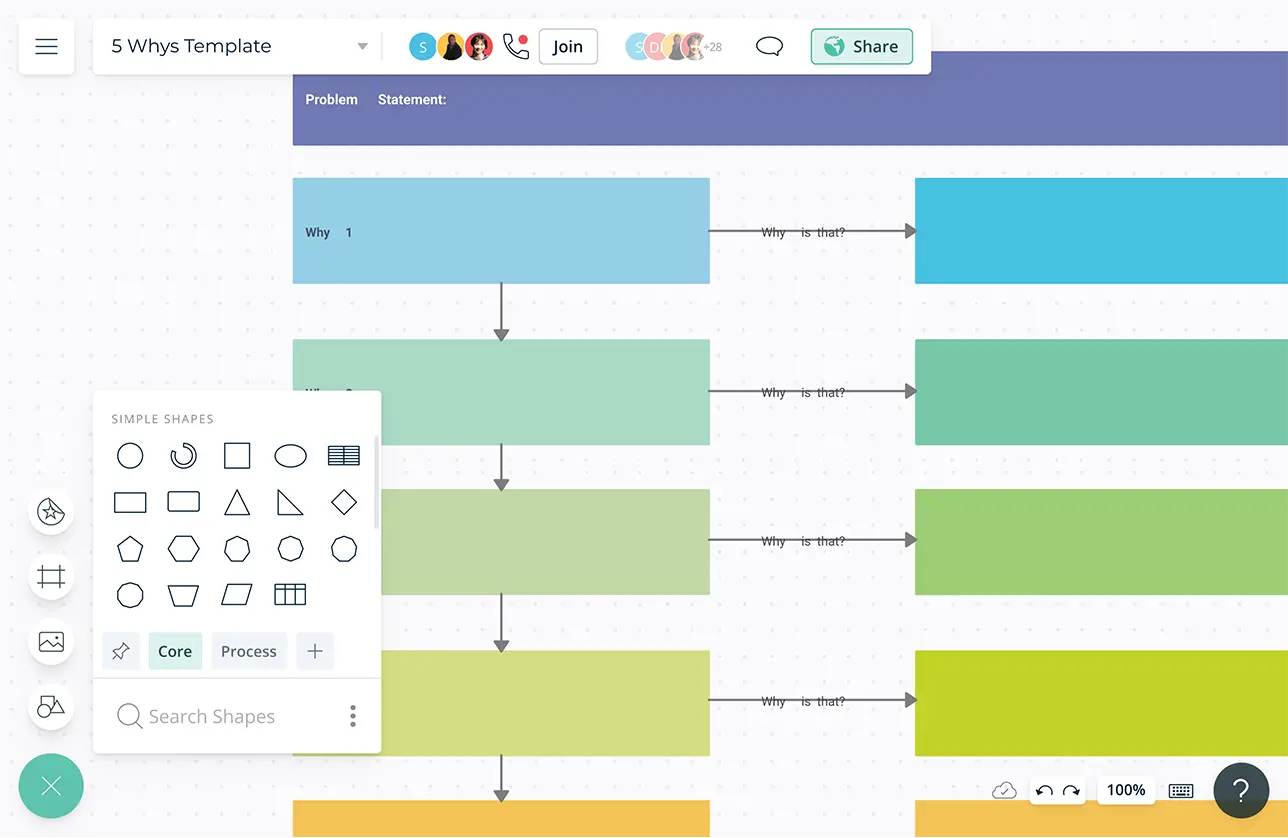 ANALYZE
Enable Effective Root Cause Analysis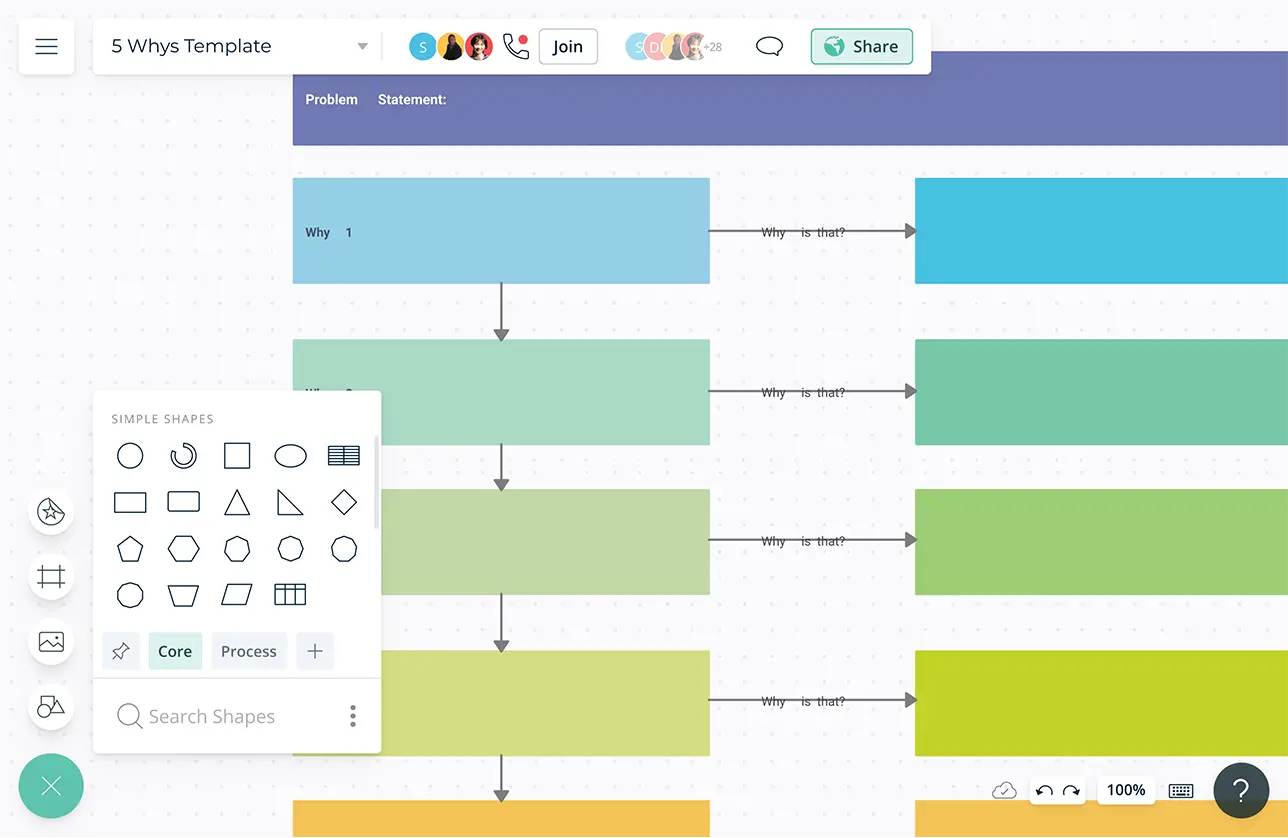 Work with whiteboard functions to gain better insight into the issue at hand.
Bring data from multiple sources into a single canvas to connect information together.
Context-based shapes that function across multiple use cases to help you identify the root causes of a problem.
Two-way synced links with @ mentions to form connections between different data sets.
EXECUTE
Promptly Take Corrective and Preventive Actions
Create action plans or kanban boards for task distribution among teams.
Easily track the progress of each workspace to keep everyone in sync.
Use frames inside the canvas to generate page-like layouts, group content, or build a presentation flow.
Custom databases with multiple data sets to monitor the progress of workflows and identify further improvements.
What Is 5 Whys Analysis?
The 5 Whys analysis is a simple, yet effective tool that can be applied to identify the root cause of a problem by asking the question 'why?' in five different contexts. This method is best suited to finding solutions for moderate-level roadblocks, by bringing the root cause to the surface and helping a team gain alternative insight when it comes to resolutions.
How To Apply 5 Whys Analysis?
You can get started by assembling your team. First, involve those who are aware of the problem. It's better to gather your members from different departments or sections, as this will help the team gain insights from different perspectives.
The next step involves defining the exact problem with your team through discussions and creating the problem statement. This approach will help the team understand the scope of the problem and come up with suitable solutions.
Assign a facilitator for your session, this is someone highly knowledgeable about the problem. The facilitator will be asking the questions 'why'?' and make sure that the team concentrates on the problem. Your team can hold discussions with Creately's in-app conferencing features with video and audio call functions.
Start asking the question 'why' as much you can until your team touches on the root cause of the problem, but try to keep it a minimum of five times. However, avoid asking 'why?' too many times, as numerous solutions or suggestions, may come up, which can distract the team from the actual problem.
You can select a template from Creately's collection to display your information, and seamlessly collaborate and communicate with your team through comment threads, notes or in-app conferencing. After identifying the cause, start discussing the corrective actions that the team can take to handle the problem.
Finally, start creating an action plan with your team. The entire process should be documented, with someone assigned to monitor the progress, put the plan into action and report the results to the rest of the team.