5 W's Chart
Create Content That Resonates With Your Audience
Fully understand your subject matter and write compelling narratives.
Import/export relevant information on the topic to conduct an in-depth analysis around it
Built-in collaboration tools to share, and discuss ideas with team members
Export as PDF, JPG to present, publish or share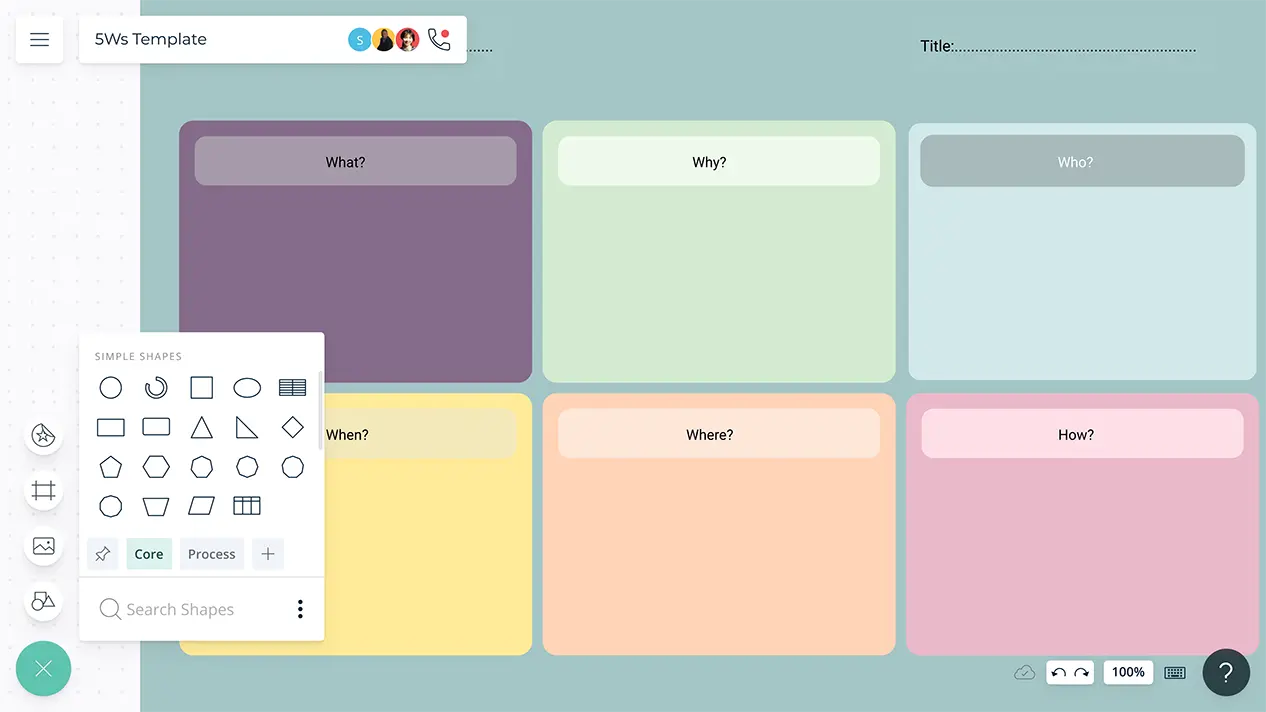 Over 10 Million people and 1000s of teams already use Creately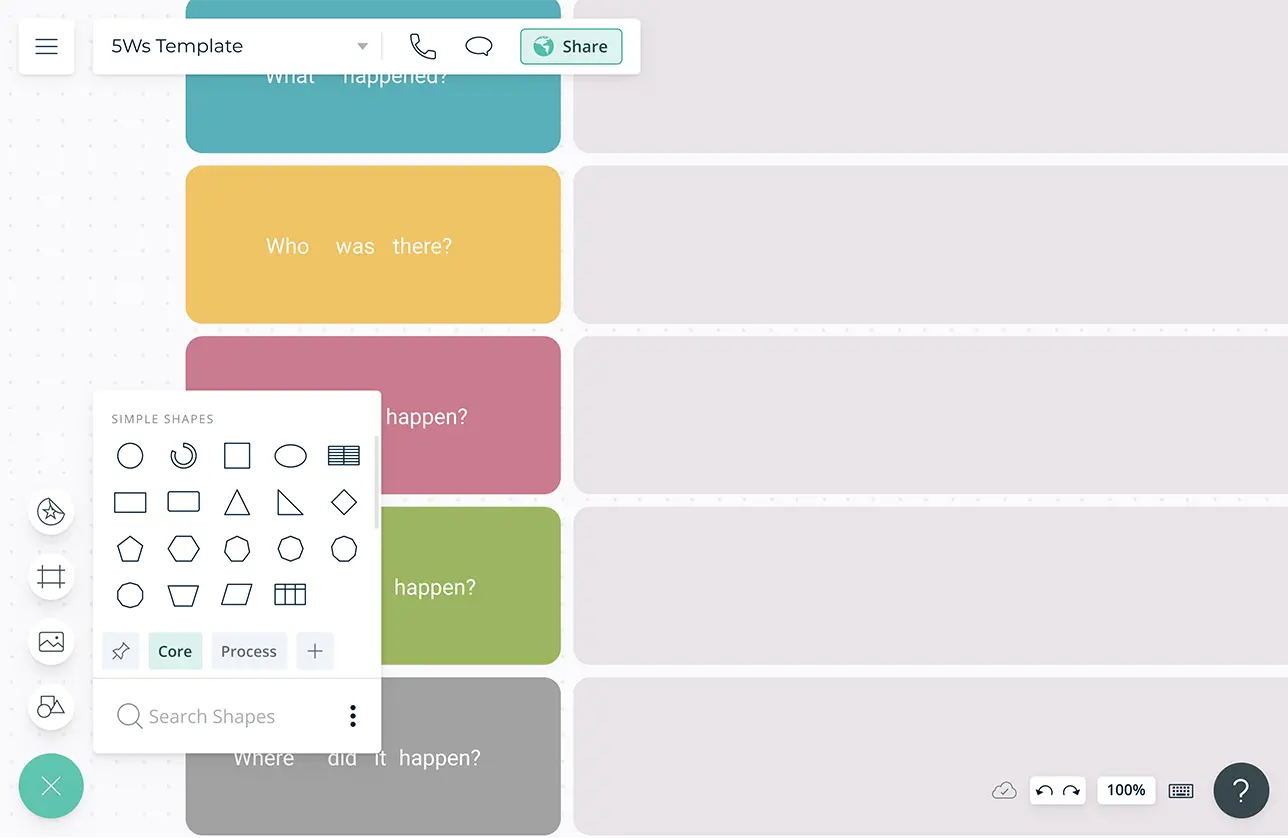 VISUALIZE
Uncover Hidden Information and See the Whole Picture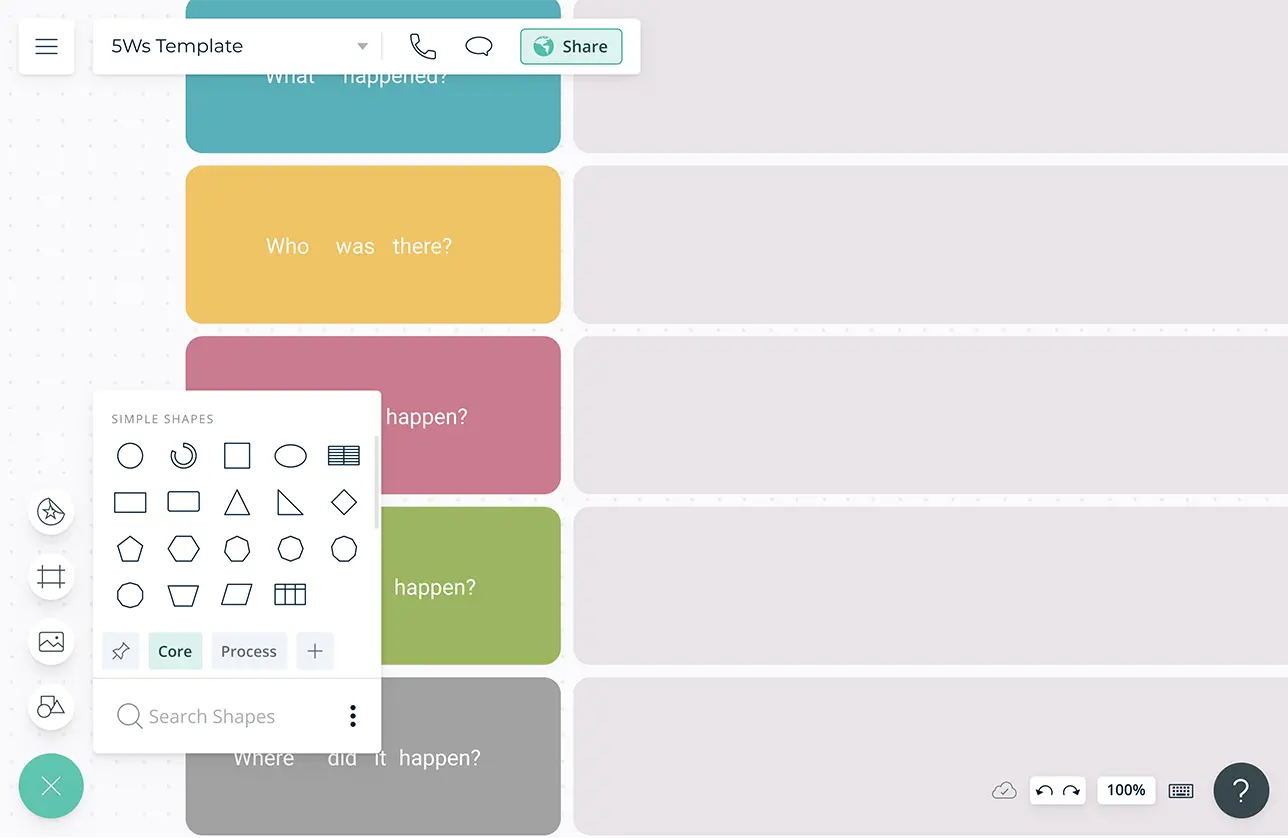 An infinite canvas to import information and categorize them under each question.
Smart shapes and connectors to visualize and identify relationships between pieces of information.
Powerful styling options and text formatting capabilities to highlight important points and identify core issues.
ANALYZE
Get To the Center of the Subject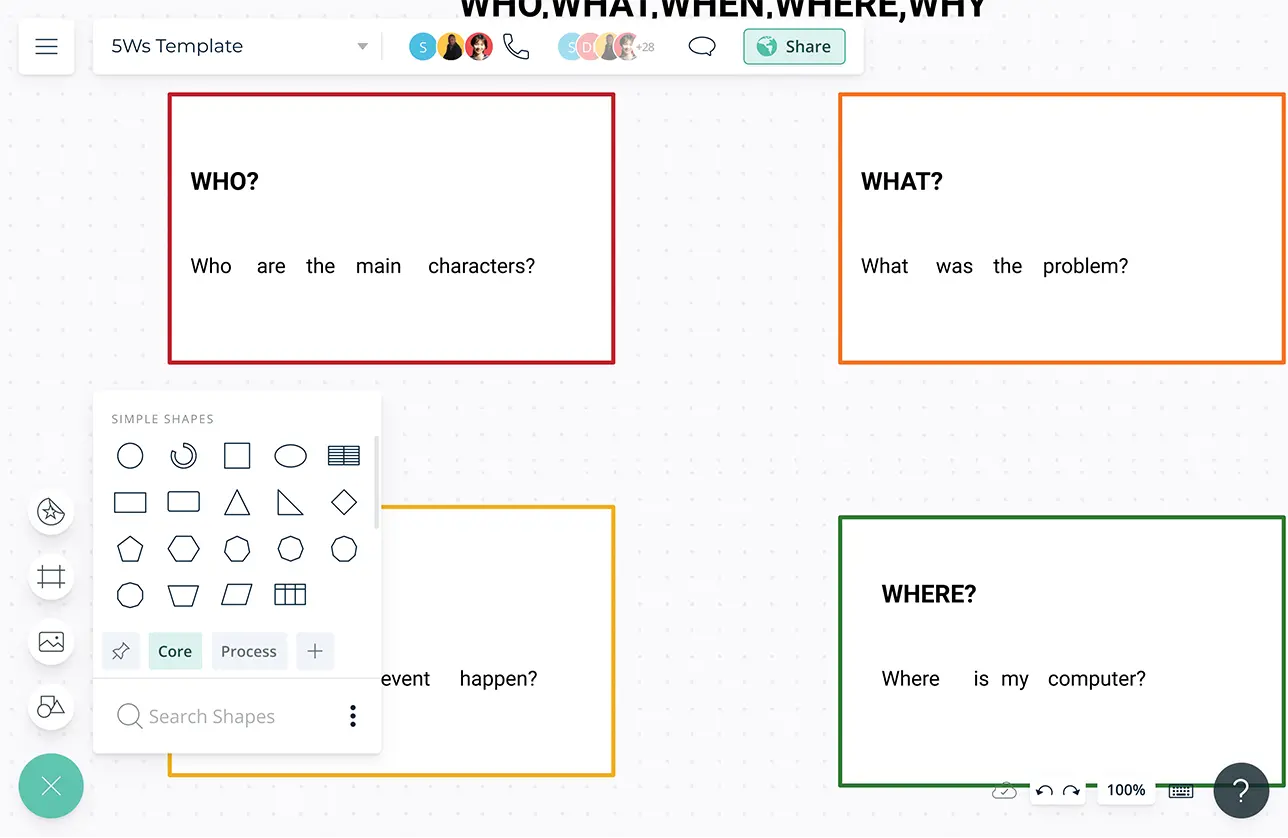 Add detailed docs, attachments, links and more via the notes feature on each element to capture details and the big picture in a single space.
Import images and vectors and other inspirations to the canvas and embed documents with in-app previews to provide more context with relevant resources.
Freehand drawing to visualize and build on your ideas and concepts without any constraint.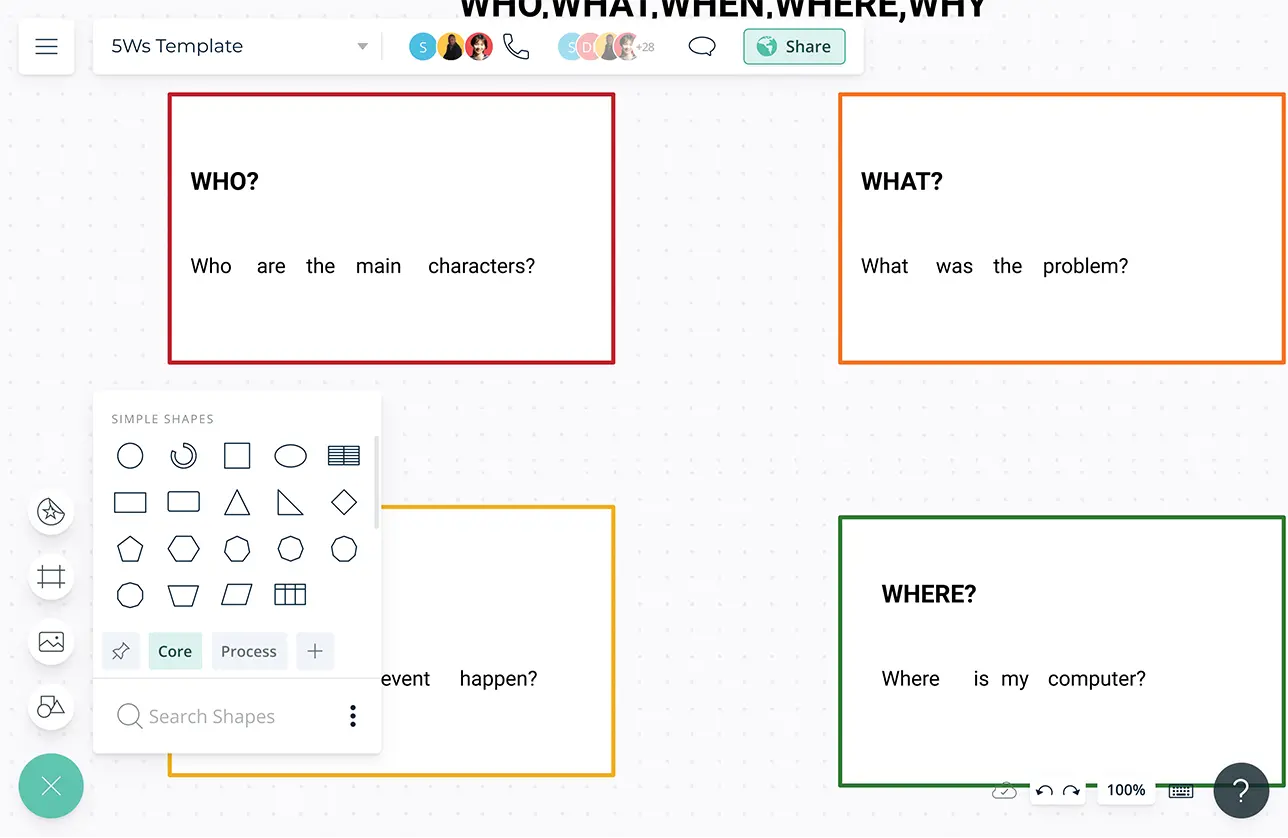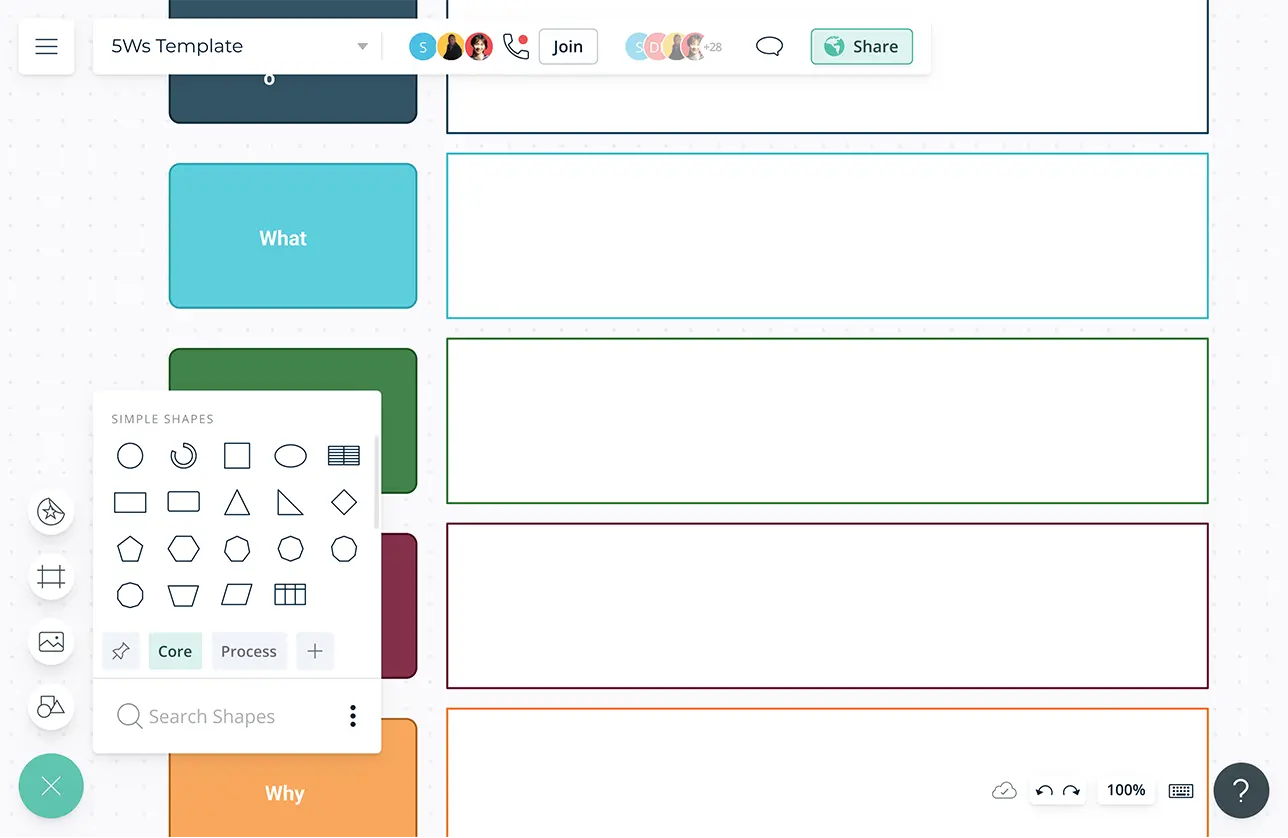 COLLABORATE
Compare and Contrast Different Perspectives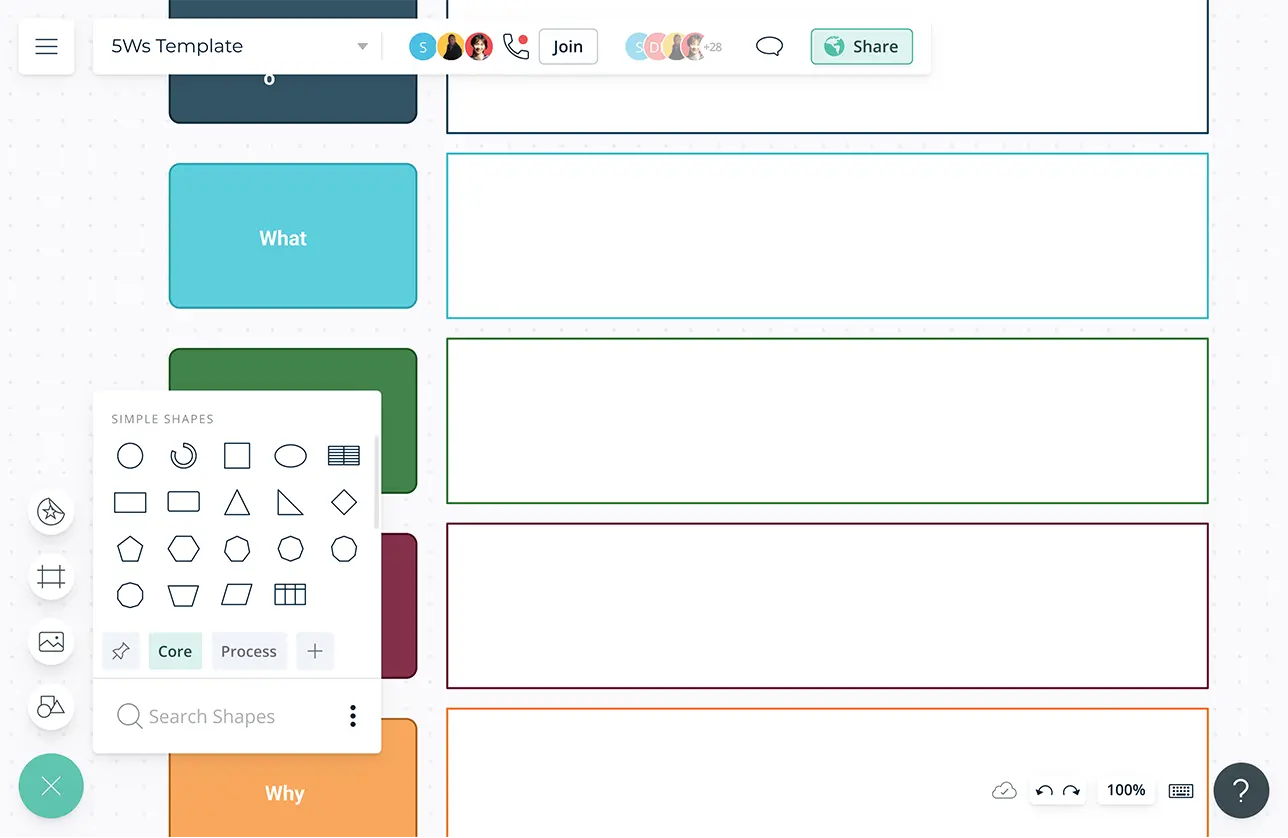 Pin-pint comments to share feedback on specific areas of a narrative structure.
In-app video and audio calls to work closely and consult with colleagues in real-time.
Real-time cursors to track changes made by participants working together to establish a compelling narrative together.
EXECUTE & EXTEND
Write and Share Powerful Narratives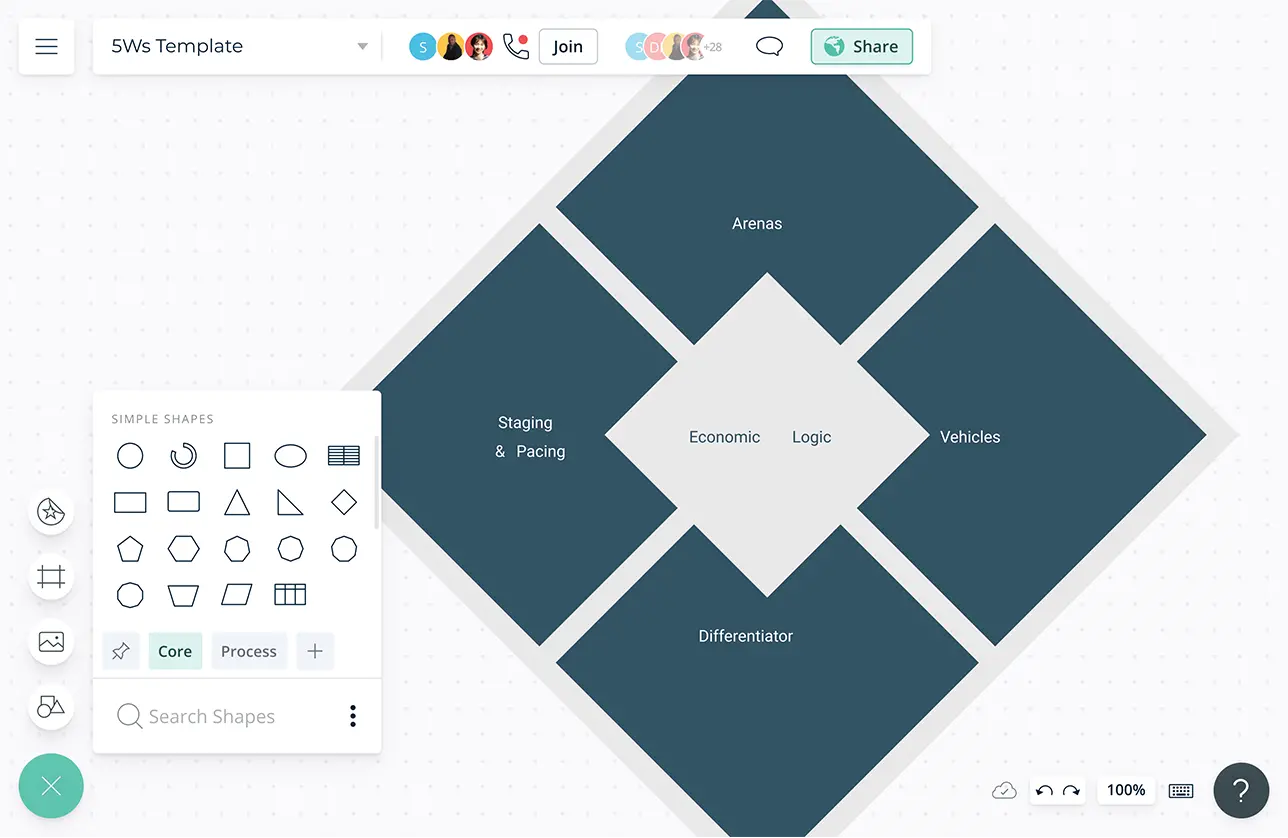 Export workspace as SVGs, PDFs, JPEGs, and PNGs to publish, present, print, or share.
Connect to your favorite tools with Creately plugins for Slack, Google Workspace, Confluence, and more.
Multiple access and role levels to streamline sharing, reviewing, and editing your content.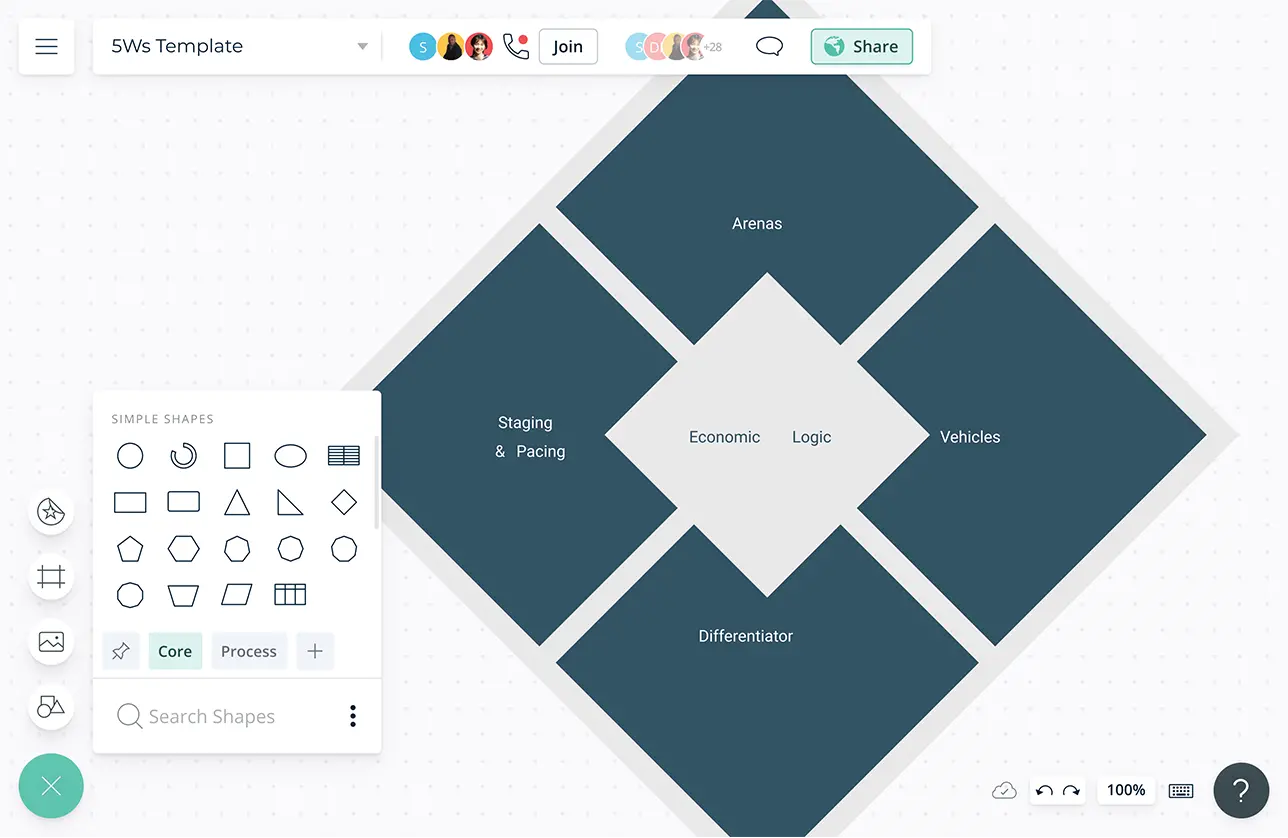 What Is the 5 W's Technique?
The 5 W's is a technique used to gather information about a topic for writing, research, projects, journalism, police investigations, etc. The 5 W's include who, what, when, where, and why and together they present a formula for understanding the full story on a subject. Sometimes a sixth question "how?" is added to the formula to gather more data.
How To Use the 5 W's Technique?
Once you have selected your topic, start reading around it. You can rely on newspapers, online resources like blog posts, websites, etc. or even talk to subject matter experts.
During the research, particularly gather the information that may help you answer the questions who, what, when, where, and why. You can use one of the Creately 5 W 's graphic organizers to record the information easily.
When answering the question "who?", consider the people who are involved in the story. Who are the main characters? Who are the victims? Who is affected or benefited?
The question "what?" refers to what happened in the story or the main incident the story is based on. Here you can analyze what happened that led to that moment, what happened as a consequence of that incident, etc.
Next, consider "when" did this incident take place? How does the time the incident happened affect its impact?
Find answers to "why" it happened? What factors led to this incident? Or who caused it to happen?
"Where" did it happen? Is there a specific location where this incident took place? Is there any significant reason for this location?
Once you have gathered all this data and recorded them in a worksheet, you can bring them together to write your story.