AIDA Model
Visualize Customer Interaction
Trace your customers' journey through awareness, interest, desire and action stages with your sales and marketing team.
Infinite canvas to plan your entire sales and marketing campaigns to deliver the best ROI
Engage your sales and marketing teams to map customer's entire journey through multiple funnels
Integrates with the most popular platforms to augment and visualize your sales and marketing data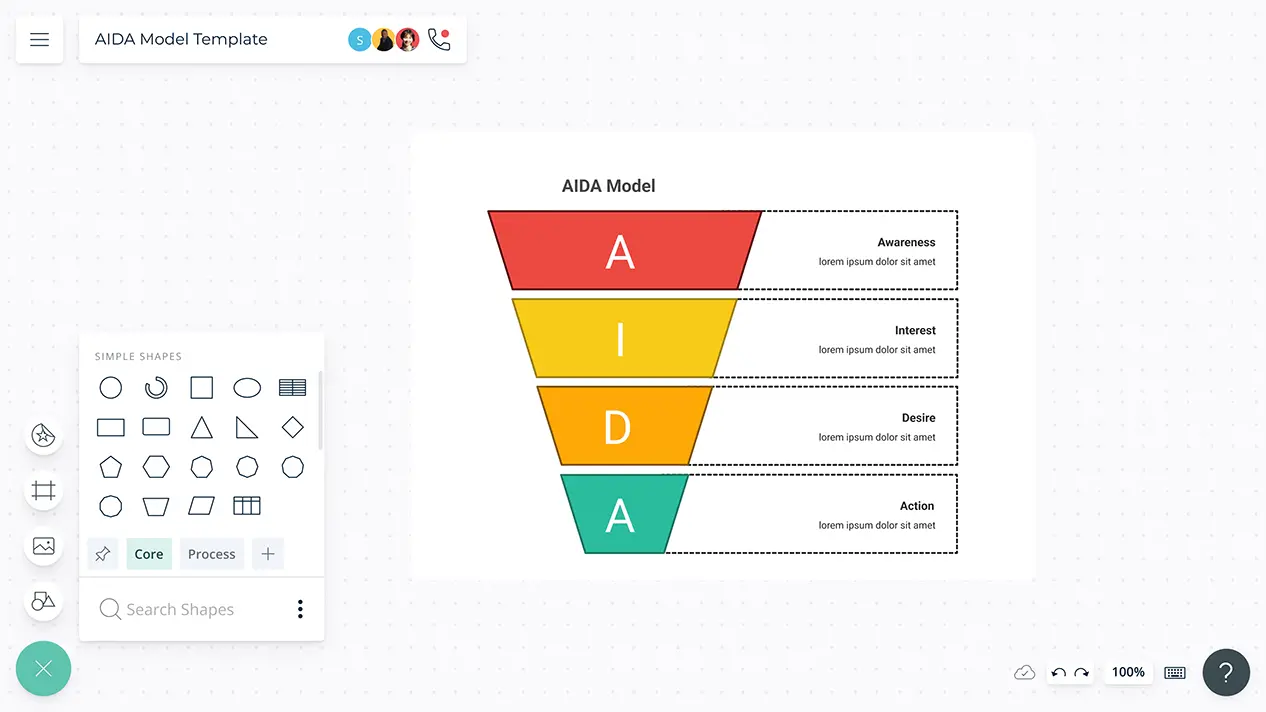 Over 10 Million people and 1000s of teams already use Creately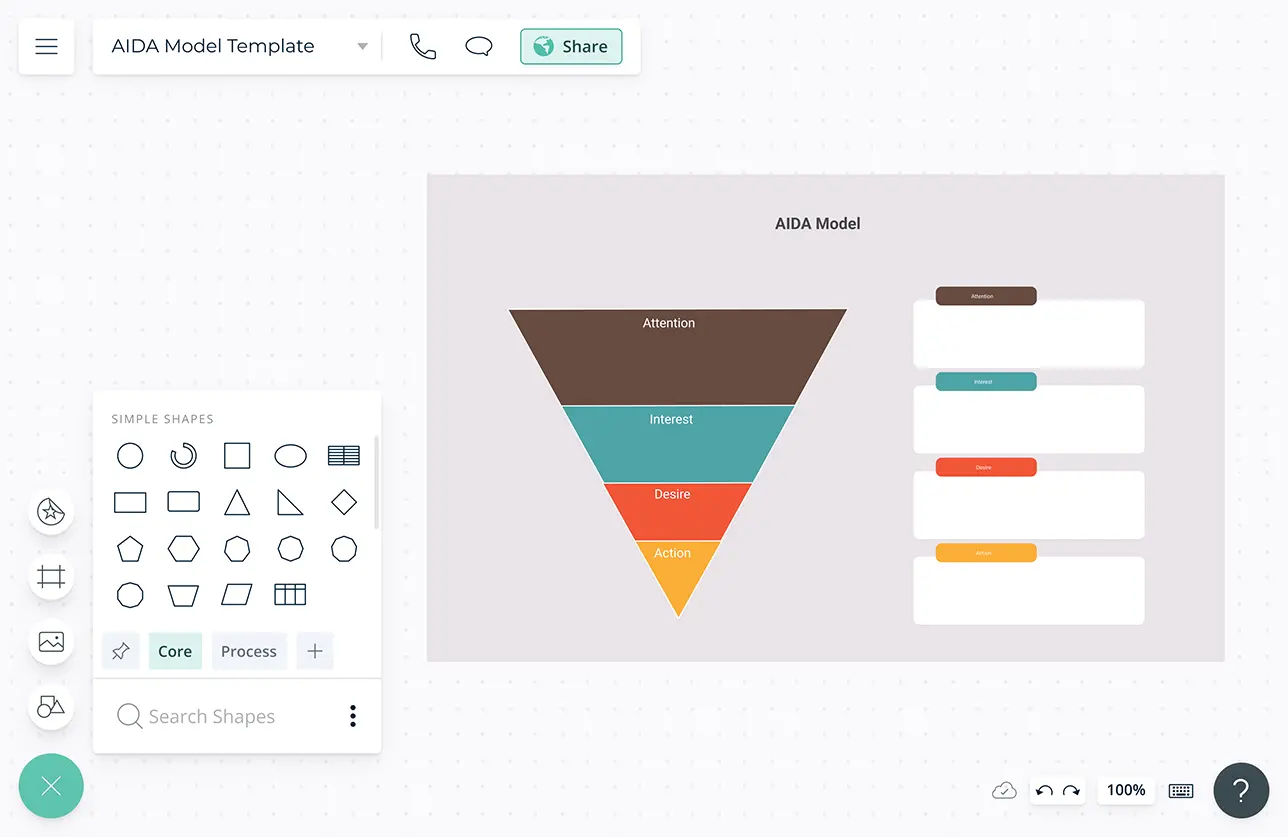 IDEATE
Develop Strategic Communication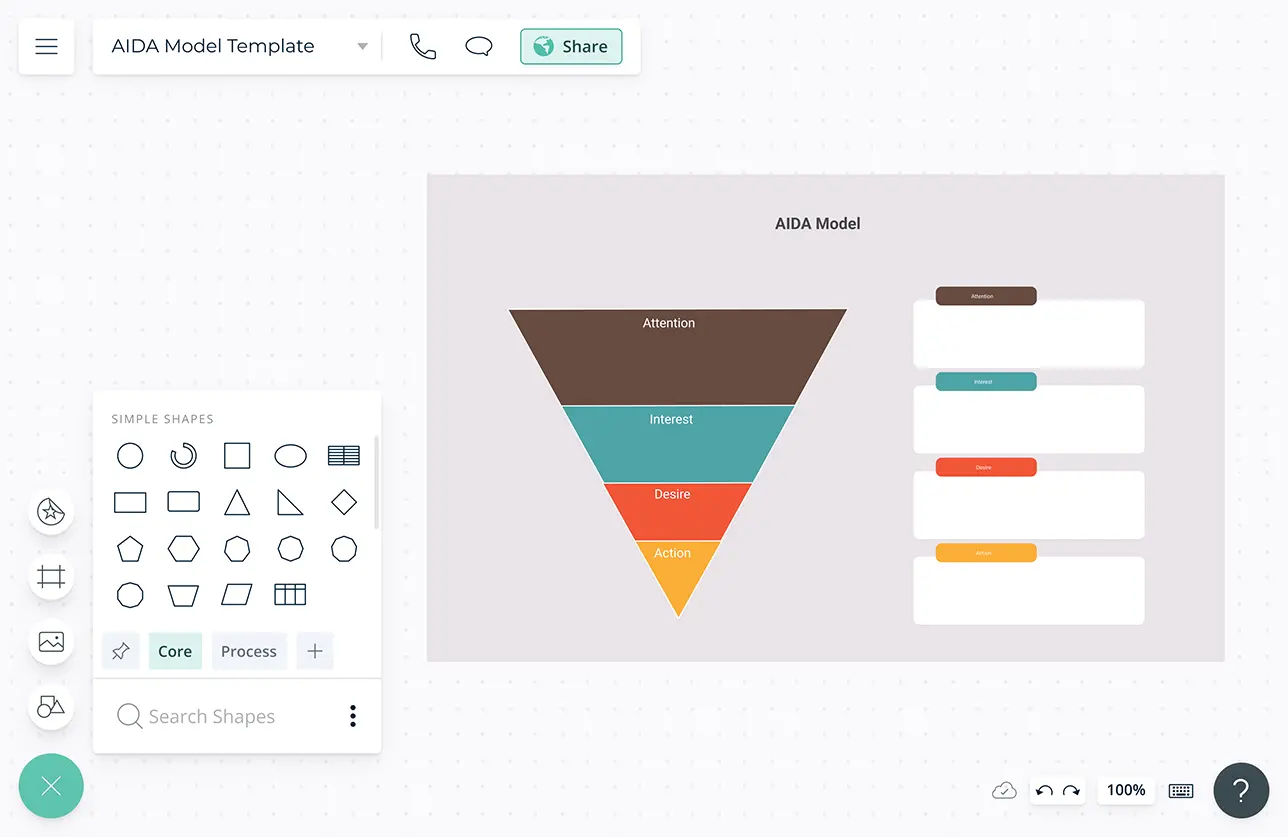 Infinite canvas and whiteboarding to brainstorm and plan successful strategic marketing communication plans with your entire team.
Video conferencing to get the entire team to participate and collaborate on sharing their campaign ideas and suggestions in real-time.
Full comment threads to review the ideas submitted by the team and to share feedback.
Multiple AIDA Model templates to develop marketing objectives that help to consistently engage, persuade and convert your audience into customers.
ANALYZE
Measure Marketing Success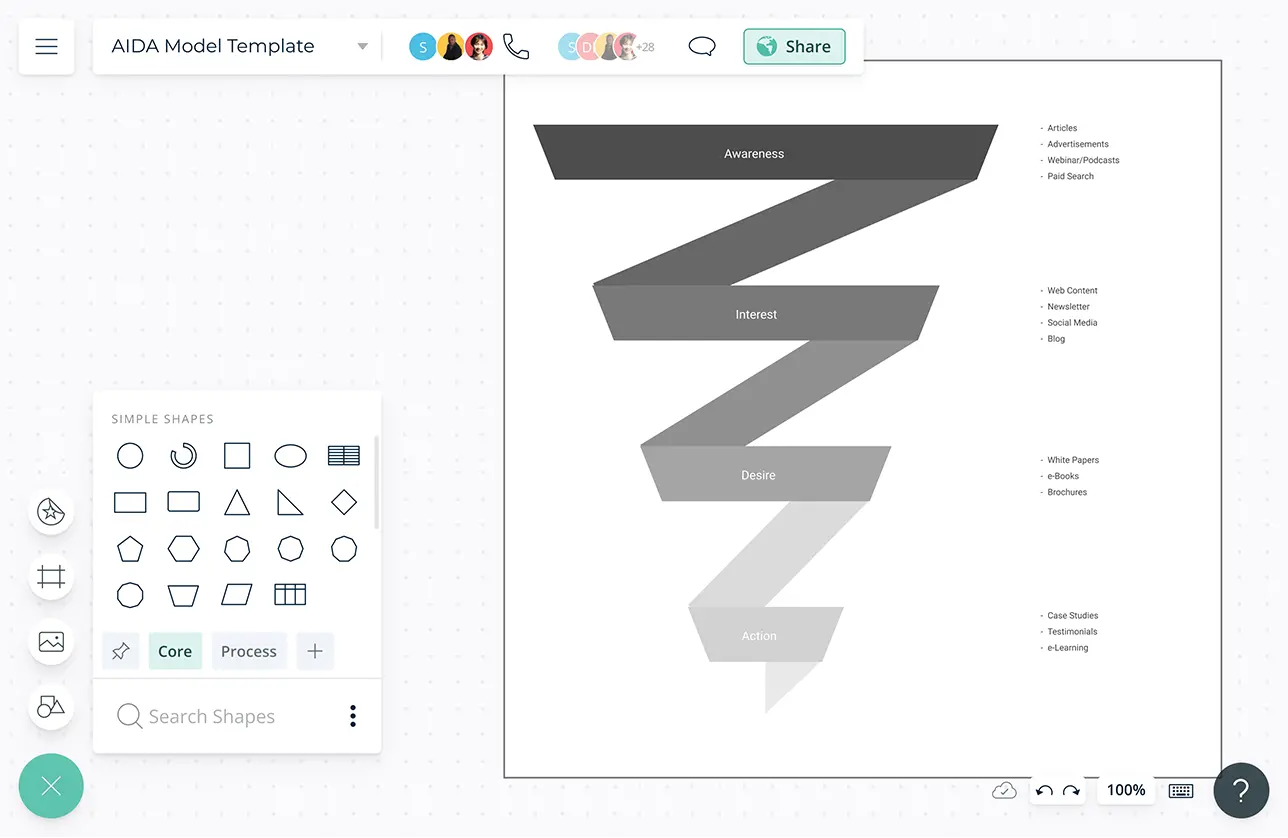 Visualize and augment data that are synced from multiple sources to identify opportunities and measure ROI from marketing campaigns.
Create custom databases as you visually edit and update marketing content and plans on the canvas.
Data shapes to intelligently connect previous marketing campaign data to compare and contrast performance with ongoing campaigns.
Configurable colour themes to easily identify opportunities available in the awareness, interest, desire and action stages of your campaign.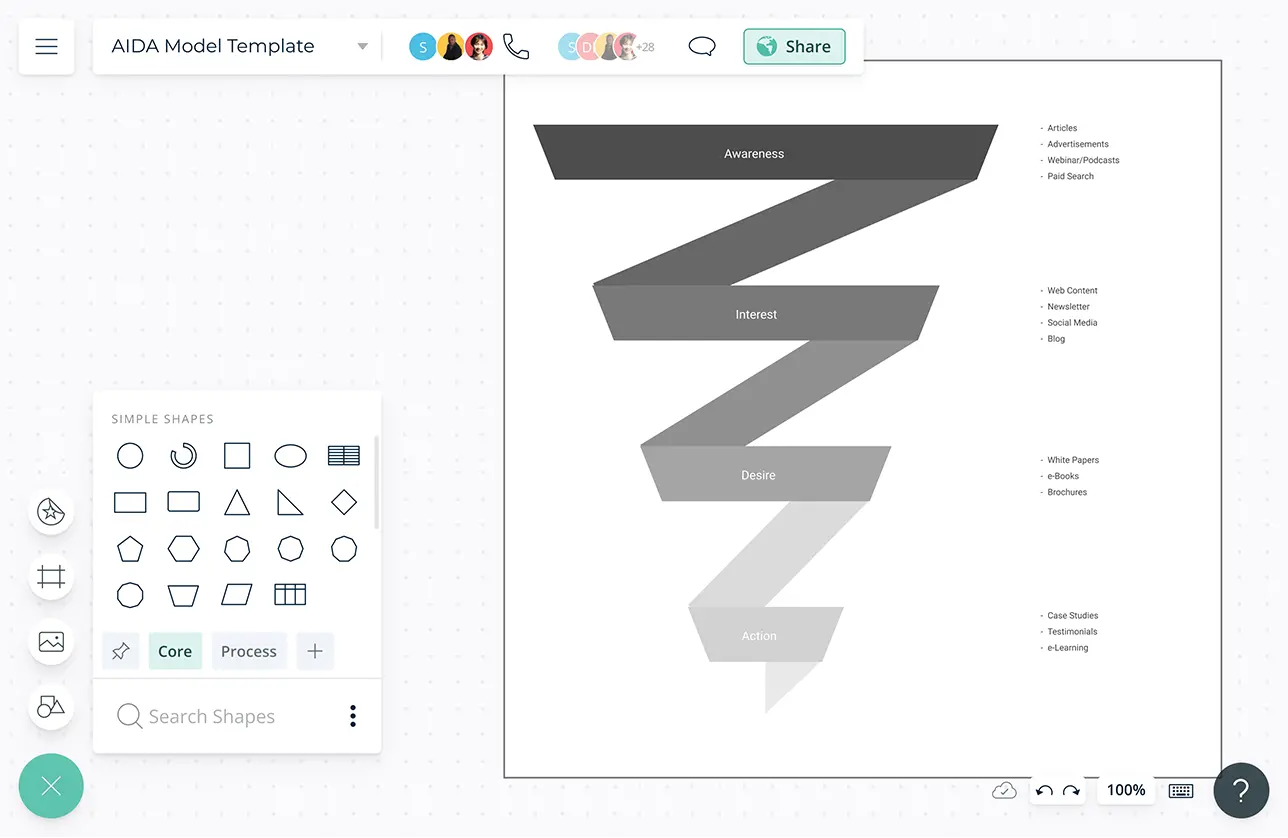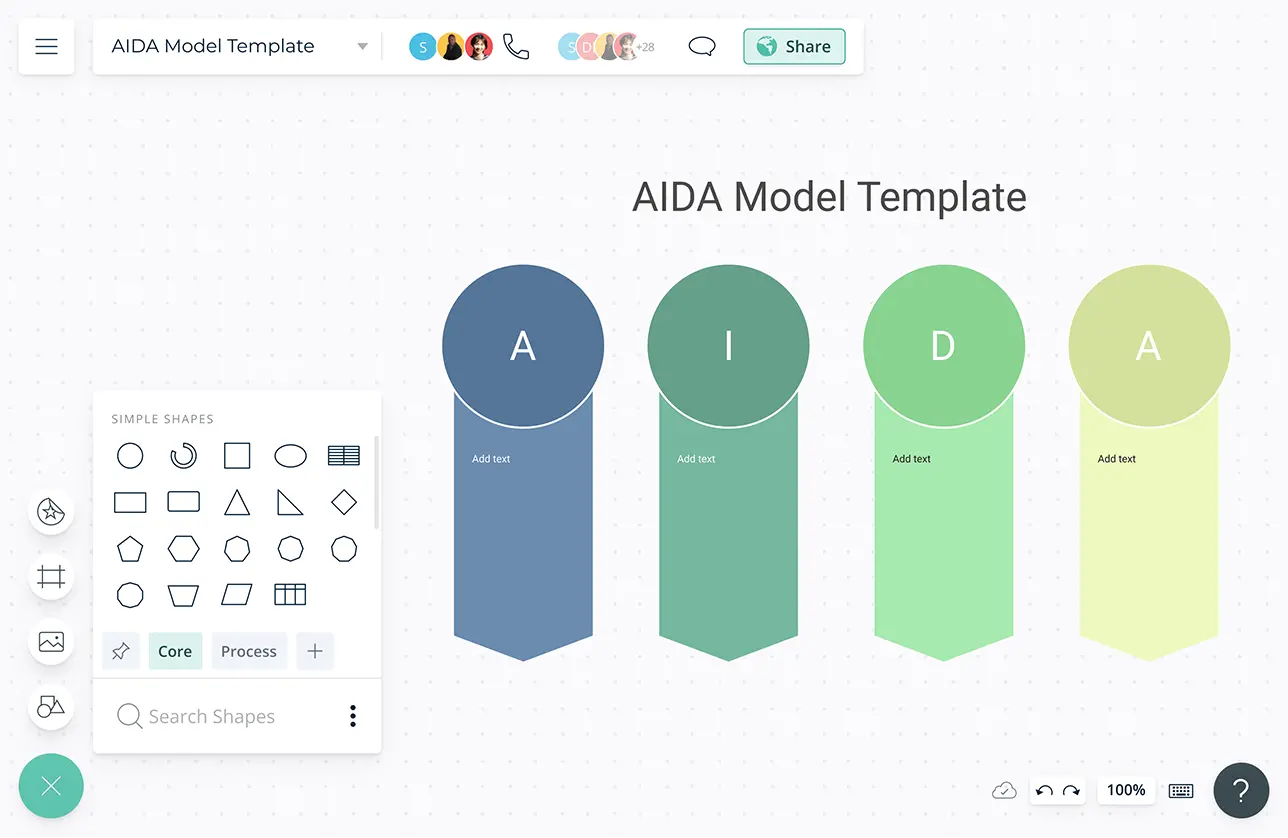 EXTENDED
Discover & Share Actionable Insights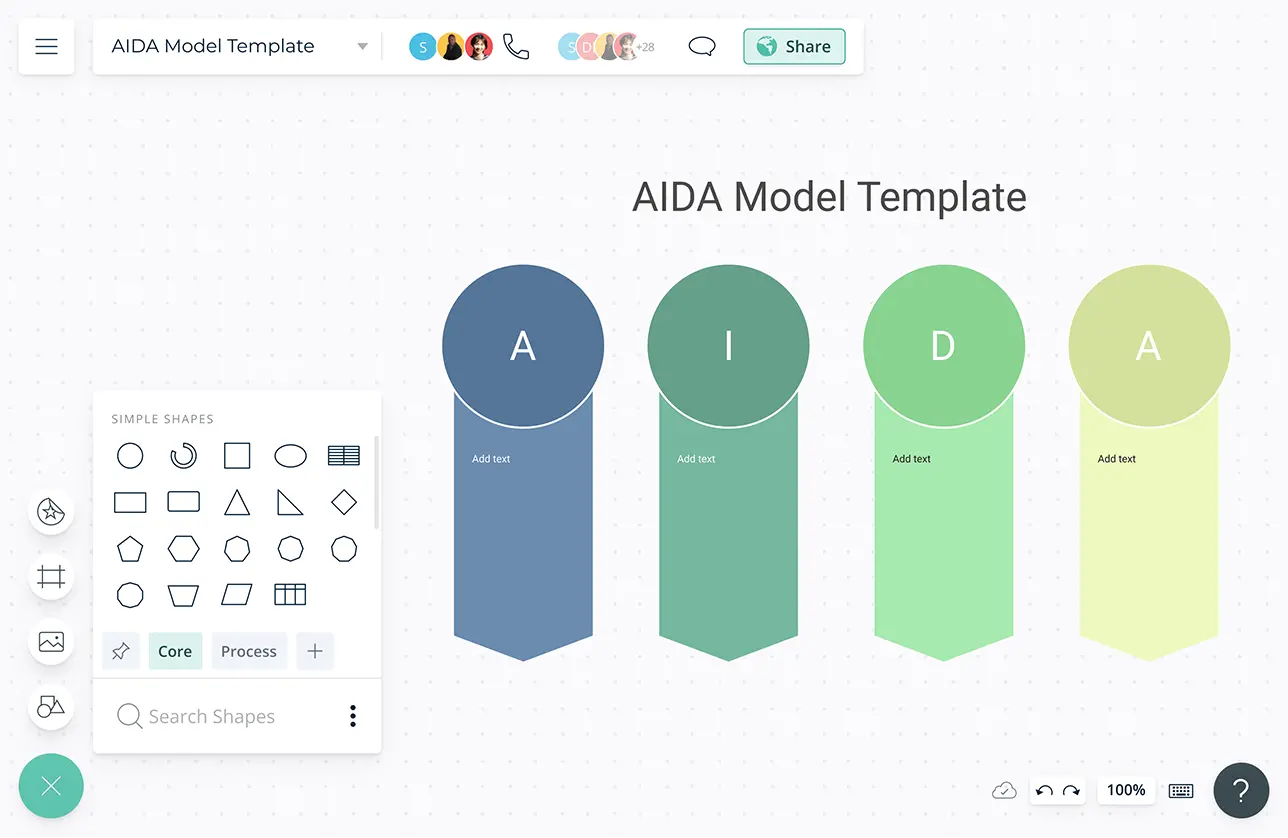 Powerful documentation capabilities to capture and store valuable marketing insights and best practices.
Doc links and attachments to gather and display all relevant information for each stage of the AIDA Model.
Shape settings to configure learning outcomes from marketing campaigns with varying colours, line styles and text positions.
Dynamically embed workspaces and frames in your apps, intranets or sites to keep the entire team and organization in sync.
What Is an AIDA Model?
Also referred to as the purchase funnel, the AIDA model is a principle widely used in marketing and advertising. It describes the stages an individual goes through during the buying process to become a customer. There are 4 stages and they include attention, interest, desire, and action. It helps in making marketing communication effective.
How to Create an AIDA Model?
Understand and gather information for each of the four stages of the AIDA model. Try to trace your customers' journey through awareness, interest, desire and action stages.
Attention: In this step, you need to consider how to attract the attention of the consumer and create brand awareness. To do this, you need to first learn about your target audience; their needs, goals, interests, problems, etc. With the help of that knowledge, you can create content relevant to them and thus grab their attention and pique their interest to learn more about your product or service.
Interest: Once you have gained their interest, they will need to know more about your product/ service, how you can help them, and what options are available to them. So in this stage, focus on providing the product message in an engaging way by highlighting product benefits, social proof, etc.
Desire: Plan on how to make consumers desire your product or service. Now that you have the interest of the consumer, how do you move them forward from 'I like it' to 'I want it'. To do this successfully, make them understand how your solution can actually fulfill their needs, share tips and advice to their problems, highlight product features, offer them timely, relevant content via newsletters, etc.
Action: In this stage, you need to focus on getting the consumer to take action (i.e. subscribe to your blog, make an inquiry or make a purchase). In order to persuade them to take the next step, you need to place apt CTAs in the right places on your website such as in the home page, product pages, plans page, etc.