Ansoff Matrix Examples
Visualize Growth Strategies
Collaborate with the team to identify viable growth strategies based on your company's offerings.
Multiple Ansoff matrix templates to get a head start
Collaborate seamlessly with team members and stakeholders
An infinite canvas to visualize and strategize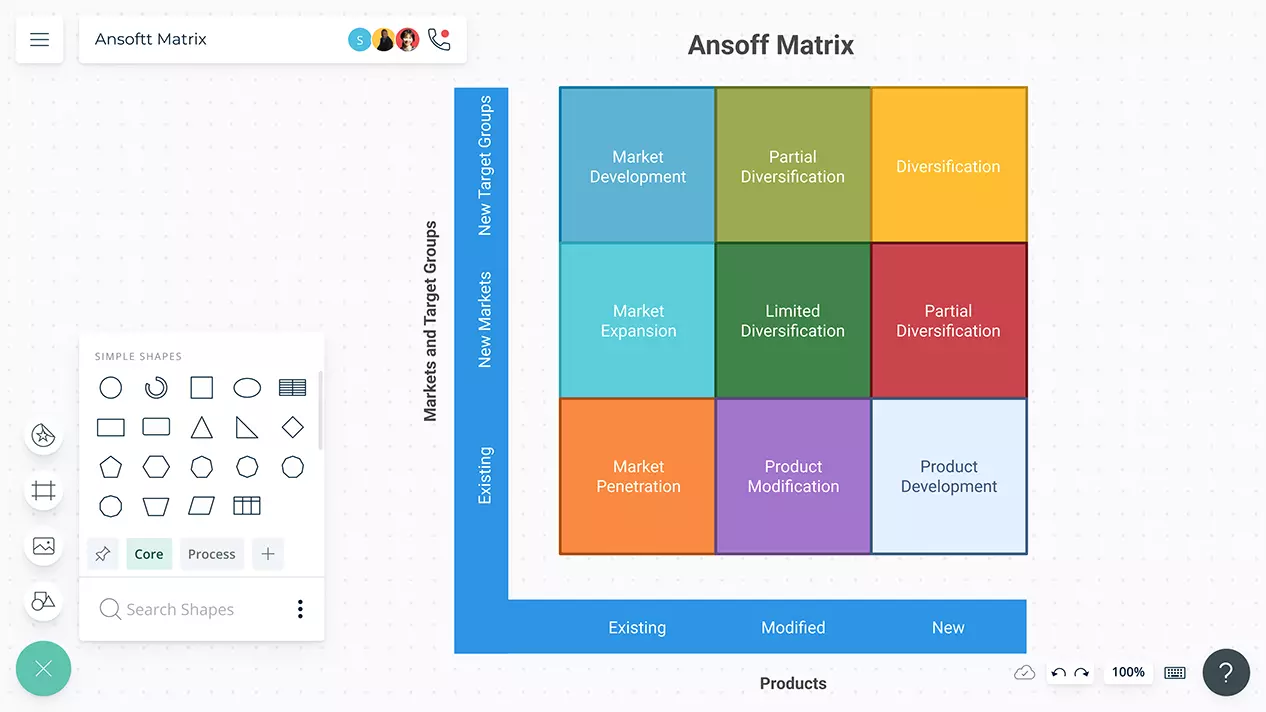 Over 10 Million people and 1000s of teams already use Creately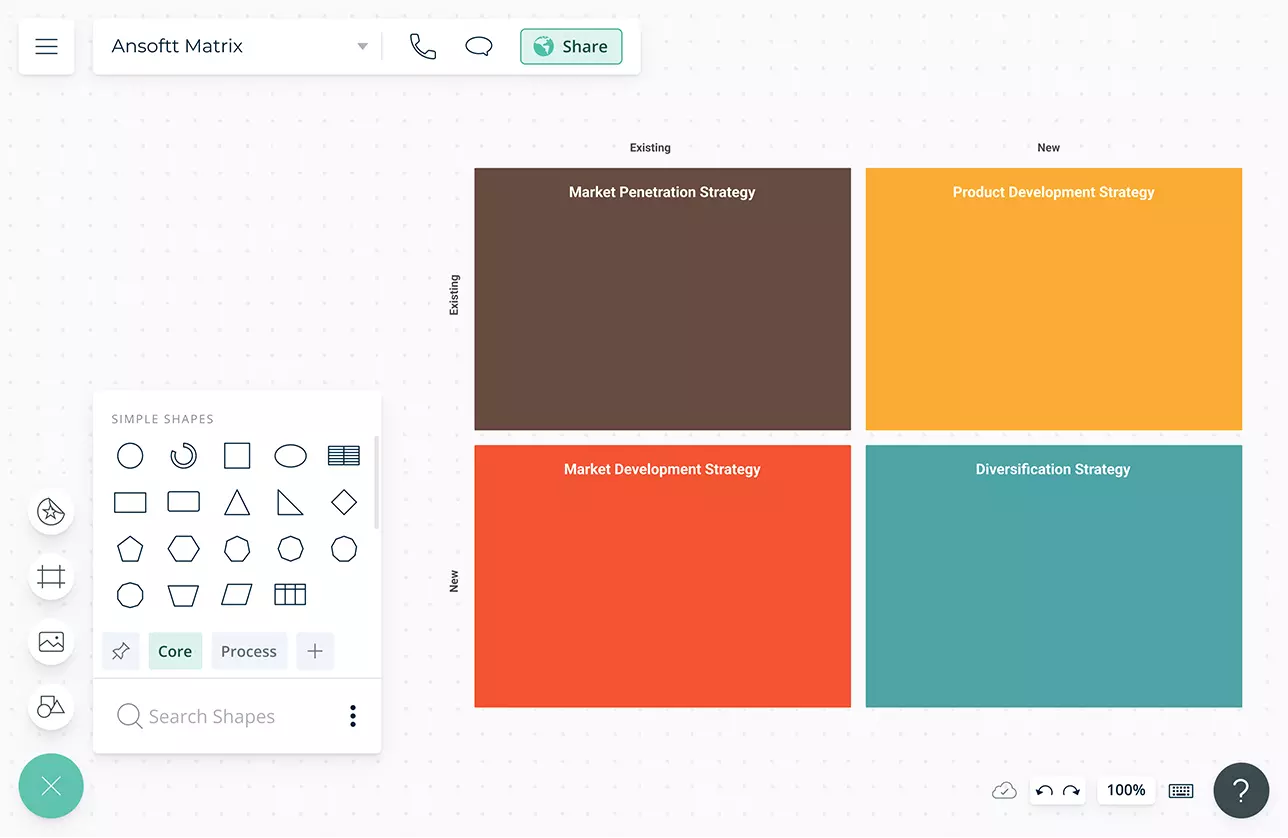 ANALYZE
Visualize and Analyze Strategies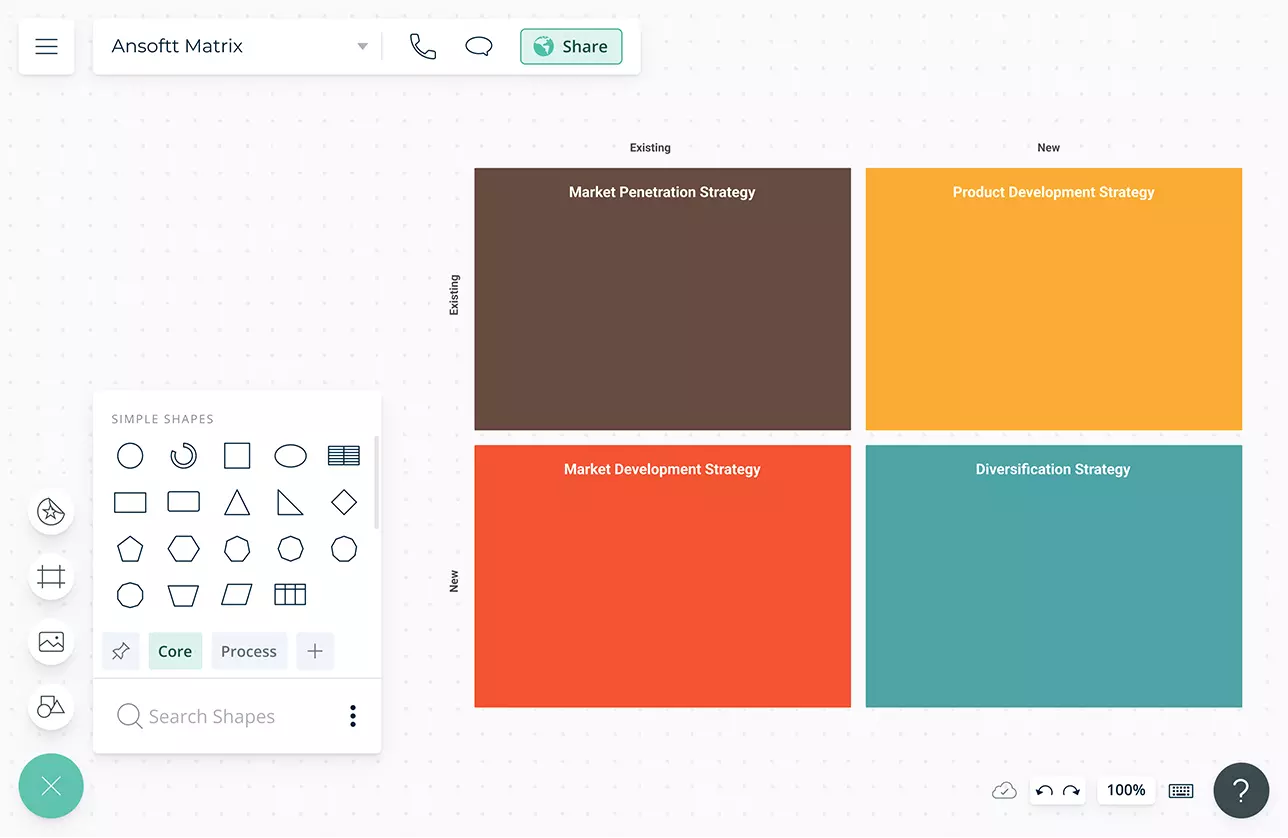 Multiple templates to get started with visualizing strategies.
Bring data from any source to visualize on the canvas as meaningful data shapes for easier analysis and decision-making.
Create custom databases with multiple types of data sets to give meaning to data.
Simple to use drag and drop tools to quickly visualize workflows.
Link documents externally from various sources for better visual analysis.
COLLABORATE
Drive Growth Collaboratively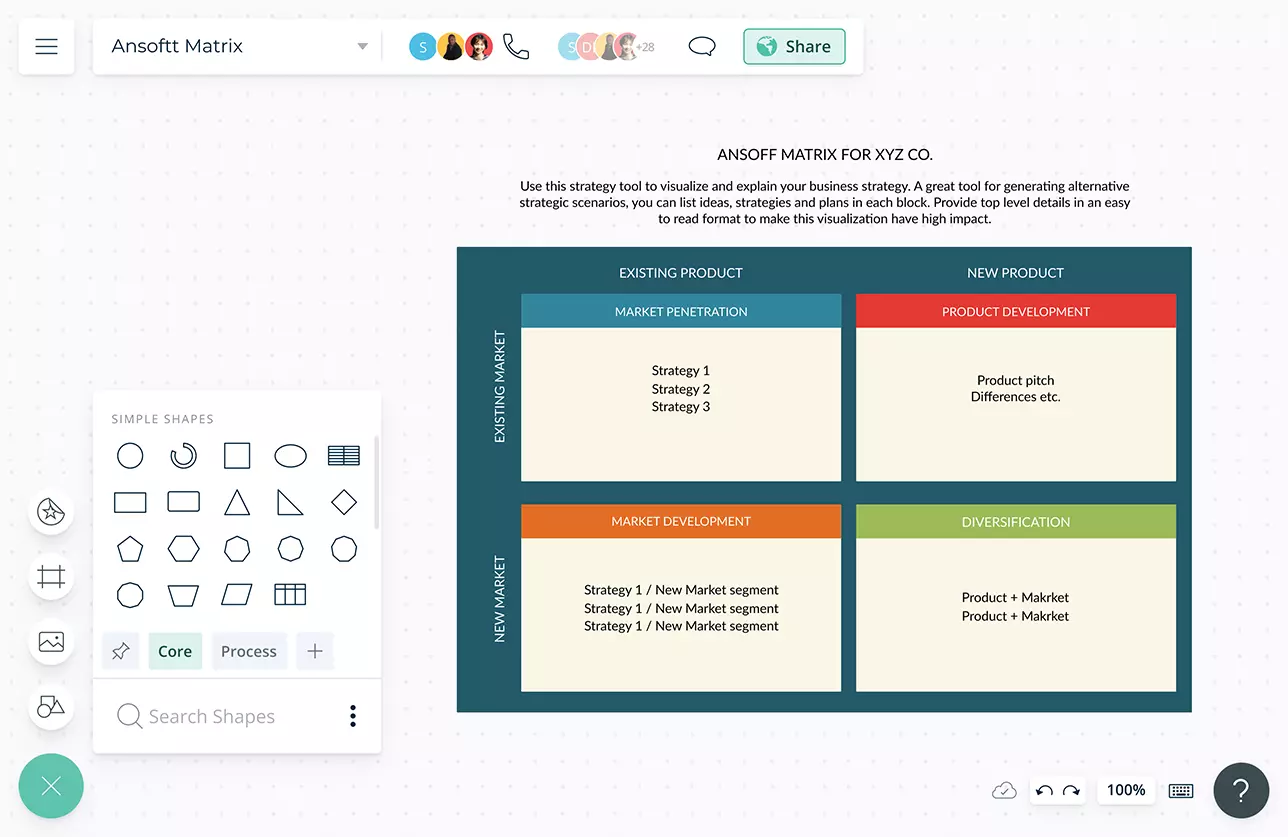 Video conferencing baked into the platform to feel like you are in the same room.
Multiple access levels and roles to streamline managing, sharing, editing and reviewing your ideas, plans and strategies.
Comment with context, have discussions and follow-ups on the same canvas. Async!
Flexible sharing features to get ideas and instant feedback from external stakeholders.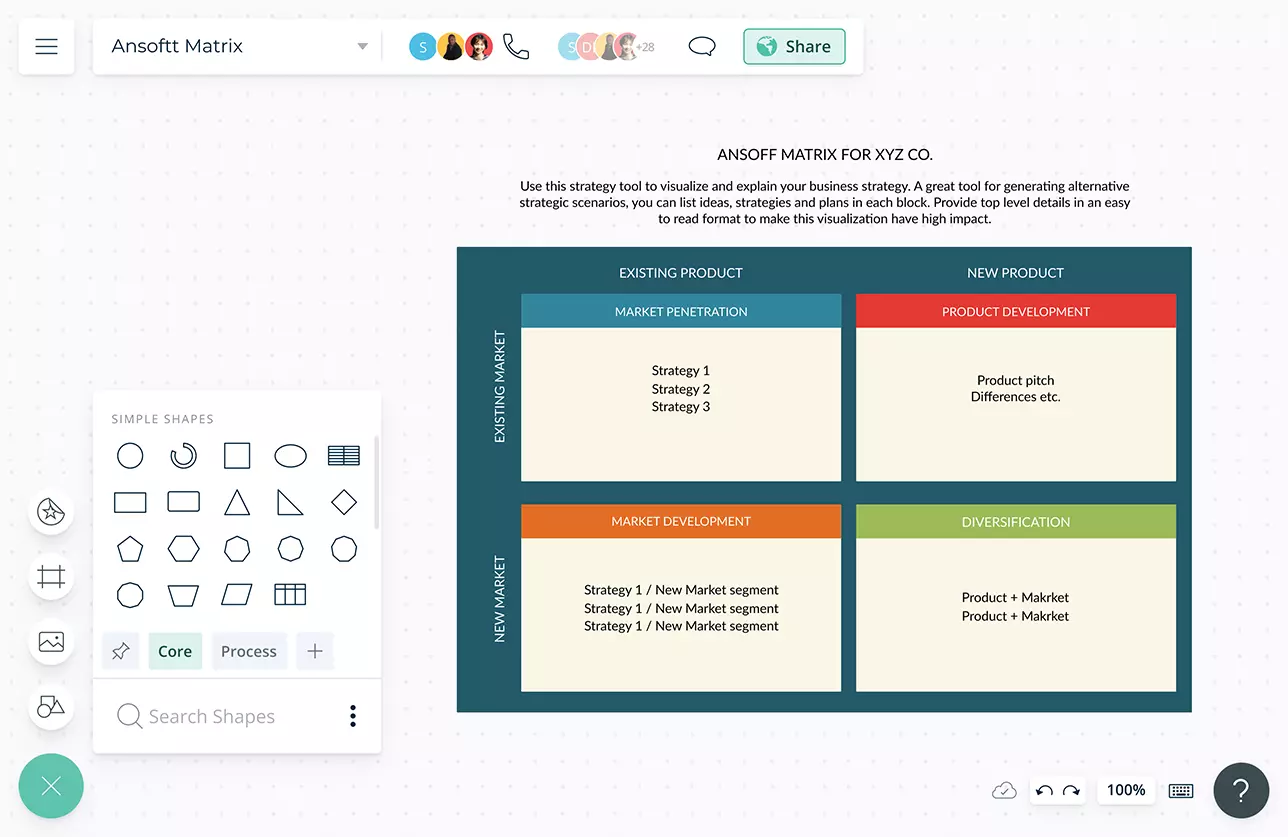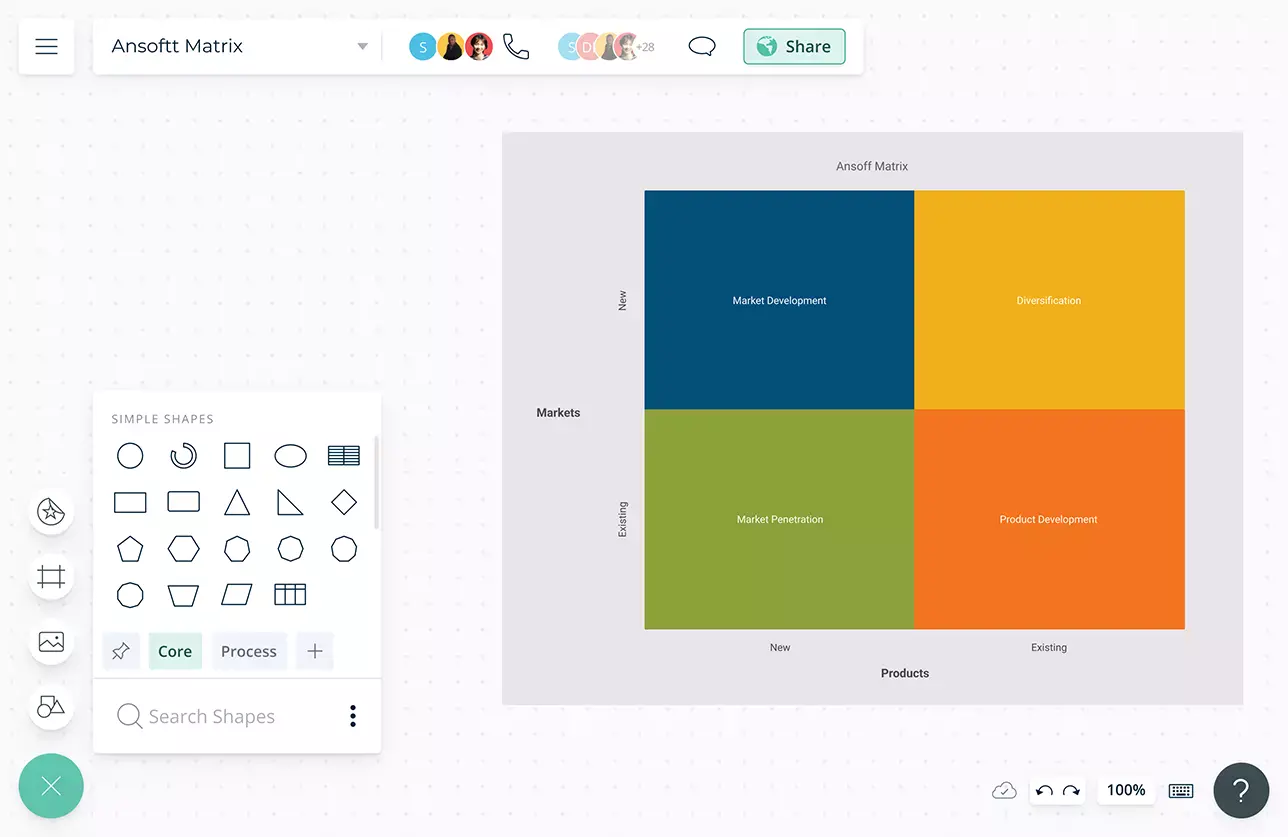 EXECUTE
Execute Growth Strategies Fast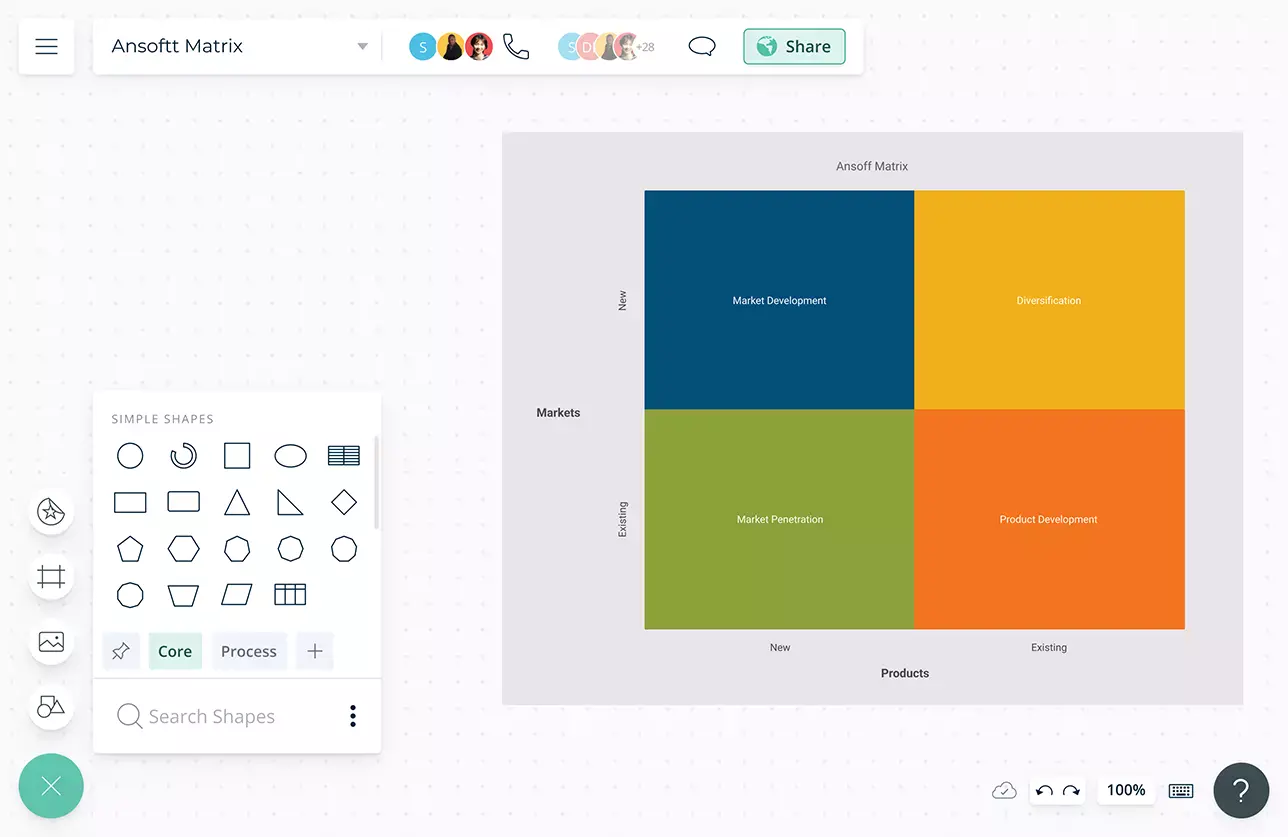 Full version history to keep track of key points during each iteration of your data entry. Branch out from an earlier version if needed at any time.
Built-in tools to quickly organize content and create interactive presentations for clients and stakeholders.
Prioritization grids to visually rank brainstormed ideas for effort and impact, and plan and assign tasks.
Context aware shape switching to allow for multiple use cases and behaviors.
What Is an Ansoff Matrix?
Ansoff matrix is a strategic planning tool that helps businesses determine their product and market growth. It allows the analysis of strategic options for future growth while taking into consideration potential risks.
How to Use the Ansoff Matrix with Creately?
Use Creately's Ansoff matrix examples to analyze your strategic options and identify the risks that may be associated with the approach you select.
Invite others to contribute to the analysis via a secure diagram share link. Every change they will make to the diagram will be visible to you via real-time collaboration.
When planning your market penetration strategy, you need to consider how you can sell more of your current products to your existing customers.
A market development strategy is about selling your existing products to new markets, or unexplored areas of your existing market.
In product development, you have to develop new products or new variants of your existing products to market to your existing customers.
A strategy based on diversification focuses on producing new products to market to entirely new customers. This strategy is considered the riskiest.
Conduct a risk analysis to identify the risks associated with each of these options. You can also come up with a plan to overcome these risks.
Further, consider the strategic options and the risks associated with them. Select the best option for your business based on your analysis.
Export your Ansoff matrix as a PDF or in other image format to include in PowerPoint presentations or Word docs. Or share it with your team with a diagram edit/ review link.