BCG Matrix
Visually Identify Opportunities for Growth
Visual strategic planning tool to analyze the competitive landscape and allocate business resources and efforts in the most profitable way.
Real-time collaboration to make strategic decisions together
Multiple BCG frameworks to analyze both the current and future competitive landscape of your industry
Advanced visualization capabilities to map your BCG matrix and develop actionable strategic plans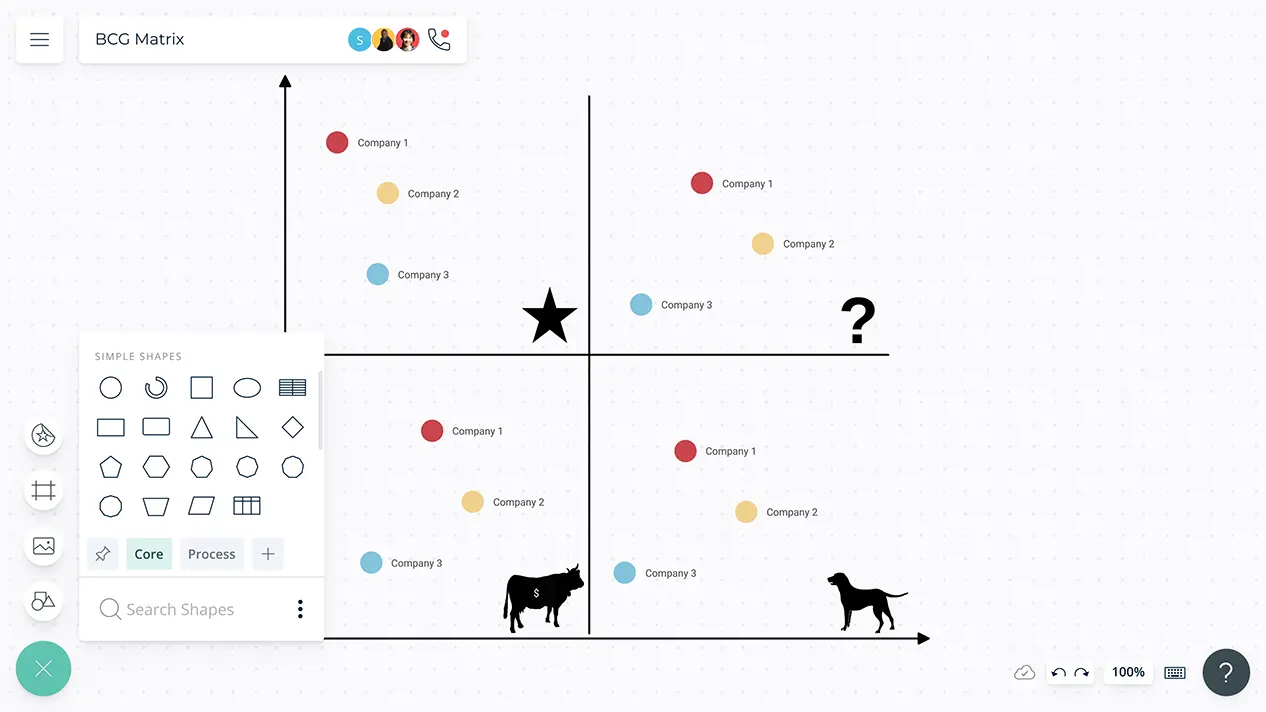 Over 10 Million people and 1000s of teams already use Creately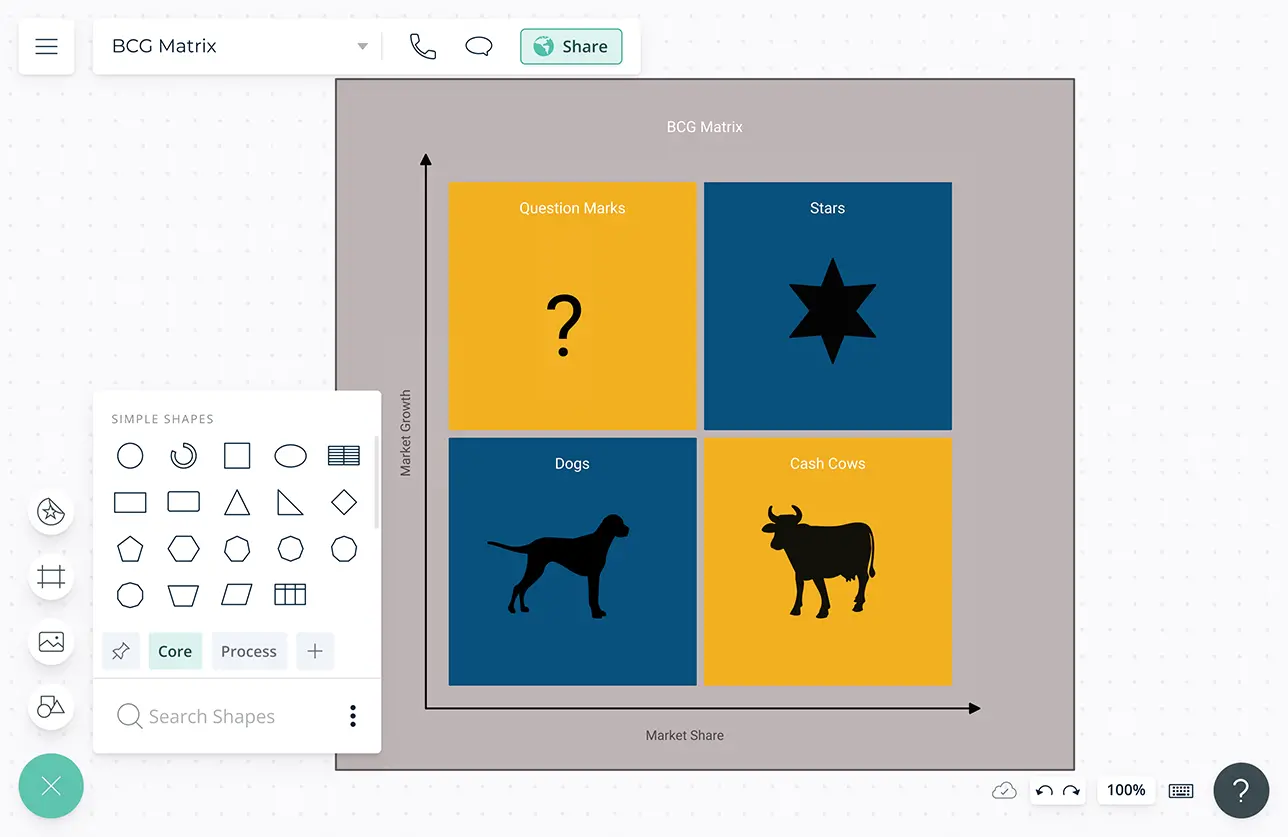 ANALYZE
Strategic Planning Tool to Amplify Business Growth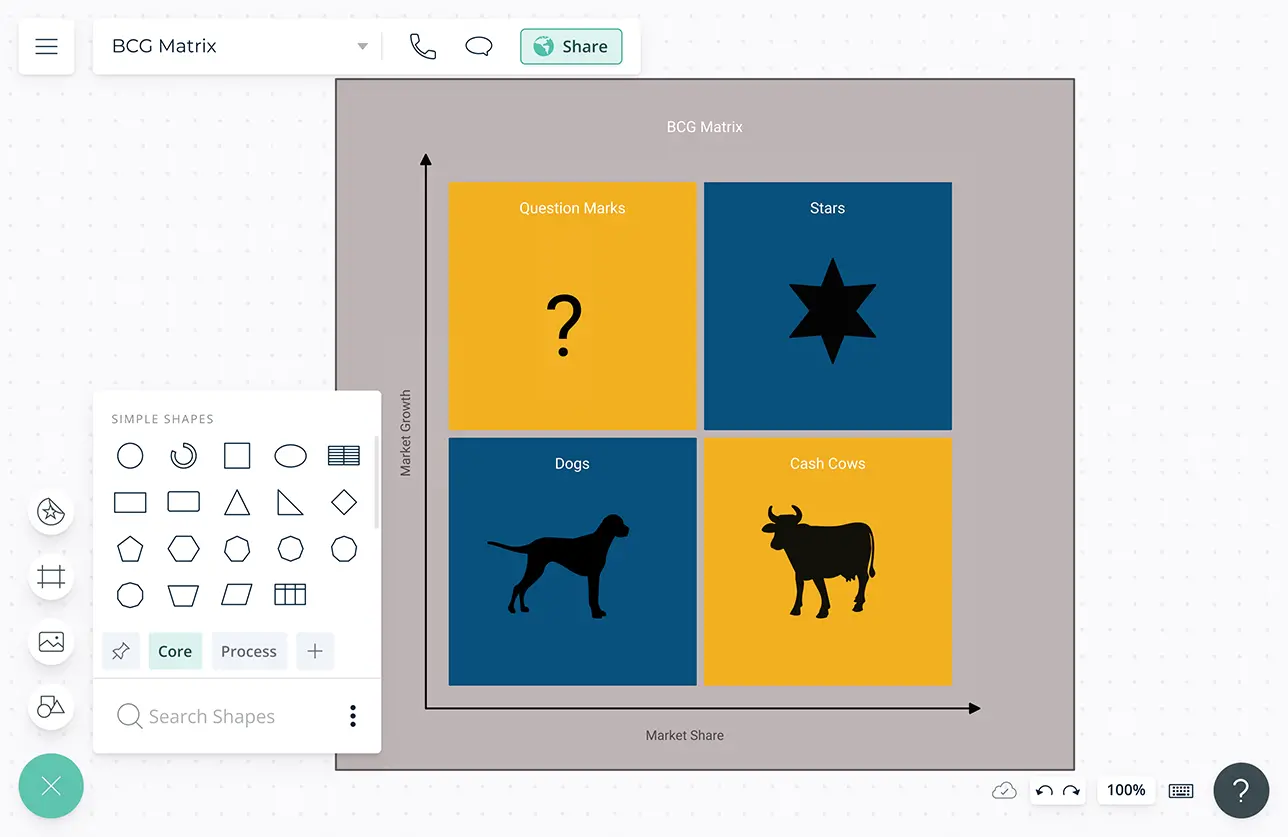 Import custom data to visualize multiple data sets related to market share and product performance and make high-level strategic decisions.
Drag and drop functionality to categorize various business units according to profitability and market share.
Add detailed docs, attachments, links and more via the notes feature on each item to capture details and the big picture in a single space.
Intuitive visual grids to organize business efforts based on profitability.
IDEATE
Develop Creative Solutions to Improve Business Performance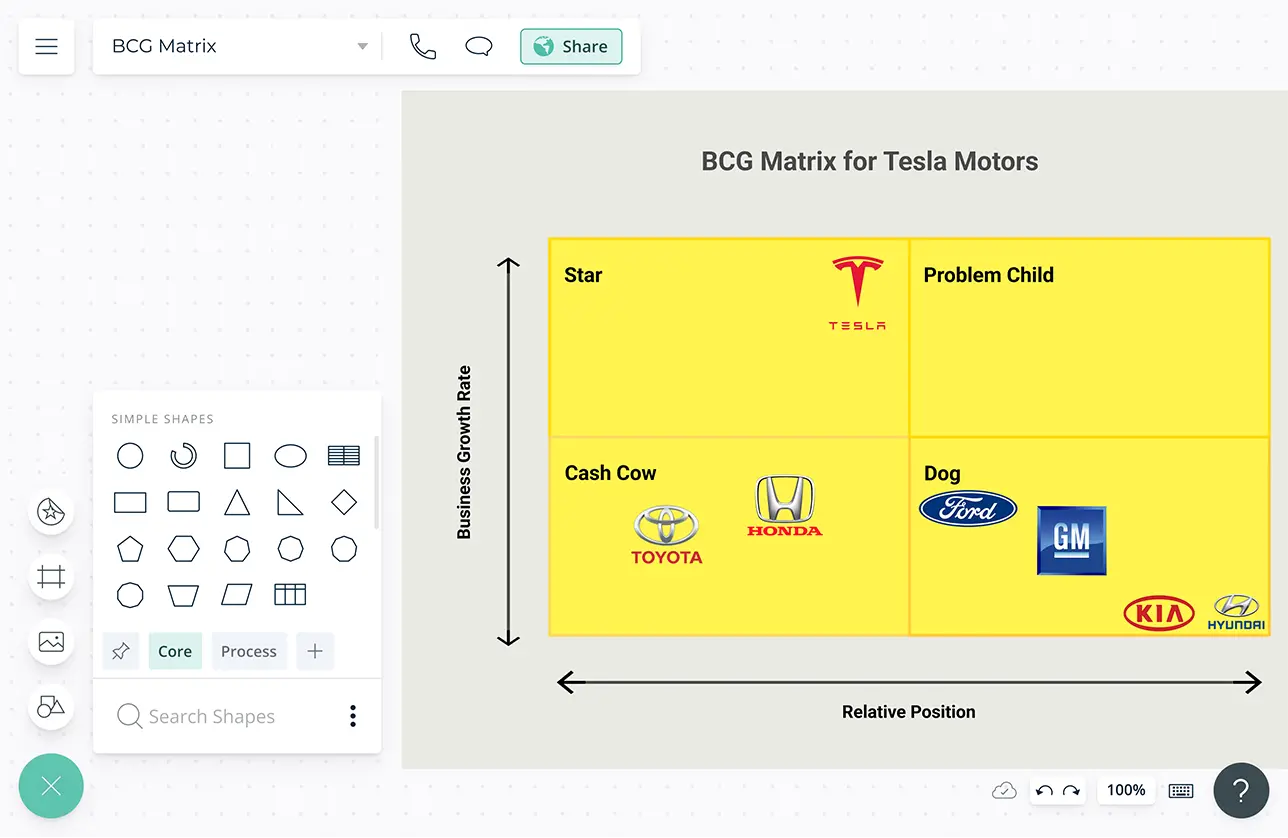 Simple to use drag drop tools with Plus Create to empower anyone to generate creative solutions faster.
Multiple frameworks and templates to capture your ideas and organize them coherently.
Virtual whiteboard with built-in diagramming to easily conduct structured strategy sessions.
Embed documents and assets with in-app previews to provide in depth context to your data to determine requirements and make quick decisions.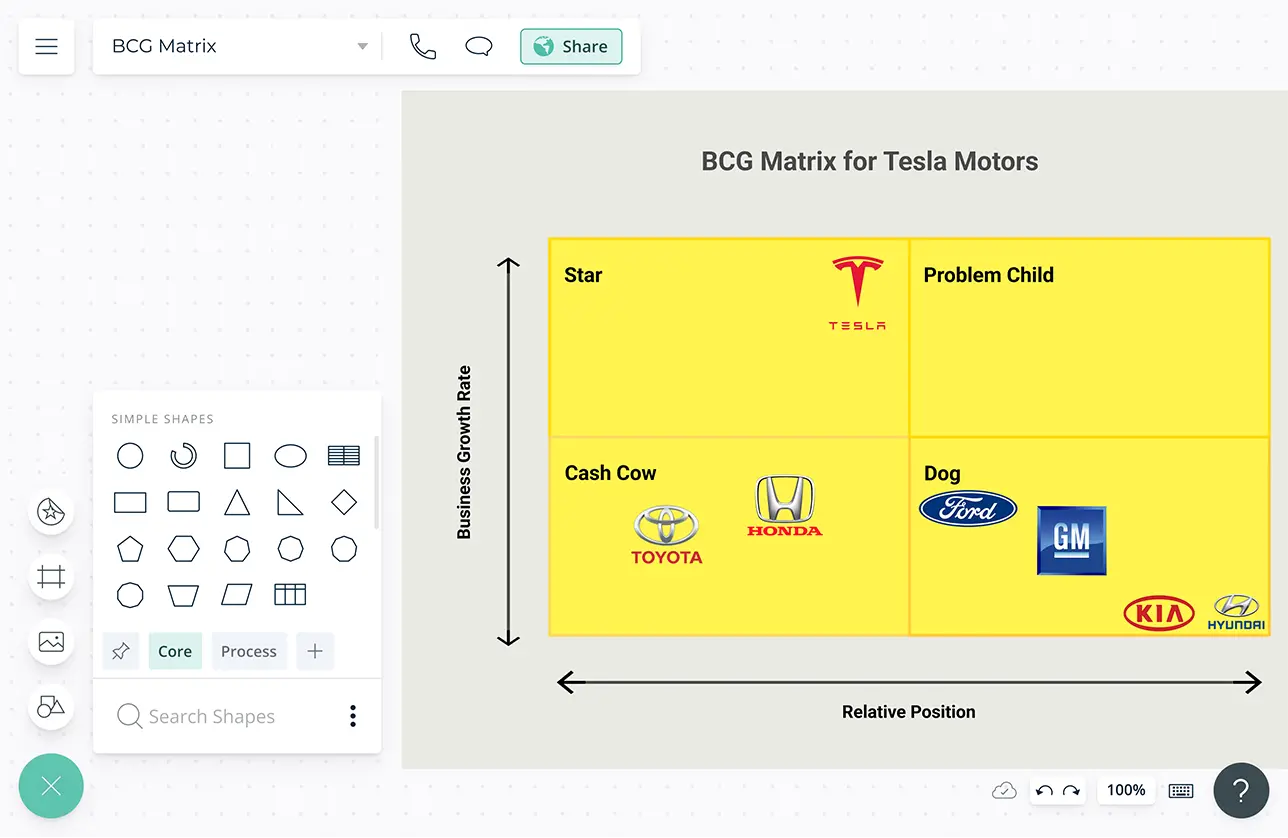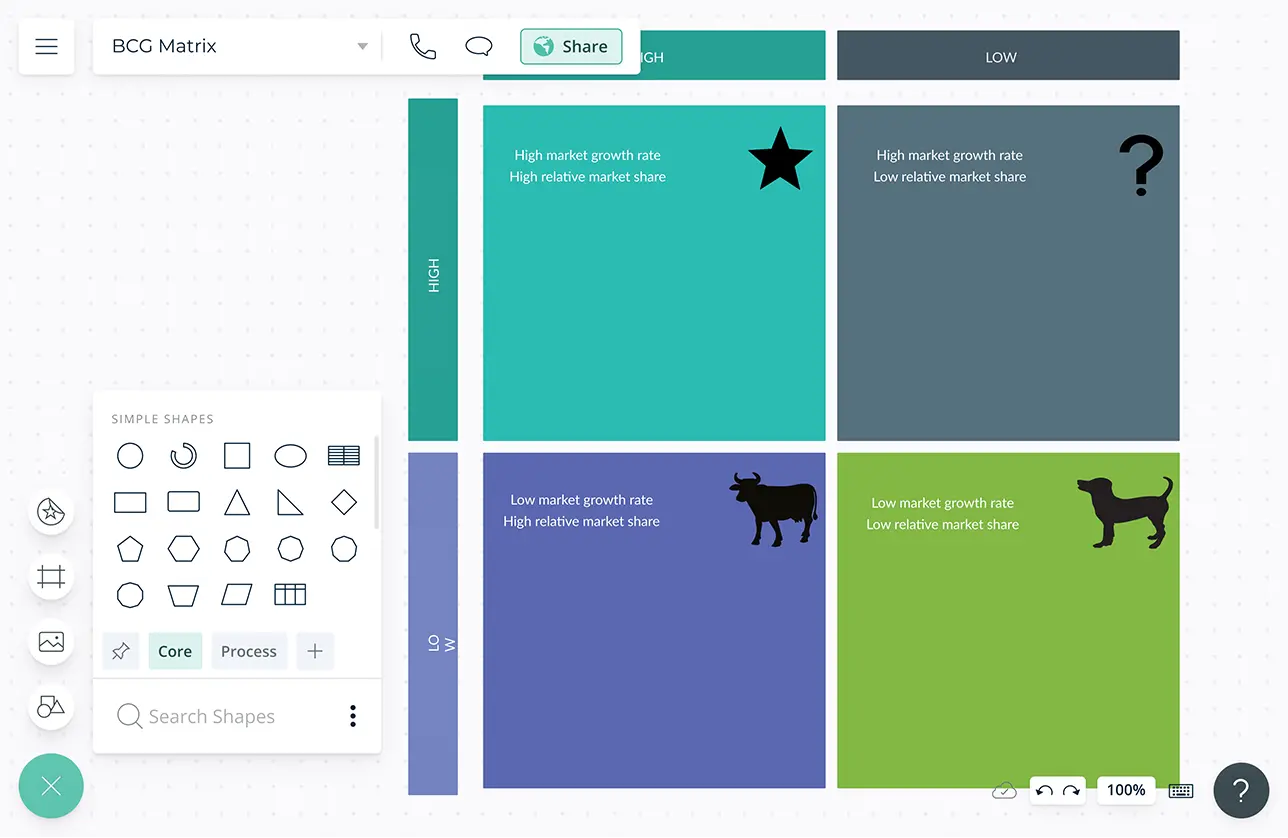 COLLABORATE
Work Together to Find Great Opportunities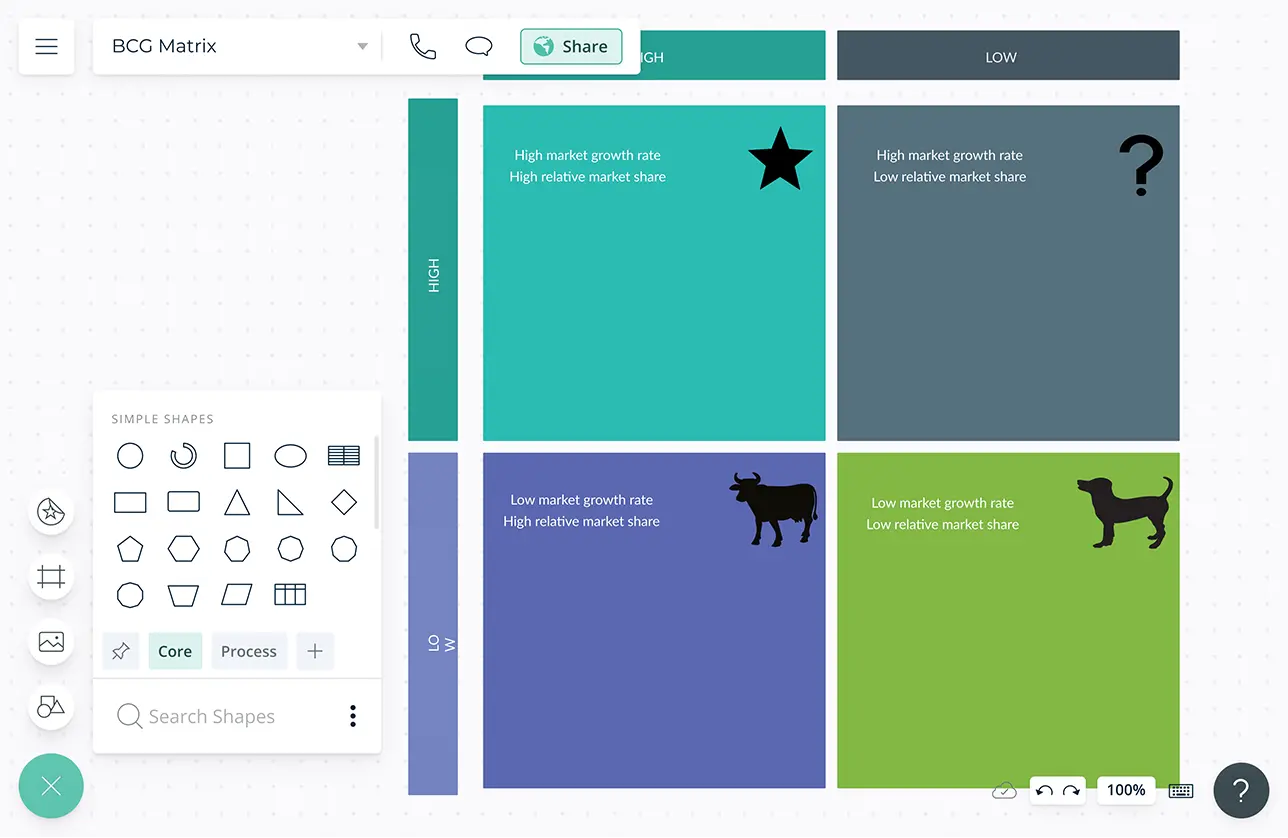 Real-time cursors for any number of participants. Collaborate with team members on a shared canvas and organize concepts together.
Video conference from the platform itself; feel like you are in the same room.
Advanced collaborator controls to streamline sharing, reviewing, and editing of BCG matrices.
Comment with context; have discussions and follow-ups on the same canvas.
EXECUTE
Transfer Actionable Insights to a Comprehensive Plan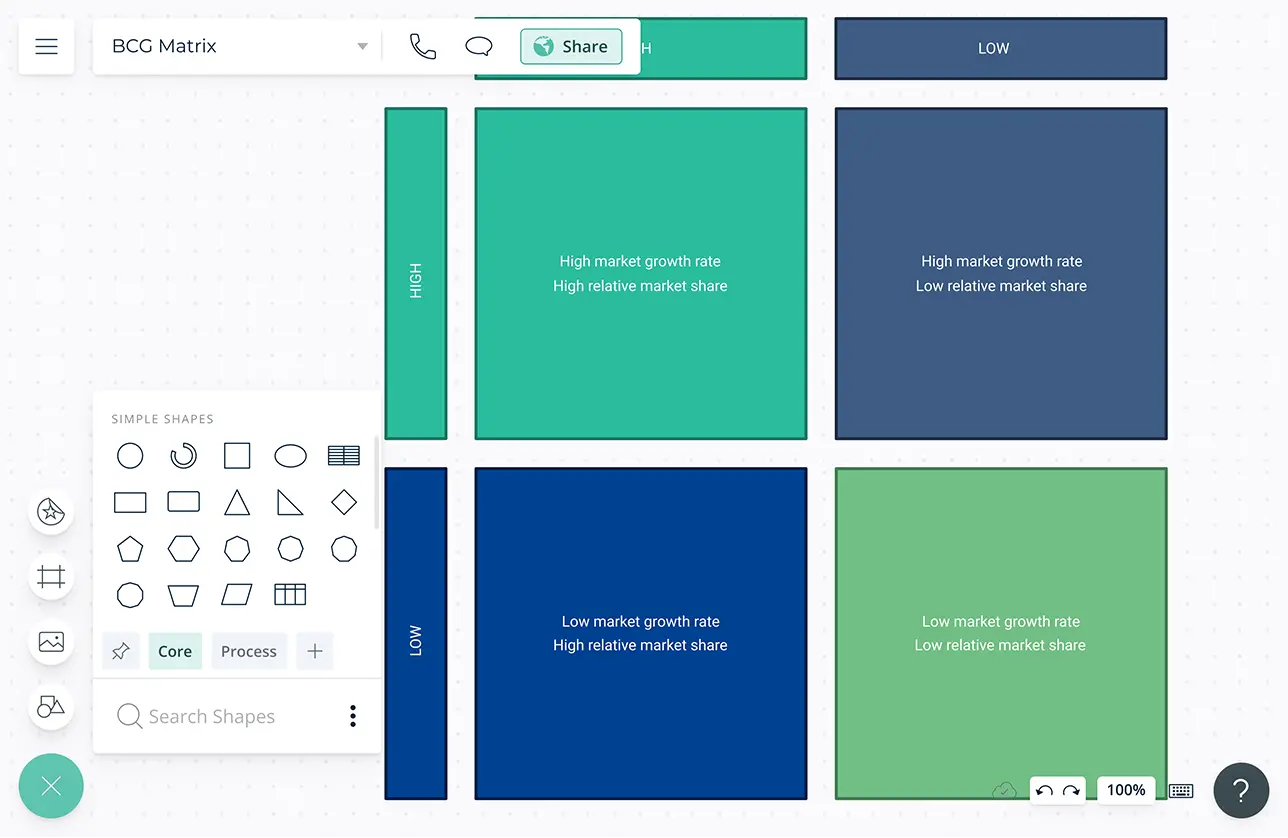 Multiple access and role levels to streamline sharing, reviewing, and editing BCG matrices with clients and stakeholders.
Use frames inside the infinite canvas to generate page-like layouts to organize your ideas, group similar content, or build a presentation flow for your proposals.
Connect to your favorite tools with Creately plugins for Slack, Google Workspace, Confluence and more.
Export BCG Matrix in SVG, PDF, PNG or JPEG format to publish, present, print or share.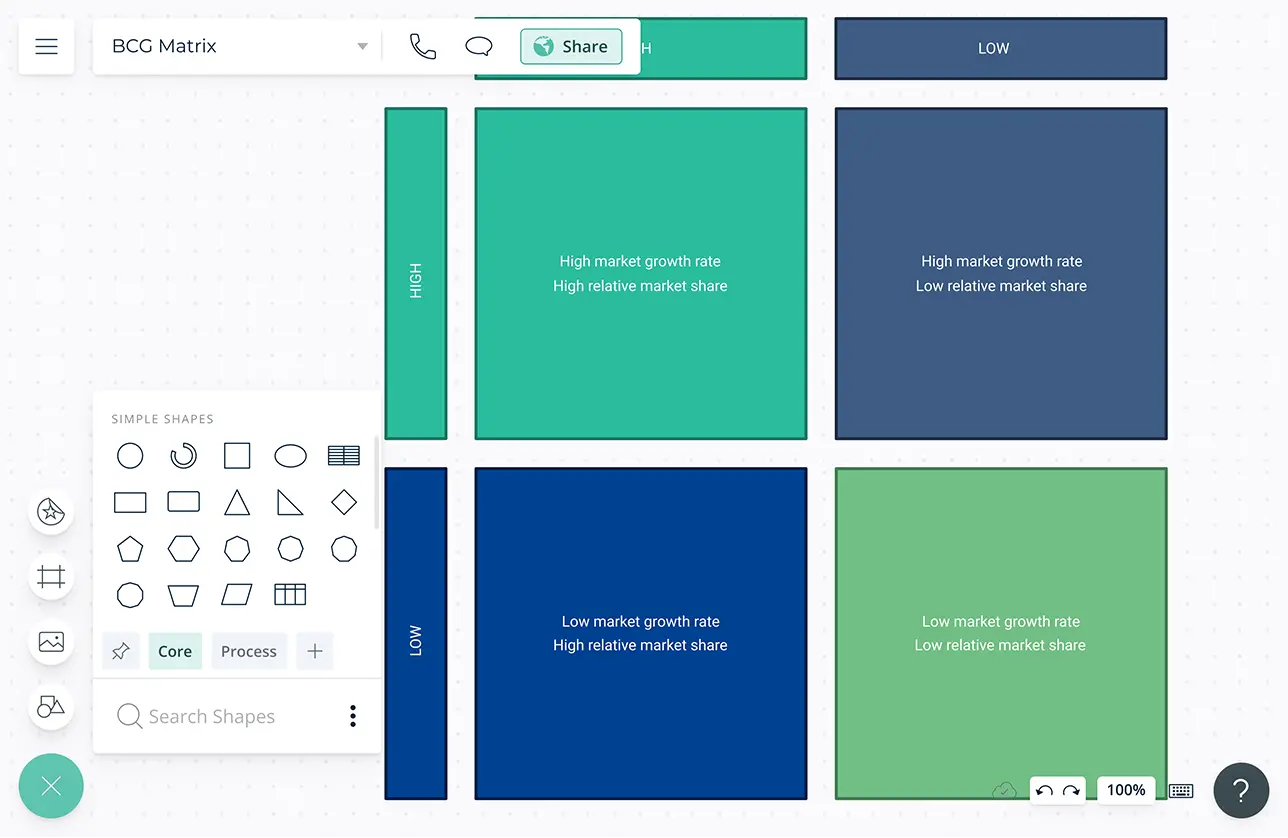 What Is a BCG Matrix?
A BCG matrix is an analytical tool used to evaluate the performance and position of different business units or product lines. The results of the analysis are used to determine where to allocate resources.
How to Use the BCG Matrix?
Choose an area or unit to be analyzed using the BCG matrix. This could be a product line, individual brand or business unit, or the business as a whole.
Based on the area you chose for the analysis, define the market. Make sure to pick the most appropriate and relevant market for your unit.
Create a matrix or choose one from the Creately BCG matrix examples. You can customize these online according to your analysis with your team.
Calculate the relative market share for the chosen unit, based on market share or revenue. The measurement should be plotted on the x-axis.
Estimate the growth rate of the industry with the help of industry growth reports. This measurement should be plotted on the y-axis.
Place the units you are analyzing on the appropriate box, based on their market share and growth. Invest in the products in the Stars quadrant, consider phasing out the Dogs, milk the Cows and allocate experimental funds for the Question Marks.
Export your diagram so you can embed it in your internal websites or the intranet. Or you can simply share a diagram edit/ review link with the key people involved.