Brainstorming Templates
Organize Your Thoughts to Make Way for the Next Big Idea
Bring clarity to your thoughts and help transform ideas into actions by brainstorming collaboratively online with our examples and editable templates.
Let everyone on the team weigh in on idea generation
Achieve optimal productivity as a team
Explore ideas to find the right solution for you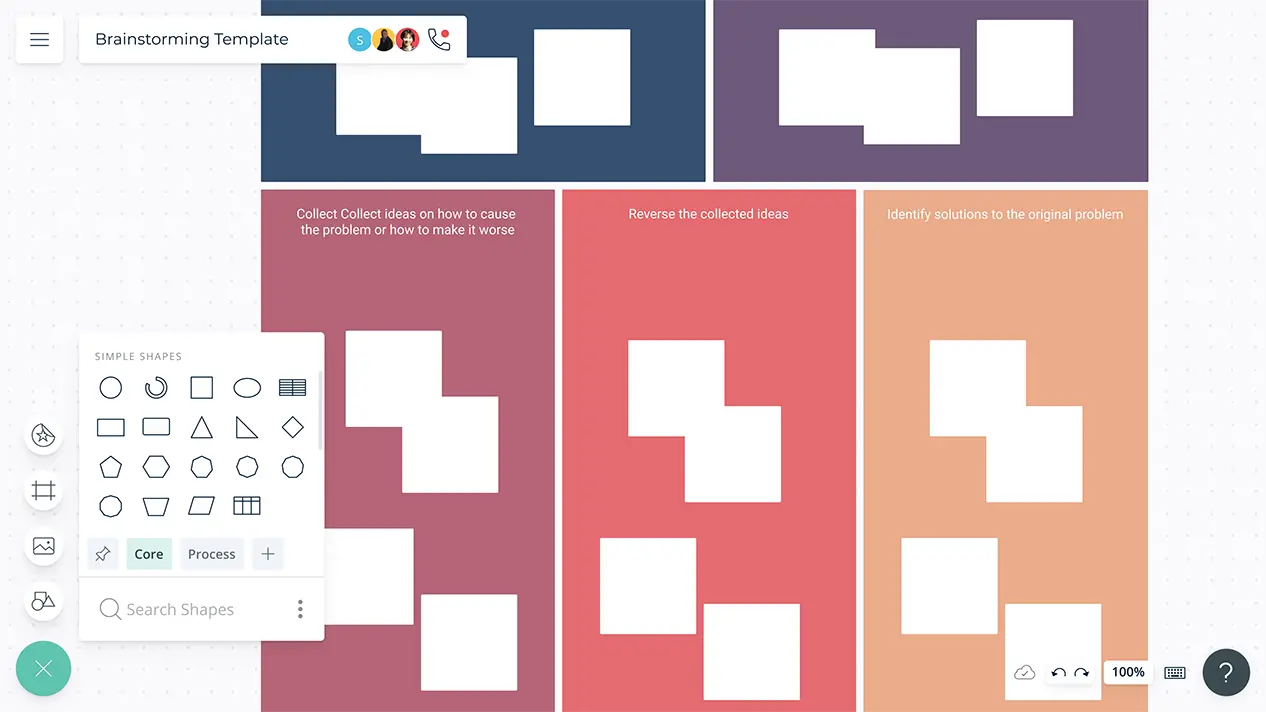 Over 10 Million people and 1000s of teams already use Creately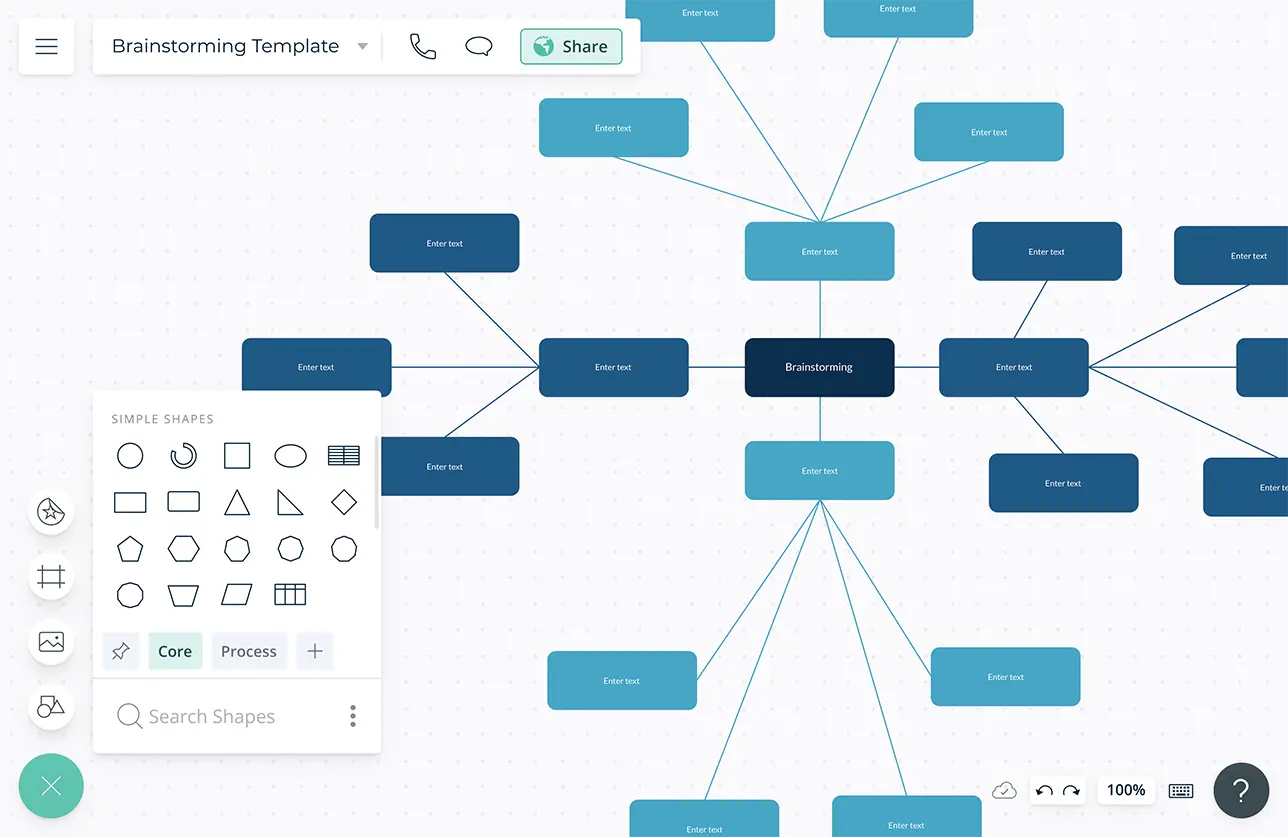 COLLABORATE
Ignite Creativity Across All Brainstormers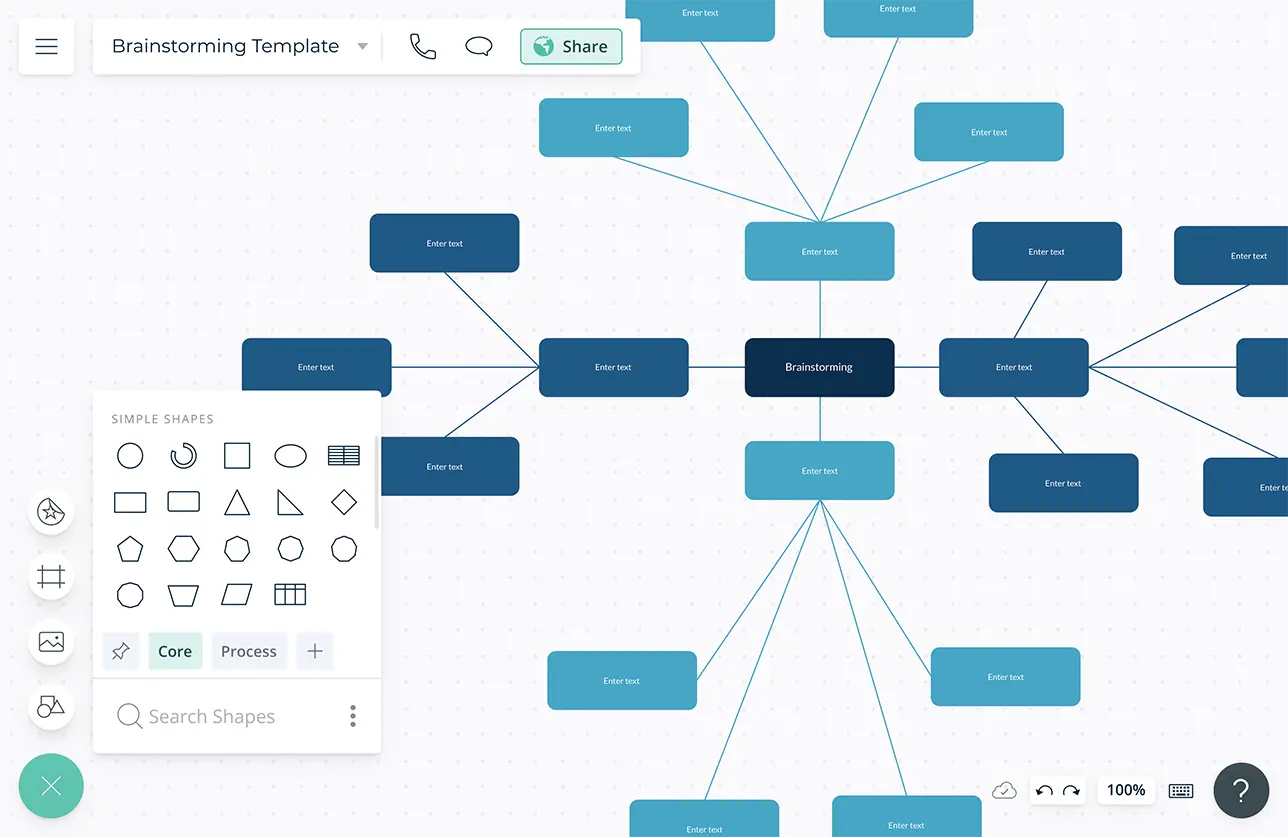 Built-in Video conferencing to connect with your team and brainstorm together from anywhere.
Real-time cursors for any number of participants to collaborate with team members on a shared canvas.
Use @mention comments to direct people to get things done or clarify things and comment threads to have discussions and follow-ups on the same canvas.
Multiple access levels and roles to streamline managing, sharing, editing, and reviewing your ideas, plans, and strategies.
IDEATE
Bring Your Best Ideas to Life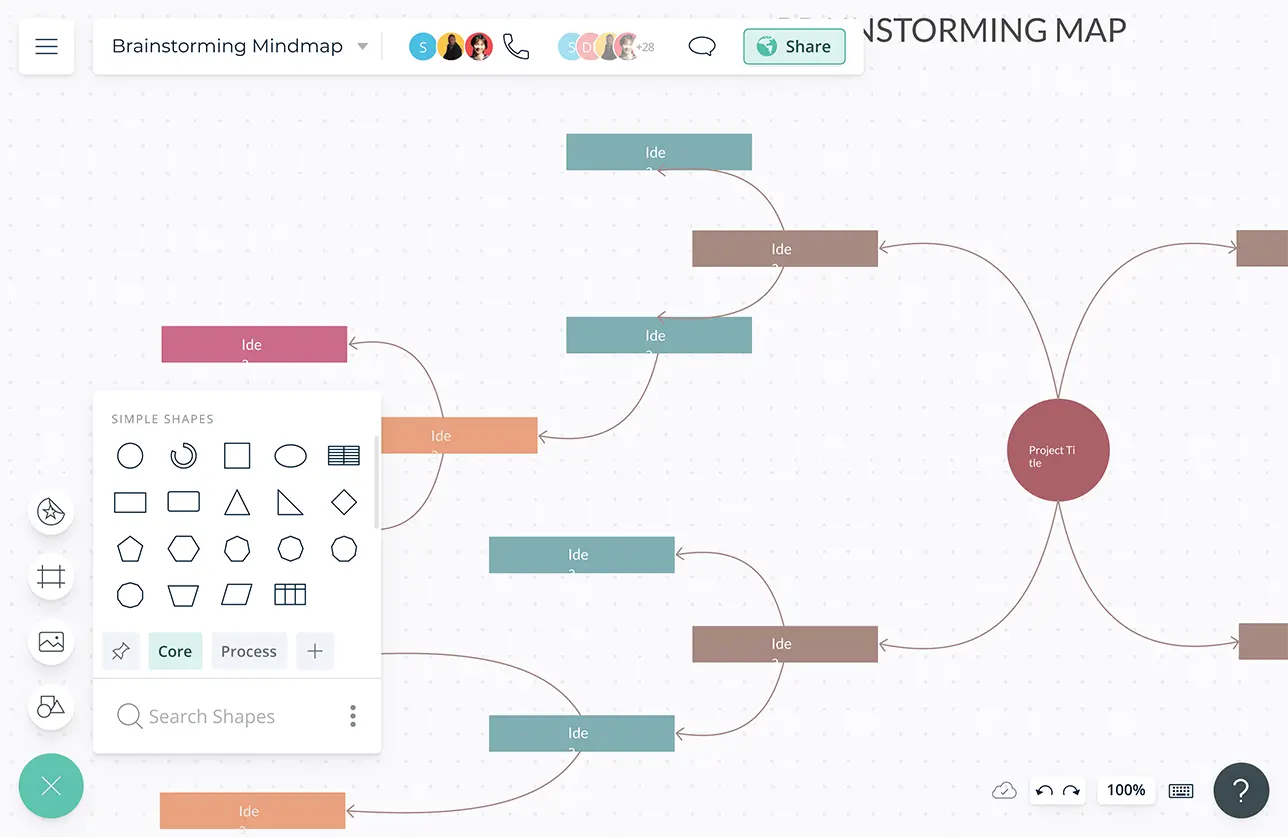 Easy, shareable visual canvas to bring everyone together to brainstorm virtually from anywhere.
Multiple pre-made templates to conduct instant brainstorming sessions; mind maps, affinity maps, fishbone diagrams, SWOT, and more.
Freehand drawing to visualize and build on your ideas, concepts, and strategies without any constraint.
Professional diagramming tools supporting over 50 types of diagrams to brainstorm around ideas and concepts from any industry.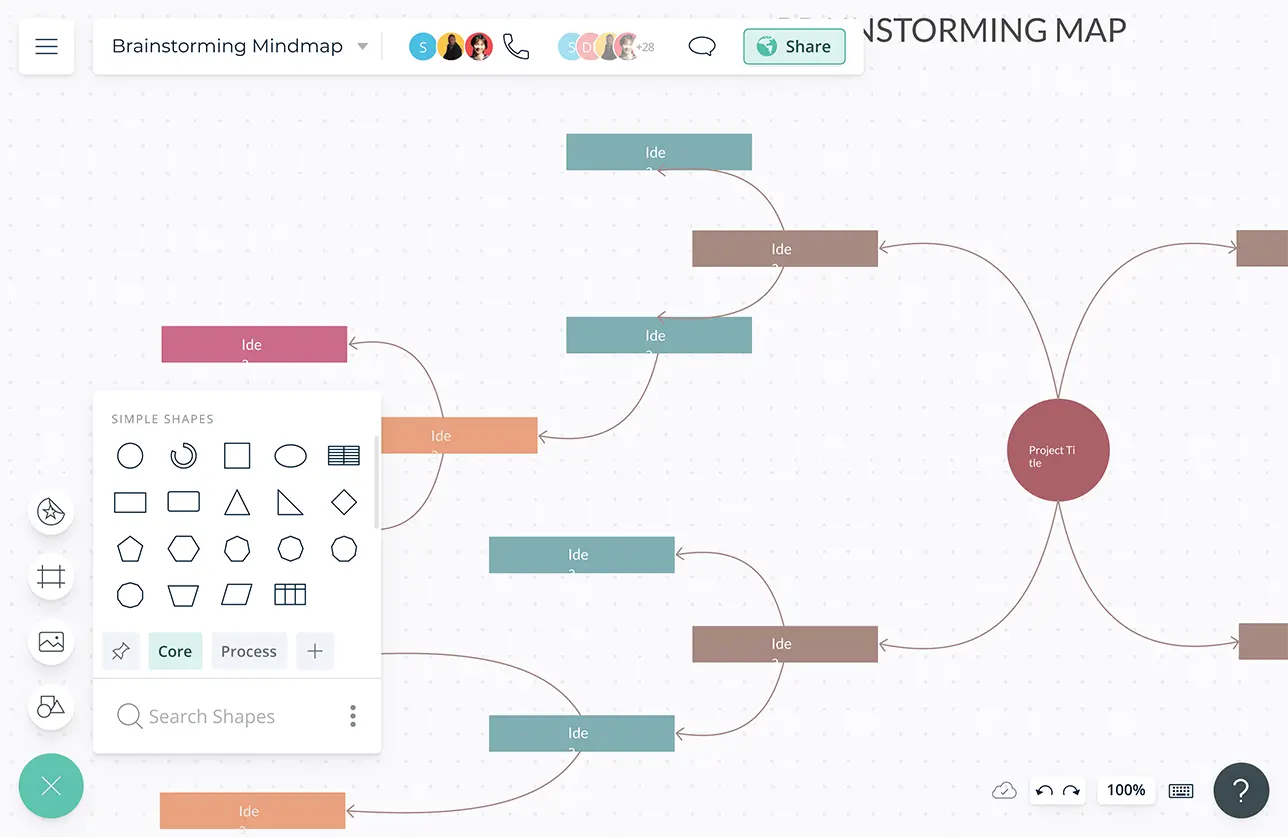 CONNECT & ORGANIZE
Generate Insights Faster
Bring data from any source to visualize on the canvas as meaningful data shapes for easier analysis and decision-making.
Add detailed docs, attachments, links and more via the notes feature on each item to capture details and the big picture in a single space.
A full version history to keep track of changes and roll them back when necessary.
Import images and vectors to the canvas and embed documents with in-app previews to provide more context with external resources.
EXTEND & EXECUTE
Ideation to Execution on the Same Canvas
Built-in tools to quickly organize content and create interactive presentations for clients and stakeholders.
Prioritization grids to visually rank brainstormed ideas for effort and impact, and plan and assign tasks.
Status flags on workspaces to identify versioned documents or reference points.
Generate multi-perspectives of your ideas with model objects; convert lists to mind maps to Kanban boards to workflows.
What Is Brainstorming?
Brainstorming is a process used to generate new ideas to facilitate decision-making or problem-solving. It can be done individually or in groups.
How to Run a Brainstorming Session with Creately?
Gather a team of relevant people who can contribute to solve the problem or make the decision with their experience and skills.
Select a facilitator for the brainstorming session. The moderator should clarify the purpose of the session and explain the problem the team needs to overcome.
Brainstorm ideas or suggestions within a given time limit. The team members can do it individually or as a group. Make use of brainstorming templates and brainstorming charts to capture and develop ideas.
Organize the ideas generated on an affinity diagram. This will help you categorize, organize and summarize all the ideas.
Together with the team, review and discuss the ideas on your affinity diagram. Invite any remote team member to contribute with Creately's real-time collaboration features.
Select the best options out of the generated ideas. You can use a risk/reward analysis to identify which one you should prioritize.
Create an action plan to implement the agreed and prioritized ideas and changes and decisions and decide on a timeline. Once deployed, monitor and measure results.
You can share the created diagrams with the rest of your organization using the Creately Viewer. Or export them as images or PDFs to add to your PowerPoint presentations or Word documents.