Communications Plan Template
Implement Effective Communication Strategies
Plan and promote a communication plan for your brand or business that effectively delivers the message to the target audience.
Multiple templates to build communication plans based on the messaging and strategy
Real-time collaboration to work together with colleagues and stakeholders
Export in multiple formats or share a collaborative link with your team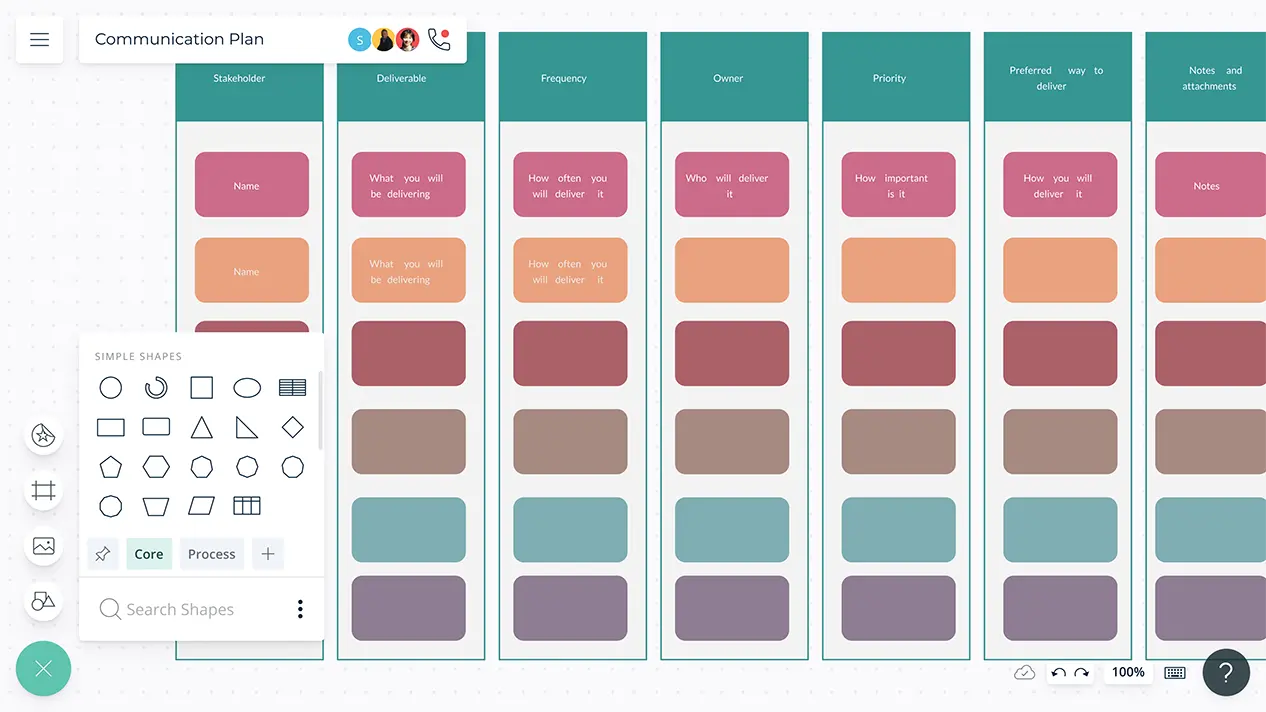 Over 10 Million people and 1000s of teams already use Creately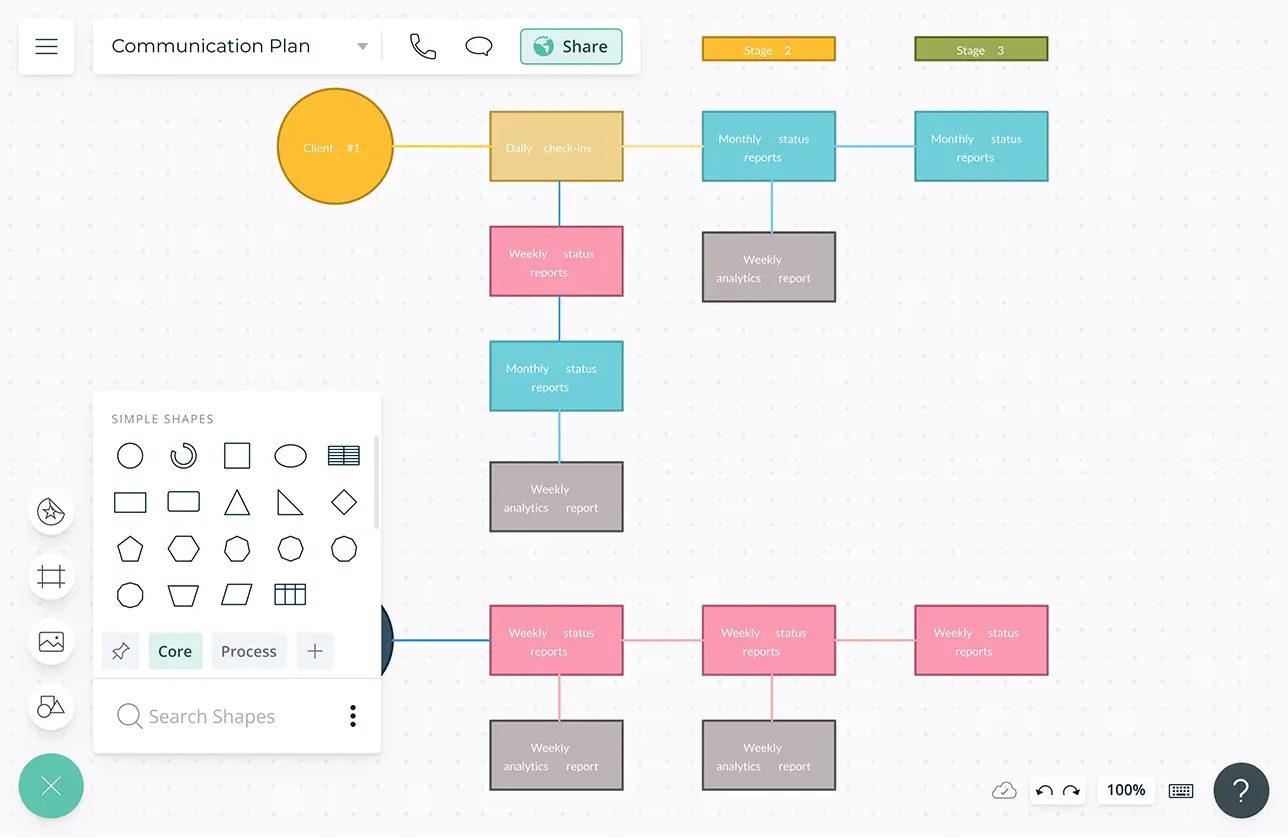 STRATEGIZE & PLAN
Develop Effective Communications Strategies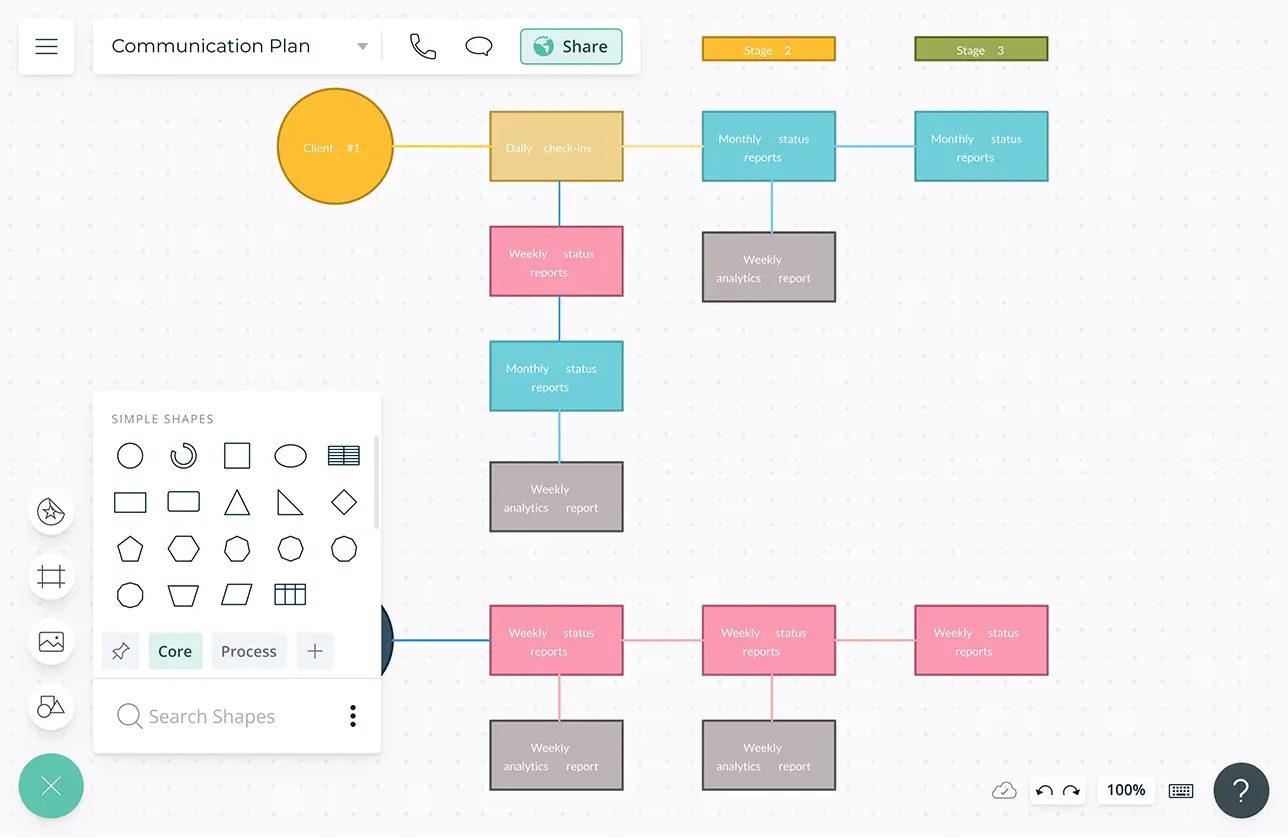 Easy diagramming tools to brainstorm, plan, and strategize your organization's communication strategy.
Pre-made professional templates to develop the communications plan to implement strategies and tactics for multiple purposes.
Import other documents and images onto your workspace to centralize your plans and to create interactive presentations that can be shared instantly.
Customize data fields to create data-rich communication plans.
COLLABORATE
Connect Everyone Together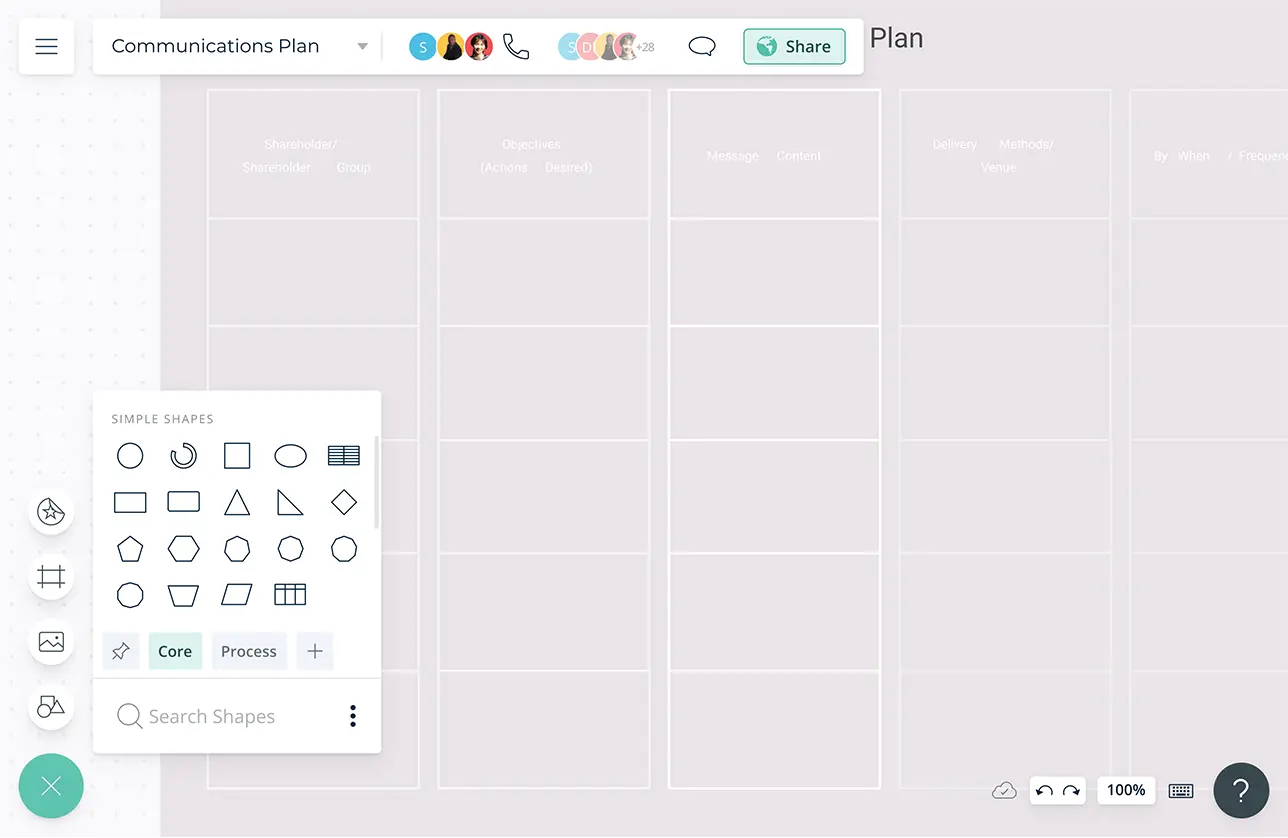 Audio and video conferencing features to feel as if you're in the same room with your team.
Real-time cursors with group editing. Work collaboratively with team members and any number of stakeholders on a shared canvas.
Use @mention comment threads to have discussions and follow-ups on the same canvas and to direct people to get things done.
Multiple access and role levels to share, review, edit, and change strategic communications plans.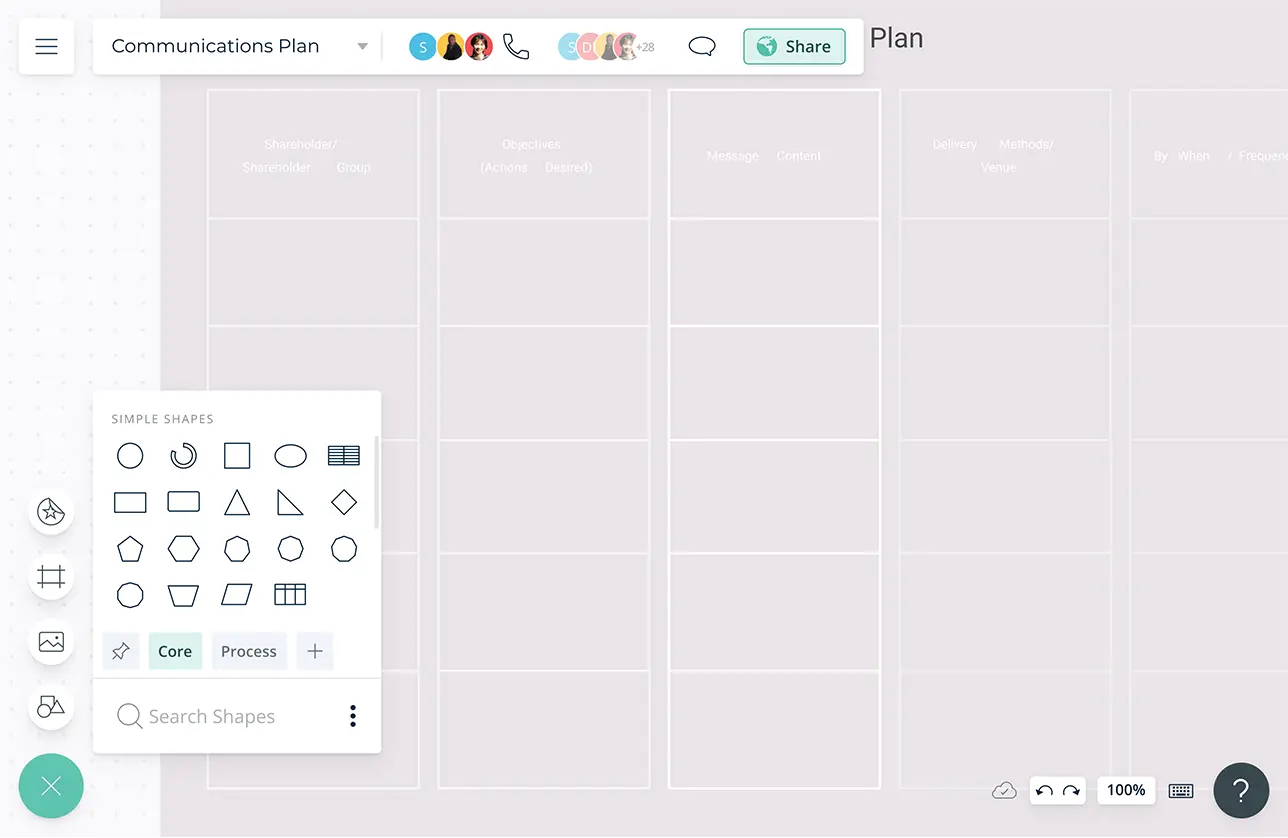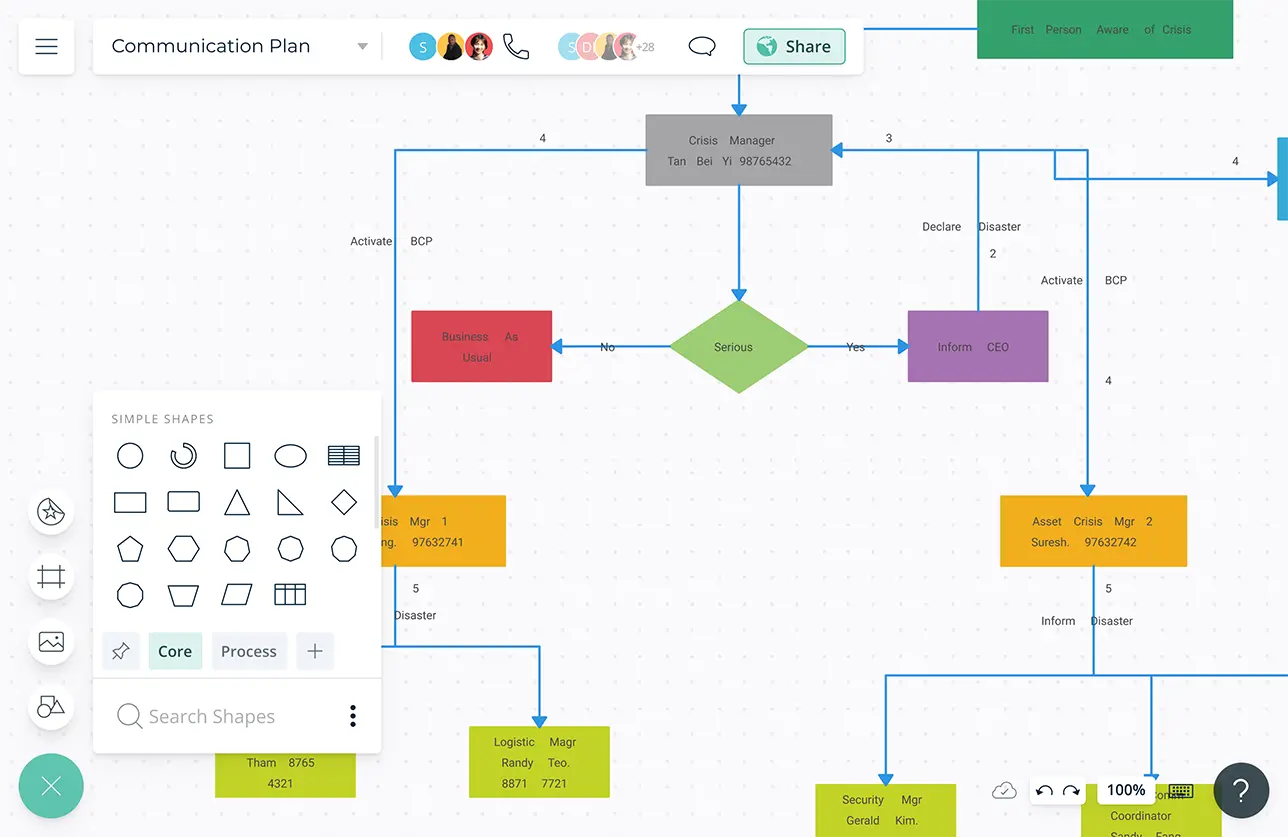 CONNECT & ORGANIZE
Create A Single Source of Truth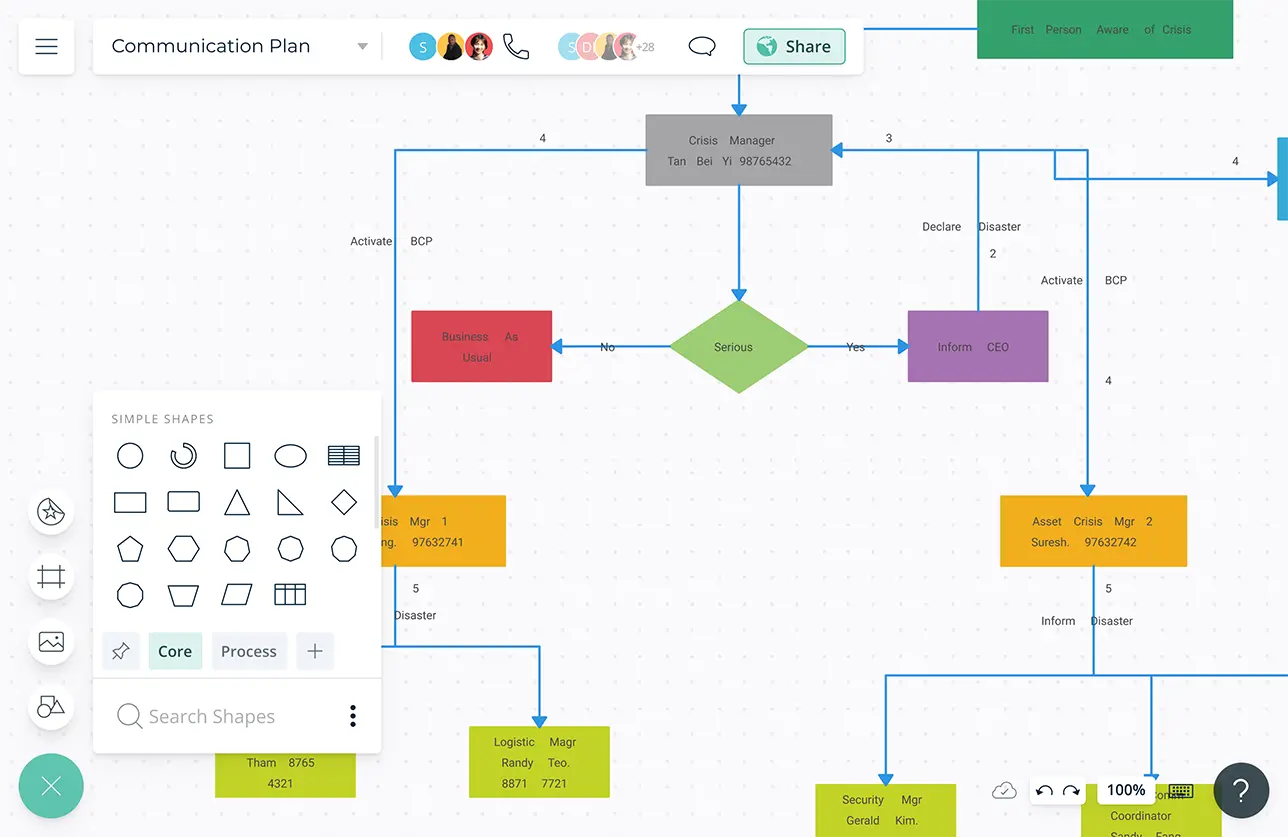 Infinite canvas that scales up to 1000s of items in a single view to create a central repository of communication plans across different departments and timelines.
Add-ons to add the communications plan to Google or Microsoft documents, presentations, and spreadsheets.
Folder structures to organize and filter the communications plans according to your organizational structure and business units.
EXECUTE
Deploy an Effective Communications Strategy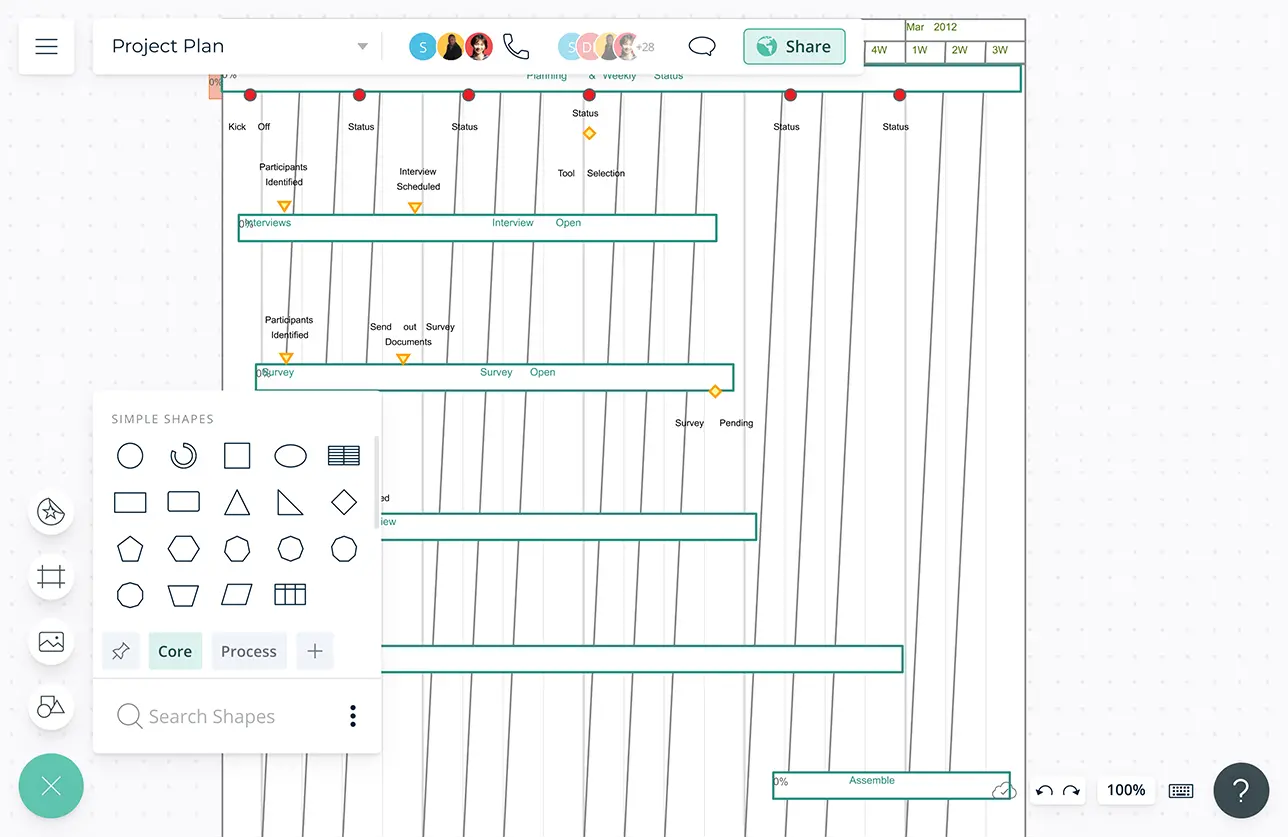 Connect to your favorite tools with Creately plugins for Slack, Google Workspace, Confluence, and more.
Built-in presentation tools to quickly create and present the communications plan to multiple stakeholders.
Use frames inside the infinite canvas to generate page-like layouts to organize your communications plan and easily build a presentation flow.
Export as PNGs, JPEGs, SVGs, or PDFs for printing and publishing or embed them in any site or intranet with a secure link.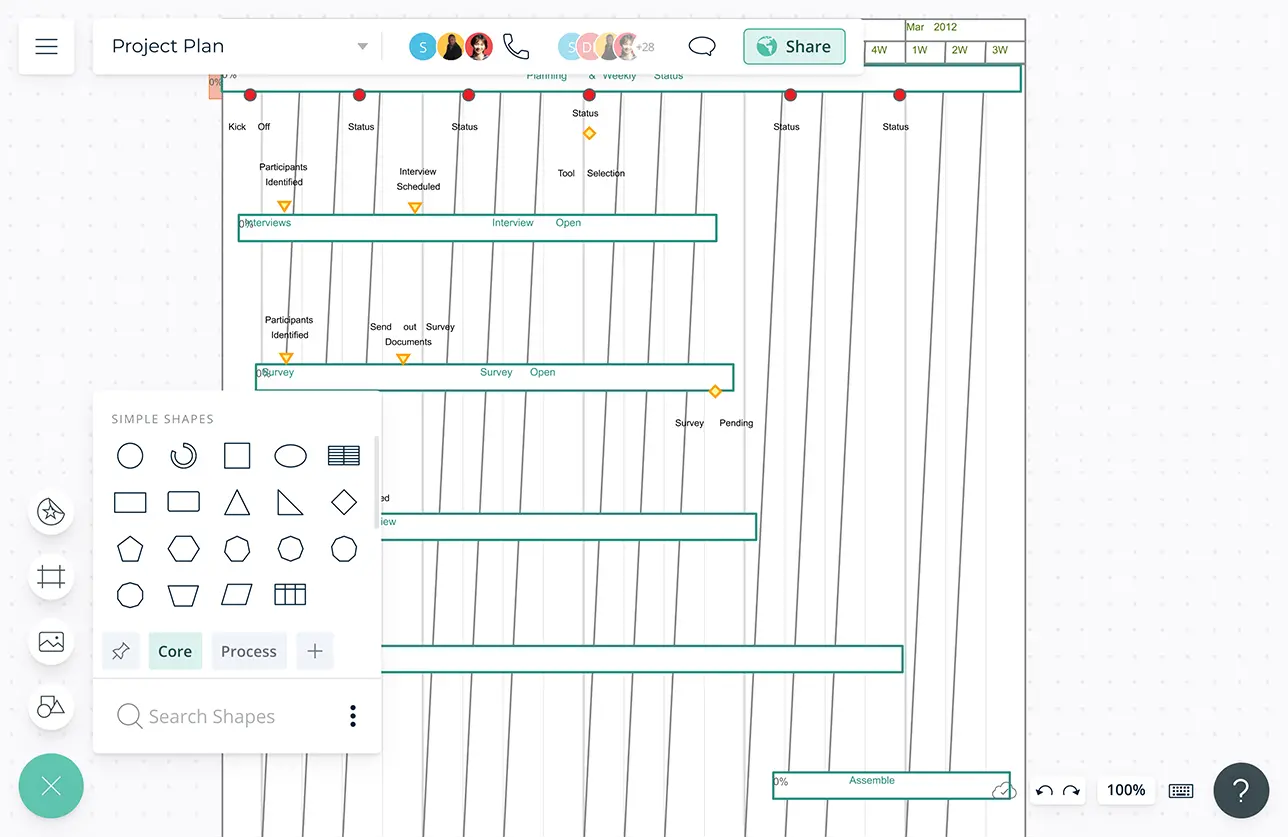 What Is a Communication Plan?
A communications plan is a roadmap that outlines how to deliver your message to your target audience in an effective way. It describes what information will be communicated to which audiences, who will be in charge of the process, and what channels will be used.
How to Create a Communication Plan with Creately?
In order to understand the type of information you want to communicate, you need to identify the goal of your communications strategy. Perhaps you are trying to announce an event, raise awareness in the community, explain about an internal crisis, etc.
The next step is to identify your audience. Who are you delivering this message to? Conduct proper audience research to identify the different audience segments, their characteristics, their needs, the channels they use, etc.
Create your message with the audience profile in mind. Adjust your tone and language according to how you want your audience to react to it.
Once the message is developed, you need to identify the channels you will use to reach out to your audience. Channels could vary from word of mouth to newsletters. Select the ones that will best help you be seen in front of your audience.
Figure out the resources you will need. What's your budget to execute your communications plan effectively? Who will be in charge of implementing it? What materials will you need?
Obstacles or emergencies could arise during the execution of your plan. Which is why it is important to prepare for them beforehand as well. Your communications plan should, therefore, include such possible obstacles and steps you need to take to eliminate them.
Create your communications action plan by putting together all the details you have gathered. This should highlight your goals, timelines, resources, steps you should take, obstacles, and precautionary steps.
Share your communications plan with stakeholders via email or a diagram share link with edit or review access. This will allow them to give you quick feedback with inline comments.