Competitive Analysis Template
Predict the Next Move of Your Competitors
Determine the competitor type, analyze their strengths and weaknesses and implement intelligent strategies to gain competitive advantage and increase market share.
Professional customizable templates to conduct competitive analysis
Whiteboard capabilities to connect and collaborate with the team in real time
Built-in project management tools to turn your strategies into action plans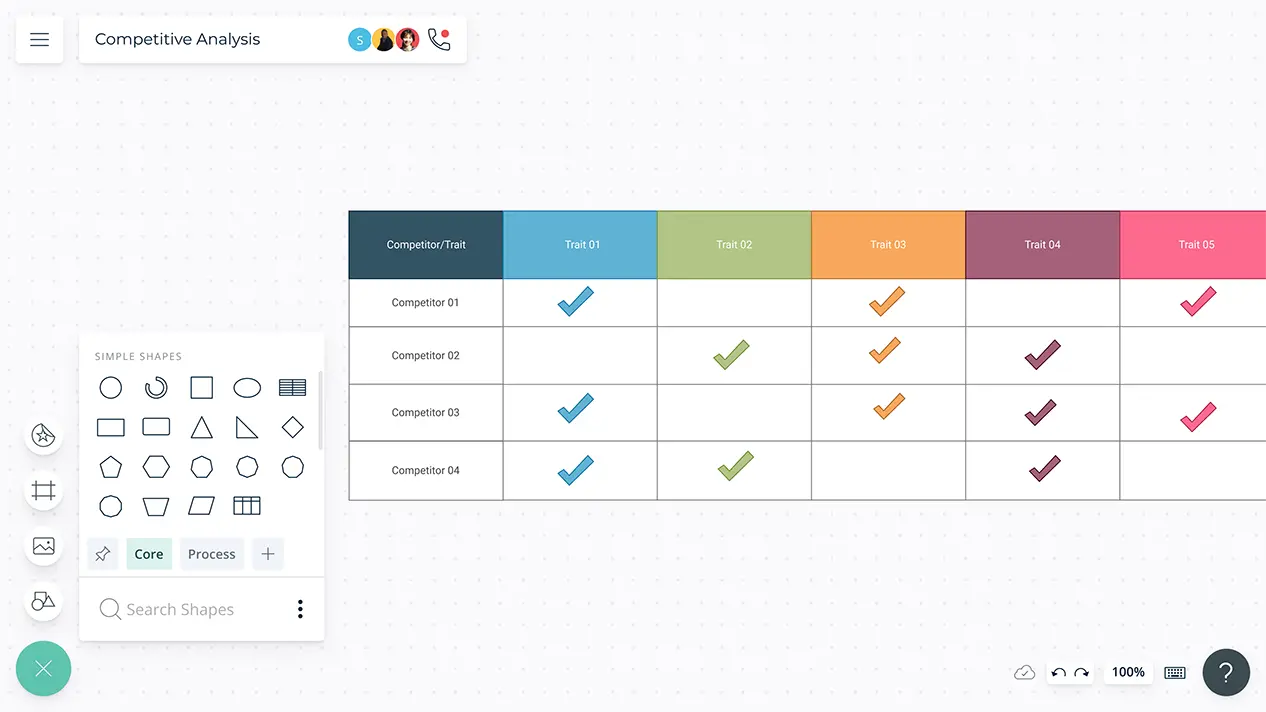 Over 10 Million people and 1000s of teams already use Creately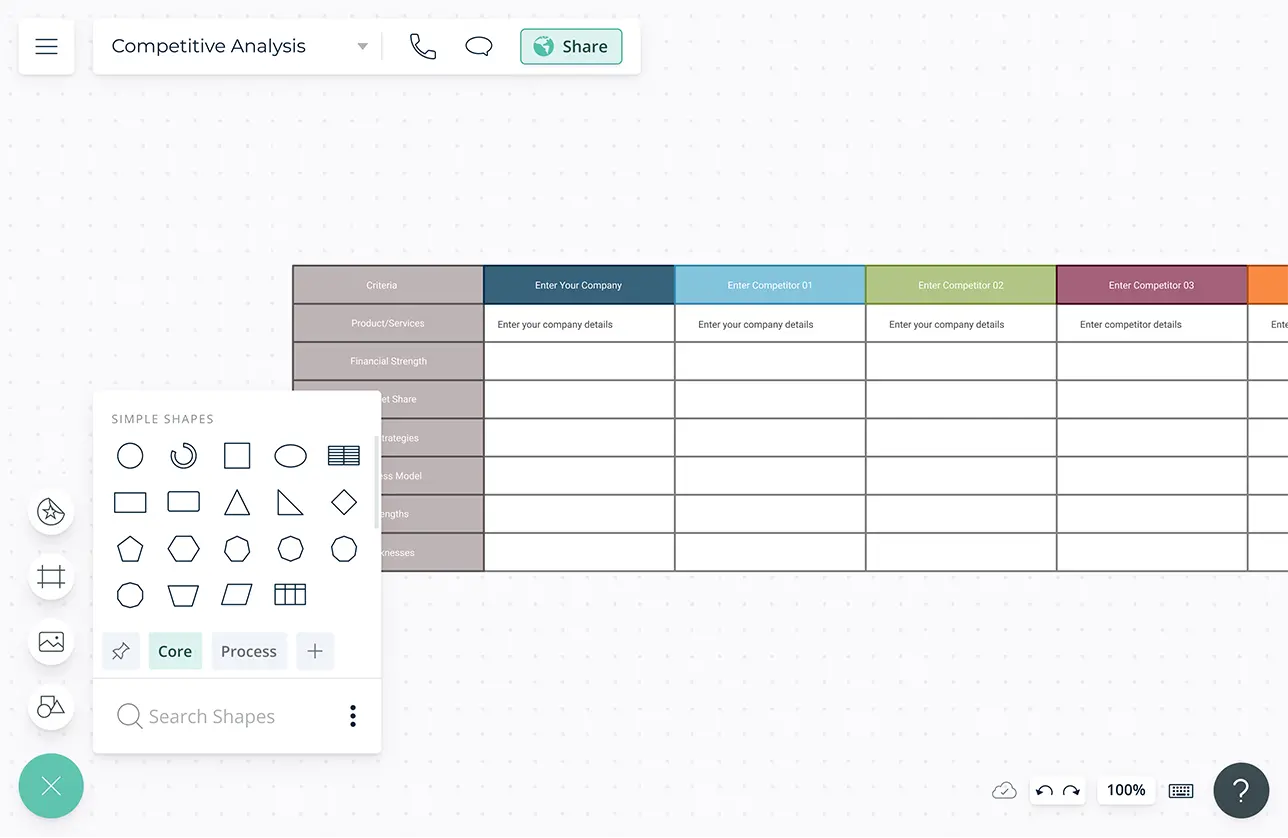 CAPTURE & ORGANIZE
Know Your Competitors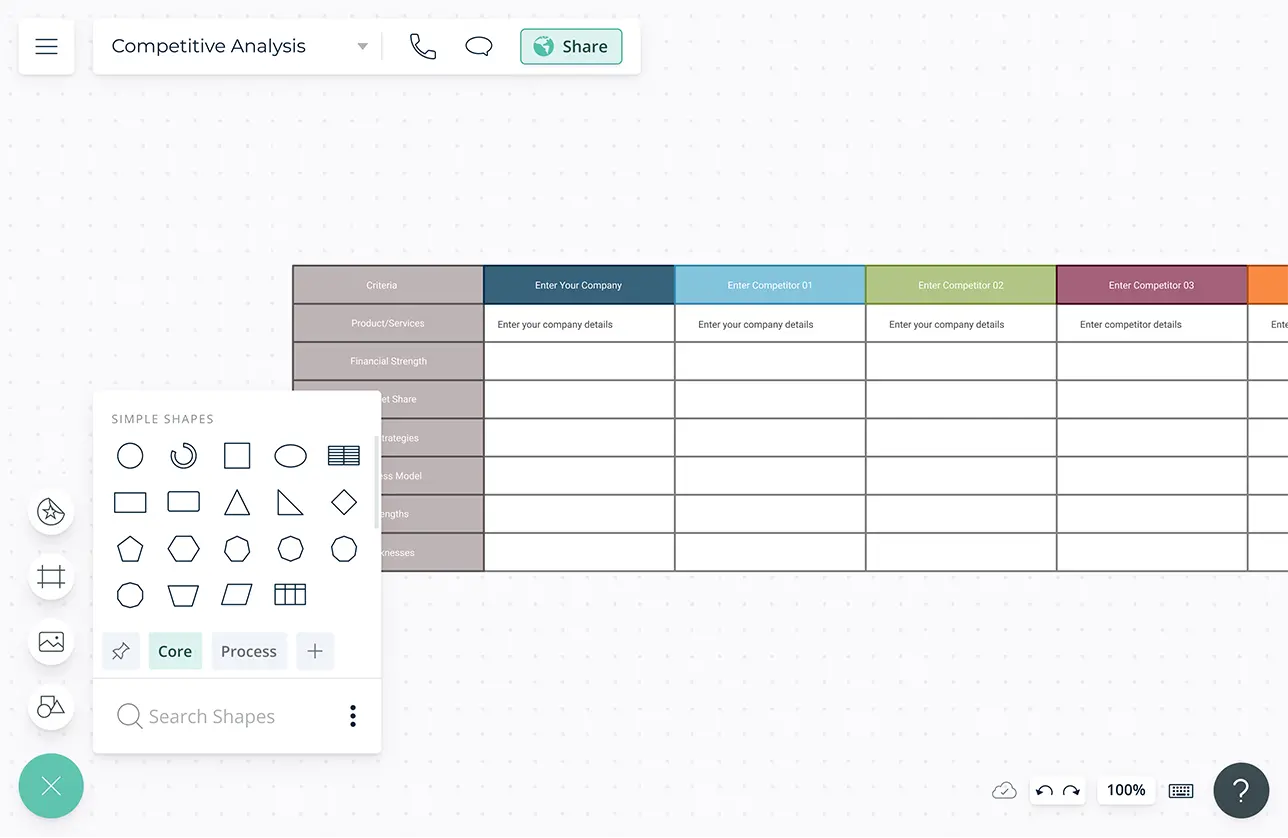 Multiple brainstorming tools such as mind maps, fishbone diagrams, brainwriting templates powered by real-time collaboration capabilities to brainstorm together with your team.
Freehand drawing and note taking to easily note down information as and when the discussion progresses.
Attach images or files to docs and shapes to unify all information relating to competitor research on a single and easily accessible workspace.
Import CSV, Excel or spreadsheet files to create data rich competitor research dashboards.
Workspace level status tracking. Mark workspaces as Draft, In Progress, Final, Archived etc. to maintain workflows and to keep everyone in sync.
VISUALIZE & ANALYZE
Analyze Their Strengths and Weaknesses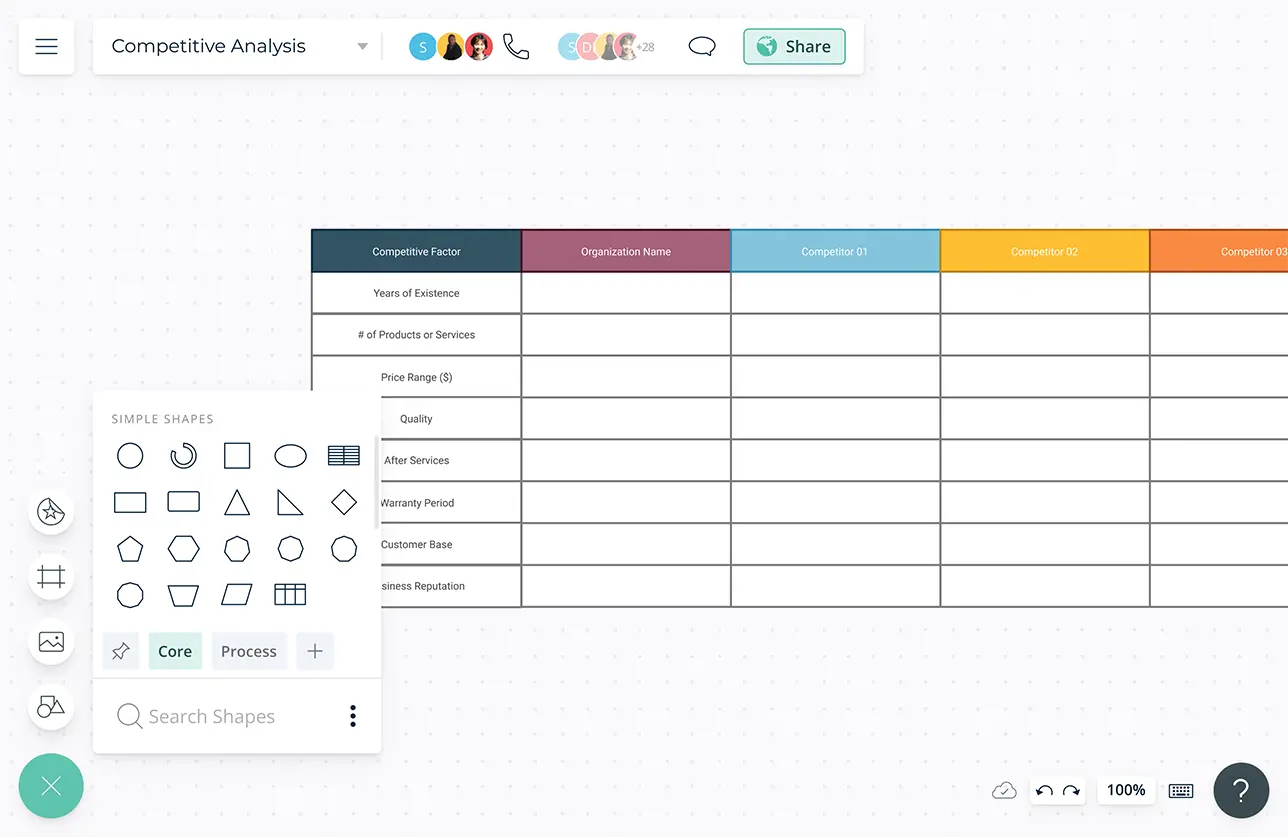 Professionally designed use case specific templates such as SWOT, PEST, Porter's five forces and value proposition canvas to get a head start on competitor analysis.
Import data from multiple sources to visualize on the canvas as meaningful data shapes and connect information together.
Multiple perspectives of the same data with models. Reuse the same core model and create visuals and diagrams to review and explain data from different perspectives.
Context aware shape switching to allow for multiple use cases and behaviors.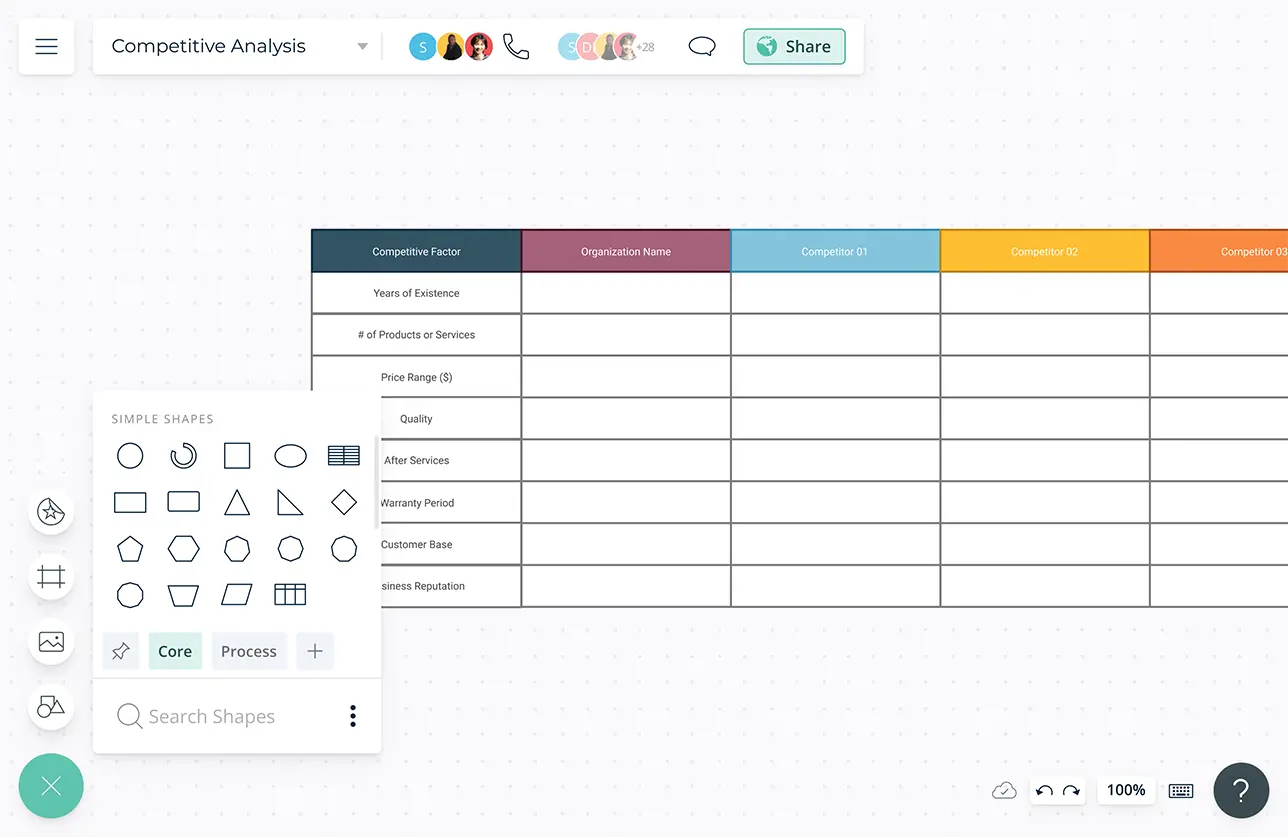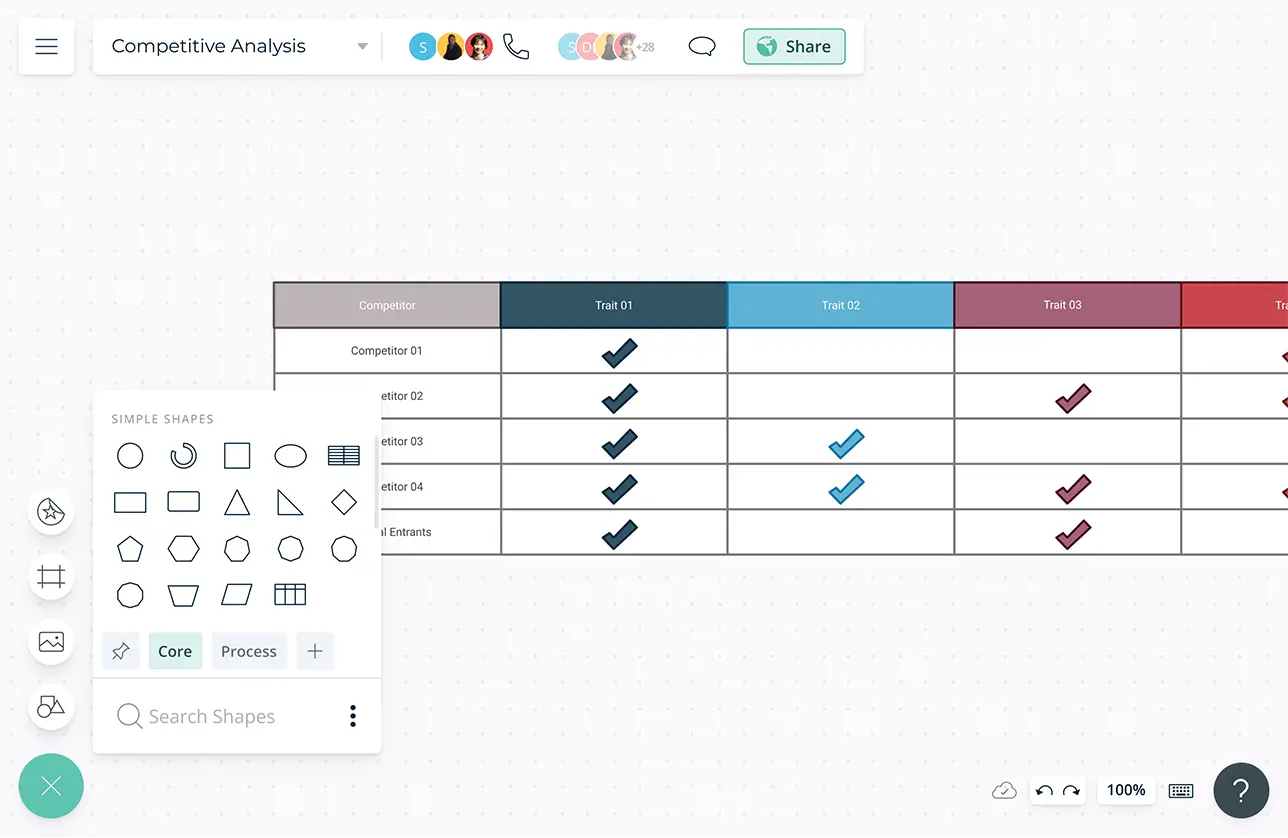 COLLABORATE
Strategize Together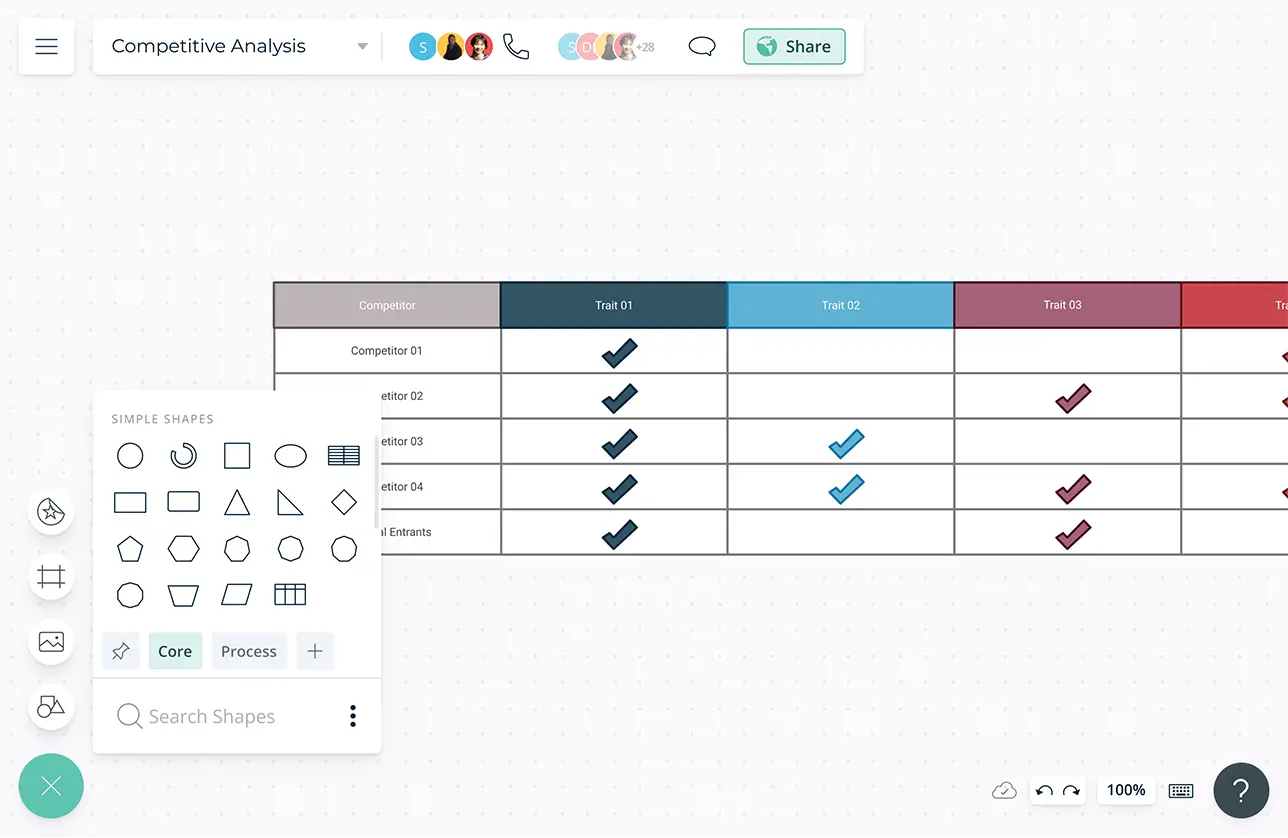 Real-time cursors for any number of participants. Work with teams and clients on a shared canvas.
Video conferencing baked into the platform to smoothly run project brainstorming sessions, sprint planning meetings, project reviews, and retros.
Contextual comments to engage and get input from key stakeholders. Use @mention comments to direct people to get things done or clarify things.
Multiple access and role levels to effectively manage working with external stakeholders and clients on projects.
Smart notifications to stay up to date with the latest project and task updates.
What Is a Competitive Analysis?
A competitive analysis is a research technique that is used to identify direct and indirect competitors of a particular company and analyze their competitor profiles accordingly. This helps a company to create smart strategies to outperform competitors and capture market share. A thorough competitor analysis will also help you to uncover competitor strategies and discover new opportunities and market trends.
How to Conduct a Competitive Analysis?
Firstly, gather market intelligence information and identify your competitors. Use a mind map to categorize them as direct and indirect competitors. You may also use criteria such as market share, scale of operations and market position to further categorize the competitors.
Use a SWOT analysis to identify the strengths and weaknesses of the main competitors and a Porter's five forces analysis to analyze the market. You can use Creately's professional templates for these use cases to get a head start.
Share your workspace via link sharing and invite all relevant team members to add feedback and additional information. Conduct discussions on the same workspace to capture information and get the team to conduct research together.
Once you have completed the competitor analysis, conduct a brainstorming session together with the relevant team members to identify strategies that can be used to outperform them.
You can also share your findings simply by exporting your diagrams in JPEG, PNG, SVG and PDF formats to be presented in reports or presentations; or embed them in any site or intranet.