Idea Board Online
Unleash Your Creativity
Collaborate with colleagues and stakeholders to brainstorm and innovate new ideas on a shared canvas.
Built-in brainstorming tools for bringing out the best ideas
Multiple templates and frameworks for ideation and innovation
Real-time collaboration to seamlessly work together with colleagues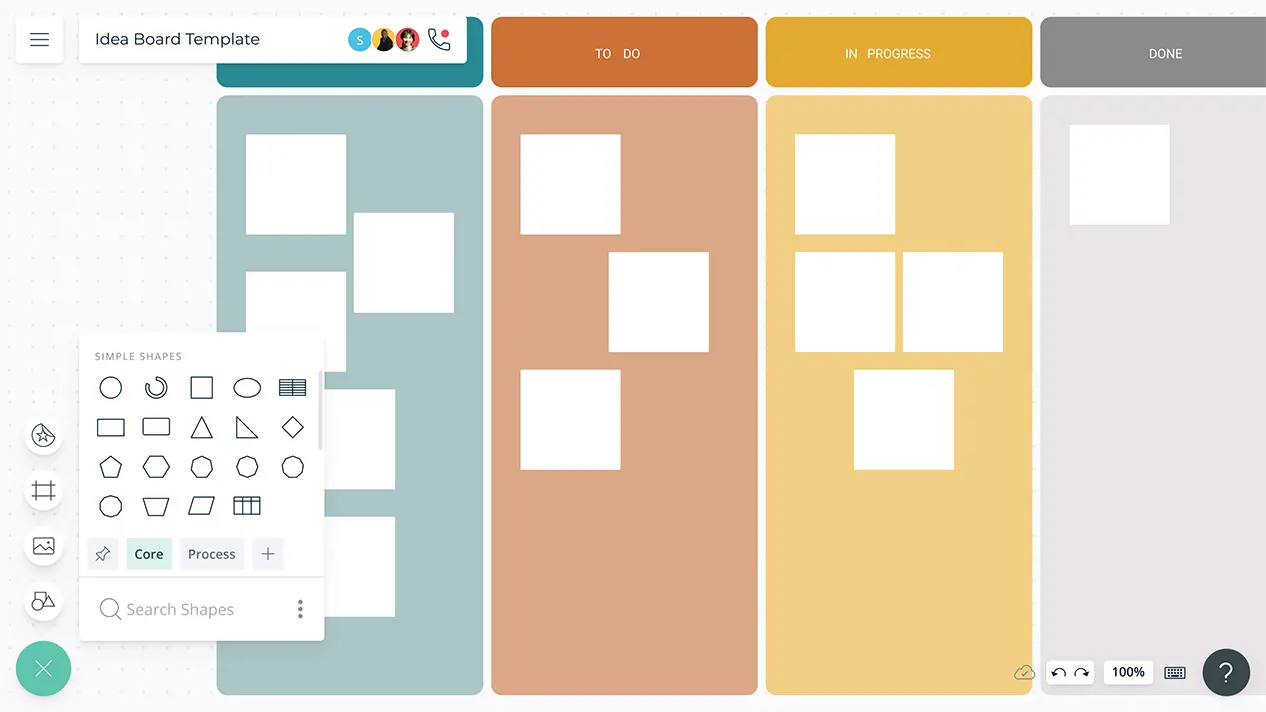 Over 10 Million people and 1000s of teams already use Creately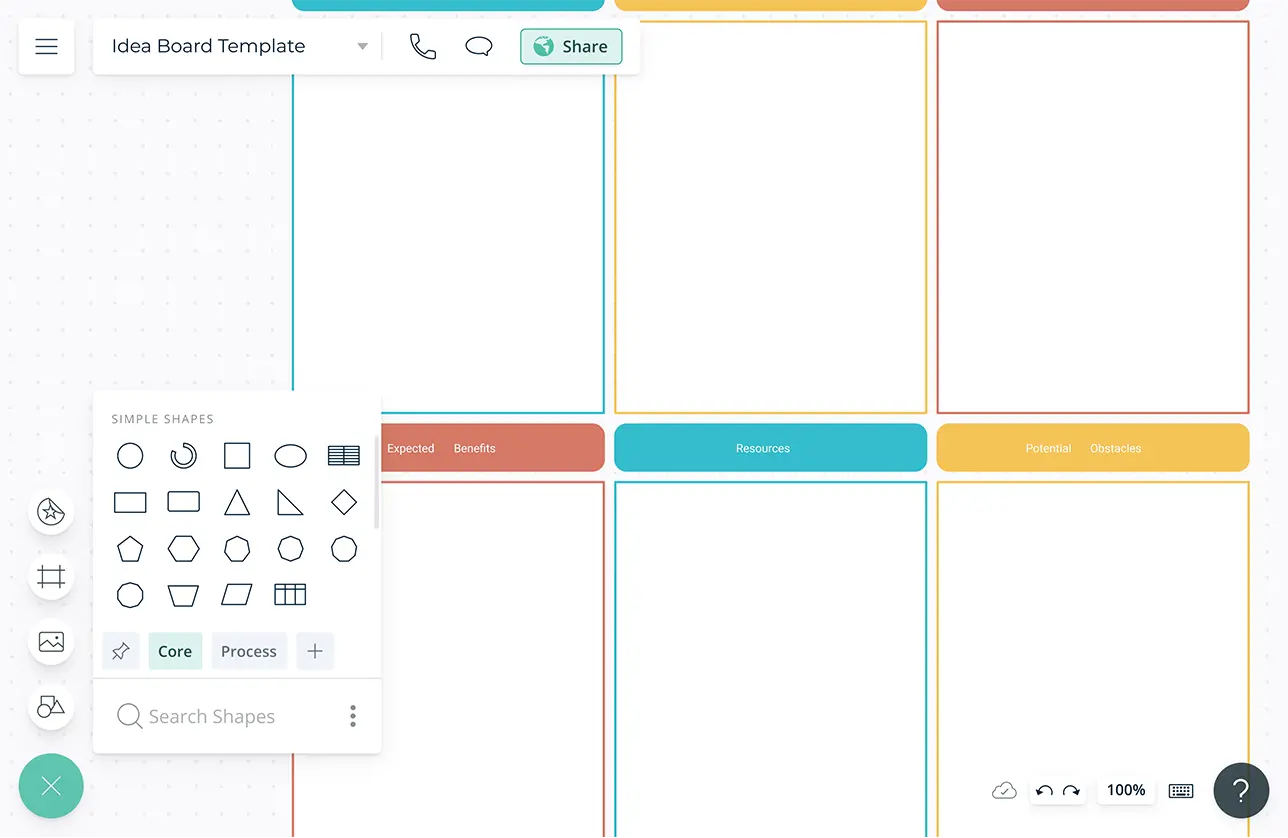 VISUALIZE & IDEATE
Bring Your Best Ideas Out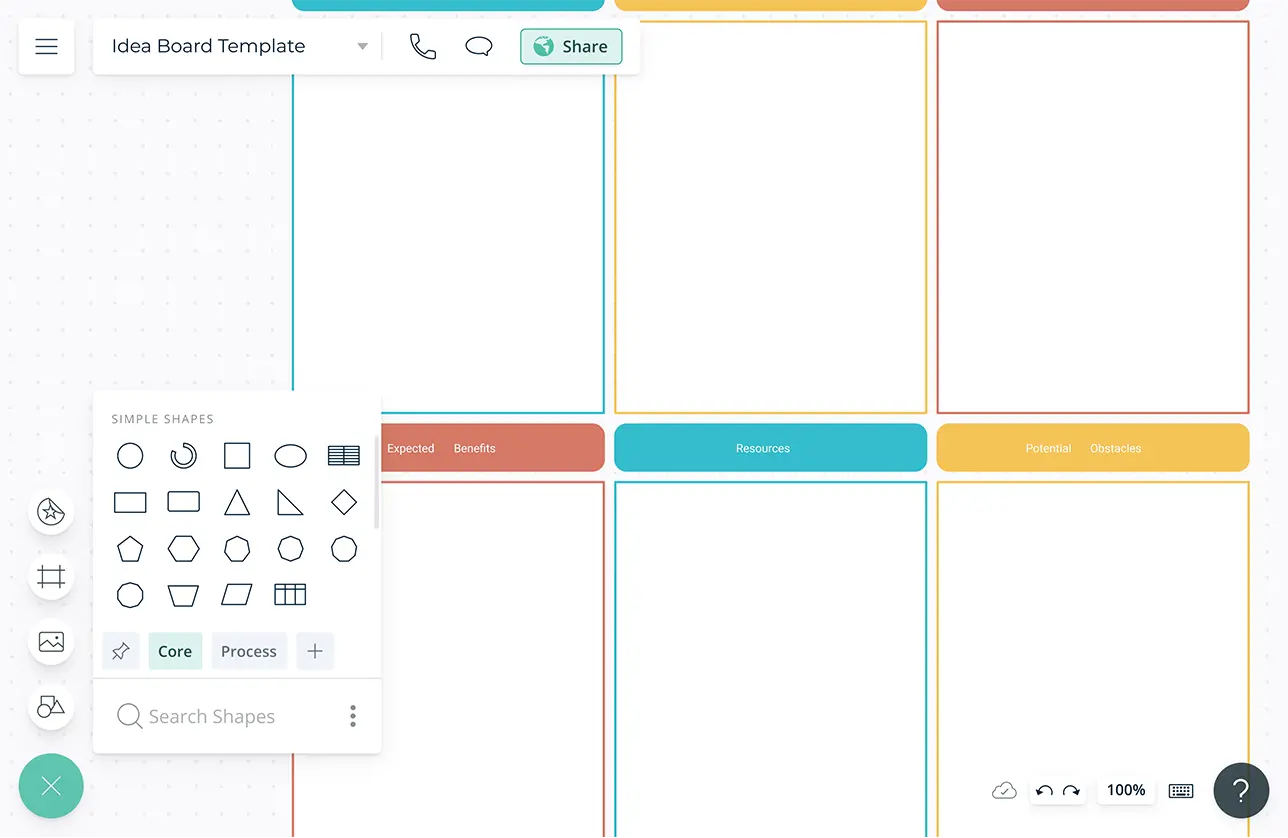 Online whiteboard with built-in ideation tools like mind maps or post-it note walls to facilitate brainstorming sessions online.
Simple drag and drop visual canvas to easily visualize, connect, group, and prioritize ideas.
Multiple pre-made templates to get a quick start; idea boards, mood boards, mind maps, affinity maps, flowcharts, & more.
Smart formatting and preset color themes to highlight or color-code information on the canvas to easily differentiate between and identify optimal solutions.
Freehand drawing to visualize and build on your ideas, concepts, and plans without any constraint.
ORGANIZE & ANALYZE
Make Insightful Connections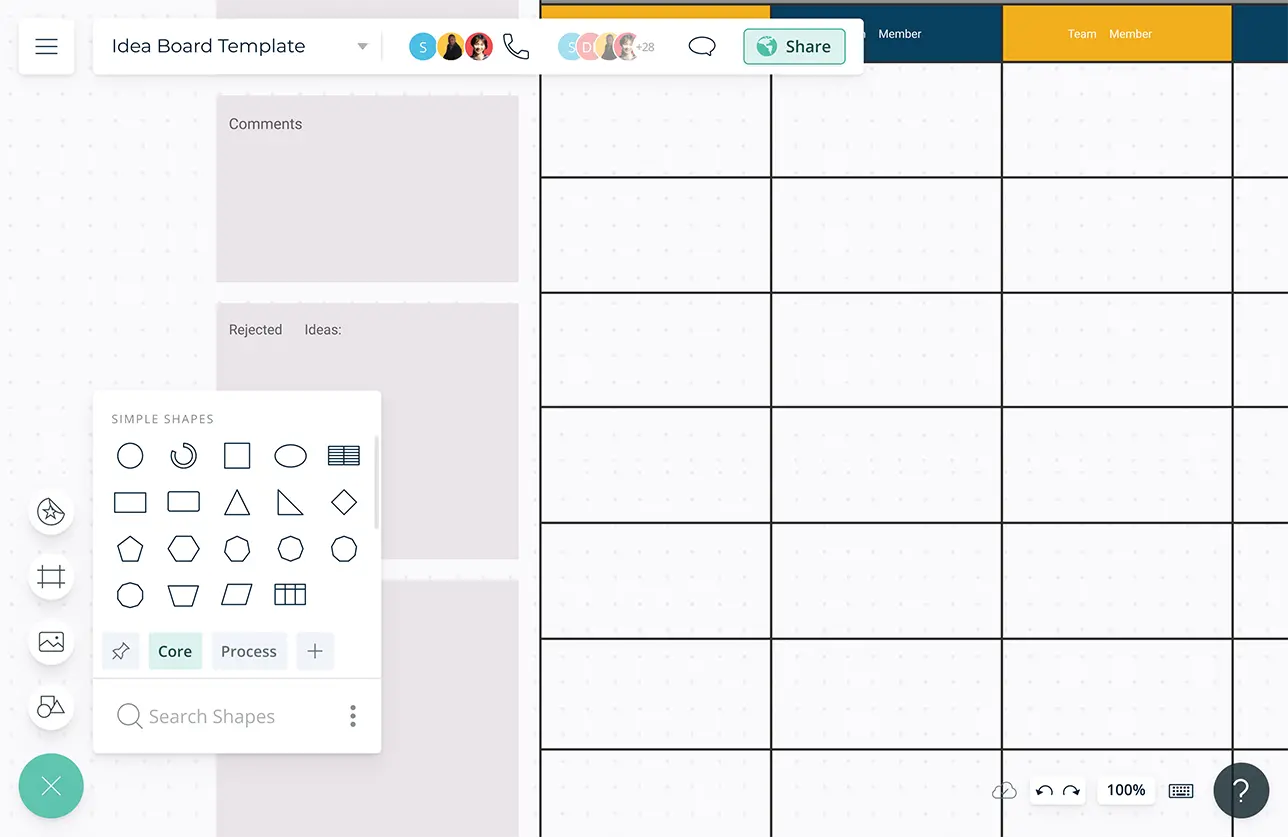 Infinite canvas, scaling up to 1000s of items in a single view to store, categorize, and manage the idea pool as it grows.
Import videos, photos, documents, screenshots, or anything onto the canvas to spark your imagination or consolidate your ideas.
Add detailed docs, attachments, links and more via the notes feature on each idea to capture additional details for future reference.
A full version history to keep track of changes and roll them back when necessary.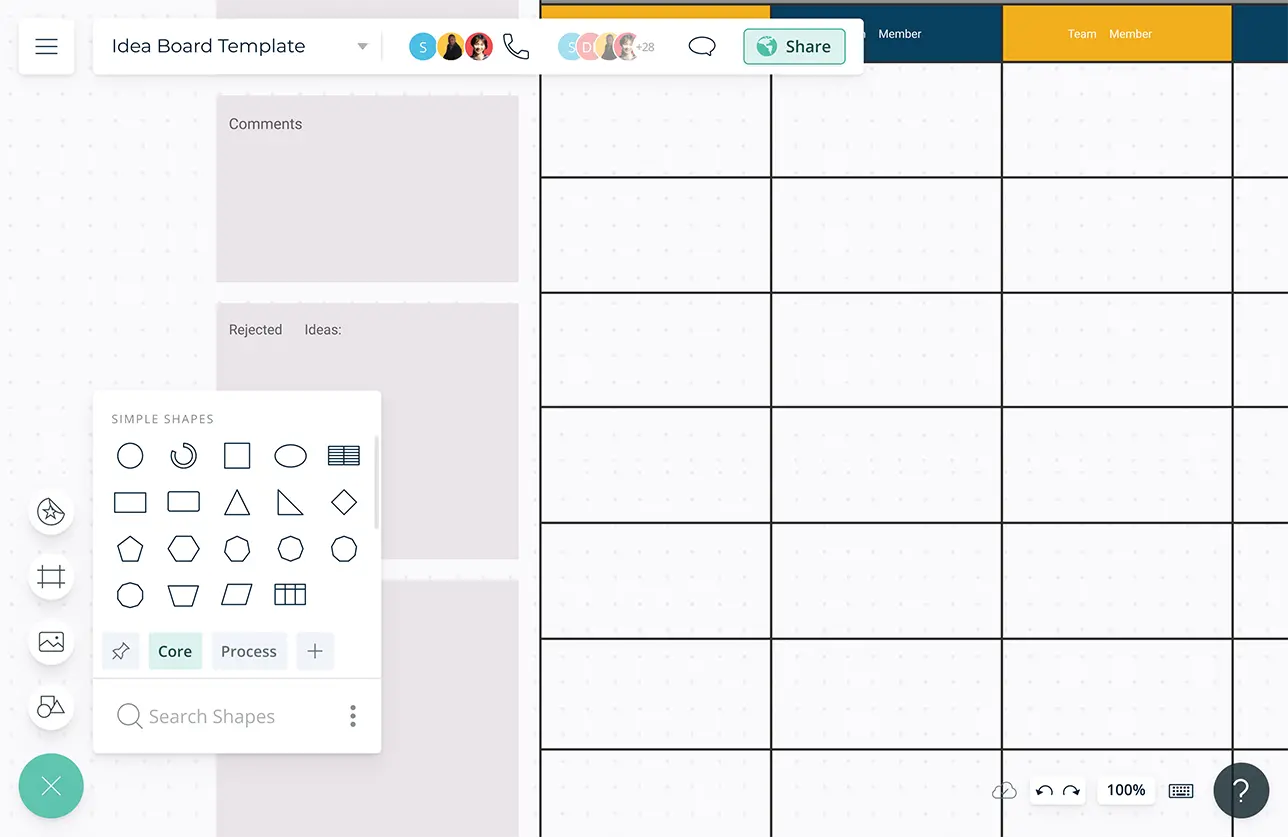 COLLABORATE
Collaborate with Your Team, Anytime, Anywhere
Built-in Video conferencing to connect with your team and brainstorm together from anywhere.
Real-time cursors for any number of participants. to Collaborate with team members on a shared canvas.
Use @mention comments to direct people to get things done or clarify things and comment threads to have discussions and follow-ups on the same canvas.
Multiple access levels and roles to streamline managing, sharing, editing, and reviewing your ideas, action plans, and strategies.
EXTEND & EXECUTE
Ideation to Execution on the Same Space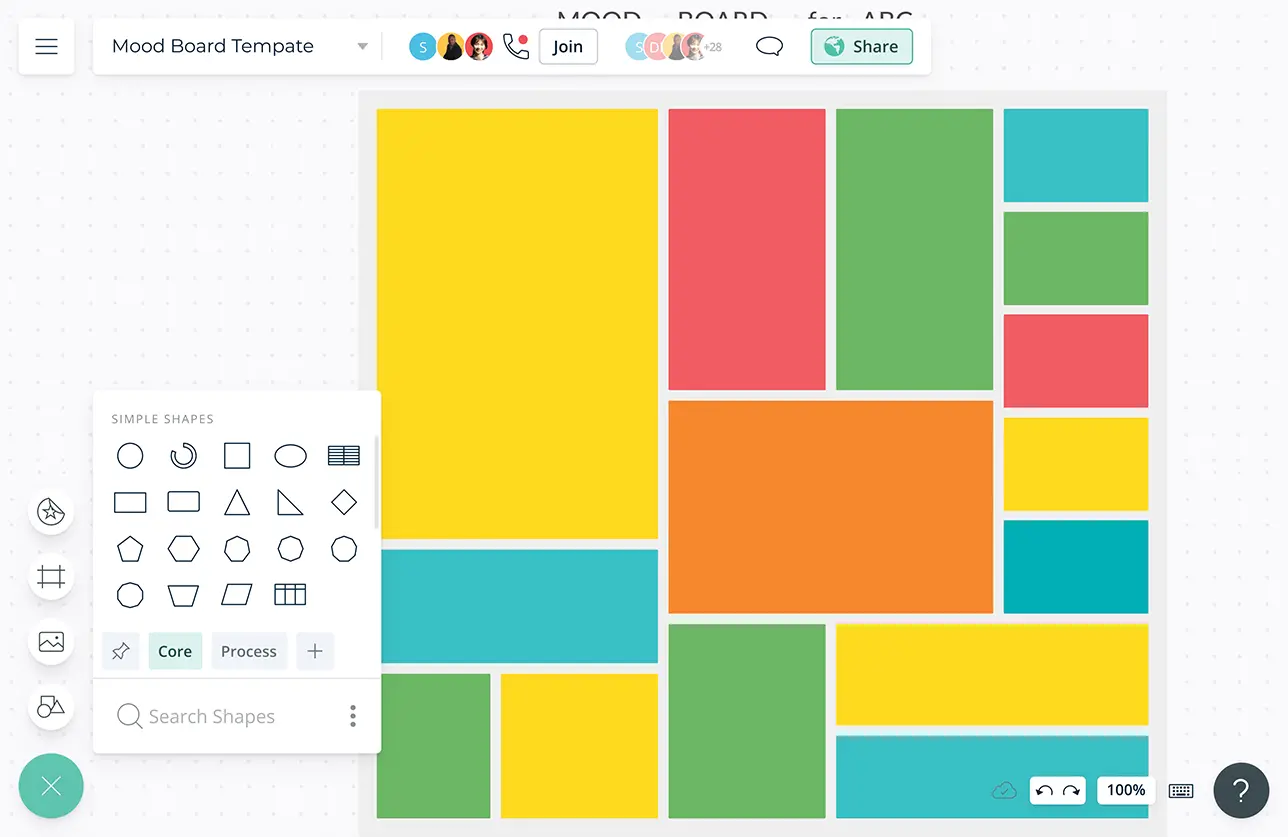 Built-in tools to quickly organize your ideas and plans and create interactive presentations for clients and stakeholders.
Prioritization grids to visually rank ideas for optimal effort and impact and Kanban boards to track work progress across teams.
Multiple app integrations to help you import and export data across teams on different platforms.
Generate different perspectives of your ideas with model objects; convert them into Kanban boards, roadmaps, workflows, and more.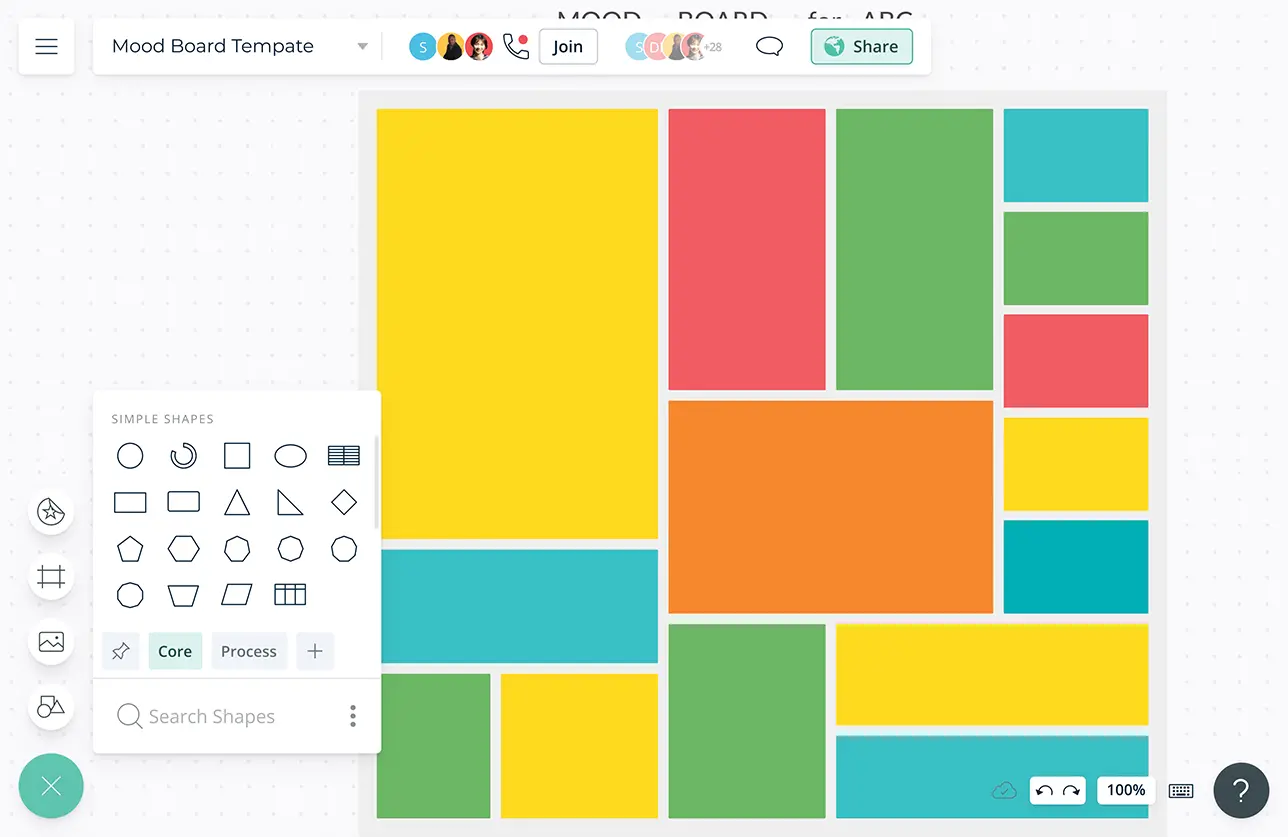 What Is an Idea Board?
The idea board is a tool that makes collating the ideas of a group much simpler. The idea board helps collect and organize ideas in a visually pleasing way that is easier to refer to and understand. Anything - images, quotes, numbers, sticky notes, etc. - can go on the board to clarify the idea. Although in the past many relied on a whiteboard or a conference room wall to create their idea board, now they are turning to online tools like Creately with an infinite canvas to make the process seamless.
How to Create an Idea Board?
When you are sending out that calendar invites to the selected team members for the meeting, ensure that they are notified of the goal of the meeting. This way they can prepare for it ahead of time.
Once everyone is settled down in the meeting room, open Creately and create a document. You can name it and share it by adding everyone's email addresses. Now everyone in the room - including those working remotely - can access the canvas from their own devices. Or you can assign a facilitator who will take down everyone's ideas and add them to the canvas.
Don't restrict your idea board to just text and stats. It'll be easier to understand if you add images as well to explain what's on your mind. You can simply import images, clipart, etc. from your own devices into Creately. Or you can use the built-in Google image search to quickly find images from the web.
At first welcome ideas from everyone without rejecting any as bad ideas. If you keep rejecting more ideas than accepting them, it'll discourage your team, which in turn will make them unproductive during the process.
Later, during the analysis phase, when you are categorizing and prioritizing ideas, you can decide what to do with the suggestions that don't immediately make sense to go ahead with.
You can separate the bad ideas by removing them from the idea board, or by creating a backlog and adding them there so you can refer to them later.
Once everything is neatly organized, you can share your idea board with the rest of the people in your organization and even outside stakeholders with edit or review access. Easily capture their suggestions with inline comments.