Lean Canvas Template
Establish and Communicate Business Ideas
Visual framework to replace long, boring business plans and create effective business models.
Customizable lean canvas template to build a business plan
Real-time collaboration to have discussions with key stakeholders and set organizational direction
Multiple export options to present business ideas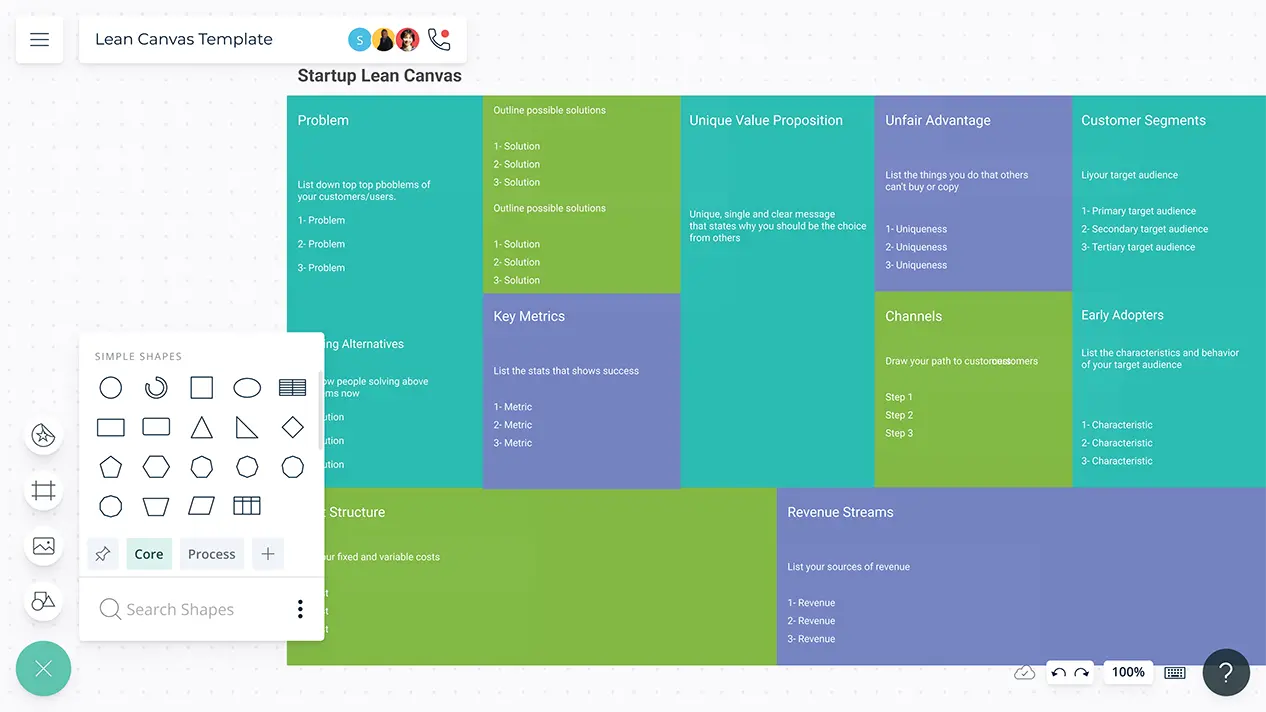 Over 10 Million people and 1000s of teams already use Creately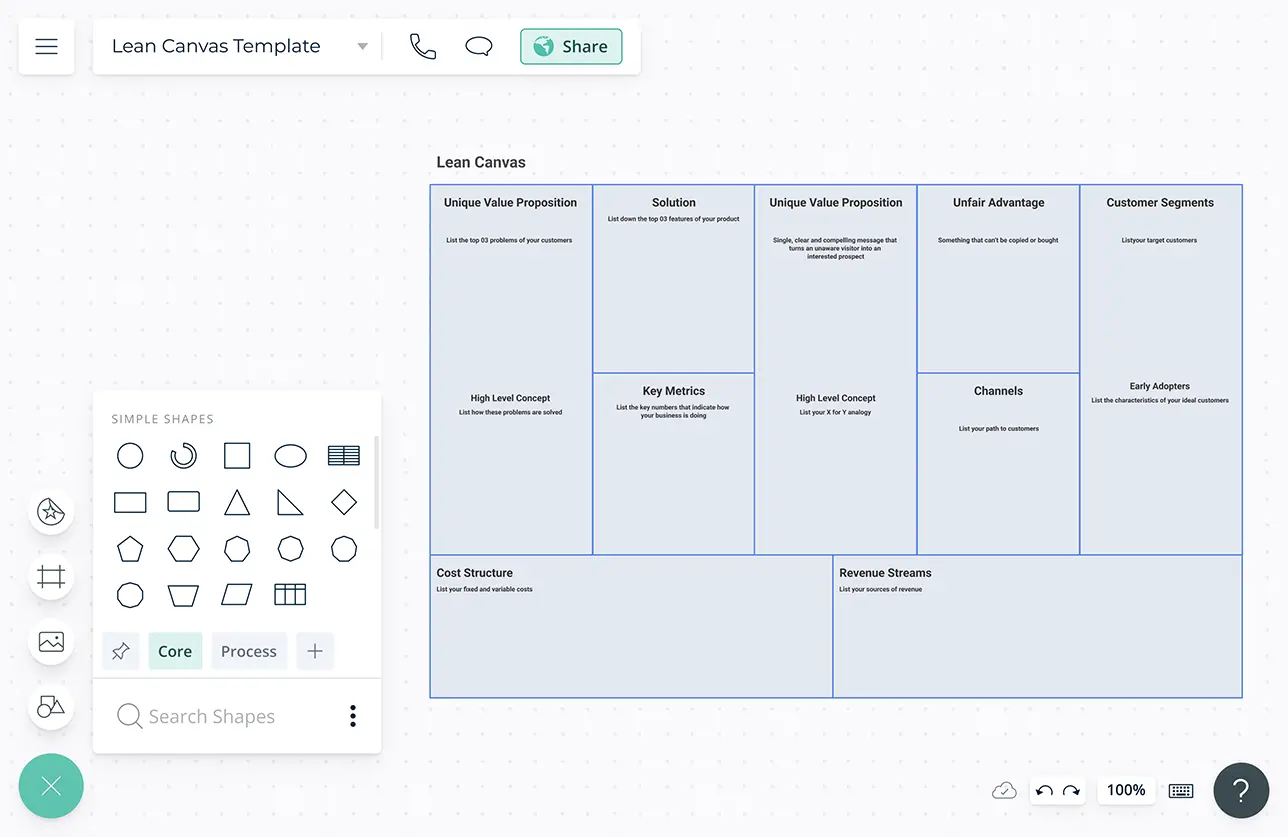 VISUALIZE
Create Actionable, Entrepreneur-Focused Plans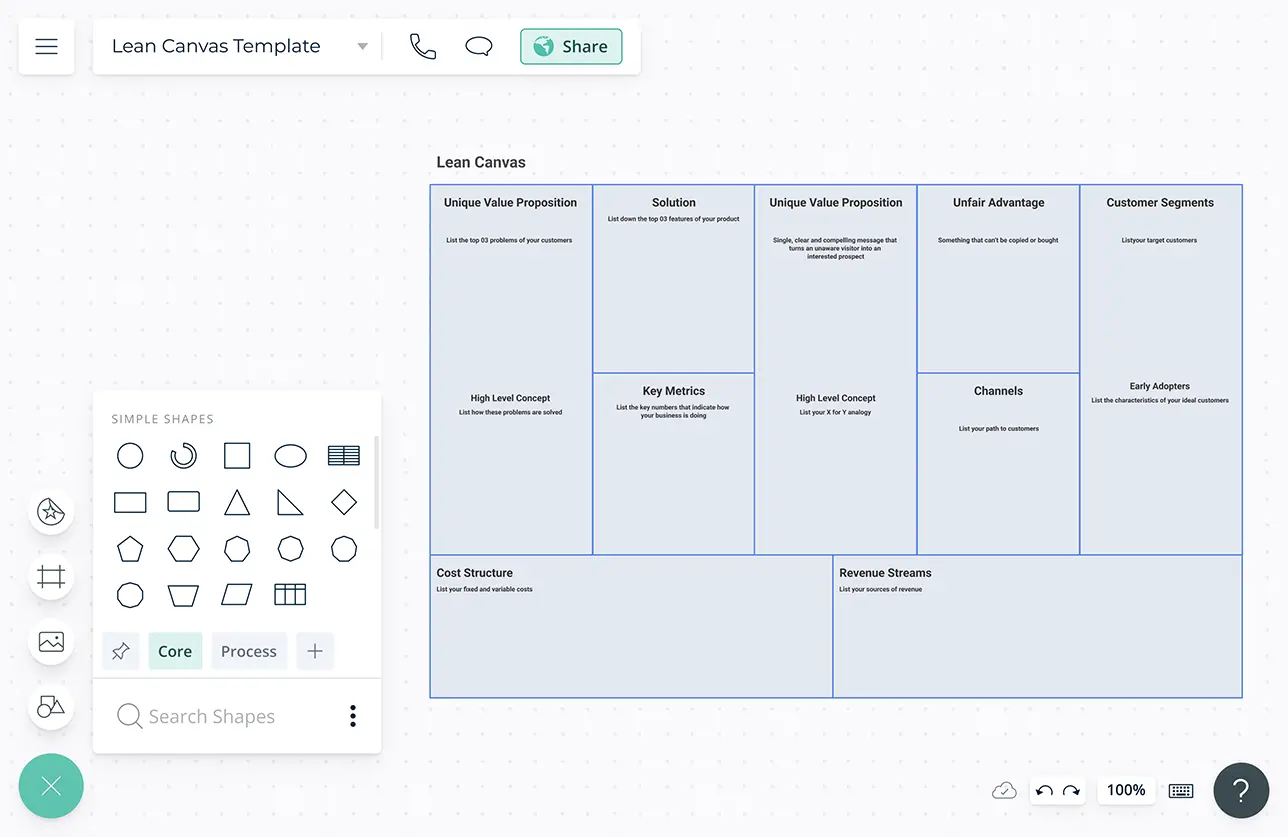 Infinite canvas to establish a detailed lean canvas and develop a concise and actionable business plan.
Sticky notes to effortlessly address each section of the lean canvas, add inputs as you go, and source various opinions in one place.
Drag and drop functionality to easily complete your lean canvas.
Freehand drawing and highlights to quickly make notes on possible areas of improvement.
COLLABORATION
Create a Shared Understanding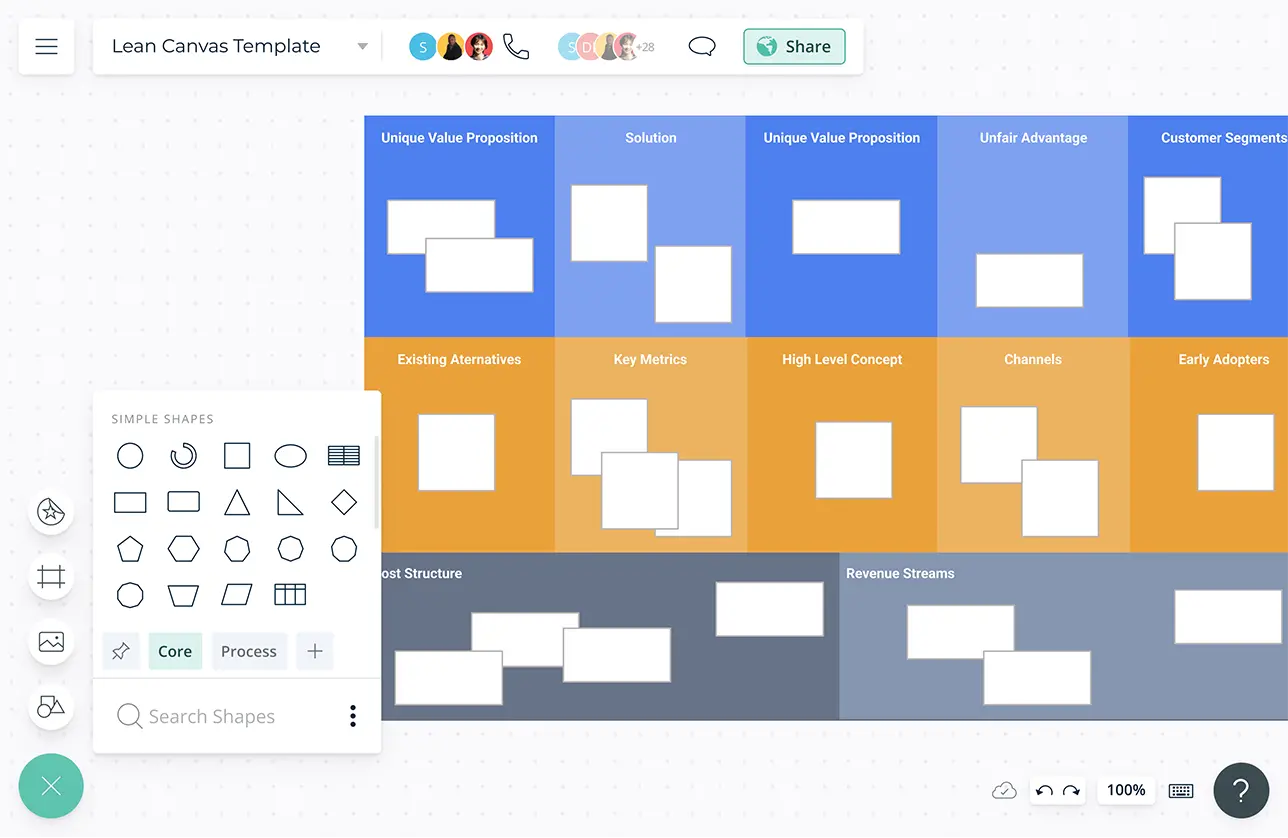 In-app video conferencing to conduct sessions with key stakeholders to establish your 'unfair advantage'.
Real-time cursors for any number of participants to work on the lean canvas together.
Full comment threads to review and share feedback and suggestions.
Advanced folder structure to easily document your business plan and create an easy-to-access reference point for the entire organization.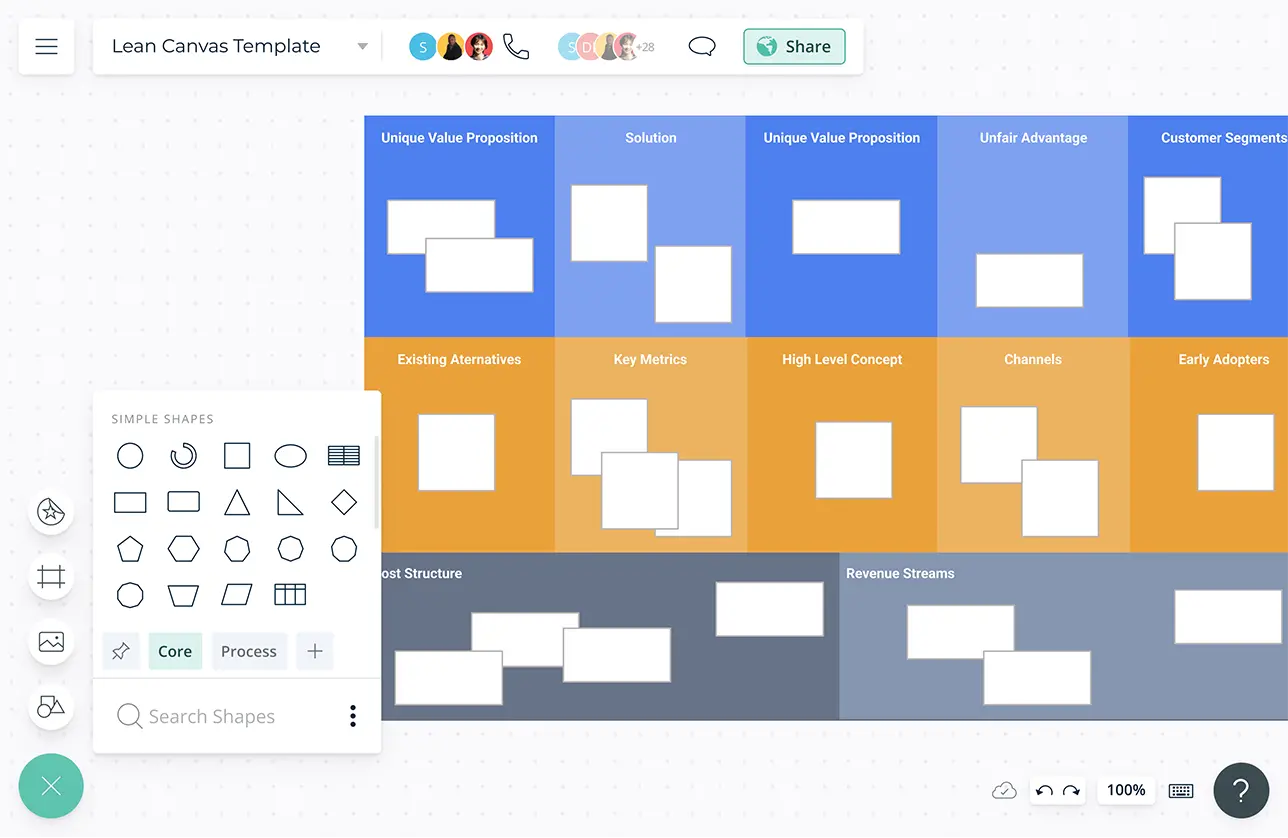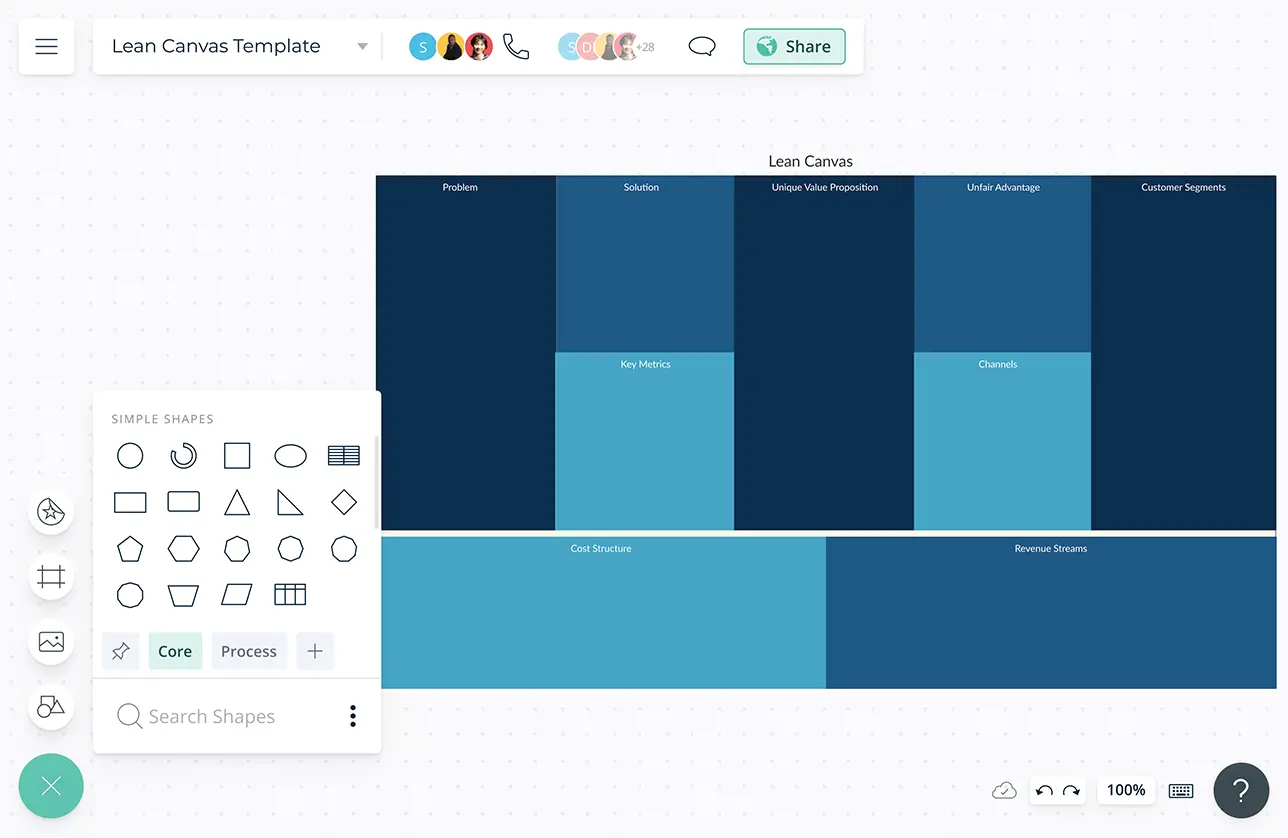 CAPTURE & EXTEND
Create Structures to Execute Plans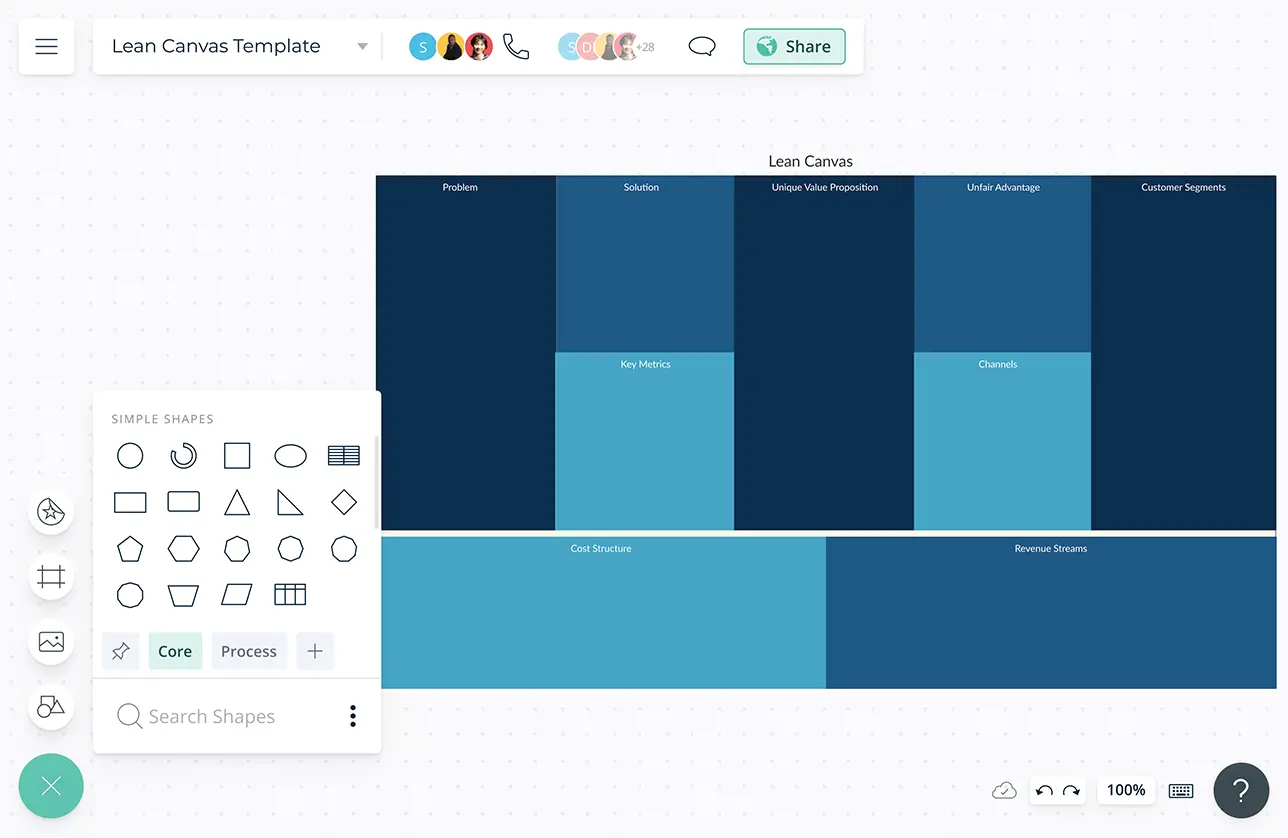 Doc links and attachments to easily add relevant information to the canvas while developing your business model.
Connect to multiple frameworks including business model canvas templates to prioritize efforts and create action plans based on your strategic intent.
Integrates into multiple tools. Connect to project management tools and break down efforts to achieve your goals.
What Is a Lean Canvas Template?
Lean Canvas is a 1-page business plan template created by Ash Maurya that helps you deconstruct your idea into its key assumptions. It is adapted from Alex Osterwalder's Business Model Canvas and optimized for Lean Startups. It replaces elaborate business plans with a single-page business model.
How to Use The Lean Canvas Template?
Begin by opening a Creately workspace, select a lean canvas template and invite key stakeholders to participate.
Start by defining your users. Do you have a problem worth solving? If so the first step is to brainstorm who could be your customer or user: define 2-3 specific and small customer groups. Customers are those who pay for your products.
Create solutions based on the identified problems, ideate and define a solution to every problem: list the three most important features for a solution.
Define your unique value [proposition: The unique value proposition is a clear message that describes the advantages of your offer, what makes you different and distinguishes you from the competition.
Think about the channels: what are the channels you want to use to reach your customer? Define inbound channels that lead customers to your offers like SEO, white papers, blogs, social media – and outbound channels like ads, calls, fairs and conventions.
Pricing: Define the revenue streams and the prices for your offer. The pricing is part of your offer and needs to be designed and tested.
Key Metrics: To understand if your idea and your business work use well-defined key metrics as indicators to measure your success. For the beginning, key metrics are the activities of a user that help the business grow (e.g. number of registrations, number of prospects, etc.)
Costs: List the most important costs for your offer. This might influence the pricing.
Unfair Advantage: As the last step, define your Unfair Advantage: what makes you unique that is not easily copied? E.g. reputation, unique brand experience, unique partnerships that lead to an offer that cannot be copied.