Meeting Minutes Template
Conduct Productive Meetings
Maintain efficiency and improve productivity by being organized for meetings. Keep track of the suggestions, feedback, and important messages in one place, refer later easily for effective follow-up.
Full-version history to keep track of meeting iterations and all the changes that were made
Editable templates to save time and increase productivity
In-line comments to initiate discussions and share feedback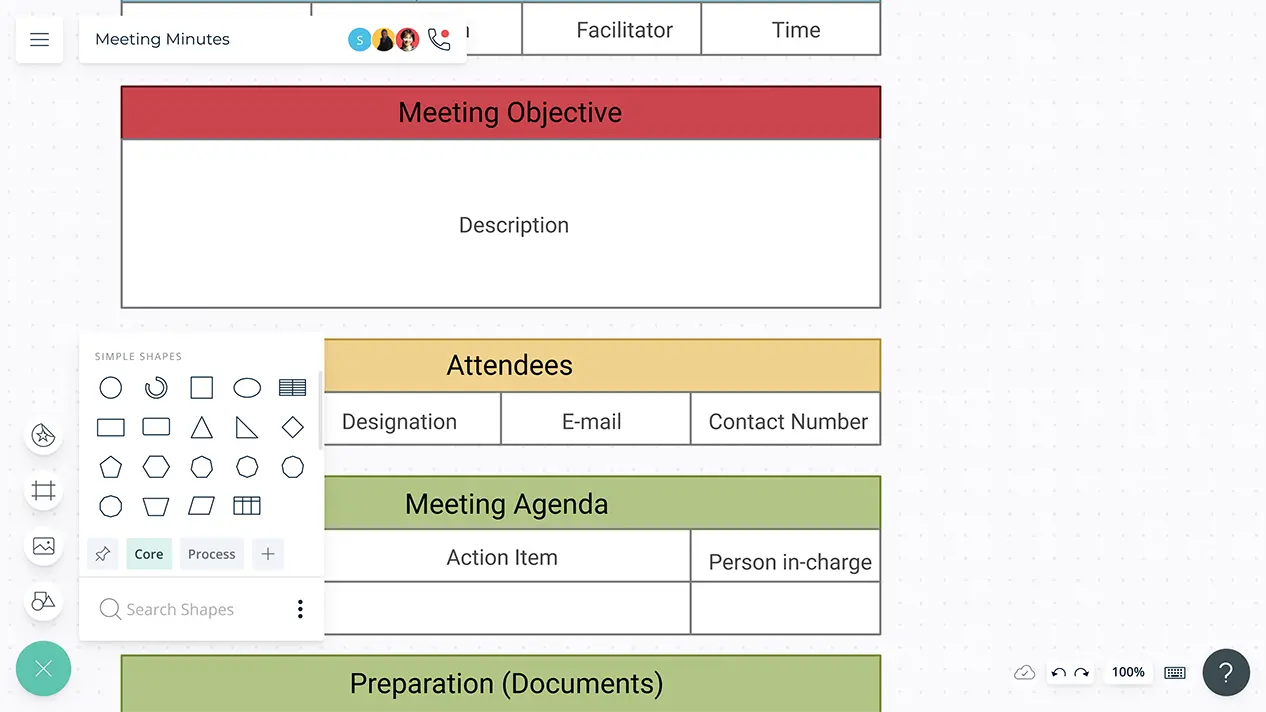 Over 10 Million people and 1000s of teams already use Creately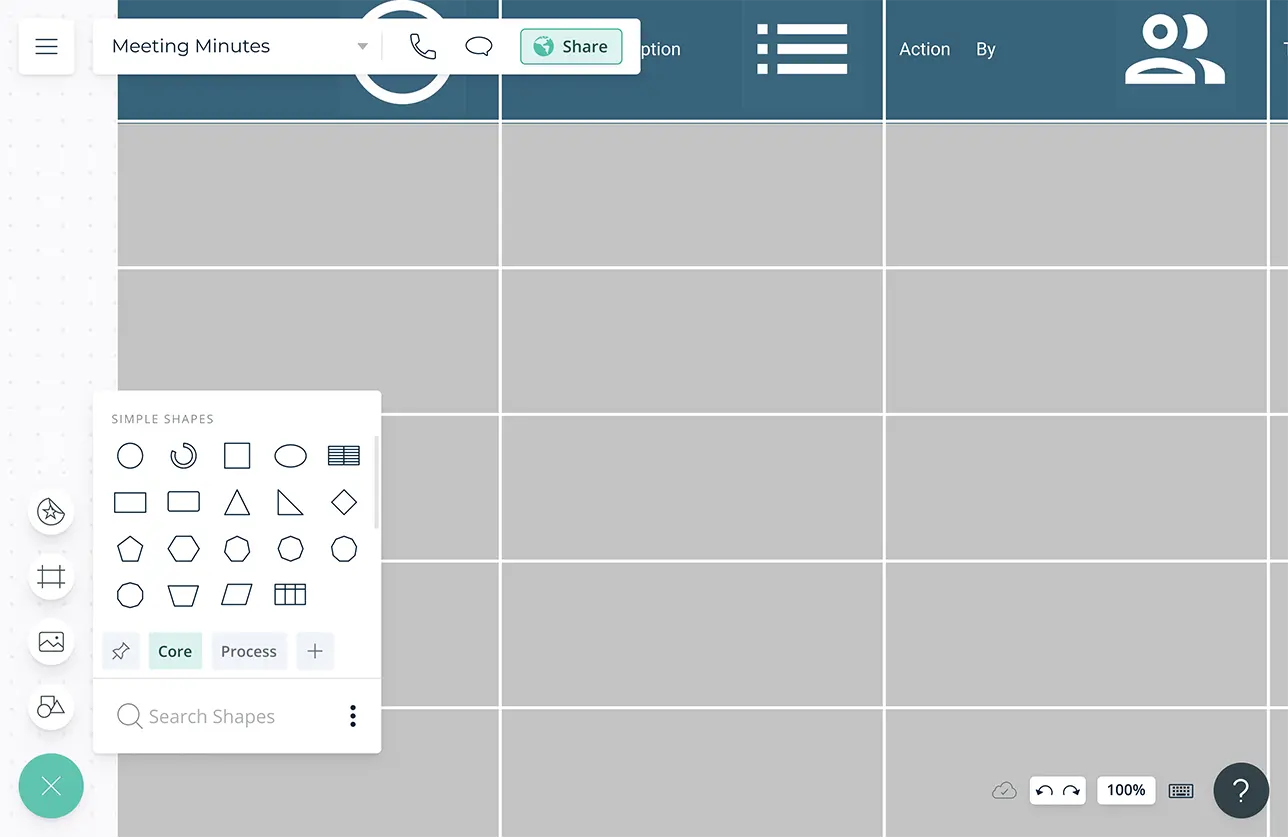 VISUALIZE & ORGANIZE
Easily Visualize and Stay Organized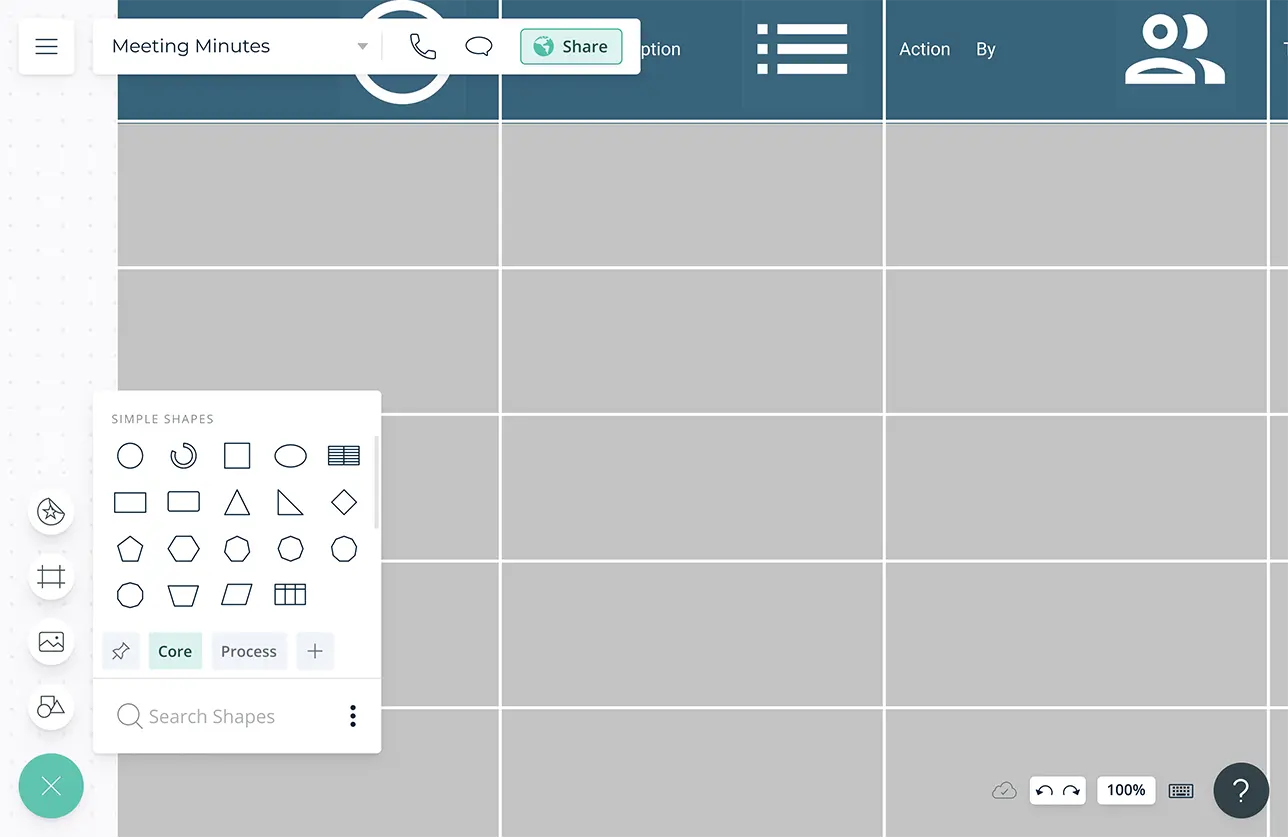 Professional meeting minutes templates that you can edit and customize according to your needs.
Simple to use drag-drop tools and Plus Create to easily add meeting minutes to the workspace.
Create tables, organize your information using different color themes and codes to easily identify and track changes or updates.
Use comments and notification as reminders to stay on top of tasks and avoid missing any important information.
COLLABORATE
Flawless Collaboration With Your Team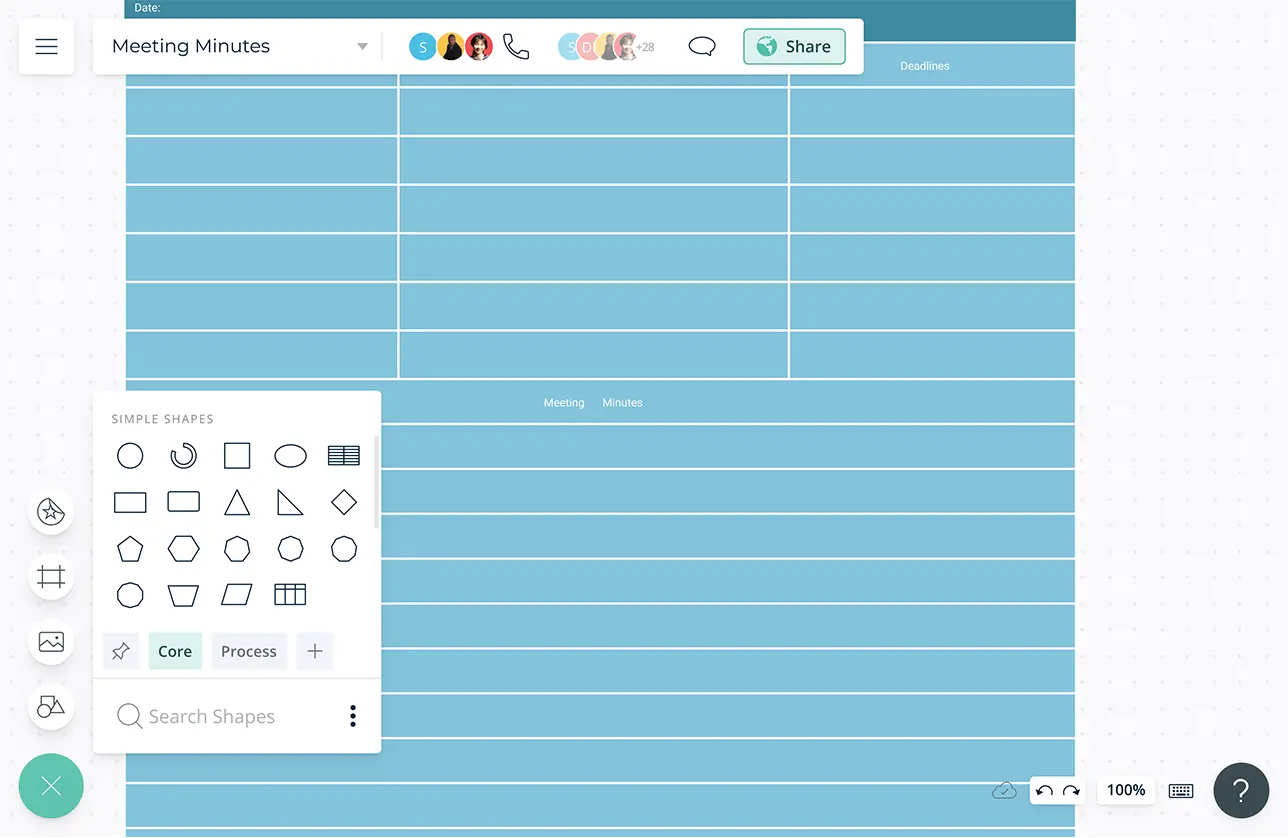 In-app video and audio conferencing to conduct meetings. Conveniently interact with remote teams, stakeholders, or members from different departments or geographical locations.
Refer to version history to changes made by different team members in real-time. Avoid losing or missing important details by reverting back to previous versions or a previous meeting iteration.
In-line commenting to gather feedback from multiple participants in real-time and offline. Make your meeting productive and interactive with constructive comment threads and notes.
Integrate with popular platforms like Google, Slack, Github or share your meeting minutes in SVG, PNG, JPEG, or PDF format. Invite collaborators into the same canvas or share via links across multiple platforms.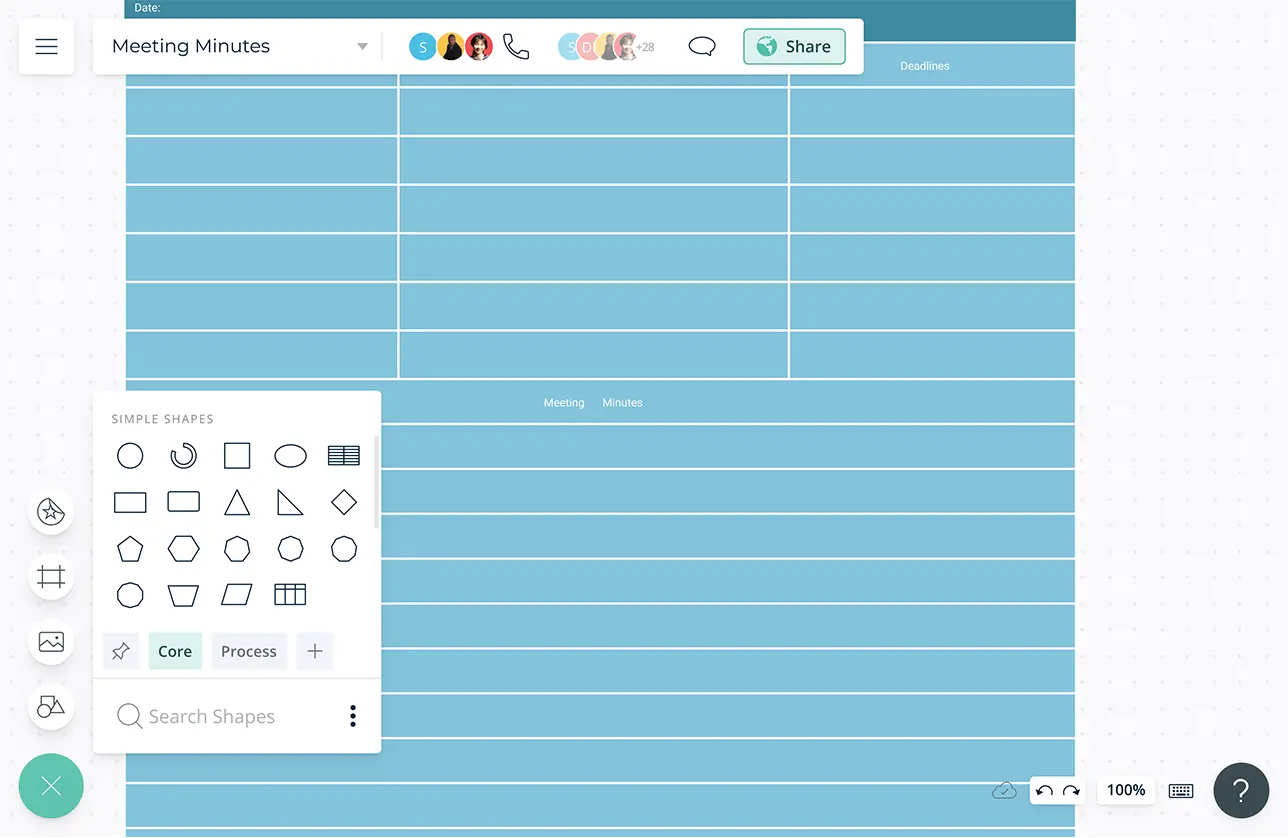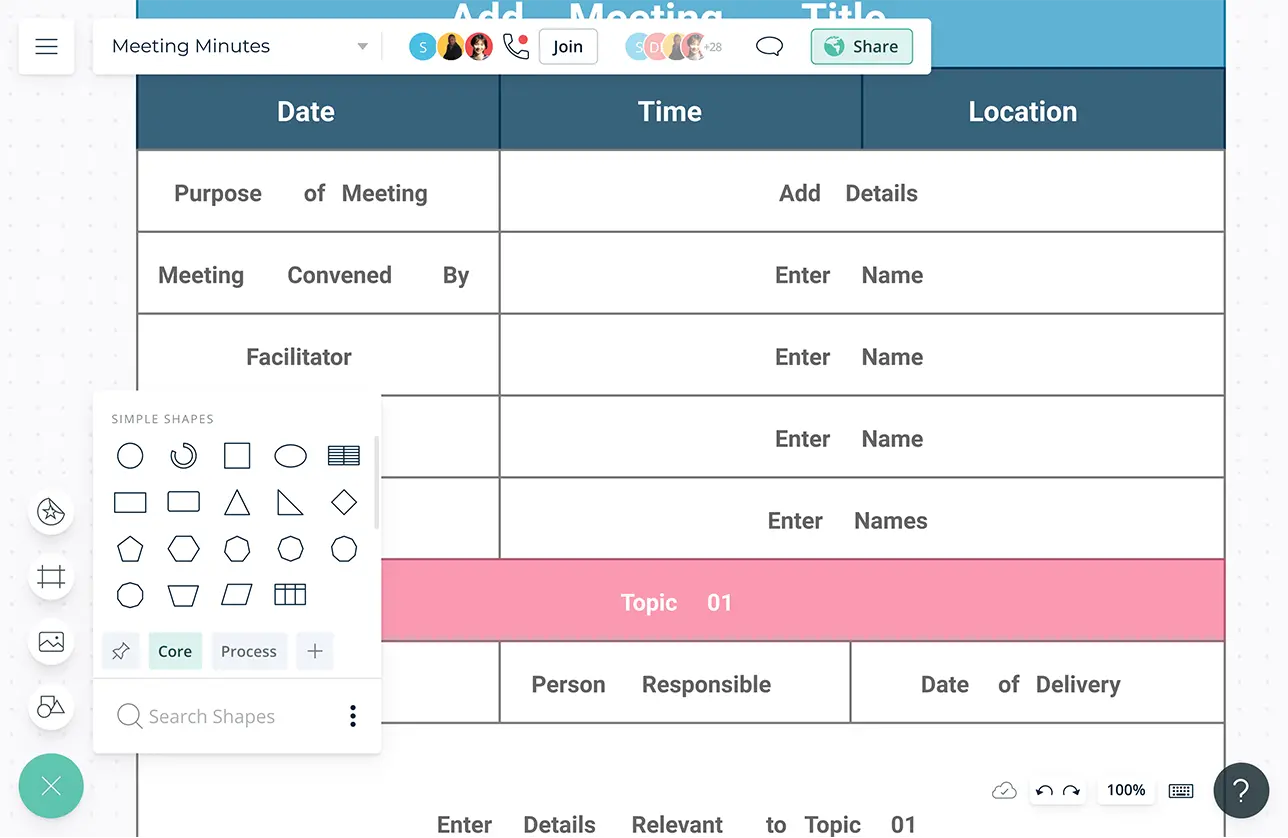 CAPTURE
Link Data and Easily Access Your Notes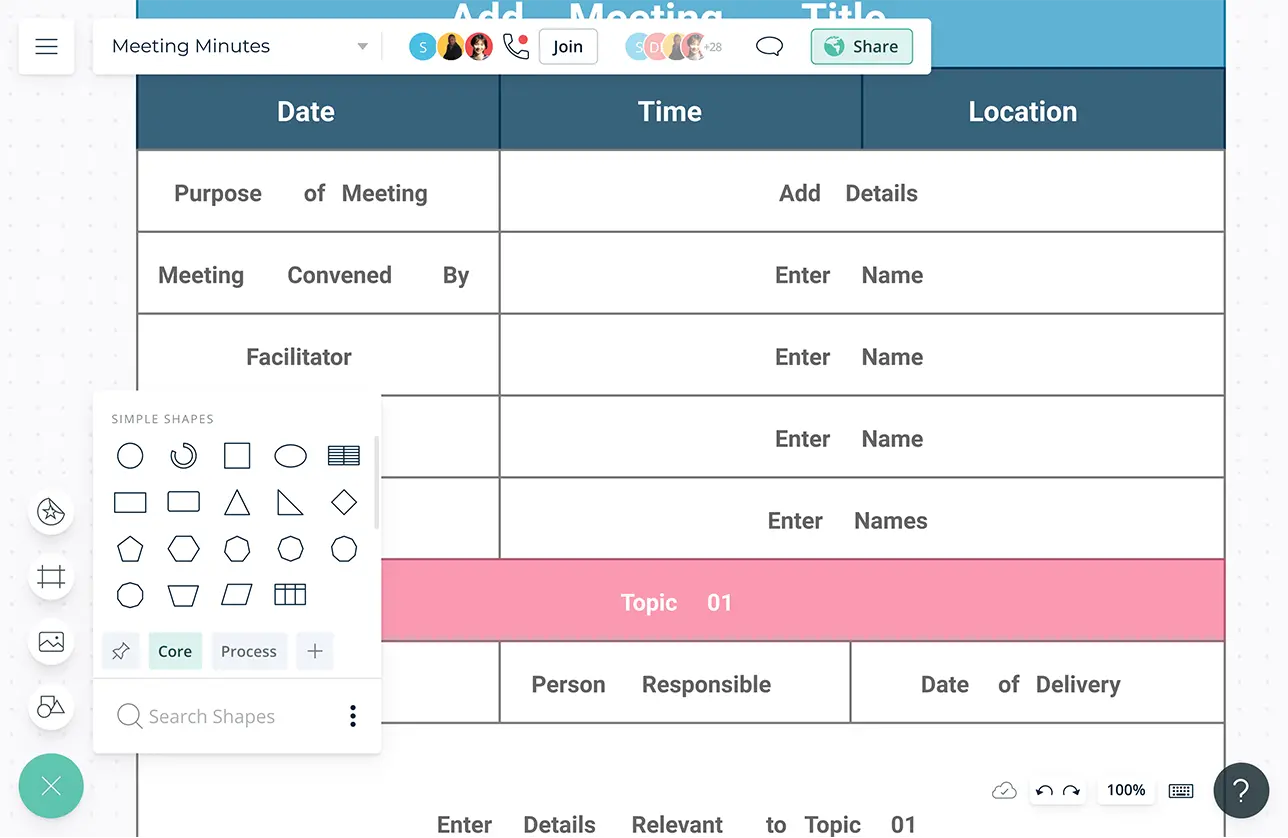 Work on an infinite canvas and centralize all information related to your meetings. Experience a clutter-free workspace that improves efficiency and organization.
Find content without hassle across different workspaces with the search option. Avoid getting overwhelmed with information or data and easily find content.
Attach documents, Excel sheets, or tables to your workspace for references. Smoothly link information and your meeting minutes together, ready for implementation.
EXTEND
Share Your Meeting Minutes in Different Formats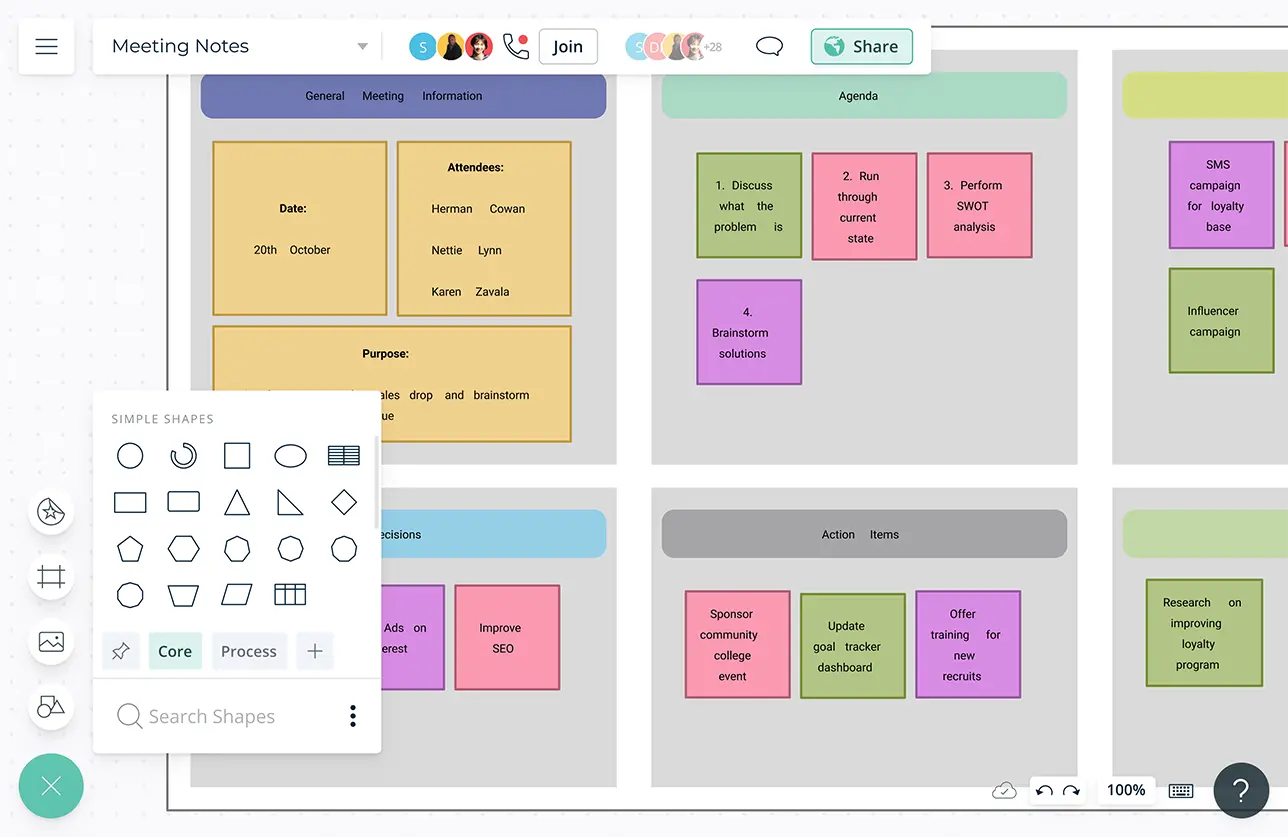 Create professional layouts by using frames like Kanban boards, prioritization grids, and timelines.
Multiple access and role levels to streamline sharing, reviewing, and editing employee journey maps with clients and external stakeholders.
Add-ons to include the meeting minutes into Google/Microsoft documents, slides, and sheets and easily access your information in one place.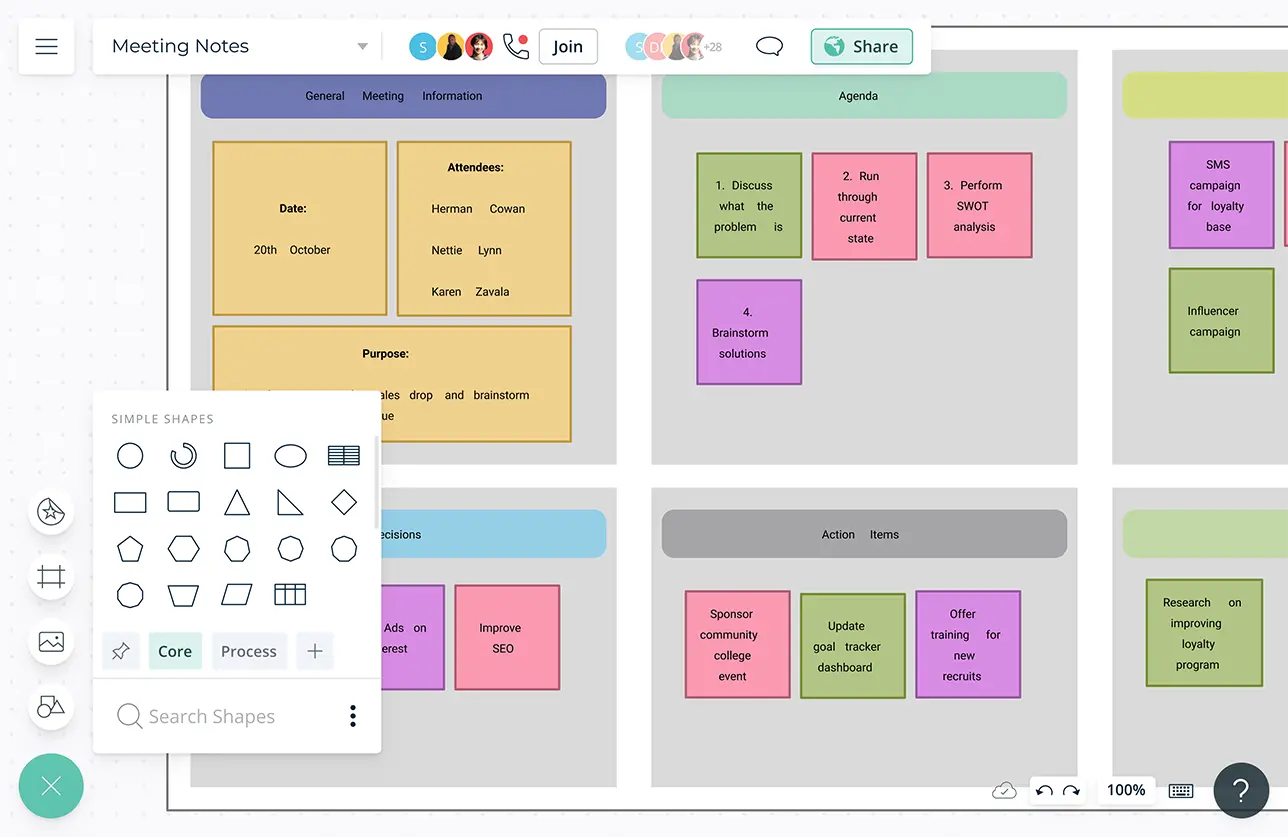 What Are Meeting Minutes?
Meeting minutes are an official written record of information that was discussed in a meeting such as actions to be implemented, decisions, goals, deadlines etc. The meeting minutes should also include the venue, location, participants, and timings of the meeting including all the other information related to the meeting.
How To Write Meeting Minutes?
Get prepared before the meeting starts. Draft out a simple template and include the date, time, and venue of the meeting at the top of the page. You can also explore the wide range of Creately's meeting minutes templates and simply enter your information.
Note down the purpose of the meeting and then list out the names of all attendees. You can also record the meeting points that need to be discussed in order to properly utilize the meeting duration.
Make sure to share the workspace with the relevant access options among the attendees.
Once the meeting has begun, take down the main point, topics, decisions, actions etc. Since single detail cannot be included, you will need to make adjustments, revise or clarify your notes.
After the meeting is over, you will need to organize your notes or add extra references for further clarity. You can link documents, resources, or include images or screenshots in your workspace, along with your meeting notes.
If needed, you can invite members of the meeting to view the minutes by sharing an email, or share an invitation link of the workspace on Creately. You can also export your notes in SVG, PNG, JPEG and PDF formats for sharing, printing, and downloading.