One-on-One Meeting Template
Run More Productive One-on-One Meetings
Maintain consistency across your team during one-on-one meetings & effectively understand their priorities, challenges, & professional development needs.
Multiple premade one-on-one meeting templates to start right away
Real-time collaboration with in-app video chat for productive sessions
Visual tools to record meeting outputs & create action plans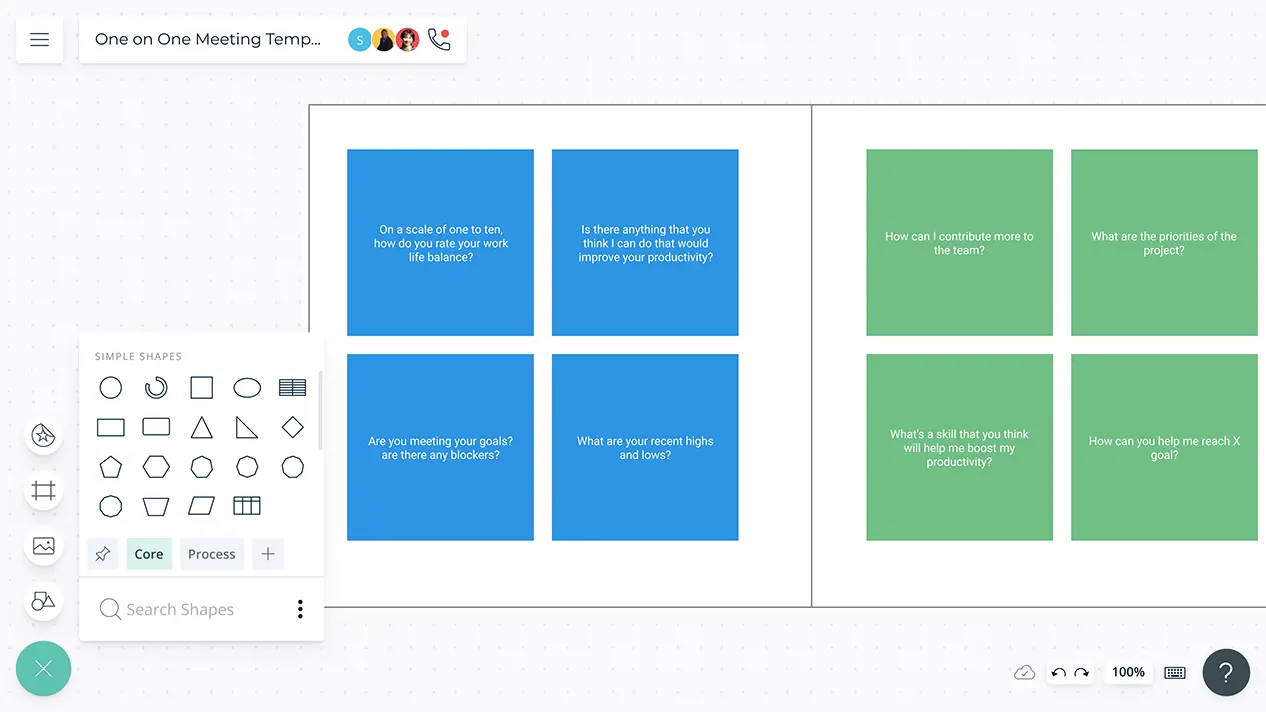 Over 10 Million people and 1000s of teams already use Creately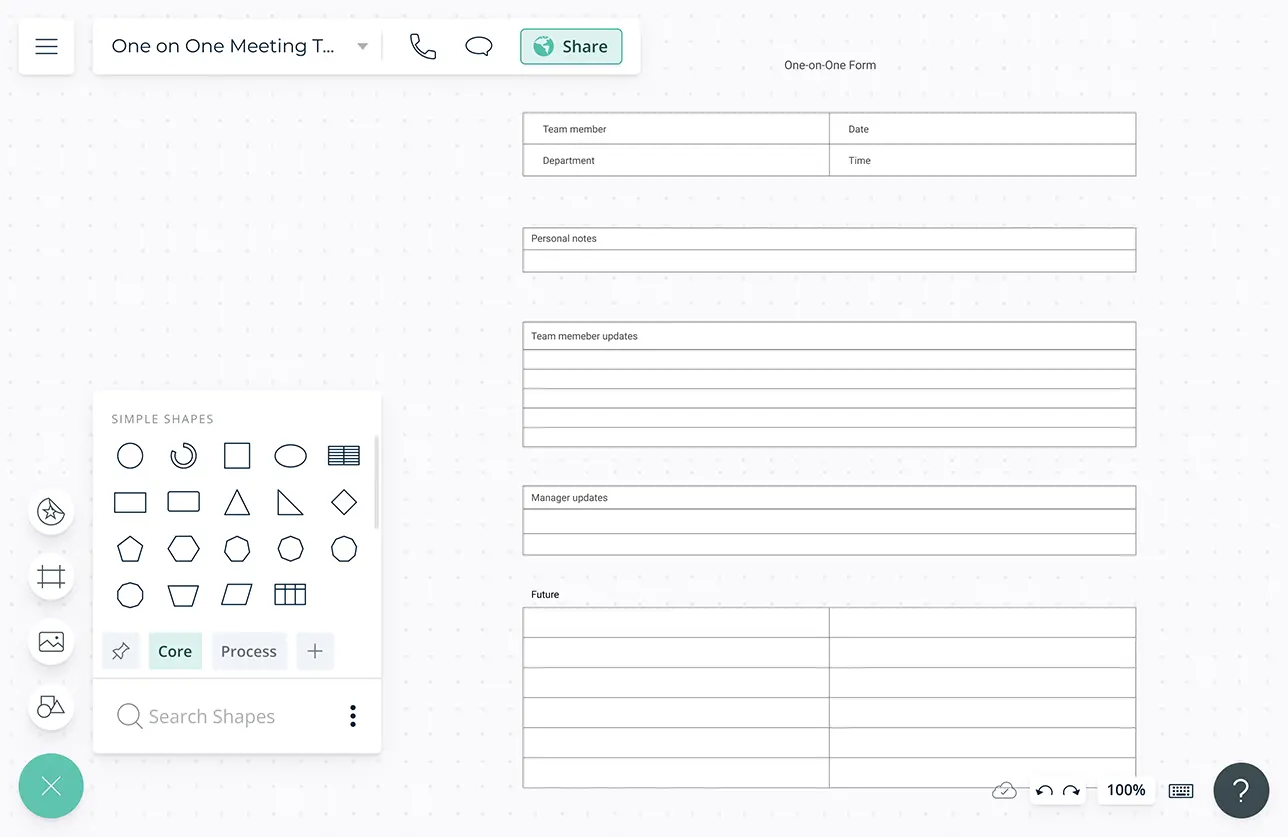 COLLABORATE
Run Interactive and Dynamic Meetings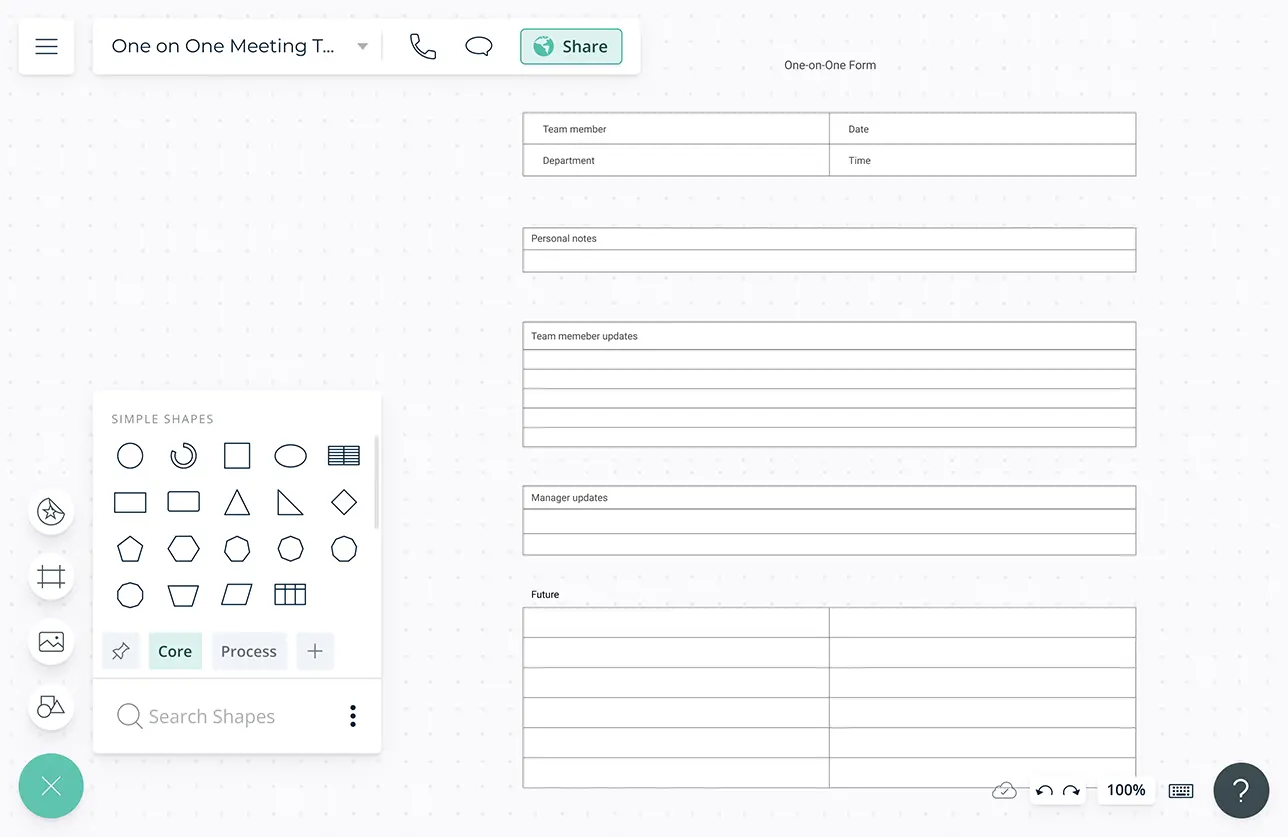 Built-in video conferencing to have friction-free discussions remotely.
True multi user collaboration with concurrent editing and automatic conflict resolution for engaged teams.
Real-time cursors for any number of participants. Collaborate with team members on a shared canvas.
Contextual comments to take down notes, record feedback, and have discussions on the same canvas, async!
SIMPLIFY
Easy Tools to Run Productive Meetings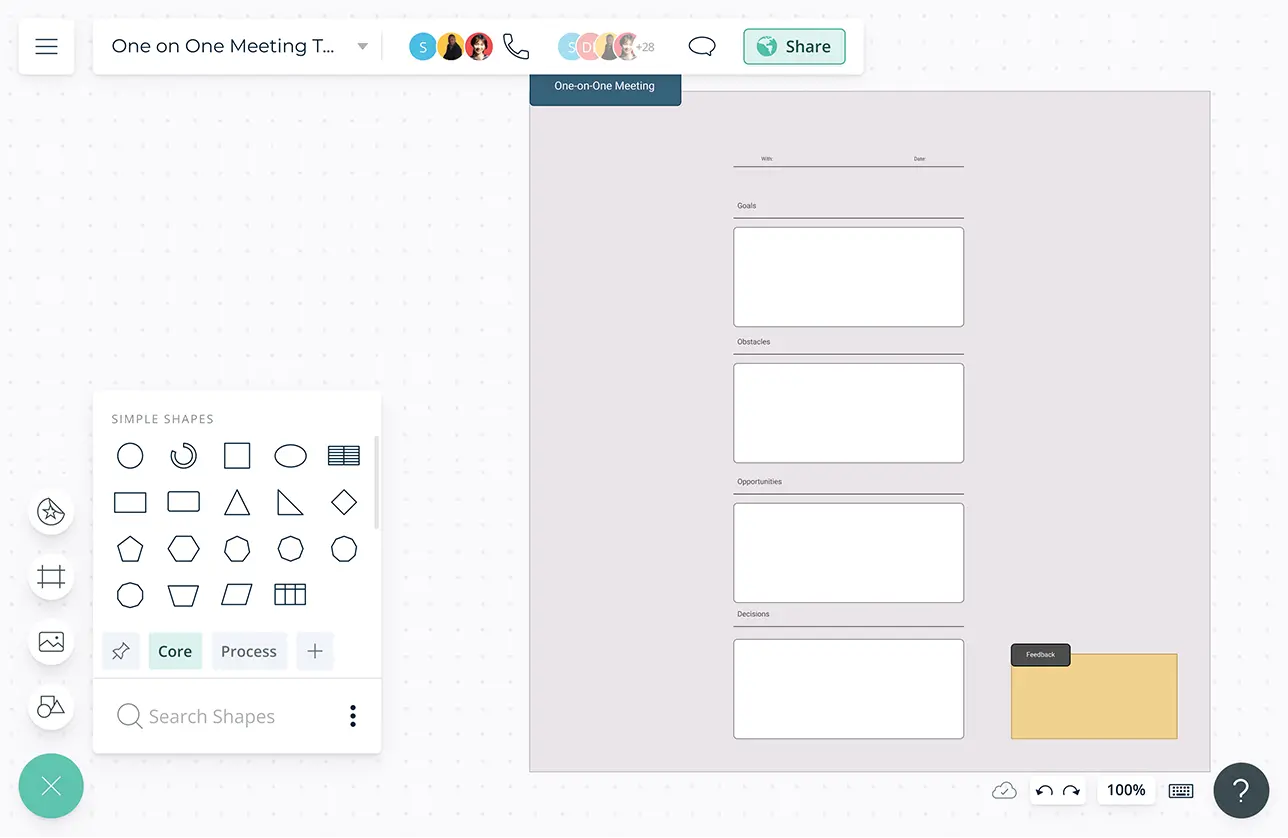 Multiple pre-made templates to structure online meetings; one-on-one meetings, performance reviews, meeting agendas, daily scrums, and more.
Online whiteboard with post-it notes and freehand note taking to write down talking points and key meeting outcomes.
10,000+ professional shape library to easily visualize anything on the canvas; action plans, OKRs, skill inventories, and more.
Add detailed docs, attachments, links and more via the notes feature on each employee to centralize employee information.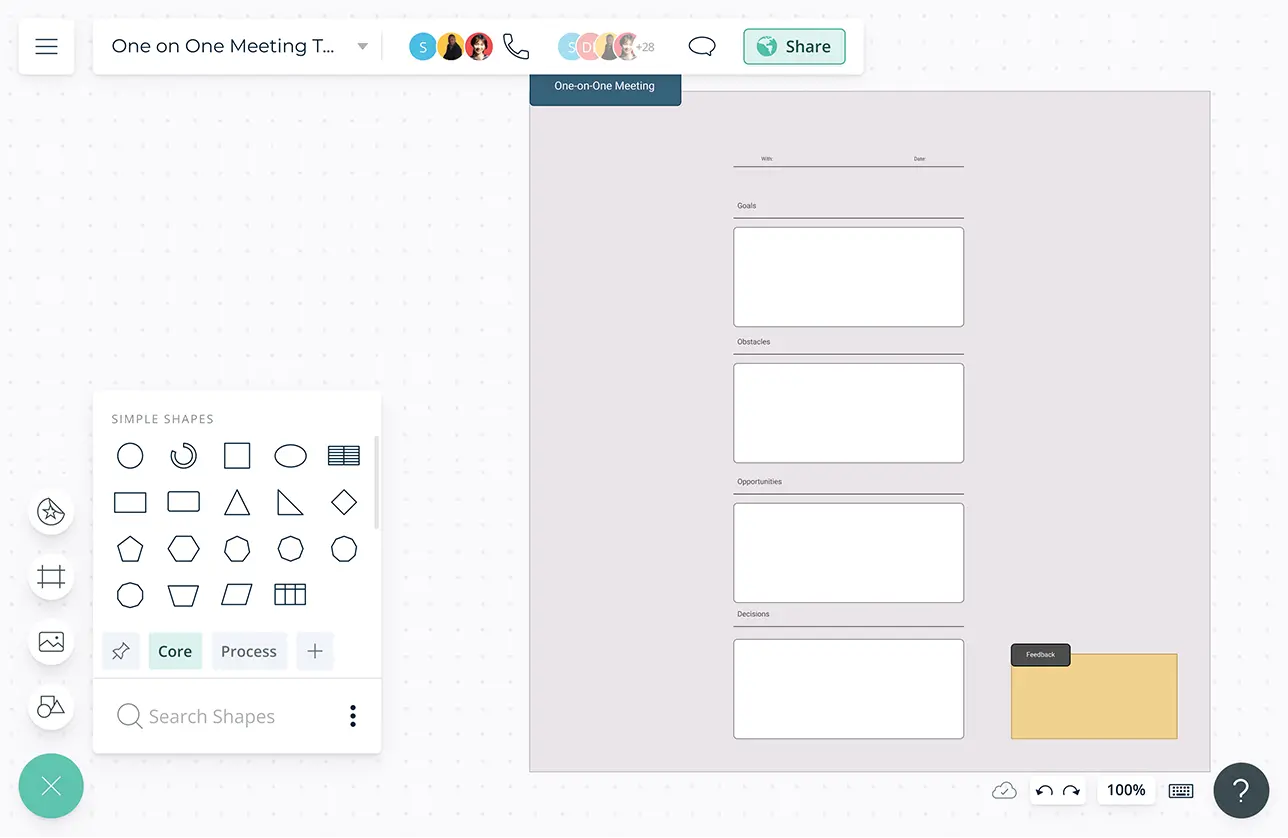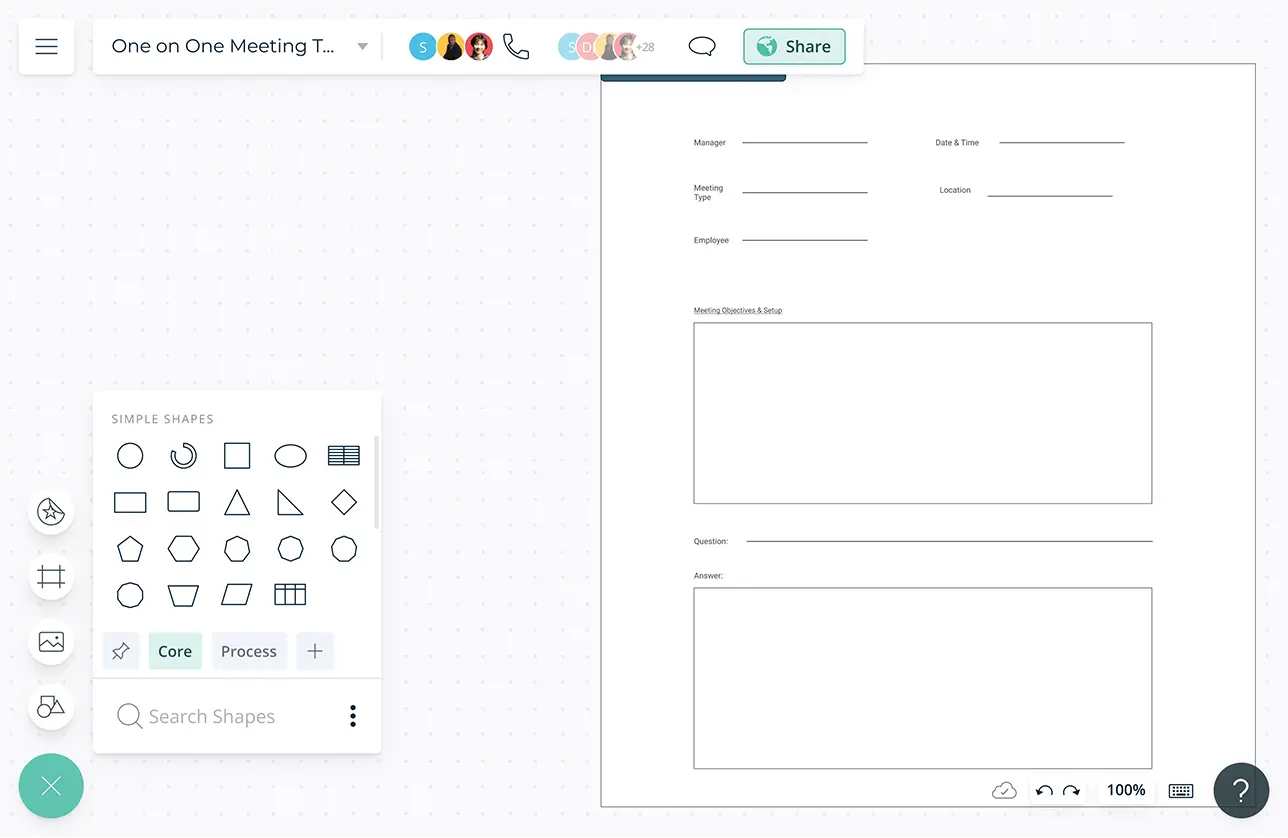 CONNECT & EXTEND
Create a Central Repository of Employee Data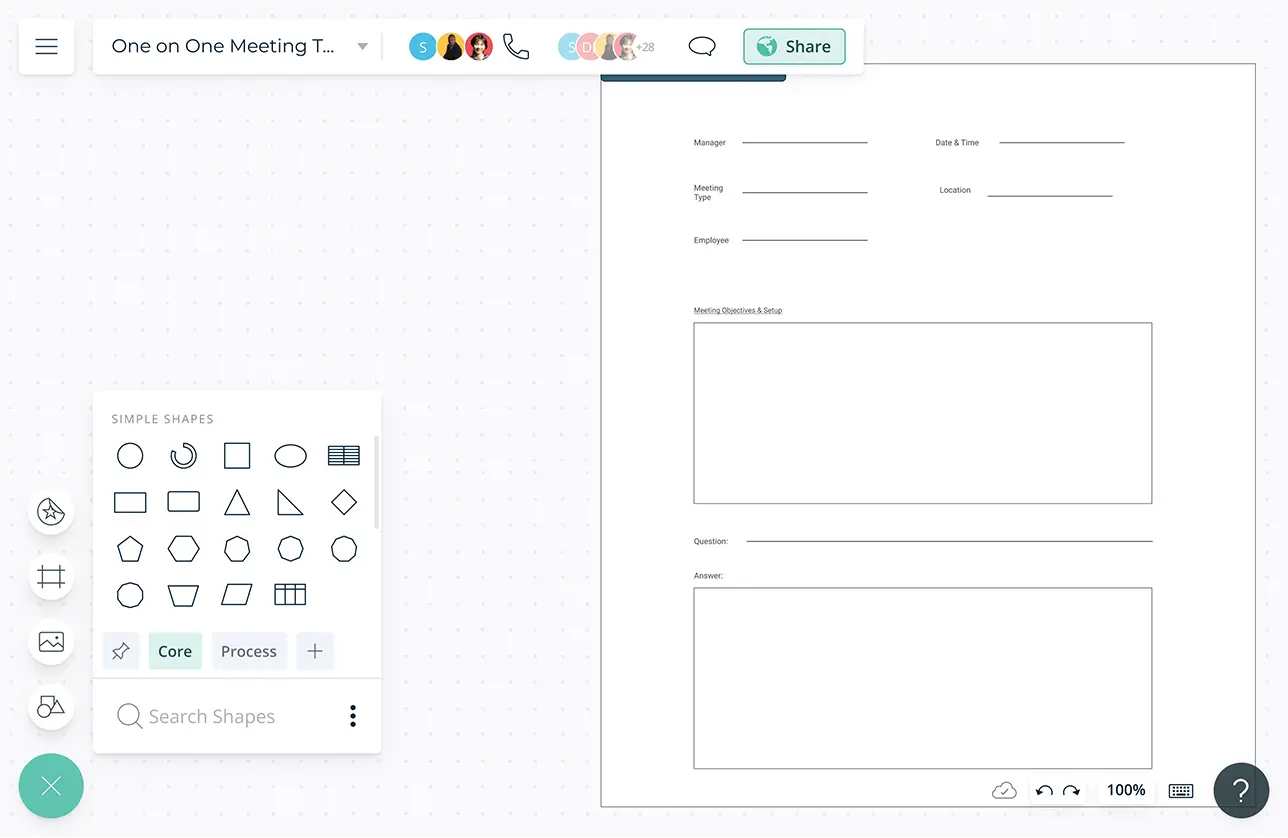 Additional data fields and custom properties to record additional information on team members and create custom databases.
Advanced folder structure to effectively store and organize individual one-on-one meeting workspaces and notes on each employee for easier access.
Migrate employee data from any source to visualize on the canvas and connect information together to identify training needs at scale.
2-way sync to keep any change you make to your employee data on Creately reflected on the host app and vice versa.
What Is a One-on-One Meeting?
A one-on-one meeting is a regular check-in between two people in an organization – usually a manager and an employee. It involves giving feedback, keeping each other in the loop, resolving issues, which eventually helps the participants grow in their roles. Different types of one on on meetings include: Employee performance review one on one meeting, 90 days one on one meeting, compensation review one on one meeting, etc.
How to Conduct a One-on-One Meeting?
Open Creately and choose a one-on-one meeting template. Customize it with the relevant questions you want to discuss and share it with the relevant participant.
Connect with them using video conferencing and use concurrent editing to edit the workspace as necessary.
Once you check-in with them as to how they are doing, you can dive into the progress of the previously set objectives. Discuss the challenges they have faced and recognize the wins.
Based on their feedback and your analysis, create action items. Set clear expectations and timelines to help your employees stay focused on these priorities. Use Creately action plans, OKR templates, etc. on the same canvas to visualize the actionables and keep your staff on track.
Provide coaching notes for employees to look back on when they face a familiar challenge that you've helped them with before, and when it's time to reflect on past conversations for performance reviews. These can be attached to the same one-on-one meeting workspace with notes.
And take personal notes outlining your own thoughts to refer back to when reviewing employee performance and development over time.