Talent Mapping Template
Optimize Your Recruitment Strategies
Visually plan for your short, medium, and long-term talent acquisition requirements. Identify the capabilities, experience, and potential of your current employees and align those with the growth strategy to detect talent gaps and development needs.
Multiple templates and frameworks for streamlining talent mapping
Real-time collaboration to work seamlessly with colleagues
Easy-to-use visual canvas to prepare effective recruitment plans
Over 10 Million people and 1000s of teams already use Creately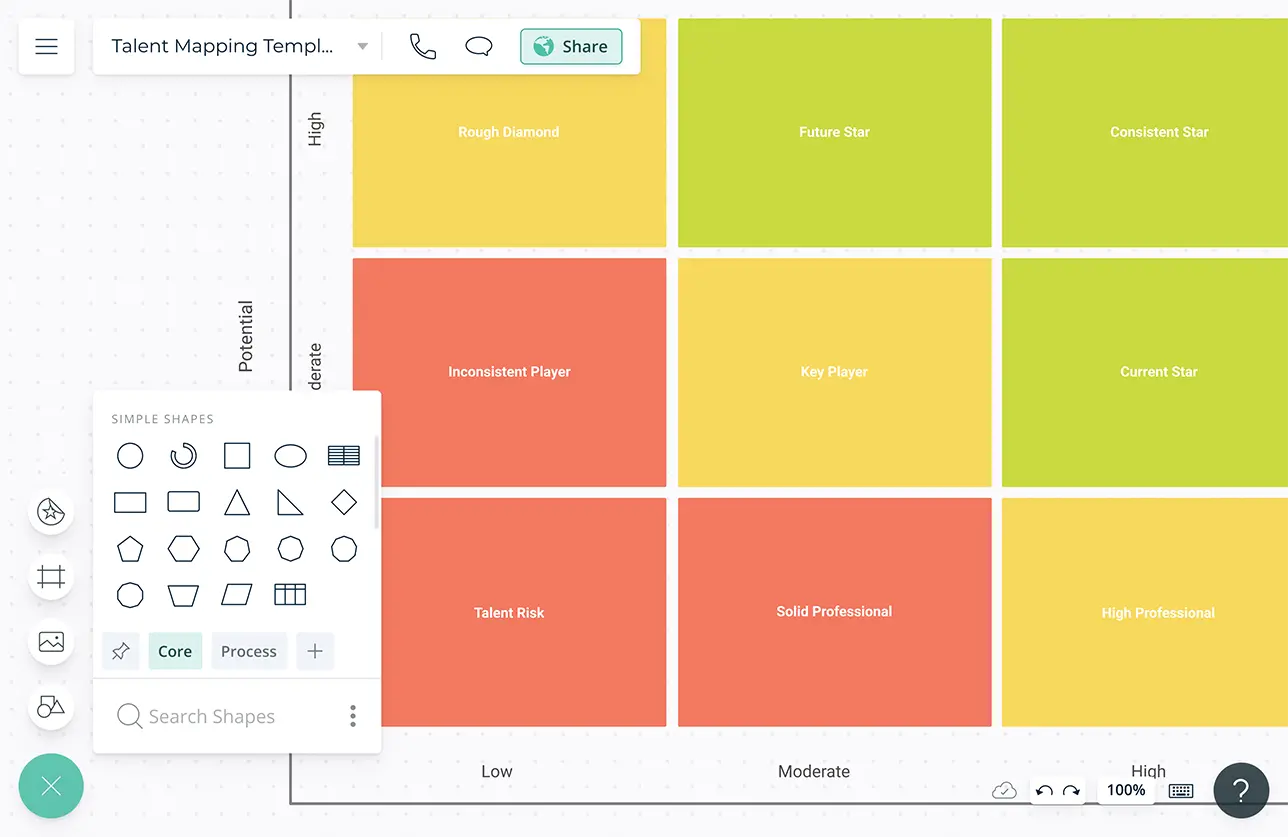 VISUALIZE & IDEATE
Design Effective Workforce Strategies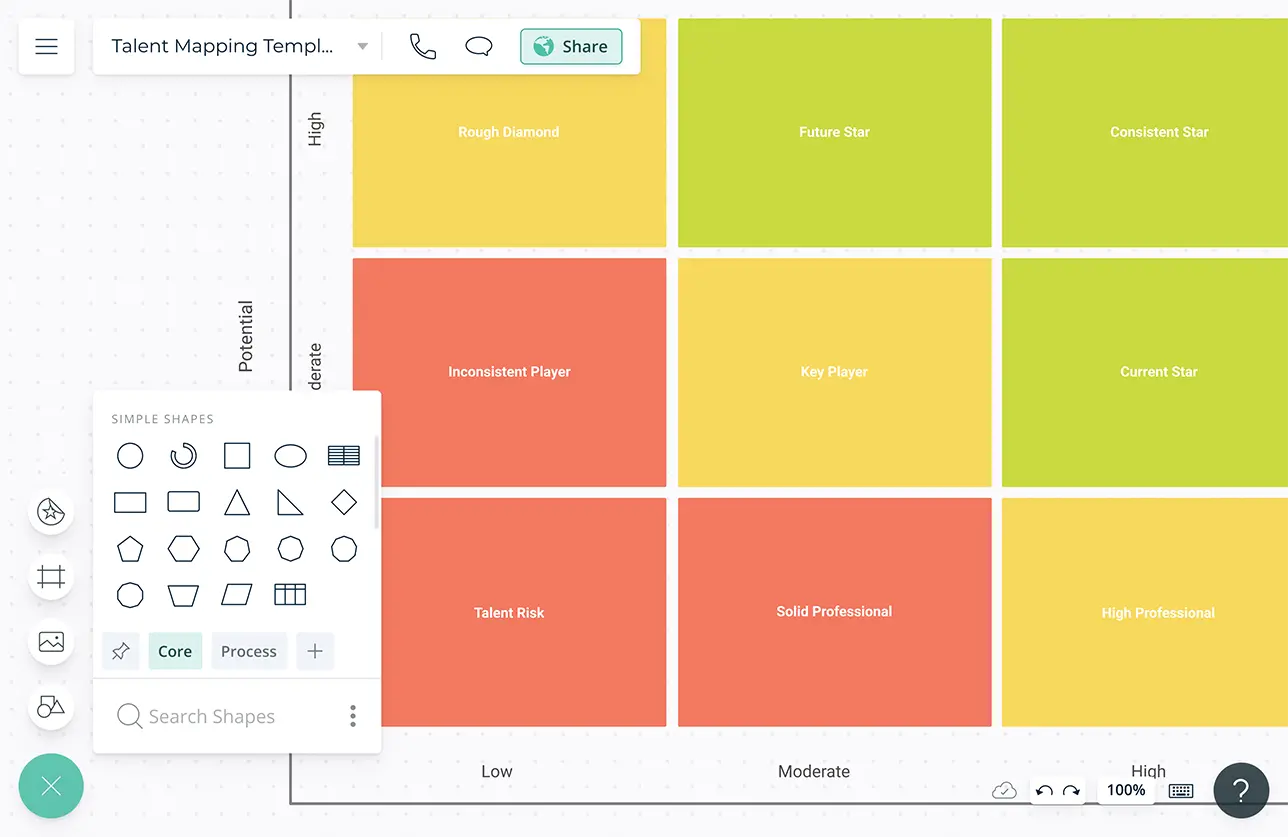 Multiple professionally-designed templates for organizational charts, nine-box grids, candidate personas, skill inventories, career development plans, and more.
Simple drag and drop canvas to visualize and plan your talent acquisition strategies.
Built-in visual brainstorming tools like mind maps and post-it note walls to gather ideas for future recruitment planning.
Extensive org chart shape library to visualize the current and future state structures of your organization to guide your talent mapping process.
CONNECT & ANALYZE
Detect Talent Gaps Faster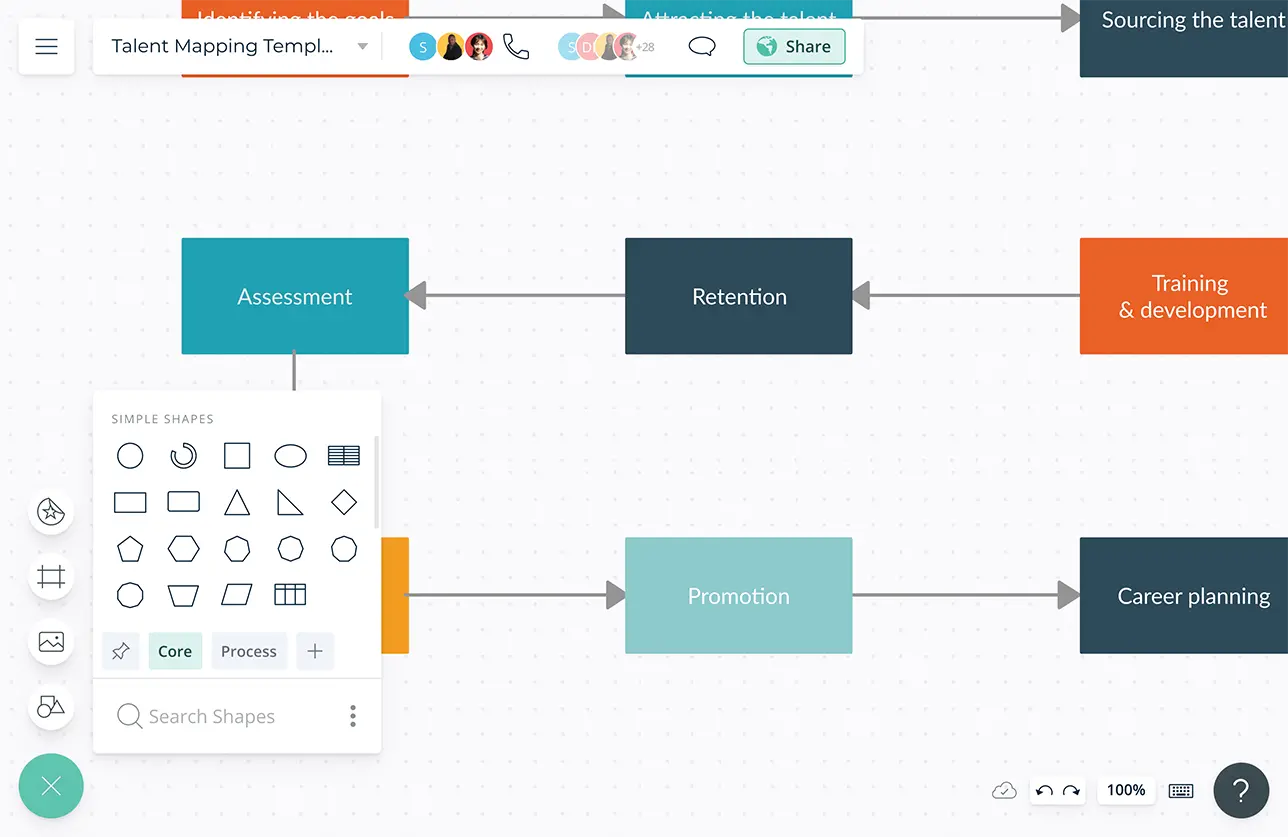 Migrate employee data from any source to visualize on the canvas and connect information together to predict future hiring needs at scale.
Create custom databases for any kind of information from employee survey data to employee personnel records.
2-way sync to keep any change you make to your employee data on Creately reflected on the host app and vice versa.
Add detailed docs, attachments, links and more via the notes feature on each employee to centralize employee information.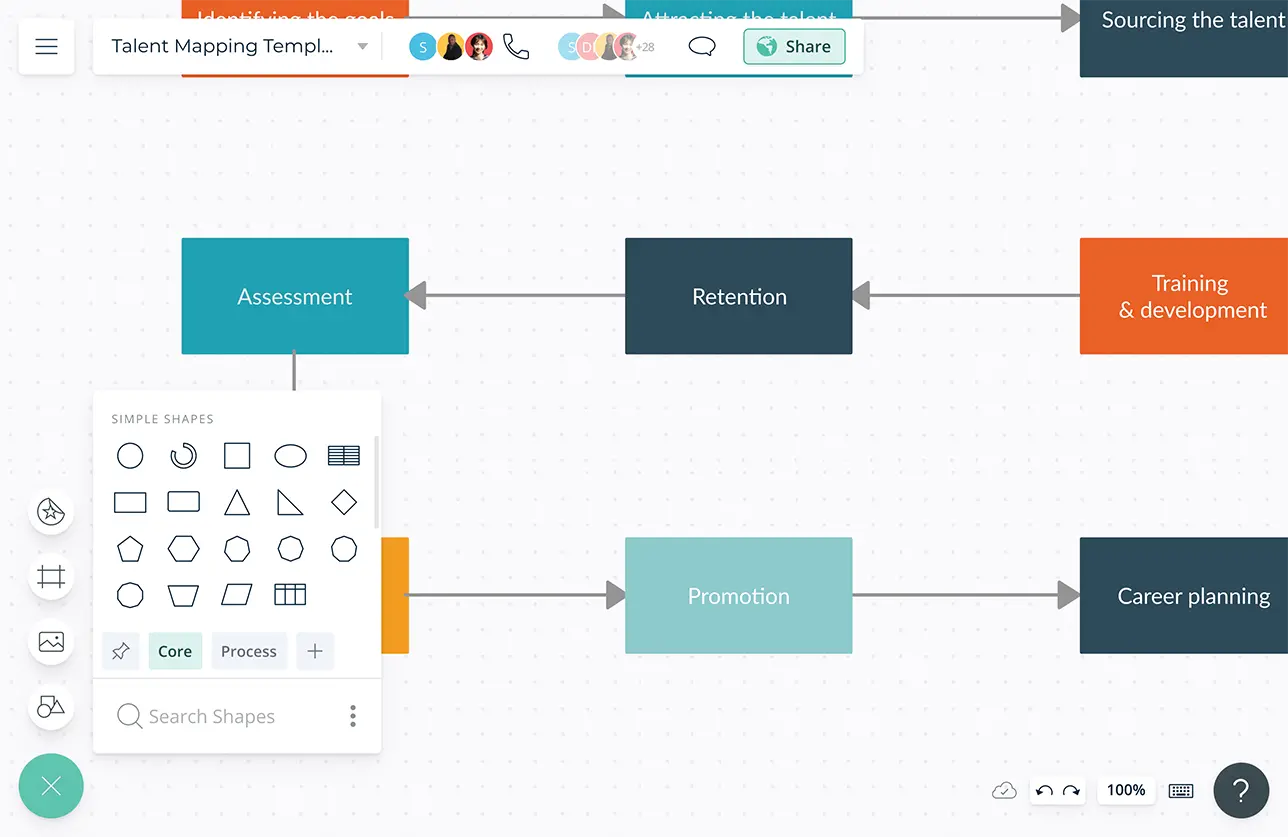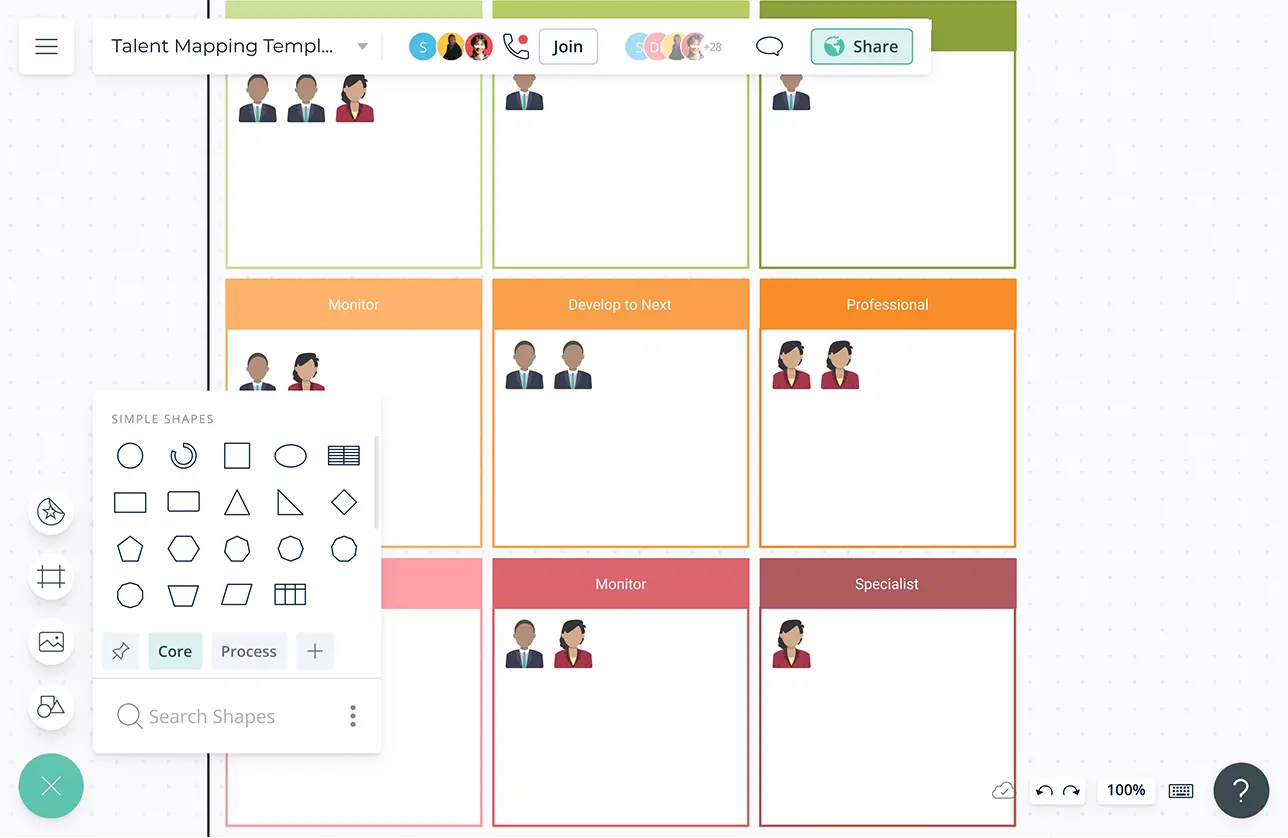 COLLABORATE
Connect All Teams Across the Board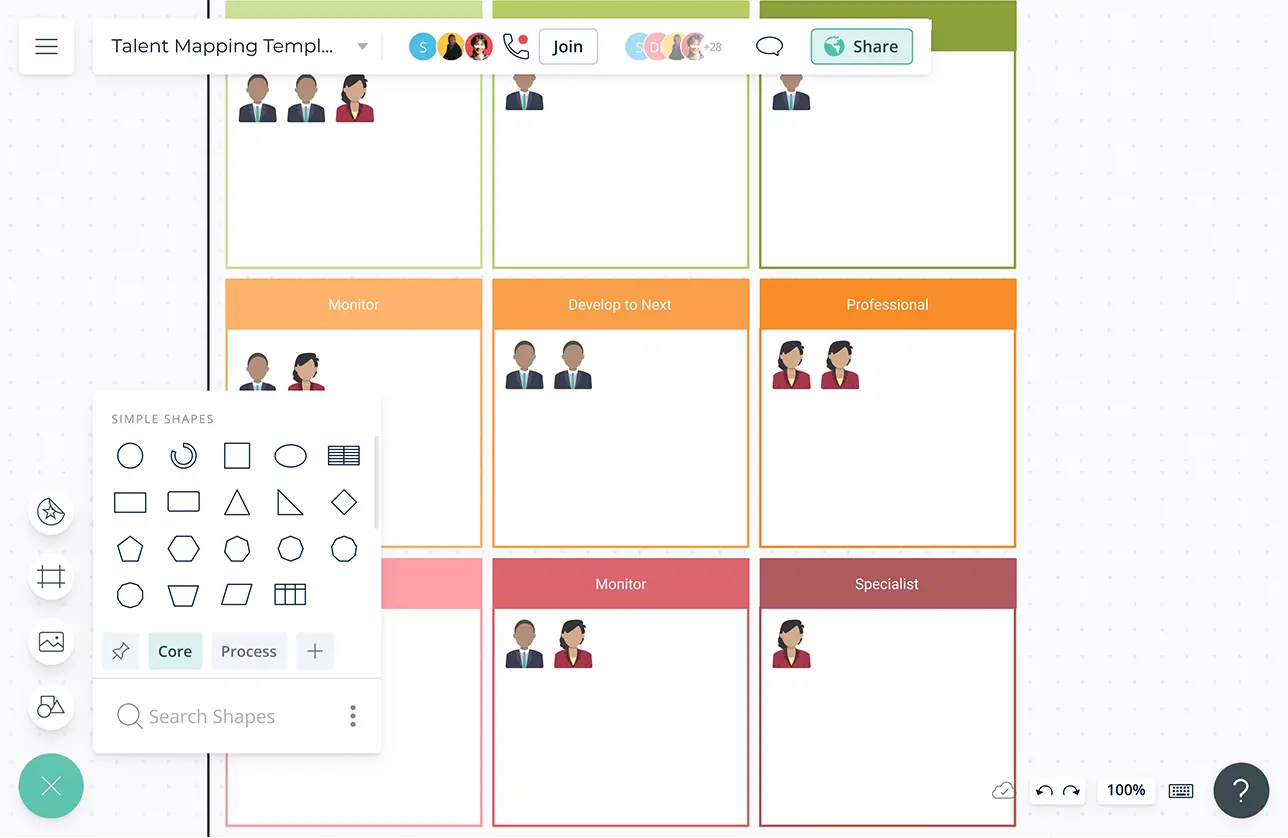 True multi user collaboration with concurrent editing to work with heads of different departments to analyze talent gaps.
Video conferencing baked into the platform to feel like you are in the same room during remote meetings, workshops, or planning sessions.
@mention comments to direct people to get things done or clarify things and comment threads to have discussions and follow-ups on the same canvas.
Multiple access levels and roles to streamline managing, sharing, editing, and reviewing your HR documents and plans.
ORGANIZE
Better Organize Recruitment Data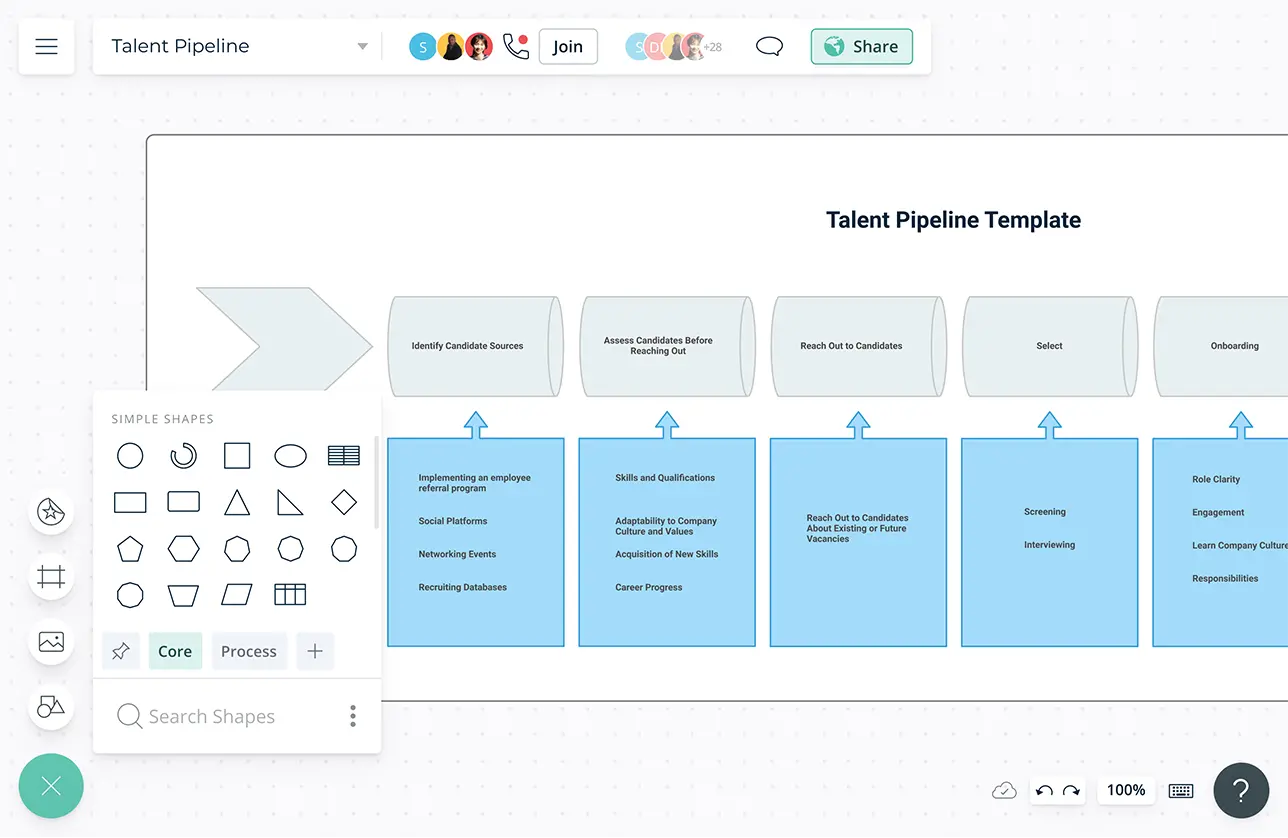 Create versatile tables with advanced customizability to keep track of your staff's skills, qualifications, certifications, and competencies throughout the whole organization.
Attach images and documents with in-app previews as proof of an individual's skills or certifications to centralize employee records.
Built-in tools to create dynamic and interactive presentations, reports, and dashboards for stakeholders.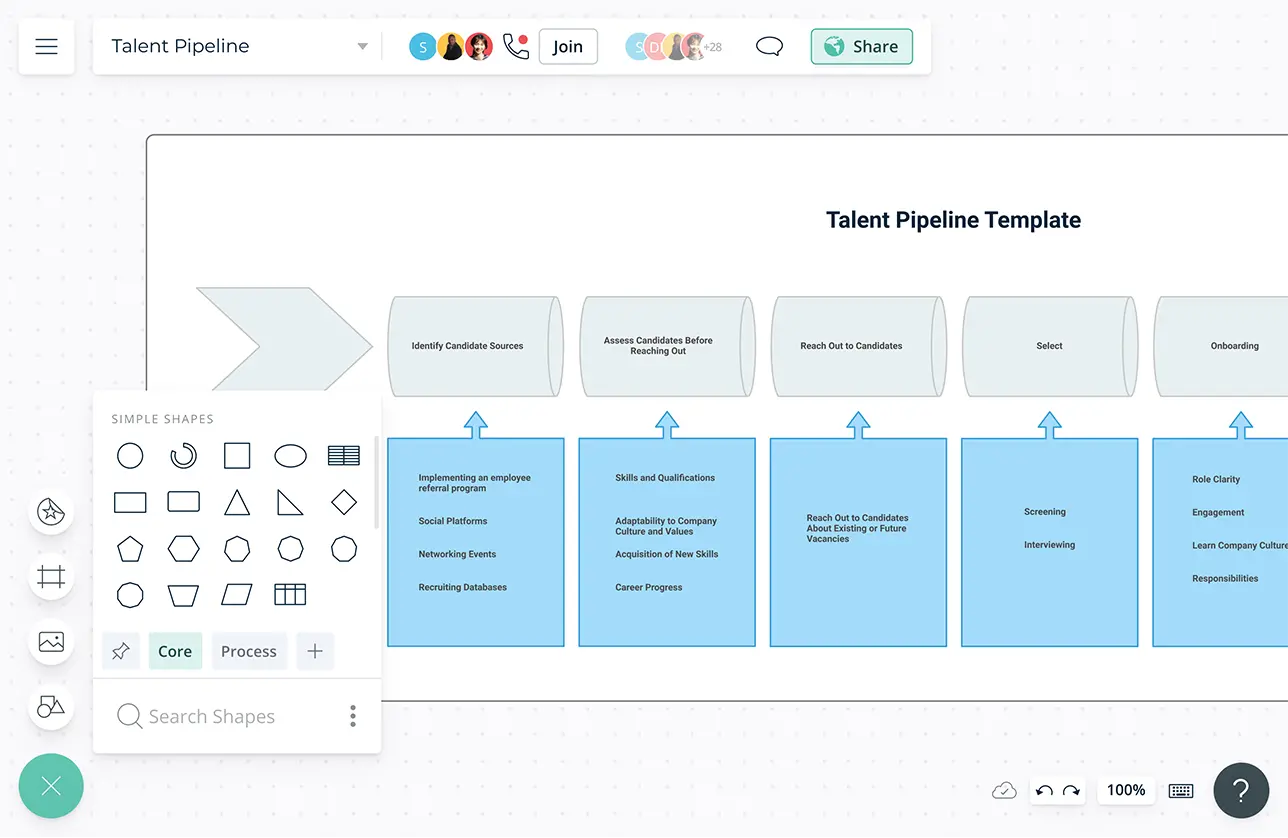 What Is Talent Mapping?
Using competency mapping, you can evaluate the competencies of your employees in a structured, repeatable manner. The main objective is to determine the current skills inventory in the organization, as well as the skill gaps that exist.
Talent Mapping Process
Start by first identifying company goals or where the company wants to be in a few more years. Accordingly understand what staffing needs you will have to fulfill.
Discuss with departmental heads to understand how the current staffing situation is. What skills do you have and what skills do you lack?
Based on the information you have gathered, create organizational charts that show your current organizational structure, and one that shows how it would be in a year or in a few years.
Assess the performance of current employees to identify high-potential staff members. Here you can refer to their performance evaluations or use a SWOT analysis or a performance-potential matrix.
Using Creately, you can invite relevant employees or departmental heads to collaborate on the document.