Weekly Planner Template
Plan Your Week on a Visual Canvas
Visual templates to plan your goals and schedule your week. Use Creately's customizable shapes and shape data capabilities to organize and arrange tasks and prioritize in a single place using frames.
Professional templates to visualize and organize your weekly commitments
Real-time video and audio conferencing to discuss weekly goals with your team or lead
Export weekly plans as SVGs, PNGs, JPEGs, or PDFs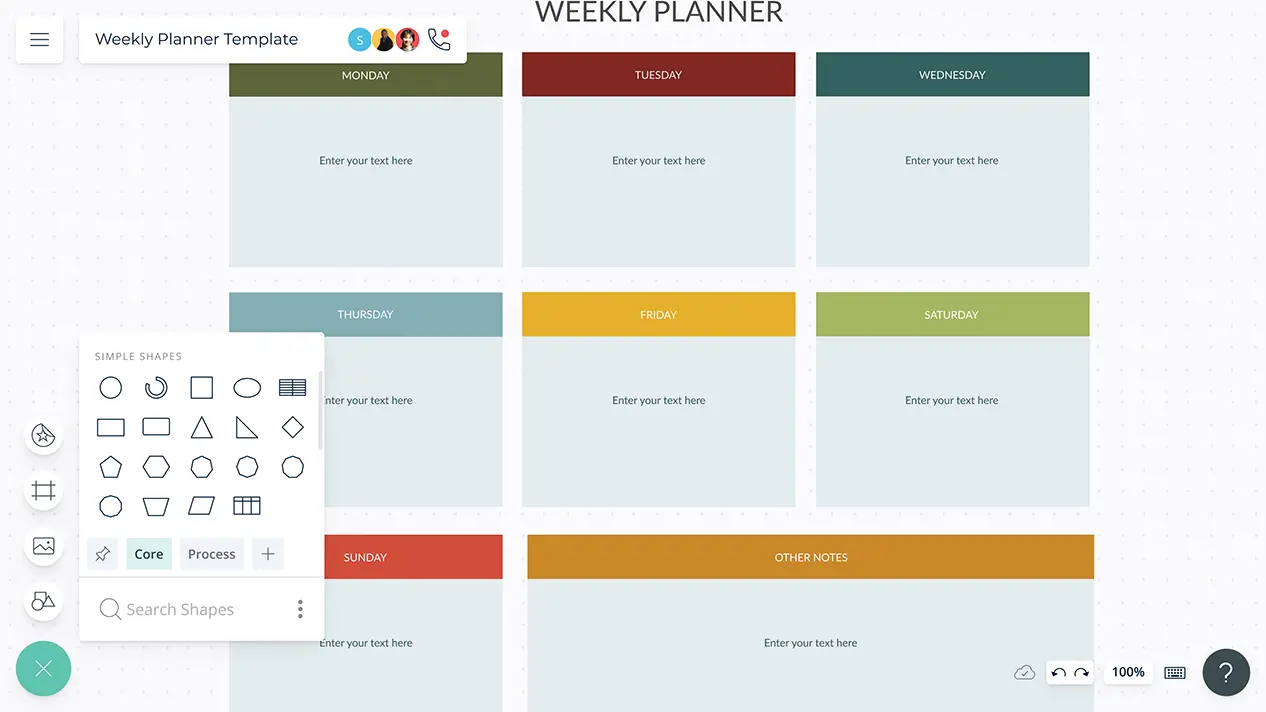 Over 10 Million people and 1000s of teams already use Creately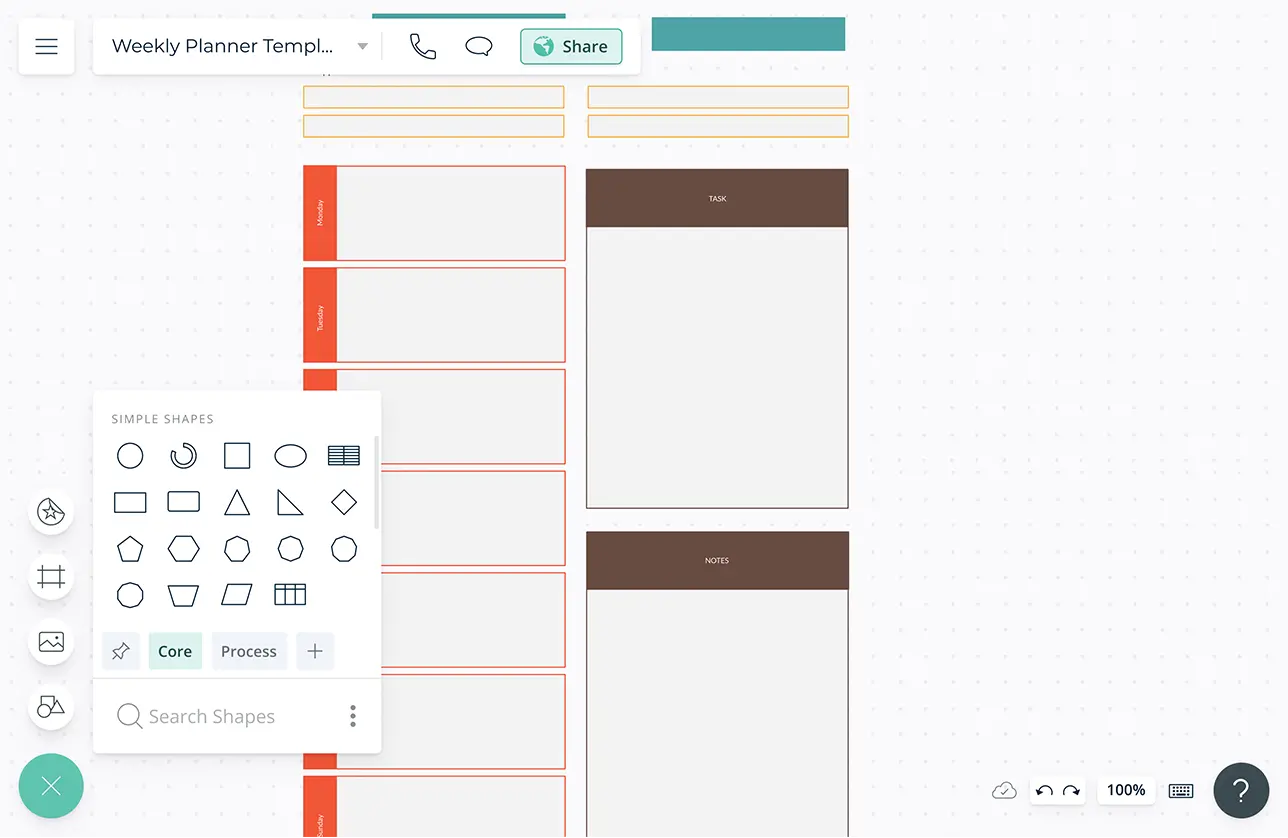 VISUALIZE
Easily Plan Your Week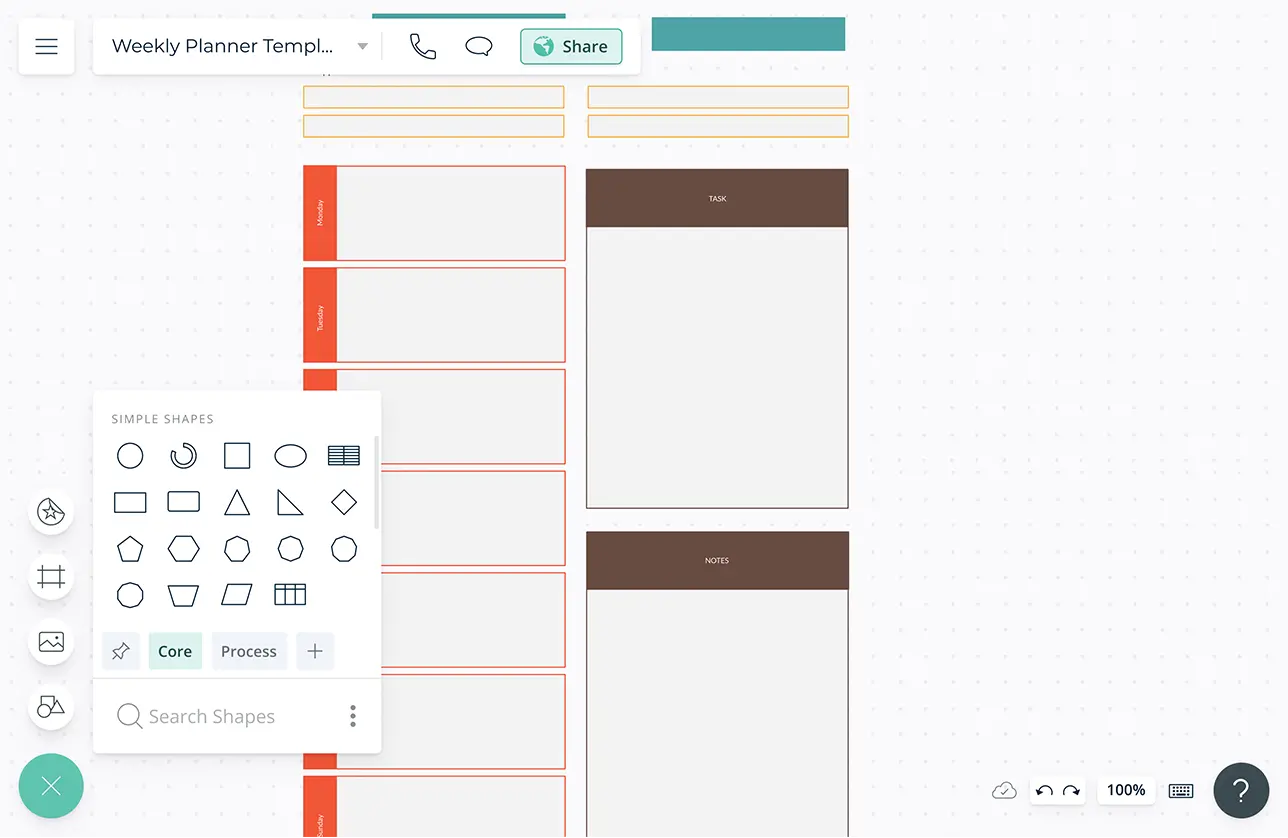 Professional and customizable templates to add your own requirements.
Simple to use drag and drop tools to arrange and prioritize tasks across the week.
Infinite canvas that allows you to on board multiple weekly planners and analyze the task progress, execution plans, and improvements.
Configurable color themes and text formatting capabilities to color code and style according to your requirement, easily identify and take over the most important task.
ORGANIZE & COLLABORATE
Plan, Manage, and Streamline Workload with Your Team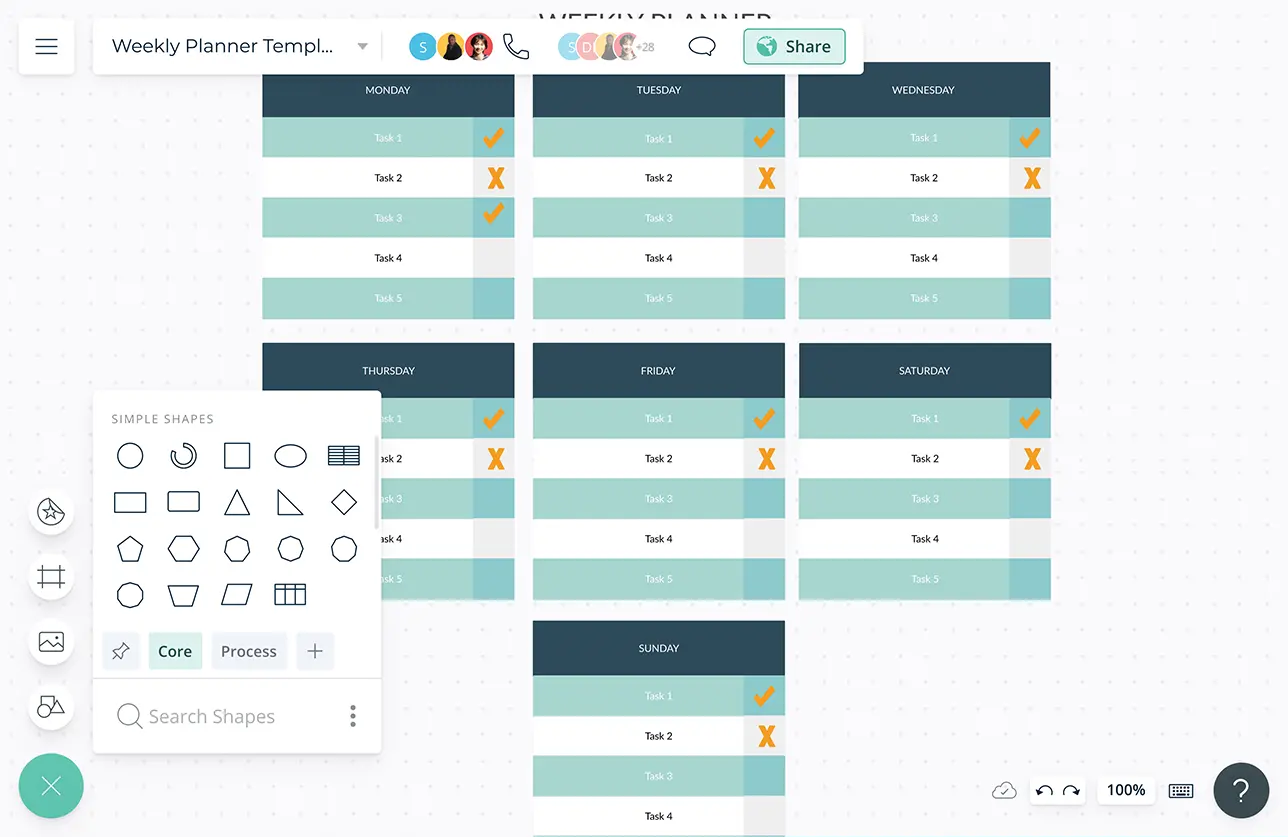 In-app video and audio conferencing to connect with teams/leads to discuss the tasks and prioritize them.
Multiple access levels and roles to share the weekly planner with relevant team members as viewers, reviewers, and editores.
Real-time cursors for any number of participants. Collaborate with team members or leads as you plan the weekly goals.
Frames and containers to split canvas to boards. Organize content in any way you wish to manage tasks and projects easily.
Export with high-quality formats such as SVG, PNG, JPEG, or PDF.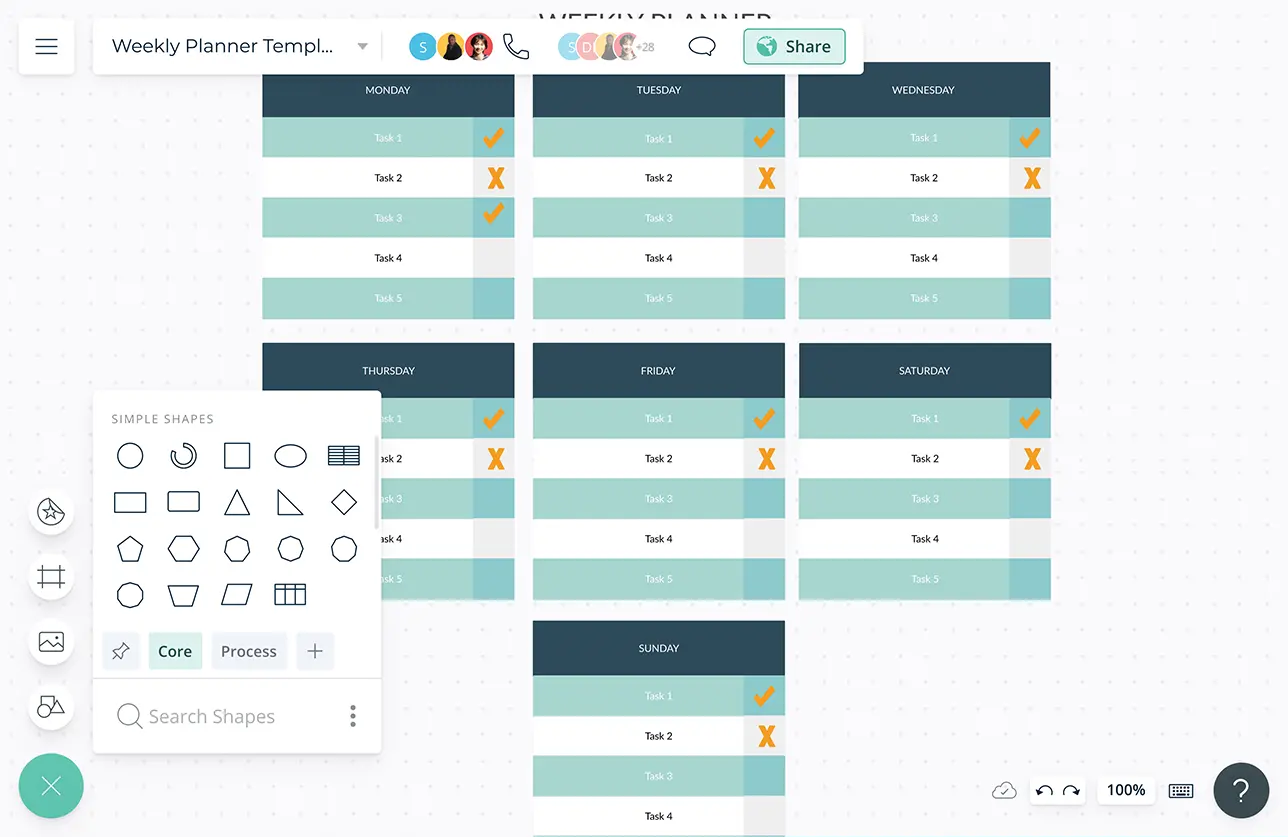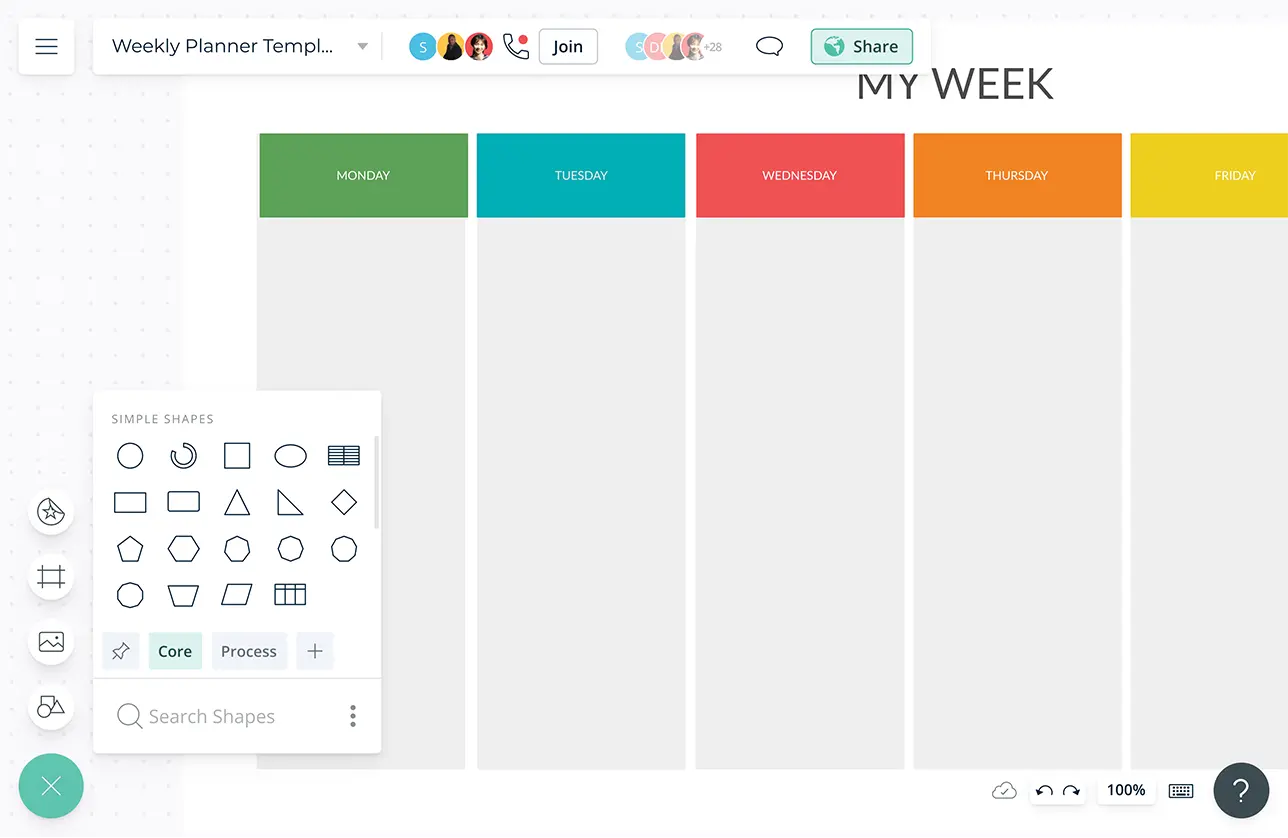 CONNECT & EXTEND
Centralize All Your Work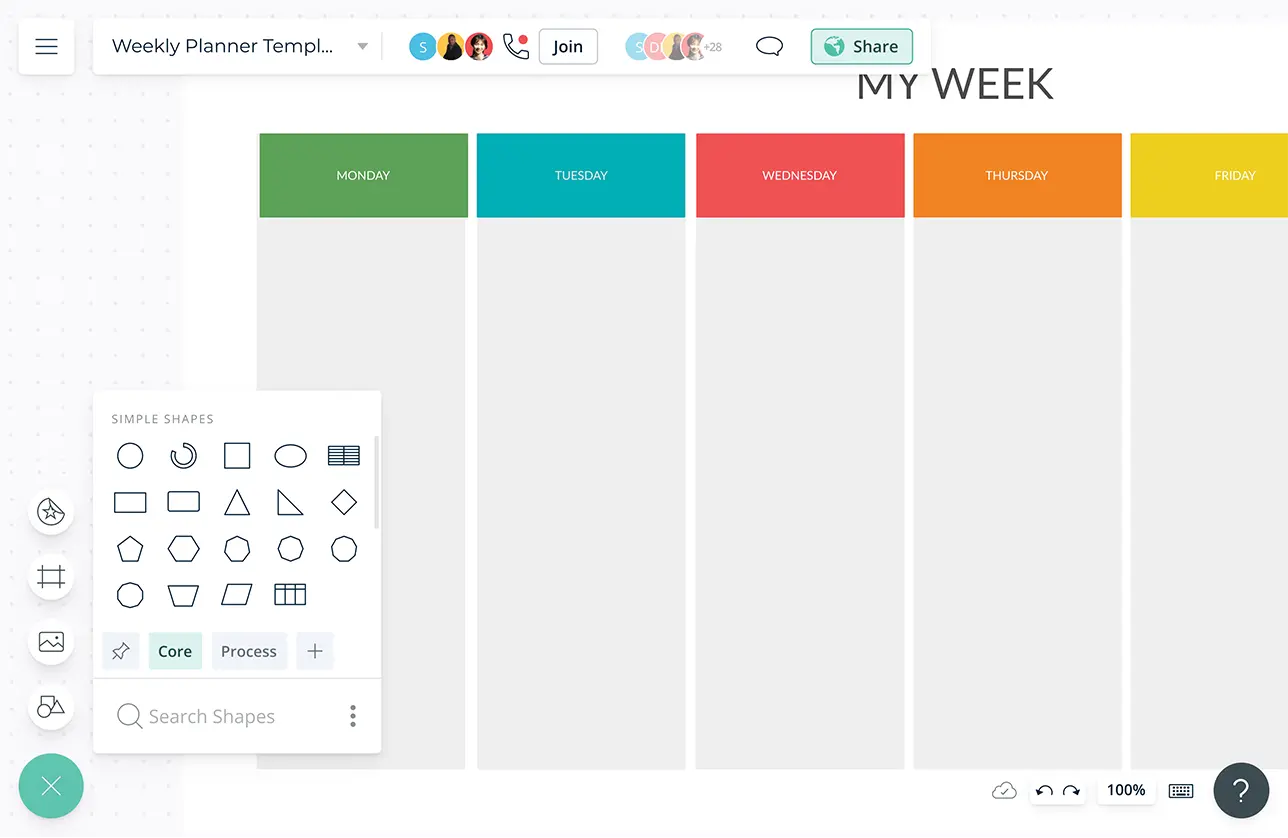 Link shapes and workspaces to connect iterative/repeated tasks from previous or upcoming weeks.
Import images, vectors, and more into the canvas to create a more holistic view of the weekly plans.
Embed documents and reference links to specific tasks and use in-app previews for easy access.
Multiple integrations with slack, google drive, Jira and more to stay connected and not miss out a single task.
Always in sync, even if you go offline and come back.
What is a Weekly Planner?
Weekly plan is a tool that allows you to organize and manage weekly tasks and commitments of the week as an individual or as a project manager who would distribute the tasks among the team members. It helps you to manage your time effectively and increase productivity.
How to Create a Weekly Planner?
Identify and list down all your weekly tasks and commitments. Review your previous week and find if there's anything that needs to be continued during this week. (Includes the projects that needs to be followed up, maintained, or analyzed)
Create a rough outline of the plan by arranging the identified tasks. Determine if any resource is required to complete the task.
Pick the Creately weekly planner template. Creately offers an array of templates for you to pick a layout for your plan and get started quickly.
Once you have selected the Creately template, start adding urgent and non-flexible tasks to your planner first. Be realistic when you are allocating time for them.
Style your plan and add resources/references if necessary. Use different colors to highlight the urgent tasks.With Creately, you can quickly style your graph with attractive and professional color themes.
Share your weekly plan with the team/leads to discuss the priority of the execution plan and modify the plan if required. Gather their feedback with contextual comments on Creately. You can download your weekly planner as SVGs, PNGs, JPEGs, or PDFs for printing, sharing, publishing, or presentations. You can also share it with anyone via email.