Introducing Creately VIZ - AI-Powered Visual Intelligence by Creately
Creately VIZ is our AI-based visualization and diagramming technology that combines visual framework expertise with user data built right into our visual collaboration platform. It uses visual intelligence to transform how teams work together. At its core, Creately VIZ enables teams to work visually side by side with artificial intelligence, which augments and extends ideas, provides summaries, and offers new perspectives automatically.
Key Features
Visualize Ideas in an Instant:
Transform text effortlessly into visual models. Whether it's a mind map, flowchart, or a kanban, Creately VIZ generates a corresponding visual representation using prompts, bringing your ideas to life.
Access Expert Insights without the Expertise:
Tap into a vast library of smart AI templates for visual frameworks and models, and use these without needing in-depth knowledge about them. Creately VIZ can transform your content, providing actionable insights for informed decision-making using smart AI templates.
Visualize Complex Processes Easily:
Creately VIZ simplifies the visualization of intricate processes by extending shapes and creating flows effortlessly. Say goodbye to manual drawing, ensuring accuracy and efficiency in diagram creation.
Organize Your Ideas with Ease:
Identify patterns, trends, and relationships by organizing and categorizing elements in a diagram or framework. Organizing elements based on themes, sentiments, or custom criteria adds a layer of flexibility, aligning the diagram with personal perspectives and requirements. In addition to visual organization, grouped elements simplify team members' review processes, allowing them to follow the logical flow of information and collaborate more efficiently.
Multi-Perspective Views:
View the same information from different angles. Convert your work into various diagram types, from Kanban boards to timelines to priority grids, ensuring that every perspective is considered.
Integrated with Microsoft Teams:
Seamlessly integrate Creately VIZ into your Microsoft Teams environment. Generate or update workspaces directly within your chats and meetings, fostering real-time collaboration. Read more information.
How to Use Creately VIZ?
Log into Creately and open a workspace. Add a shape onto the canvas from the Plus Button or from the Shapes Library.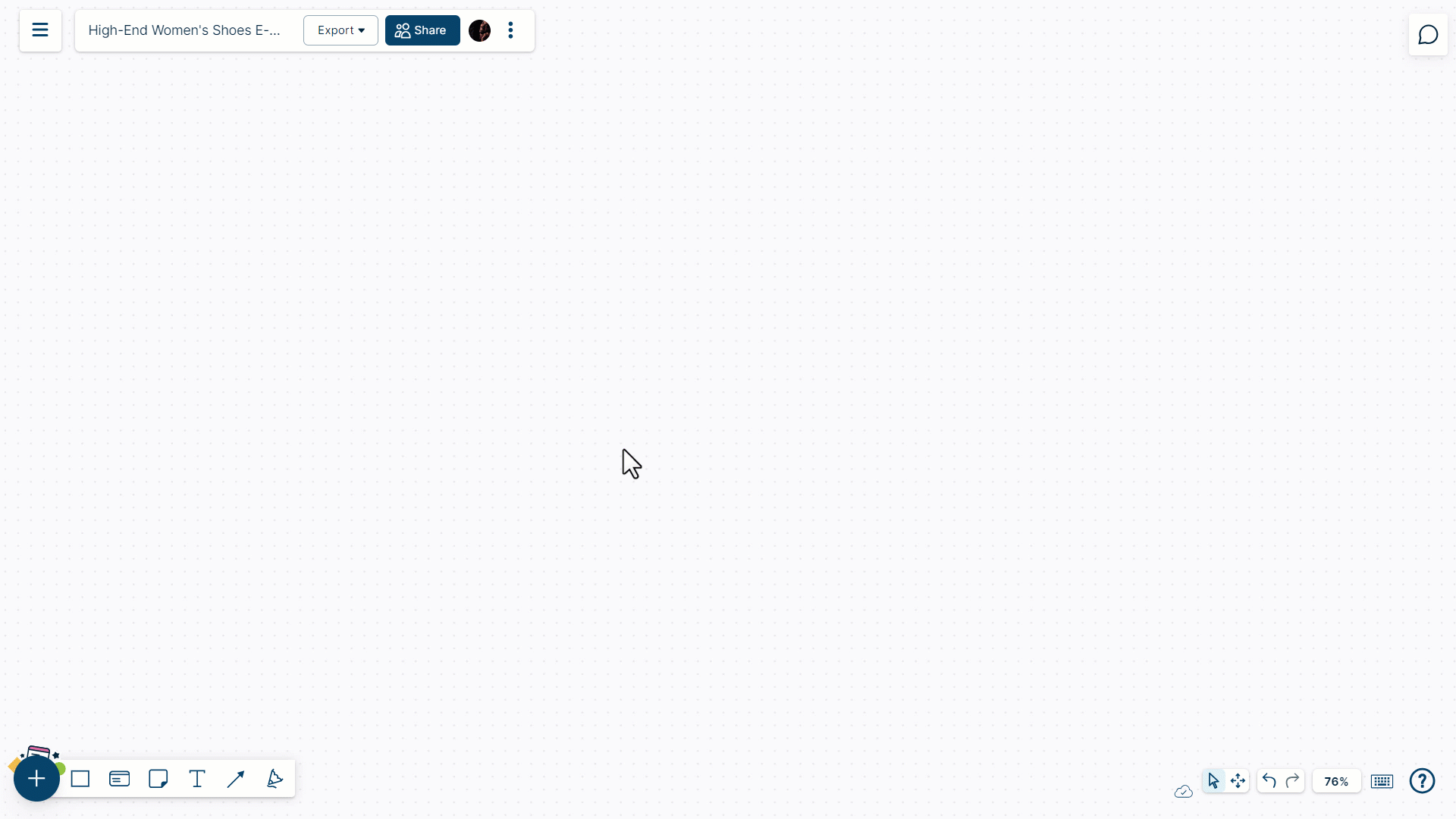 Select the shape → Quick Tools → Creately VIZ.

You can create a diagram via a template or extend the shape you added onto the canvas:

Creating a diagram Using a Template

Select Generate via Template.

Select an AI-supported template from the Templates panel.

Describe your requirement in the prompt window and select Enter.

Extending the Existing Shape

Select Extend and add 5 consecutive elements to the flow with connectors.

You can use the existing shape itself or 5 alternative shapes to the flow.

Once you have added a diagram using an AI-supported template or extended your existing diagram, you can group or transform them using Creately VIZ.

Grouping Elements

Select the relevant elements on the canvas and go to Quick Tools → Creately VIZ.

Group the elements by theme, sentiment, or tags. You can also choose Custom Group and arrange the elements based on specific criteria you define.

Transforming Diagram

Select the relevant elements on the canvas and go to Quick Tools → Creately VIZ.

Generate a framework such as a flowchart or Kanban board to align with the selected elements.