New In - Workspace Sharing, Guest Sharing Controls, and More

A Completely Redesigned Sharing Experience
New
Collaboration is central to Creately's purpose and our core sharing capabilities just went through a complete overhaul for a better experience both in the interface as well as our backend services.
The new sharing panel is now clearer on who has access to workspaces or folders. You can also now customize settings for team share controls, links, and specific user invites on the platform.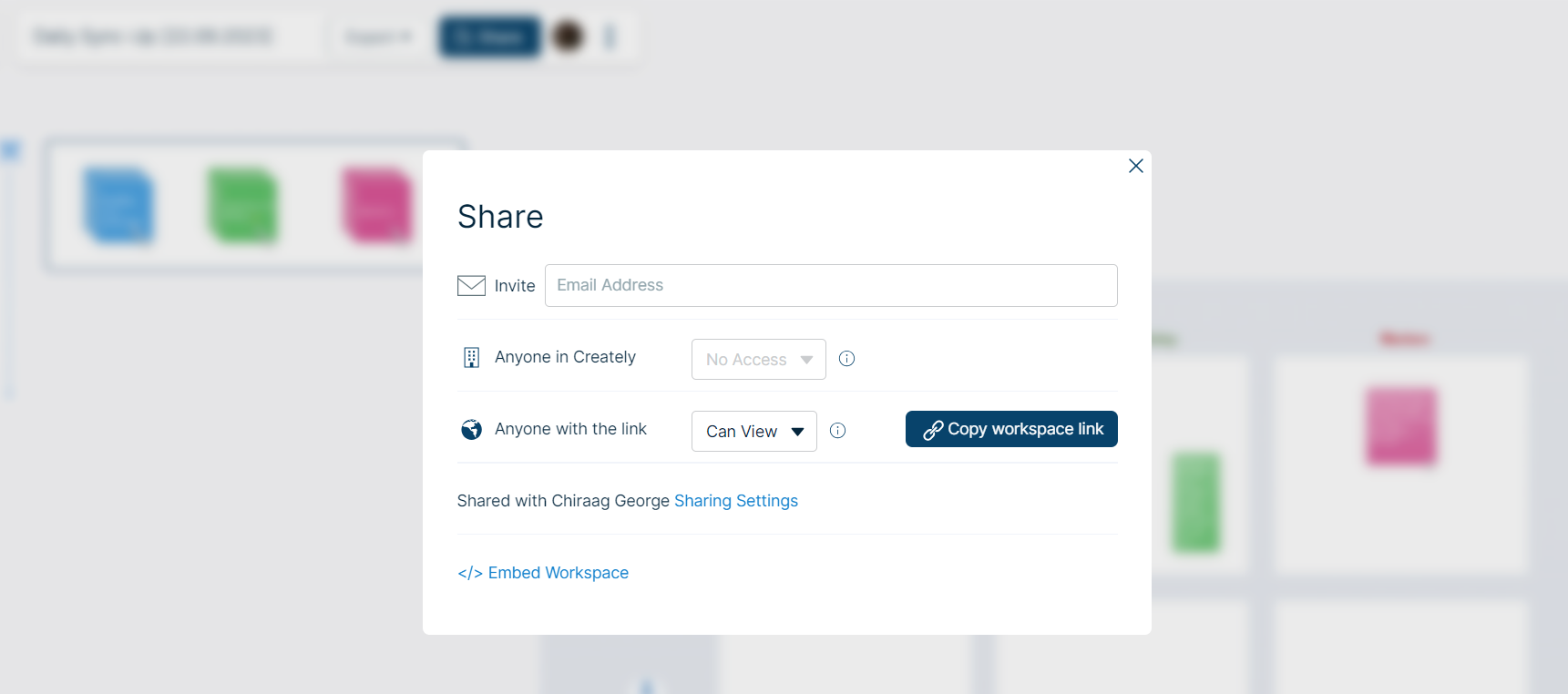 A few more significant improvements that come with this change:
More granular permission controls: You can now set more granular permissions for folders, such as who can view, edit, or delete the folder's contents.
Folders grouped by organization: All folders are now grouped into the organization they belong to, regardless of the sharing level. This makes it easier to find and manage folders, especially if you work with multiple organizations or partners.
Enhanced Cross-Organization Collaboration: If you collaborate with multiple organizations or partners, folders shared with you from these entities are now neatly organized within the relevant organization. This streamlines your workflow and helps you locate shared resources effortlessly.
Performance Boost: We've made significant optimizations to enhance the performance of folder sharing within teams and organizations, resulting in smoother and faster sharing experiences.
Introducing Managed Guest Sharing: Collaborate with Anyone, Securely
New
Creately knows that workspace sharing is a big deal for our users, and we have made it even better with the introduction of Guest Sharing.
Now, Business and Enterprise users can invite anyone as a guest to collaborate on workspaces, without having to add them to their plan. This makes it easy to share workspaces with clients, freelancers, or other external collaborators. Guests can be invited as editors or viewers, depending on the permission level you set.
As part of this enhancement, 'Public Sharing' option was also removed. Instead, we now recommend using Guest Sharing via the "Anyone with the link" option to share workspaces with external collaborators. This is a more secure way to share, as guests cannot access other workspaces in your Creately account.
The new functional improvements will reduce communication hassles, simplify feedback and reviews, and give you even more flexibility when working with a team. For more information on workspace sharing, see Access Controls.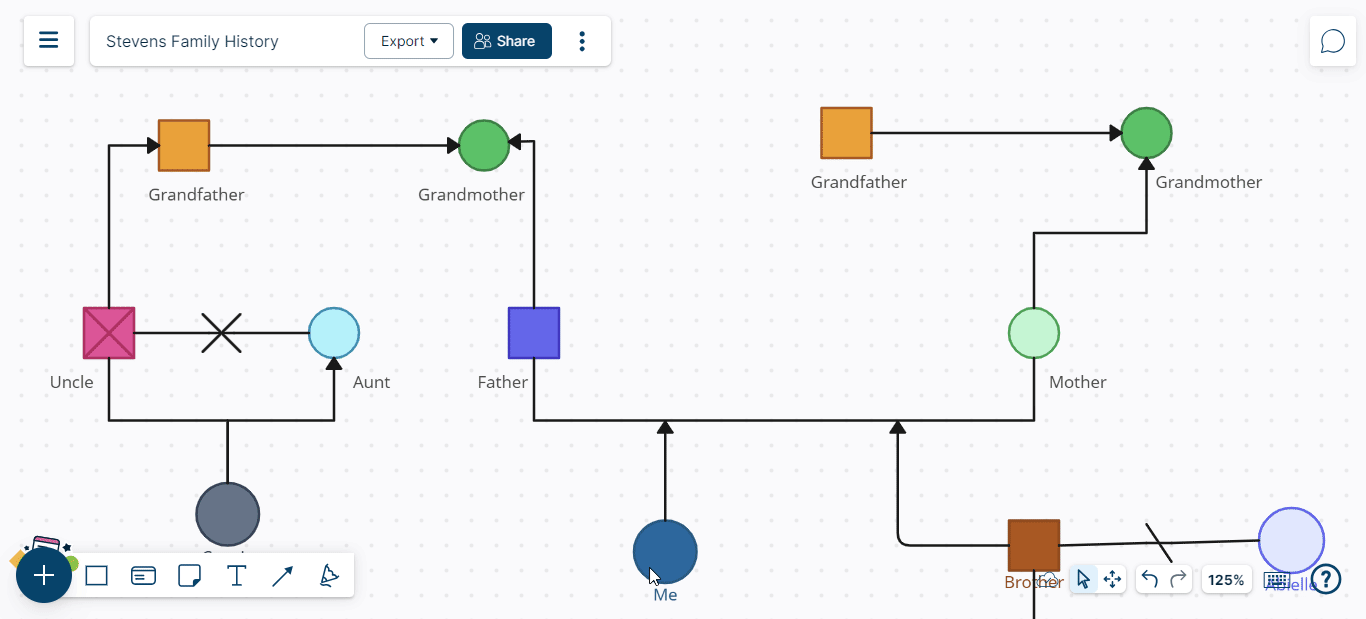 Enterprise Sharing Controls
New
Enterprise customers now gain granular control on how sharing works on Creately.
You can now disable sharing controls for guest users in Enterprise plans. This means the guests invited to workspaces will not be able to reshare the workspace with anyone. This is a great feature that enhances information security that helps organizations prevent guests from accidentally or intentionally sharing sensitive information.
How to Use:
To change sharing access for guests, go to Account → Org Preferences → Sharing Controls → and navigate to the Sharing Access for Guests option. Select Enable or Disable according to your preference.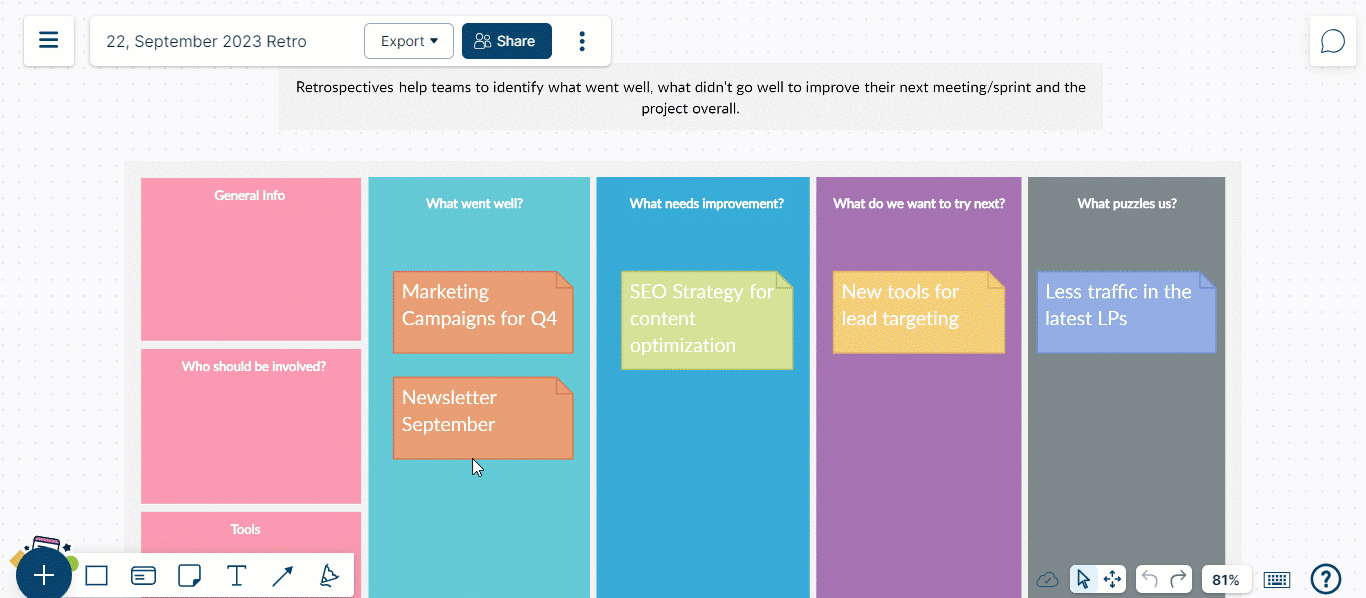 You can also limit who can share folders or workspaces to the entire organization. This is particularly important for larger organizations where sharing a folder with maybe 10,000 others is not such a great idea even by accident. You can limit this permission to Admins or Super Admins as preferred.
Organize and Manage Shared Content Across Multiple Organizations
New
Organize and manage the content that is shared with you across multiple organizations. Now, your shared content will be automatically organized into separate sections based on the organization that it was shared from. This means that you can easily find the content you need when you need it. It also helps you to keep your personal content separate from your work content.
Along with this change, Shared folders are by default moved to the owner's primary organization. This makes it easier to find and manage shared content, and it also ensures that shared content is subject to the owner's organization's policies and procedures.
Note the following:

1. This feature is only available to users on Business and Enterprise plans.
2. Shared folders will be moved to the owner's primary organization, even if you are not a member of that organization.
3. You cannot move shared folders to different organizations.
Introducing Transparent Shapes
New
Introducing transparent shapes for your styling and formatting of shapes. Now, when you set a shape's fill option to "No fill," it will be fully transparent, without any background color. This new feature empowers you to easily create transparent shapes, unlocking a range of creative possibilities. Whether you're looking to craft overlays, add watermarks, or achieve various other visual effects, this capability provides you with a versatile tool for your creative endeavors.
New In: Weekly Template Releases 🚀