2020 is almost over (*audible sigh*).
Although it has not been very kind to us, it has taught businesses many lessons, the most important one being that the future is unpredictable, and you can't be prepared enough.
Looking forward to  2021, the world we knew has changed, bringing with it a host of new challenges businesses must prepare for.  With the impact of COVID-19 on businesses expected to linger until at least the end of 2021, the need for strategic planning has become more important than ever.
However, with most of the team – if not everyone – working from home, businesses have had to resort to virtual strategic planning.
Without the convenience of everyone in the same room to coordinate their effort, can strategic planning be done effectively online?  In this post, we are sharing some effective tips for conducting strategic planning sessions remotely, hoping it will help you carry out your meetings successfully.
Virtual Strategic Planning
Strategic planning is the process by which organizations determine their vision for the future and develop strategies to get there successfully. It involves:
Conducting a situational analysis to assess the current environment
Establishing the vision of what the organization want to become
Develop the action plans and strategies to get there
Our comprehensive guide to strategic planning covers the process step-by-step and provides useful techniques you can use to simplify the workflow.
While conducting a strategic planning session in-person is difficult enough, doing one online where participants have the option to turn off their cameras and mics, and continue on with any other tasks, is even more challenging.
Let's see how you can do a virtual strategic planning meeting where participants are actually engaged and stay productive.
Planning the session
A strategic planning session requires the presence of the executives of the company, who often already have many other responsibilities on a daily basis. But their unwavering attention is essential to run a productive strategic planning session. Therefore, when scheduling your session, make sure that the participants have no other obligations they should attend to on the day/s selected.
Make sure all documents, reports, and access to the tools that will be used during the session are already shared with the participants prior to the meeting
Encourage the participants to join from a distraction-free space in their home
Have an agenda outlining the meeting activities; timebox each of them and stick to the time limits as much as you can
Help the team get into a strategic thinking mindset prior to the meeting by
Creating a neutral space devoid of reporting hierarchies where everyone's contributions are equally acknowledged
Encourage participants to share their opinions and suggestions openly, and allow them to do so without interruptions or objections
Increase engagement via video conferencing tools
Video conferencing is the next best medium to in-person communication in a remote setting. Having the cameras turned on is a great way to ensure that everyone is paying attention and remains engaged.
Zoom, Microsoft Teams, Google Meet, Skype, and Slack are some of the most commonly used video conferencing and meeting platforms used by remote teams, and you can use them here to conduct your planning sessions as well.
Use a visual workspace to stimulate creative thinking
A whiteboard is an essential tool in an in-office strategic planning session. It's where ideas shared are recorded, categorized, and prioritized. It helps stimulate and keep track of the conversations and streamline the planning session altogether.
Fortunately, you can use an online canvas like Creately to emulate this experience around your office whiteboard, even during a virtual strategic planning session.
Creately offers an infinite canvas with access to shape libraries over 50 types of diagrams and charts, along with real-time collaboration capabilities including in-app video conferencing, synchronous editing, comment discussion threads, real-time change previews, and mouse tracking.  With it, you and your team can
Share input on the same canvas, while talking with each other as you do so with in-app video chatting
Collaborate on brainstorming around ideas, analyzing them and prioritizing them  using simple tools like mind maps and affinity diagrams
Planning the work to be done along with assigning the responsible parties, and keep track of the progress made
Using one canvas (or one folder with all relevant strategic planning canvases) to plan and organize all things discussed during the planning sessions
Share the canvases with external stakeholders and collect their feedback in comment discussion-threads that you can resolve as you go through them
Export the data charts and diagrams (as PNGs, SVGs, PDFs, or JPEGs) you have worked on during the sessions so you can print, share, embed, or publish them
It also provides multiple scenario-based templates including several for strategic planning;
SWOT Analysis
During your situational analysis, you can use a SWOT analysis to examine the strengths, weaknesses, opprotunities and threats.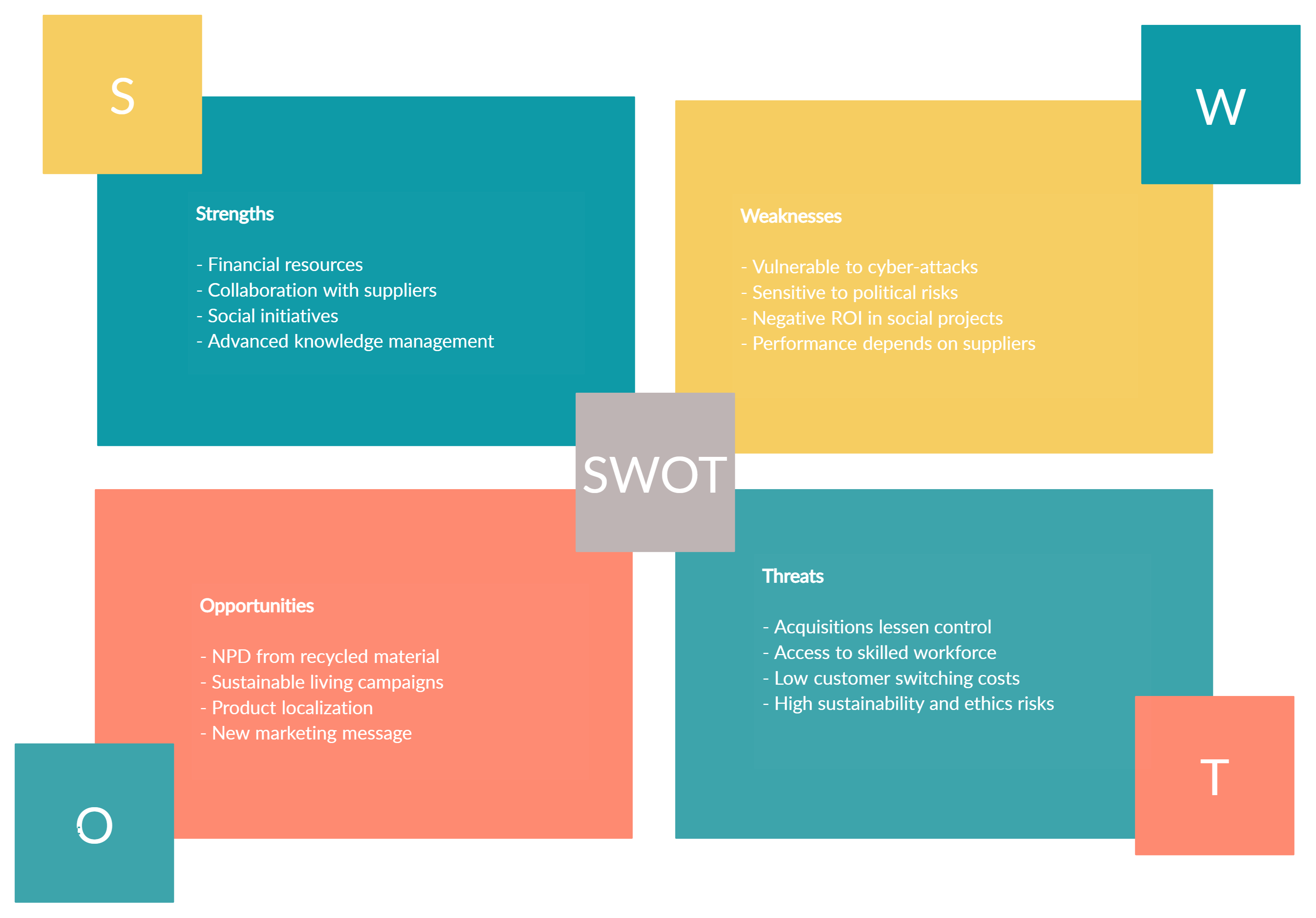 Action Plan
Plan and organize steps or tasks you need to complete in order to achieve the strategic goals you have set with this action plan template.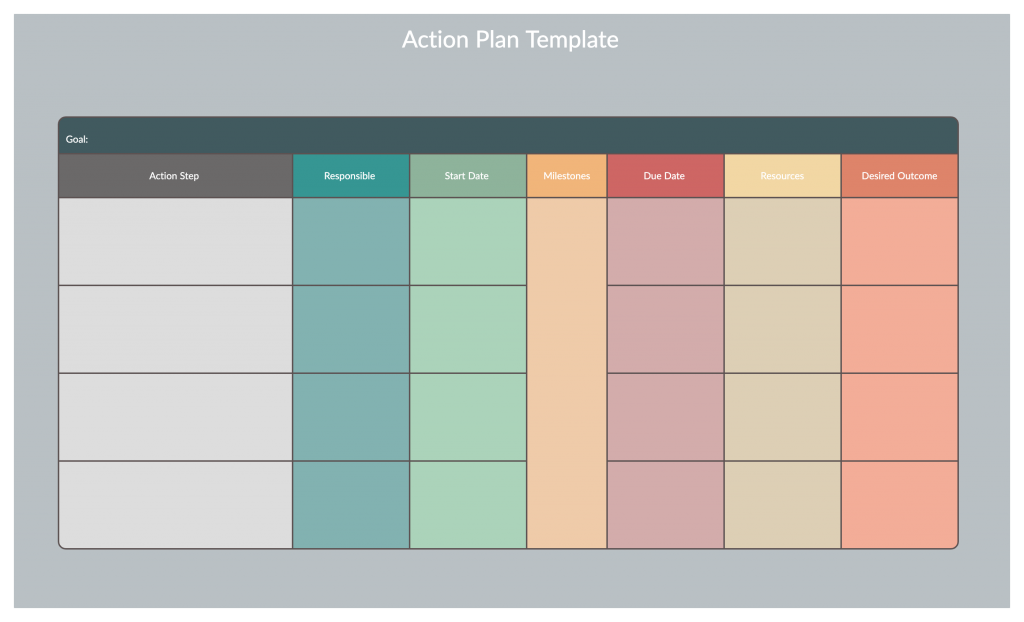 Affinity Diagram
An affinity diagram can be used to organize data gathered from your brainstorming sessions, discussions, analysis and research during strategic planning.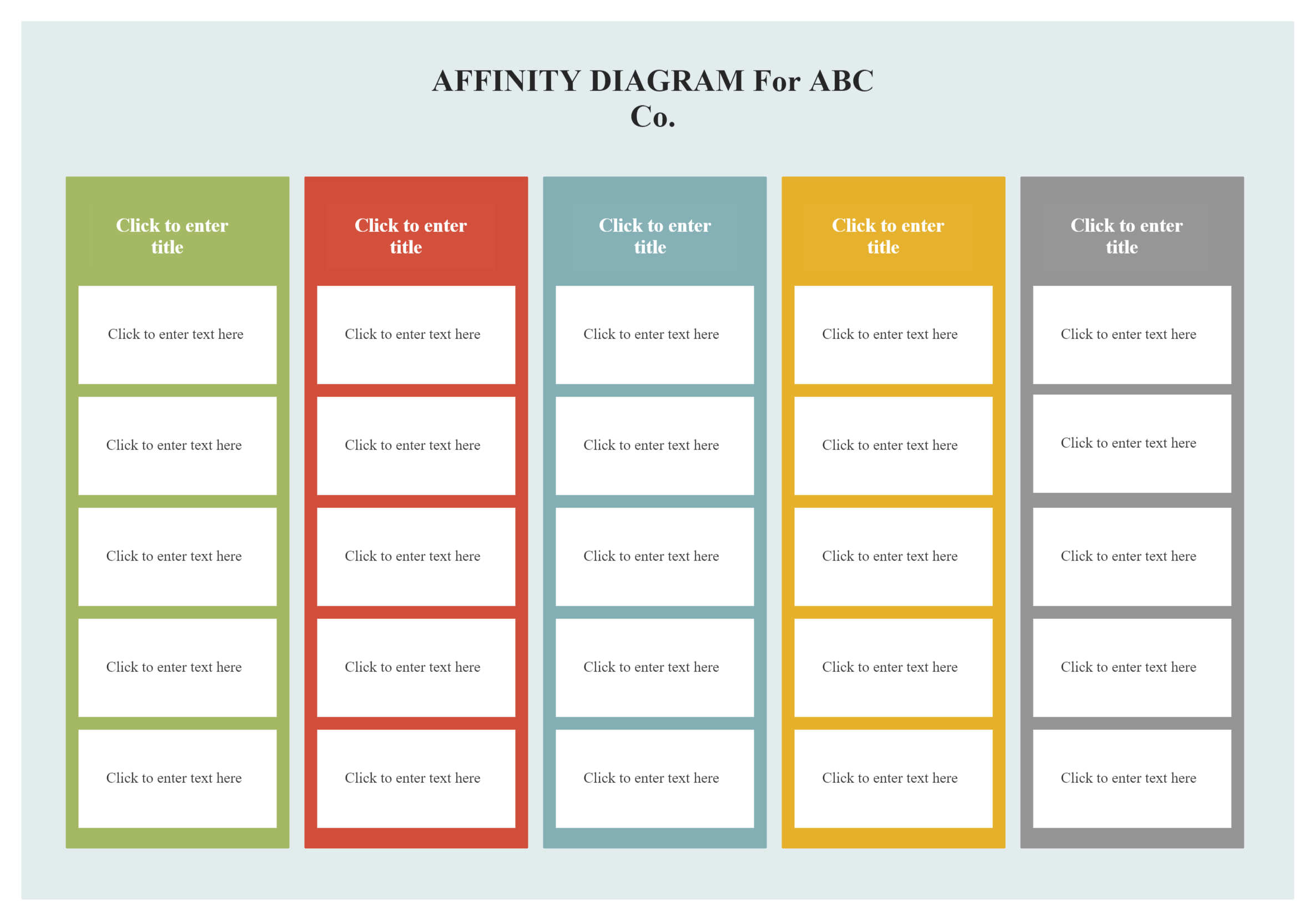 Strategic Planning Canvas
Streamline your virtual strategic planning process and communication around it by bringing all aspects of planning on to one canvas. The template below comprise of a SWOT analysis, process flow, strategy map, action plan and a timeline all on one canvas for easy access and management. Zoom in on the specific area as you work on it with the team.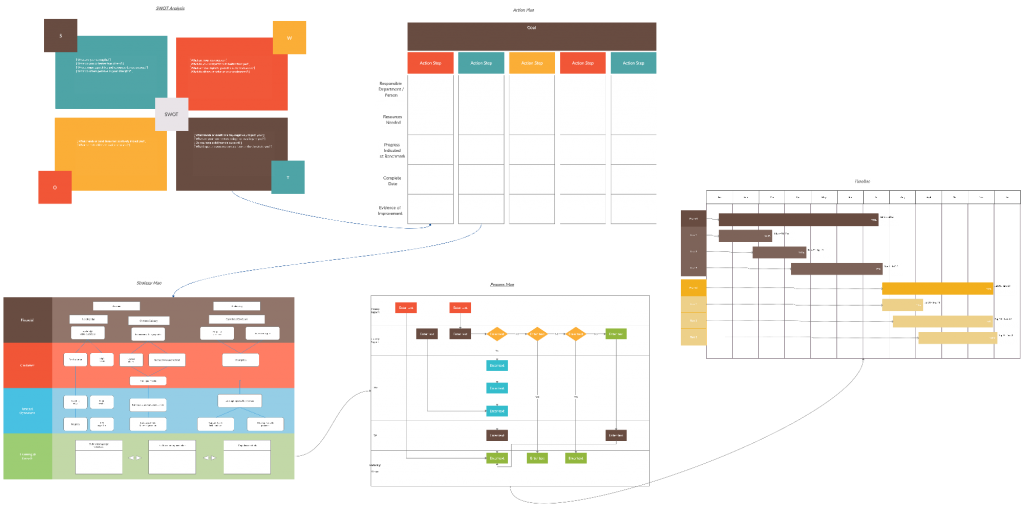 OGSM Template
OGSM stands for Objectives, Goals, Strategies, and Measures and it is a strategic planning model used to convert a company's vision into an actionable business and marketing strategy. Learn more about how to use it with our resource here.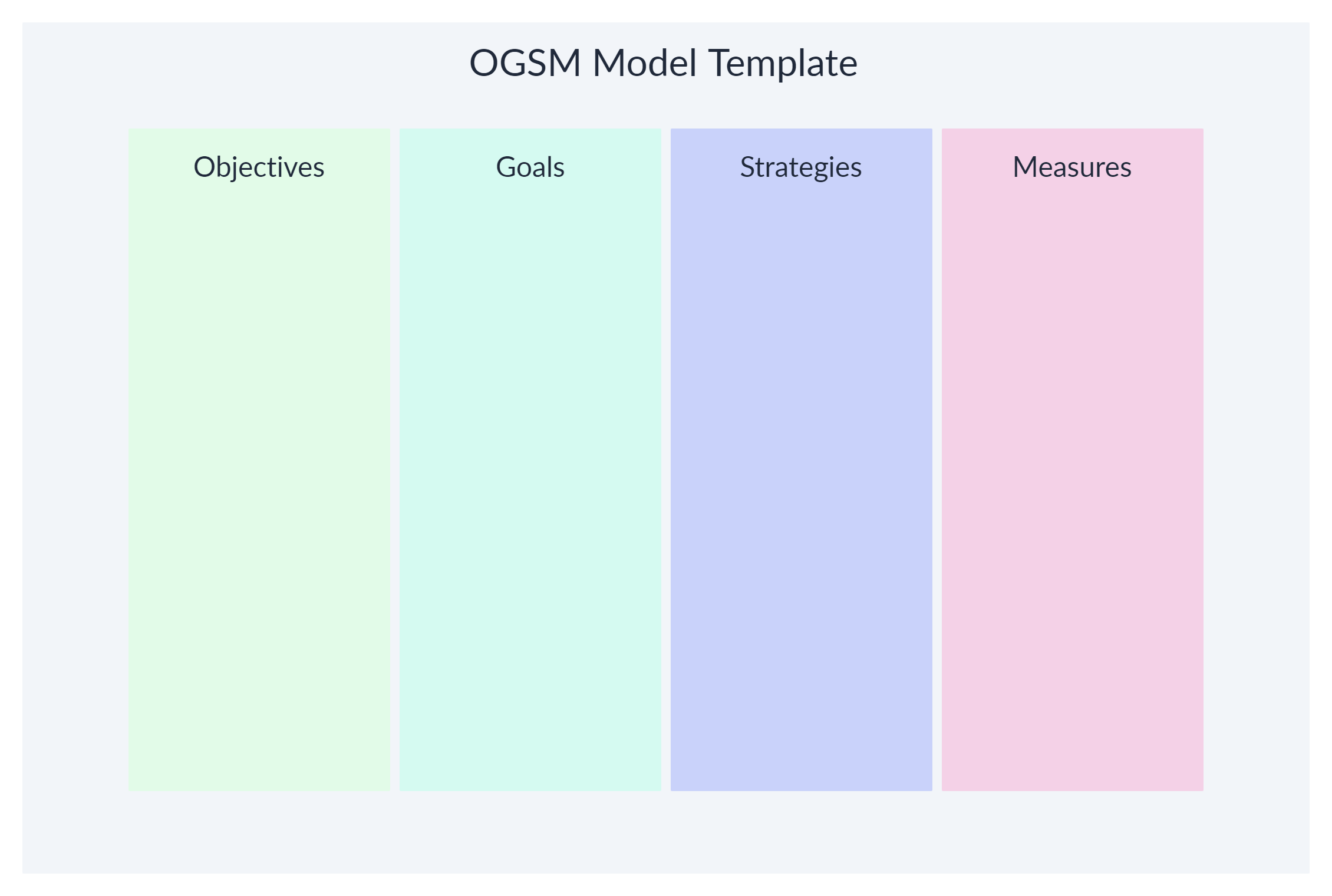 OKR
You can use this Objectives and Key Results template to collaborate on setting and managing your goals with your team during strategic planning.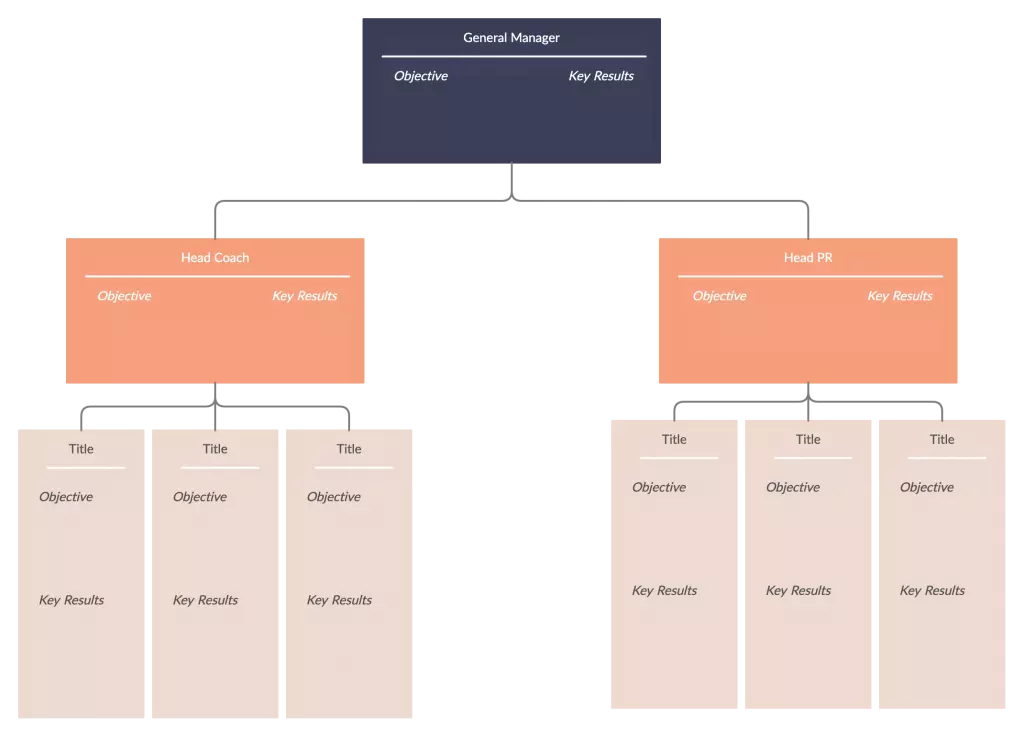 Do a series of shorter planning sessions
Instead of an all-day planning session that may only exhaust the participants, plan for several shorter sessions over the span of 3-5 weeks.
For longer planning sessions, take frequent and longer breaks lasting 20-30 minutes to allow the participants to manage their local home environment and attend to any issue that may arise (i.e. feeding their pets) and also refresh themselves occasionally.
Have participants do homework prior to the meeting
Have the participants review and analyze relevant reports and documents, and write down their questions, observations, and recommendations prior to each session. This will help devote time more productively for actual planning, decision-making, and problem-solving during the meeting time.
Keep all documents organized and easily accessible
Numerous reports, presentations, documents, spreadsheets, and marketing assets are exchanged and referred to during strategic planning. And more often than not, these are scattered across various platforms and devices.
Especially when working remotely, where asking for a simple data report may turn into a prolonged Slack chat or even another dreaded video call, it's important to maintain a central location to store and manage all relevant files and documents, so everyone knows where to find what they want without having to ask another.  
Use a document and file management system like Google Drive or OneDrive to simplify collaborating on shared documents.
What's Your Take on Virtual Strategic Planning?
A solid strategic plan is crucial for any business to grow and thrive in the ever-changing market they are competing in. With the new set of challenges brought on by COVID-19, it's become even more important to continue with strategizing for the future.
As of now, it's still unclear as to when we will be able to conduct physical planning sessions in the future. However, although done online, separated by screens, which may even pose a different set of difficulties, virtual strategic planning is the only practical way for remote teams to go about this right now. With the points above, we hope that you manage to streamline the process of virtual strategic planning successfully.
Got more tips on virtual strategic planning? Let us know in the comments section below.