Improved customer service, customer loyalty, and increased ROI; 3 things that every organization wishes they could achieve overnight. It's possible, although not overnight, but with the right tools and the effort.
One such tool is the customer journey map and it's there at the top with the other powerful tools that help drive customer-focused change effectively.  
In this guide, we'll explain the steps you need to take to create a customer journey map that drives the expected results while avoiding the common mistakes others make. Scroll down to learn:
What is a Customer Journey Map?
Customer expectations are on the rise and it will continue to grow, forcing companies to reinvent themselves constantly in order to survive. Reason? The availability of multiple products and services under different brands and offers. Furthermore, the presence of online platforms, especially social media, has given greater control over to the customer in decision-making.
Customer journey maps have become popular as it offer businesses a powerful tool for understanding and improving the customer experience. This tool, which is also known as the customer experience map, visualizes the experience of the customer of an organization.
It chronologically represents each step of interaction the customer takes with your business. A customer journey map usually starts with the initial step of when the customer discovers your product/ service and depending on your goal it can extend as long as you want to.  
It reveals customer actions, emotions, pain points and expectations along the customer journey. And it helps the business see things from the customer's perspective which in turn helps the business gain a deep understanding of the needs of the customer.
What are the Benefits of Using a Customer Journey Map?
There are many benefits to customer journey mapping. The customer journey map helps
To enhance the customer experience. It helps businesses gain insights into customers' various touchpoints and interactions with the product or service.
To reduce costs by identifying the areas the business should prioritize investing in and spending effort on. Customer journey mapping can help businesses identify and eliminate unnecessary touchpoints or processes that may not add value to the customer journey. Get valuable insight into what the customer is expecting from your brand, their internal motivations, and needs which will, in turn, help you improve your customer experience.
To innovate and differentiate by discovering the gaps between customer expectations and current customer experience, unmet customer needs, pain points, and opportunities.
To improve customer satisfaction by identifying severe customer experience issues and eliminating them effectively.
To increase customer loyalty by helping to build strong customer relationships by understanding their needs, preferences, and emotions.
To align teams by facilitating collaboration within organizations. This helps to provide a shared understanding of the customer's journey, enabling different teams to align their efforts toward a common goal.
Data-driven decision-making based on gathered insights from customer research, feedback, and analytics.
Factors to Consider Before Creating a Customer Journey Map
Before you delve into creating a customer journey map, it is important to consider several factors to ensure that the final outcome is accurate, effective and actionable.
What is your team trying to achieve? Make sure to define your objective and purpose of creating the customer journey map, clearly.
Identify the target customer segment as different customer segments may have different touchpoints, pain points and requirements leading to different journeys.
Carry out a thorough research by gathering data and insights via customer research, feedback and analytics. Conduct customer interviews, surveys, feedback forms, social media and website analytics among others.
Make the customer journey mapping a collaborative effort by involving cross-functional teams. Invite the marketing, sales, customer service, product, and design teams to work together to understand and align efforts.
Consider including the emotional aspects of the customer journey such as feelings, motivations and perceptions at each touchpoint.
What Are the Components of a Customer Journey Map?
A customer journey map typically includes the following components:
Touchpoints: All of the interactions and experiences a customer has with a company, including in-person, online, and mobile interactions.
Customer personas: Representations of the target customer segments, including their demographics, behaviors, motivations, and pain points.
Emotions: A visual representation of how the customer feels at different touchpoints during their journey.
Channels: The ways in which a customer interacts with the company, such as website, phone, or in-person interactions.
Data and insights: Customer behavior data and insights from surveys, analytics, or other sources.
Pain points and opportunities: Identifications of areas where the customer experience can be improved, as well as opportunities for innovation and differentiation.
Recommended actions: Specific recommendations for improving the customer experience, based on the journey map analysis.
Alignment with company goals: A visual representation of how the customer journey aligns with the overall goals and strategy of the company.
How to Create a Customer Journey Map in 6 Steps
At a glance, a customer journey map may look easy to make. But there are many details you need to pay attention to when creating one. In the following steps, we have simplified the process of creating a customer journey map.
One thing you need to keep in mind is that customer journey maps may differ from company to company based on the product/ service they offer and audience behavior.
It's also important to have the right kind of people who know about your customer's experience in the room when you are mapping the journey.
Here are 6 six easy steps that you can follow when creating a customer journey map.
Build your buyer persona
Map out the customer lifecycle stages and touchpoints
Understand the goals of the customers
Identify obstacles and customer pain points
Identify the elements you want to focus on
Fix the roadblocks
Let's look at each step in more detail.
Step 1: Build Your Buyer Persona
Creating a customer journey map begins with defining your buyer persona, which profiles your target customer based on extensive research.
The buyer persona usually consists of demographic data such as age, gender, career, etc. in addition to other behavioral and psychographic details like customer goals, interests, lifestyle, challenges, etc.
Your business can have one or many buyer personas depending on how many audience segments you are targeting. And to avoid creating a customer journey map that is too generic, you need to create separate customer journey maps for each of the segments you identify.
You need to also be careful to rely on real data rather than assumptions to avoid creating an erroneous customer profile that won't do much for you.
You can gather as much data as you want from online research, questionnaires, surveys, direct customer feedback, interviews and with tools like Google Analytics.
Here's our guide on creating a buyer persona. Refer to it to create your own buyer persona in 4 simple steps. Start with a template to save time.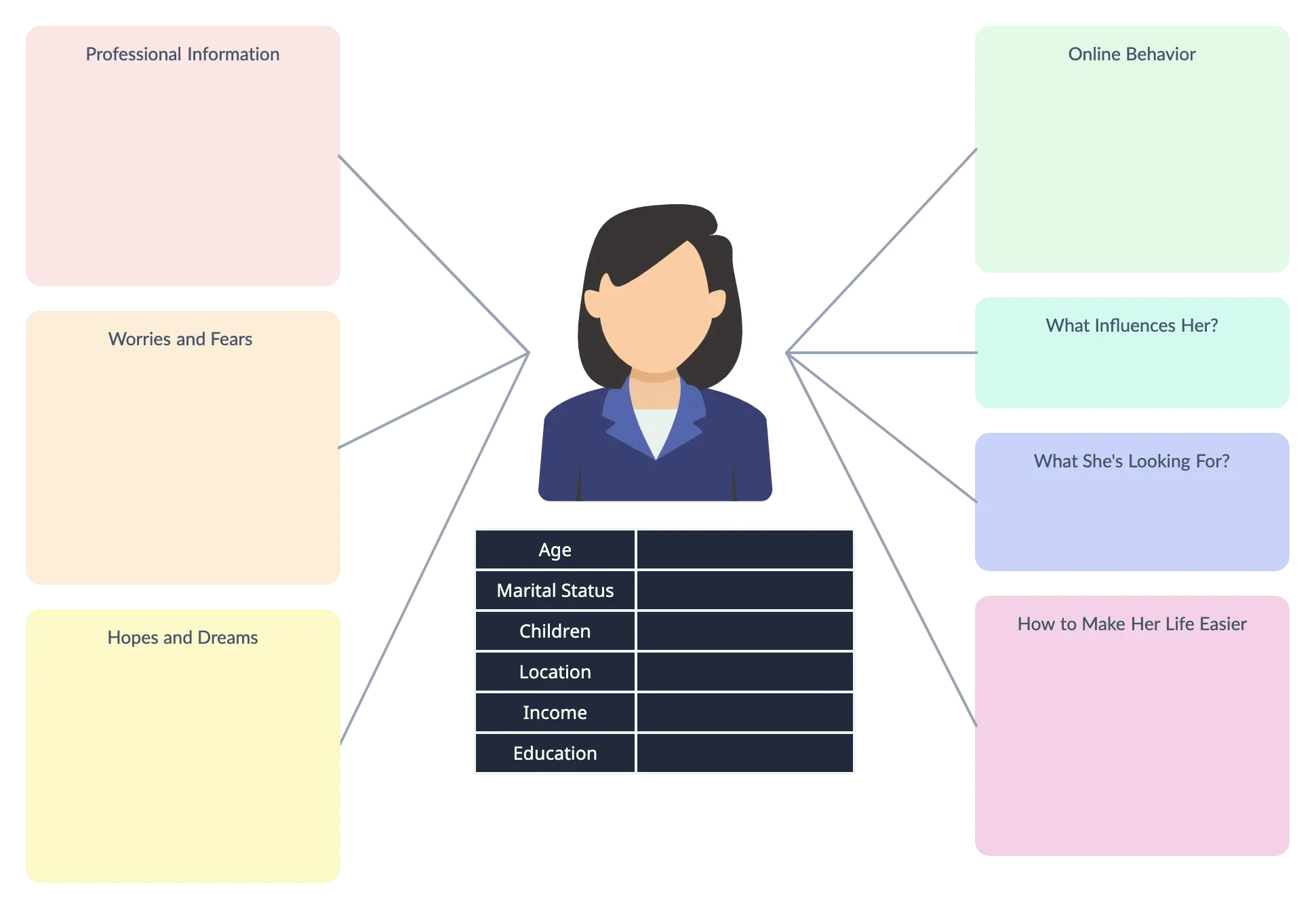 Creating the buyer persona will also shed light on the goals of the buyer, which is another thing you need to pay attention to when mapping your customer's journey.
Step 2: Map Out the Customer LIfecycle Stages and Touchpoints
What are the stages your customer goes through to come into contact with your product/ service? Breaking down your customer journey map into various stages will make it easier to understand and refer to.
Now, these stages may vary depending on your business situation, sales funnel design, marketing strategies, etc. but usually, it would contain – Awareness, Consideration, Decision, and Retention.
Map out the touchpoints to clarify the customer lifecycle stages even better. A touchpoint refers to any moment in their journey when a customer comes into contact with your brand (i.e. website, social media, testimonials, advertisements, point of sale, billing, etc.).
The data you collected during your buyer persona research will give you a pretty good idea about the customer touchpoints along the lifecycle stages; these include the steps they take when they first discover your brand to purchasing your product and subsequent interactions.
Identifying all potential touchpoints may sound overwhelming, but you can always rely on tools like Google Analytics which will generate behavioral reports (which show the user path throughout your website)  and goal flow reports (display the path a user takes to complete a goal conversion) for you to work with.
Or you can follow the traditional method and put yourself in the shoes of your customers and take yourself through the journey to identify the actions.
At the same time try to determine the emotional state (delighted/ frustrated) of the customer as they take each action. Knowing how they feel will help you understand whether they would go from one stage to the other in the journey.
Step 3: Understand the Goals of the Customers
This is where you need to focus your attention on understanding the goals your customers are trying to achieve at each stage. When it comes to optimizing your customer's journey, it will help immensely if you know what your customers are trying to achieve.
Some methods you can use here include survey answers, interview transcripts, customer support emails, user testing, etc.
Once you know the goals your customers are trying to gain at each phase of the journey, you can align them with the touchpoints.
Step 4: Identify Obstacles and Customer Pain Points
By now you know what your customer is trying to achieve at each stage of the customer lifecycle, and each of the steps they take to get it done.
If your customer journey is perfect, then you won't have your customers abandoning their purchases, leaving your landing pages without filling the forms, clicking the CTA only to close the tab, etc. If your journey didn't have any roadblocks at all, then you wouldn't be needing this user journey map in the first place.
But that's not the case here, is it?
There might be many things that you are doing right to make your customer experience a smooth one, but there can still be many roadblocks that frustrate your users. In this step, you need to work on identifying what these roadblocks and pain points of customers are.
Maybe the product price is too high, or the shipping rates are unreasonable, or maybe the registration form is a few pages too long. Identifying such roadblocks will help you apply suitable solutions to improve your customer experience.
You can rely on the research data you gathered to create your buyer personas here as well.
Step 5: Identify the Elements You Want to Focus on
There are several types of customer journey maps and each focuses on a variety of elements. Based on your purpose, you can select one of them.
Current state: These maps show how your customers are interacting with your brand currently.
Future state: This type of map visualizes the actions that you assume or believe will be taken by your customers.
Day in the life: This type of map tries to capture what your current customers or prospects do in a day in their life. They will reveal more information about your customers, including pain points in real life.
Step 6: Fix the Roadblocks
Now that you know the issues/ roadblocks your customers come across as they interact with your brand, focus on prioritizing and fixing them to improve each touchpoint to retain customers at all stages of the journey.
Customers are constantly changing, and so should your customer journey maps. Test and update your customer journey maps as often as necessary to reflect the changes in your customers as well as in your products/ services.
Here are some templates you can start with right away.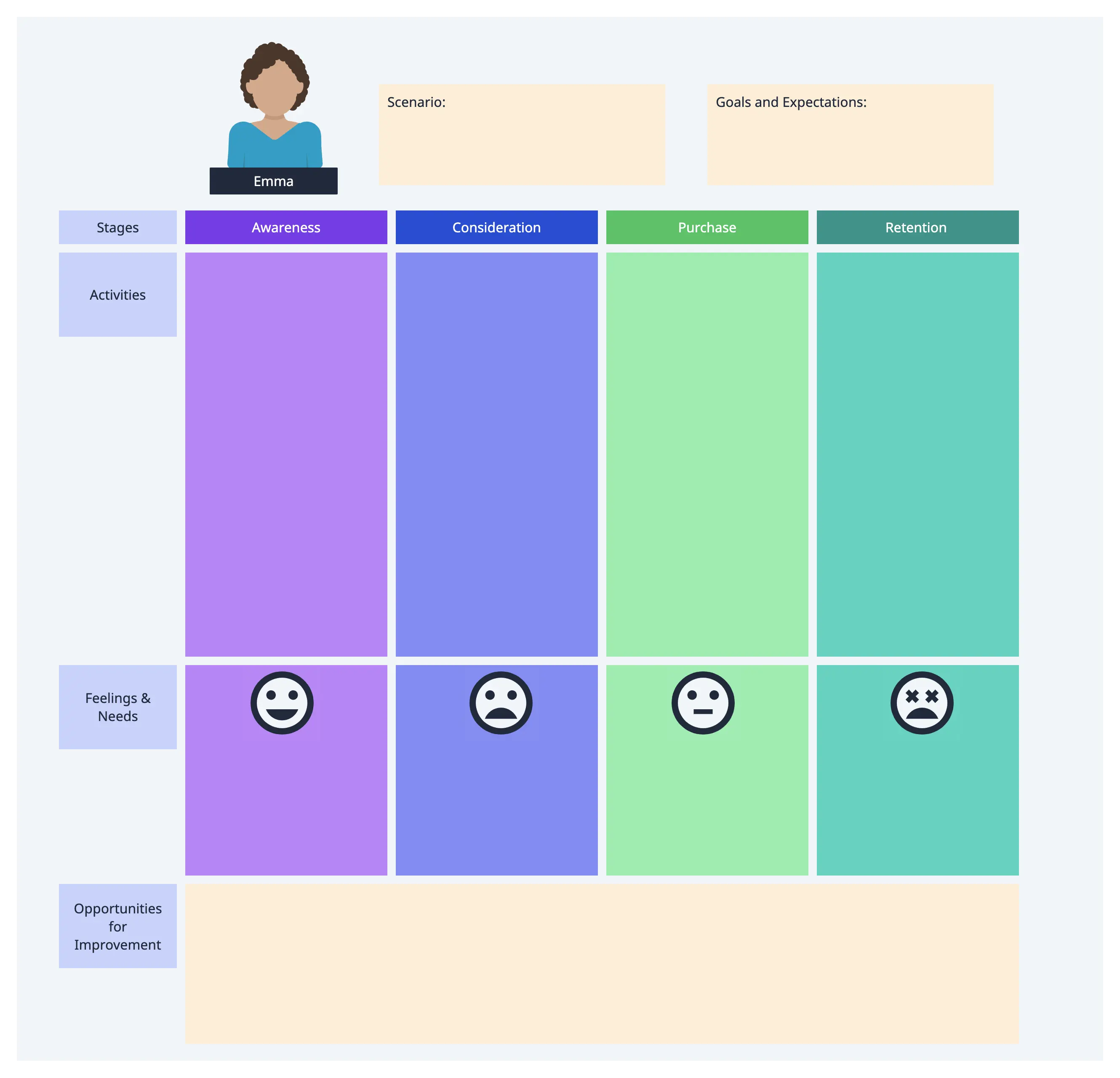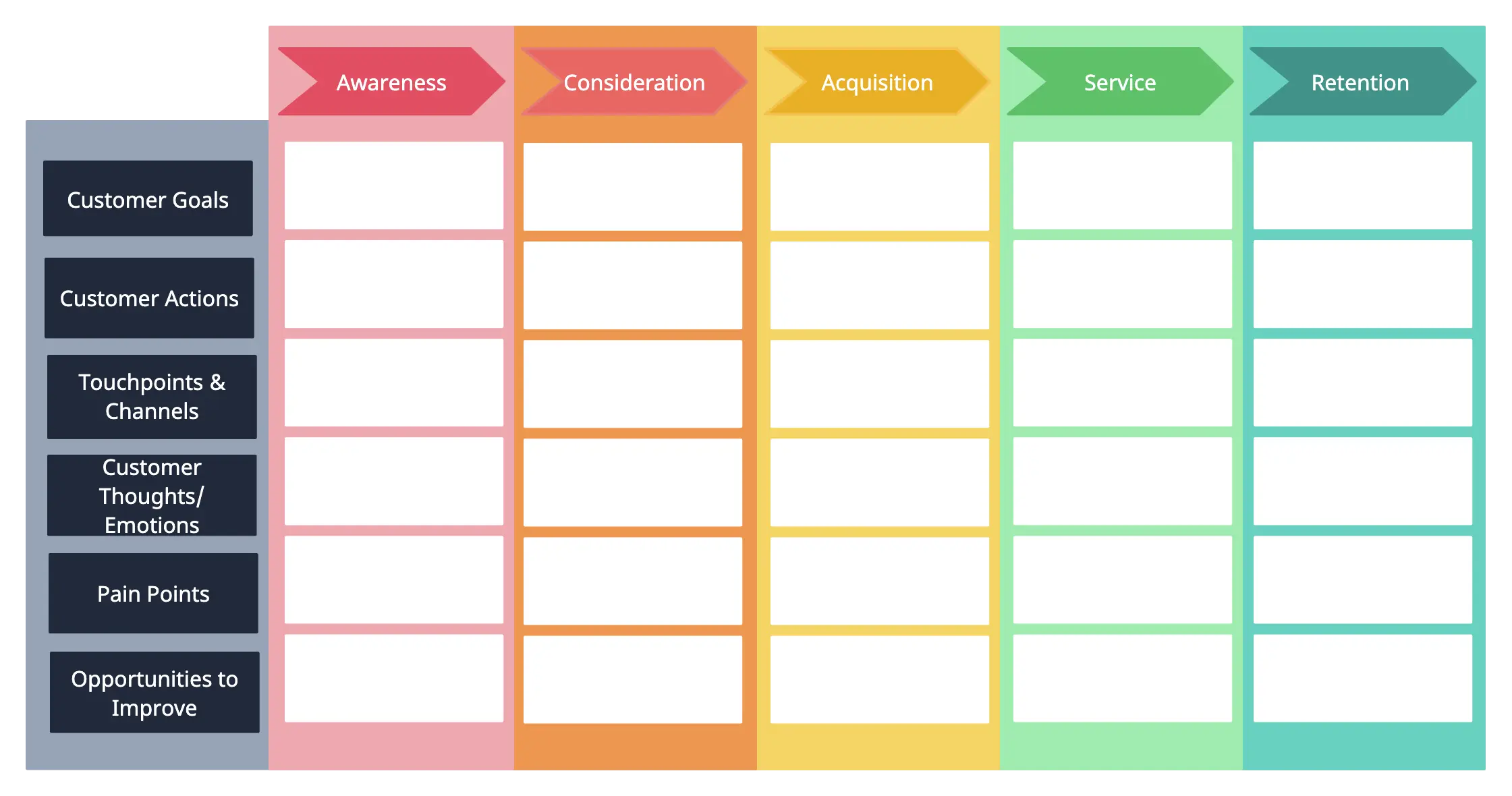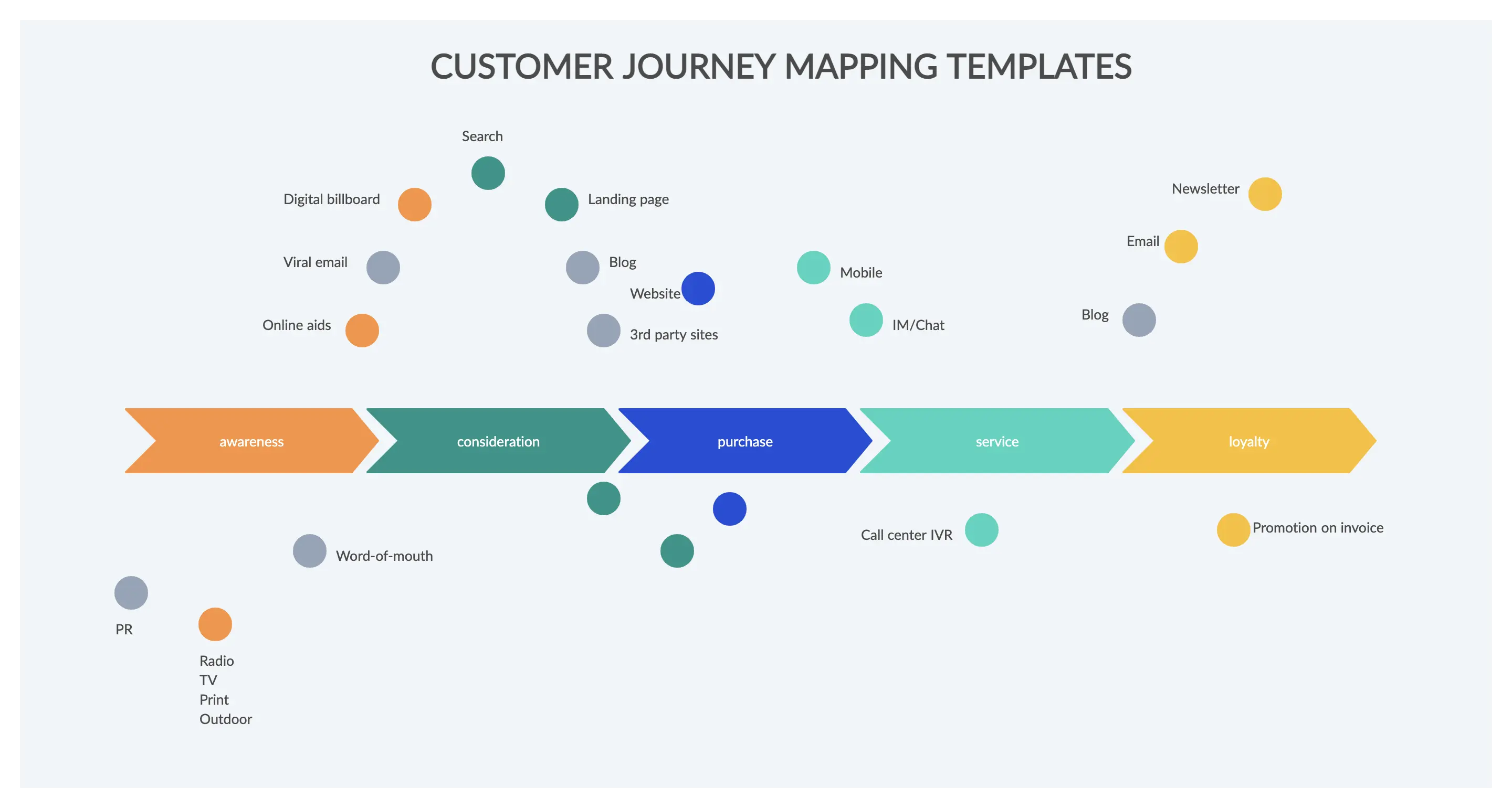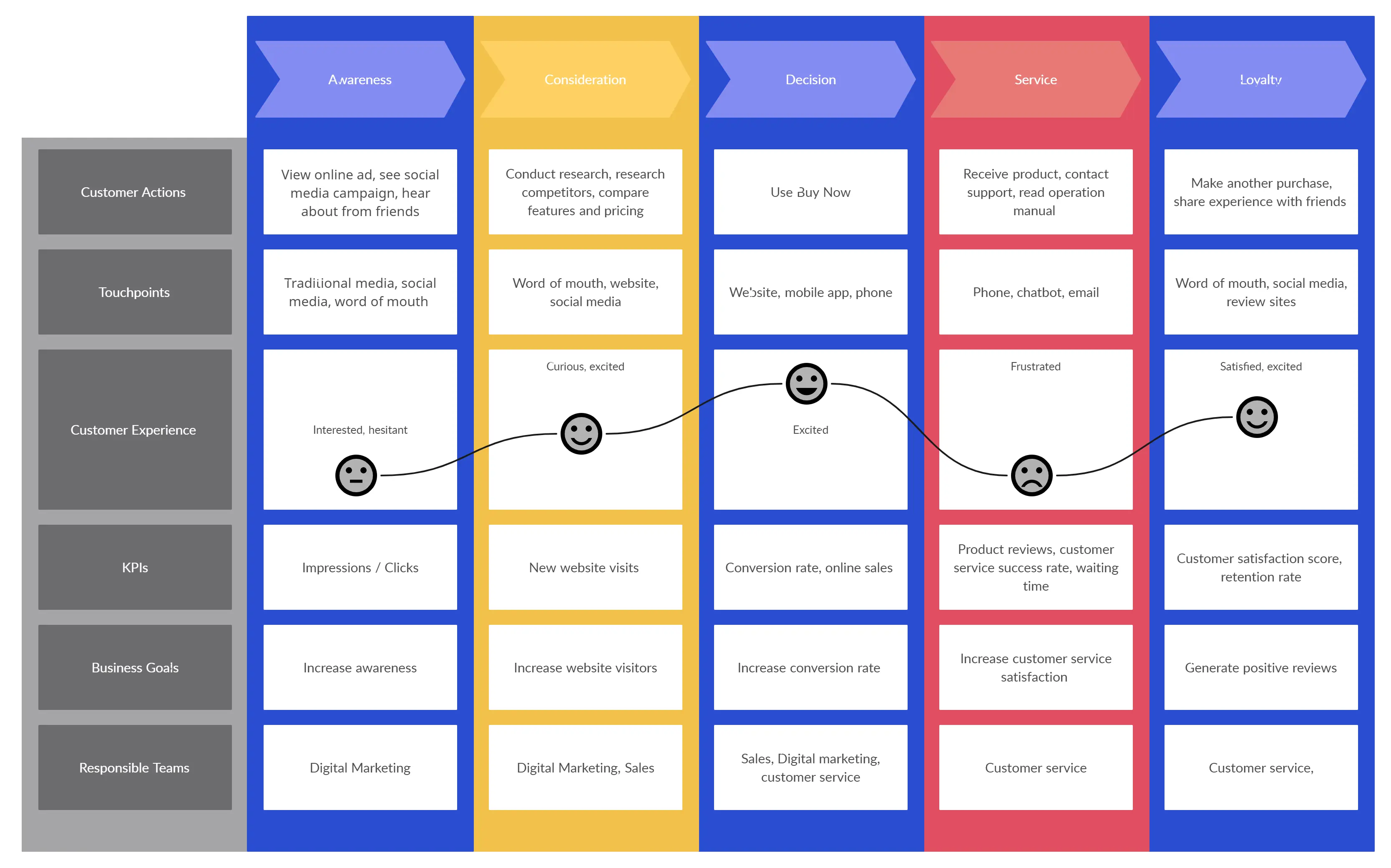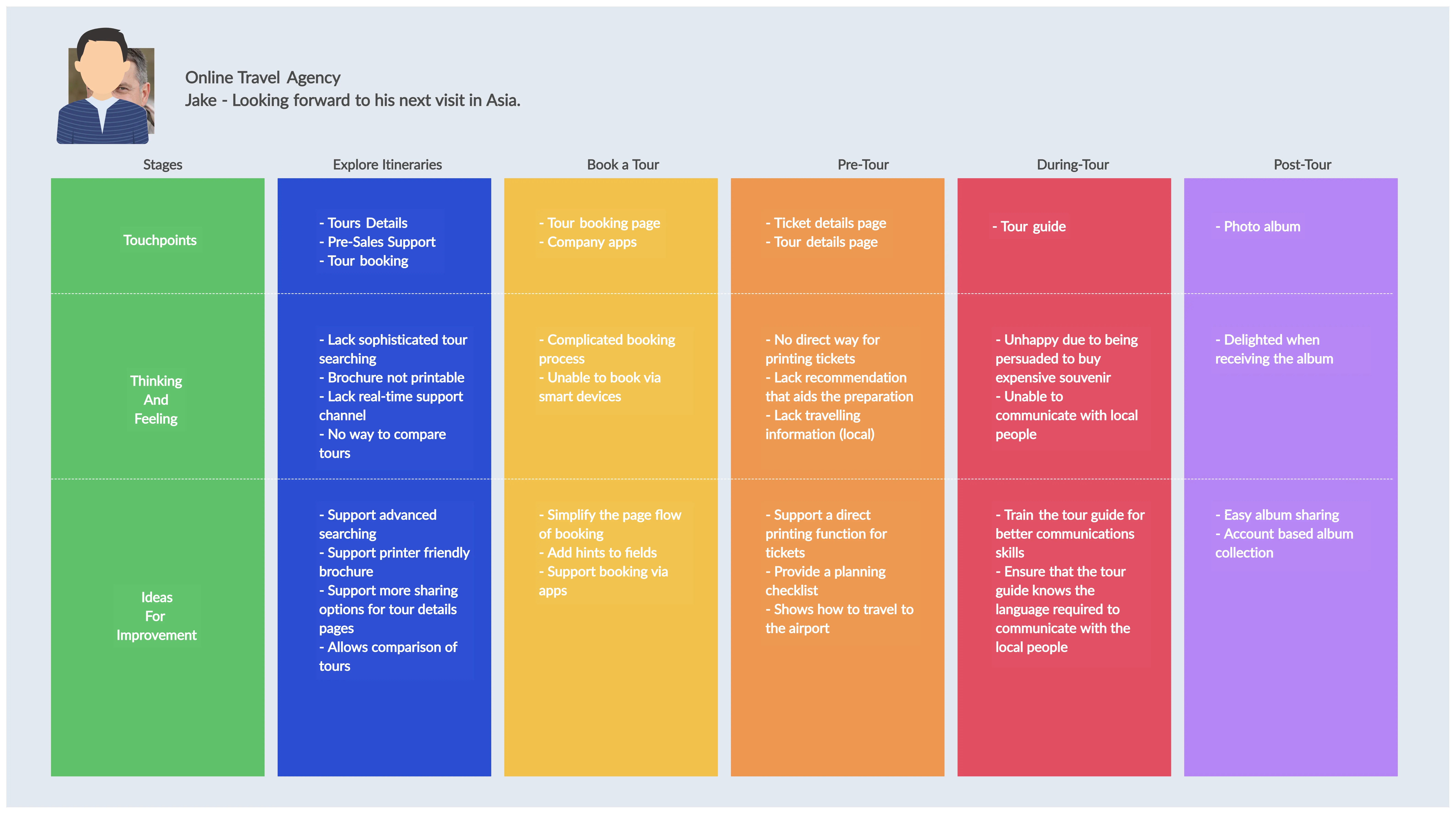 Tips and Best Practices When Creating a Customer Journey Map
Here are a few additional tips and best practices to ensure your customer journey map is accurate and effective.
Use or create personas to better understand your customer and tailor your journey to specific customer segments. For example, if your business is fashion retail, you can develop personas such as 'working professional,' 'fashionable mom,' 'teenage fashionista,' etc.
Use data and metrics to support your map and make it data-driven. Include data on customer satisfaction scores, conversion rates, or customer retention rates to identify areas for improvement. This can also help to prioritize actions and allocate resources effectively.
Use multiple channels, both online and offline, to interact with customers. For example, a customer may discover your product or service on social media, then research more on your website, visit the store for a demo, and then make the final purchase.
Go beyond existing touchpoints to include anticipated future customer needs as well. For example, if you are in the hospitality industry, you could include potential pain points and opportunities for pre-arrival, check-in, stay, check-out, and post-stay.
Always keep the customer at the center of your customer journey map. Consider the customer's emotions, preferences, and motivations at each touchpoint to create a more customer-centric experience. For example, a customer journey map for a subscription-based meal delivery service can include touchpoints for menu options, selecting meals, placing an order, receiving, and providing feedback.
Customer journeys are dynamic and can evolve due to customer behavior, market trends, and business strategies. Therefore, continuously review and update by monitoring customer behavior, trends, and business strategies. Keep the customer journey map flexible and adaptable to changes.
Create and present the journey map in a visually appealing and accessible format so stakeholders can easily understand it. Use visuals, diagrams, and infographics as required.
A customer journey map is not a one-time exercise but a continuous process: test and iterate. Validate the map with real customers to ensure accuracy and relevance. Gather feedback, and conduct usability testing to gather additional insights to refine and make the map accurate.
Keep it simple and accessible. Use clear and straightforward language and visual elements while avoiding jargon and cluttering. Make sure the customer journey map is easy to understand and accessible to all relevant stakeholders.
Common Mistakes to Avoid When Creating Your Customer Journey Map
Creating a customer journey map can be a complex process. Here are a few mistakes you should be aware of and avoid at any cost.
Making assumptions without data
A common mistake is relying on assumptions without proper data or research. It would be best to put time into gathering data and insights from various sources. Make sure to carry out thorough research. Use a combination of qualitative and quantitative data to ensure accuracy and reliability.
Focusing on one touchpoint
Another mistake is focusing only on one touchpoint or a single interaction rather than considering the entire end-to-end journey. This can result in an incomplete or biased customer journey map. To avoid this, take a comprehensive approach and consider the whole customer journey from initial awareness to post-purchase stages. Include all relevant online and offline touchpoints, channels, and interactions.
Not involving cross-functional teams
Involve cross-functional teams in customer journey mapping to get diverse insights and a holistic view. Not involving different teams can result in biased views and missing valuable insights from different perspectives. Encourage team collaboration and communication to align the customer journey map and gather input from different stakeholders. This can help uncover blind spots and identify opportunities for improvements.
Failing to validate with real customers
Not validating the customer journey map with real customers can lead to inaccurate assumptions. Also, relying on internal assumptions or team perspectives will lead to skewed views and away from the reality of customer interactions. To avoid such a dilemma, validate the map through feedback loops, usability testing, and customer interviews. Gather input from actual customer experiences, preferences, and pain points.
Ready to Map Your Customer's Journey?
Customer journey maps are a great way to gain deeper insight into your customers and their experience with your organization. Taking the time to understand how your customers interact with you, what they feel and what they want to achieve can go a long way toward retaining them.
Follow these 6 steps to get your customer journey map right. Use a template to save time.
And don't forget to leave your feedback in the comments section below.
FAQs About Customer Journey Maps
Why is customer journey mapping important?
Customer journey mapping helps companies understand their customers' experiences with their brand, identify pain points, and improve overall satisfaction. It also helps in aligning company efforts and resources to better meet customer needs, creating a more personalized experience, and building stronger customer relationships.
How can customer journey maps improve customer experiences?
Customer journey maps can improve customer experiences by providing companies with a clear understanding of their customers' experiences with their products, and services. This information can be used to identify pain points and areas for improvement, allowing companies to better meet the needs and expectations of their customers. By using customer journey maps to optimize the customer experience, companies can:
Align resources and efforts to meet customer needs better.
Create a more personalized experience for customers.
Improve customer satisfaction and loyalty.
Reduce customer churn.
Increase customer lifetime value.
Enhance the overall customer experience.
Improve operational efficiency.
Facilitate cross-functional collaboration to improve the customer experience.
Stay ahead of the competition by offering a differentiated and superior customer experience.
What tools are needed to create customer journey maps?
The tools needed to create a customer journey map vary depending on the complexity of the map and the size of the company, but some common tools include:
Customer feedback: Surveys, customer interviews, and focus groups can be used to gather customer feedback and understand their experiences.
Analytics tools: Data analytics tools, such as website analytics, customer behavior tracking, and customer relationship management systems, can provide insight into customer behavior and preferences.
Customer journey map software: Tools like Creately that can be used to create visually appealing customer journey maps.
Project management software: Tools like to manage the journey mapping process and keep track of progress.
Collaboration tools: Tools like Creately, Slack, Microsoft Teams, or Google Workspace can be used to collaborate with team members and stakeholders.
What are some common use cases for customer journey maps?
Identifying and resolving pain points in the customer journey
Improving customer onboarding and retention
Optimizing marketing and sales efforts
Designing a customer-centric website or app
Aligning cross-functional teams to deliver a cohesive customer experience
Can customer journey maps be used for different types of businesses or industries?
Yes, they can be used for different types of business or industries including retail, hospitality, healthcare, e-commerce, financial services, technology, and more.
How can I use customer journey maps to drive customer-centric strategies in my organization?
You can use customer journey maps to drive customer-centric strategies in your organization by Identifying pain points or gaps in the customer experience and developing targeted solutions
Aligning cross-functional teams and processes to meet customer needs
Optimizing touchpoints to deliver a seamless and satisfying customer experience
Utilizing insights from the customer journey map to inform marketing, sales, and customer service strategies